We use affiliate links. If you buy something through the links on this page, we may earn a commission at no cost to you. Learn more.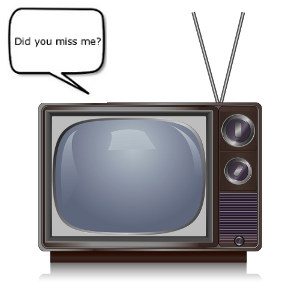 Yesterday signaled the end of my 30 day self-imposed TV detox. During the whole month of September, we watched zero TV shows. When the TV was on, it was playing one of the DirecTV music channels. It was surprisingly easy and liberating. I didn't miss it at all. However, according to one of my friends at work, I cheated because I DVR'd everything that we would normally watch. Are we going to revert back and become couch potatoes again starting tonight?
The answer is no and yes… maybe… at least a little. There are a few shows that we enjoy watching like Big Bang Theory, Modern Family, Shark Tank (me), singing shows (Jeanne) and others. The plan is to only watch TV on Friday through Sunday. That's how we deal with eating junk food, so I think it will work for TV too. If you've been thinking about doing your own TV detox, go for it. Quit cold turkey. You'll probably be surprised by how much TV doesn't matter to you after a few days.
We probably won't even watch much if any TV this week or next week since we're gearing up to go on vacation starting this weekend. We'll be flying down to Sanibel Island Florida and I can't wait! And since I like to put myself through tech experiments, this vacation is going to be another one. I've decided not to take my Macbook Air with us to Florida. Instead, I'm going to be using my new Nexus 7 2013 and an LG G2 smartphone for everything. I'm also bringing along a small Bluetooth keyboard and mouse for times when I might need to enter a lot of text and / or do more computer-y type stuff which works best with physical input devices.
I still need to complete my setup of the Nexus 7 with apps that will allow it double as a "laptop" so I can do some real work if I need to. I plan to write about the experiment and may even do a daily "how I used my Nexus 7 today" journal type posting. So stay tuned!