We use affiliate links. If you buy something through the links on this page, we may earn a commission at no cost to you. Learn more.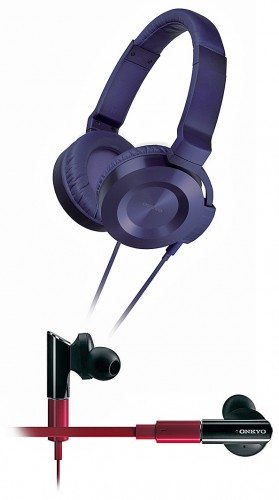 You could say that it seems like every audio company is getting into the headphones business. Everywhere you turn, some speaker company has entered the fray, which can only make everyone better. And headphones have improved significantly in the last 5 years. A case in point is Japan's Onkyo. This old and respected brand have released their first headphone and earphone models: ES-HF300 & ES-FC300 on-ear and IE-HF300 & IE-FC300 in-ear headphones. The only difference between the HF and FC models is the quality of the cable. The higher end HF300 has 6N (99.9999%) super-pure copper cable with a transparent covering. The slightly less expensive FC300 comes with a standard flat cable. Both the on-ear and in-ear cables are removable. Onkyo will sell cables separately, so you can upgrade the cable later if you wish.
The on-ear headphones feature padded, adjustable headband, leatherette earpads, and 40 mm (1 9/16˝) full-range titanium drivers encased in aluminum. Onkyo claims that the drivers are sympathetic to compressed audio formats without sacrificing sensitivity for lossless and 192/24 playback (that's hi-res, folks). The in-ear phones feature a large 14.3 mm (9/16″) dynamic, or moving-coil-type, transducer. The aluminum/ABS resin housing provides exceptional rigidity, reducing unwanted vibration, according to Onkyo.
The prices are: On-ear: ES-HF300 – $179; ES-FC300 – $149. In-ear: IE-HF300 – $129; IE-FC300 – $99. All are available now.