We use affiliate links. If you buy something through the links on this page, we may earn a commission at no cost to you. Learn more.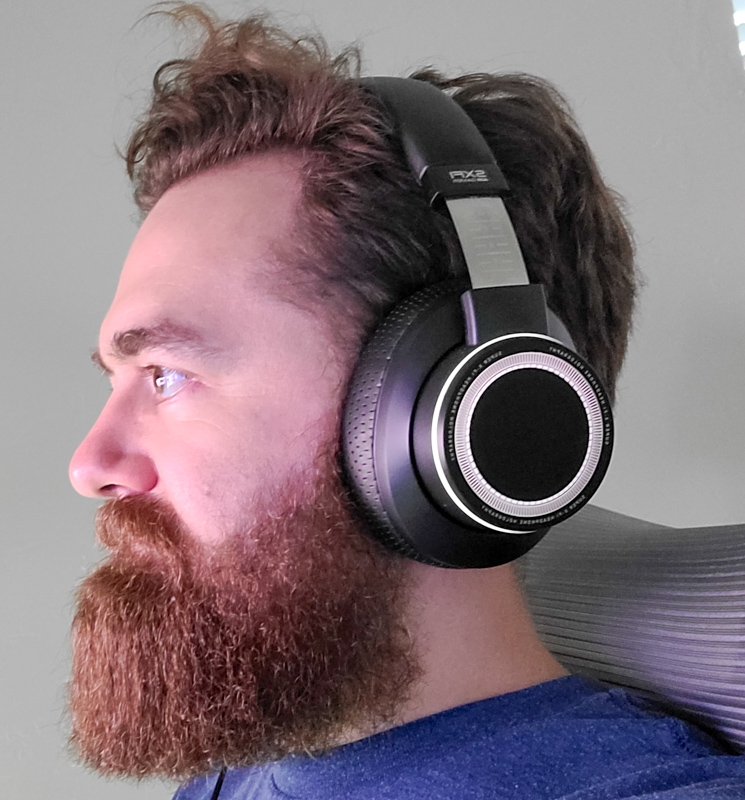 REVIEW – There are so many headset models on the market today that it can be daunting to research and find the perfect one. You could spend hours reading reviews and comparing spec sheets and only be able to cover a fraction of the models available. For me, it takes either an exceptional performance-to-price package or some new features to catch my eye. In the case of the Creative SXFI Air Gamer headset, it might actually be both! I haven't heard sound this good in a sub-$500 headset yet, and they also have "hybrid headphone holography", which will take some explaining.  And more importantly some in-depth testing.
What is it?
The Creative SXFI Air Gamer headset is a new headset from Creative that includes both USB-C wired and Bluetooth 5.0 wireless connection options. In fact, they are the first I've seen to combine the two connection types for a hybrid wired/wireless communication mode. This optional mode lets you play games or media through the high-fidelity USB-C cable connection, while also connecting via Bluetooth to another device for communications. These over-the-ear headphones also have the requisite RGB lighting for gamers (these days you can't call it a gamer device without flashy lights everywhere), extra-large drivers, and a high-quality detachable microphone.
What's in the box?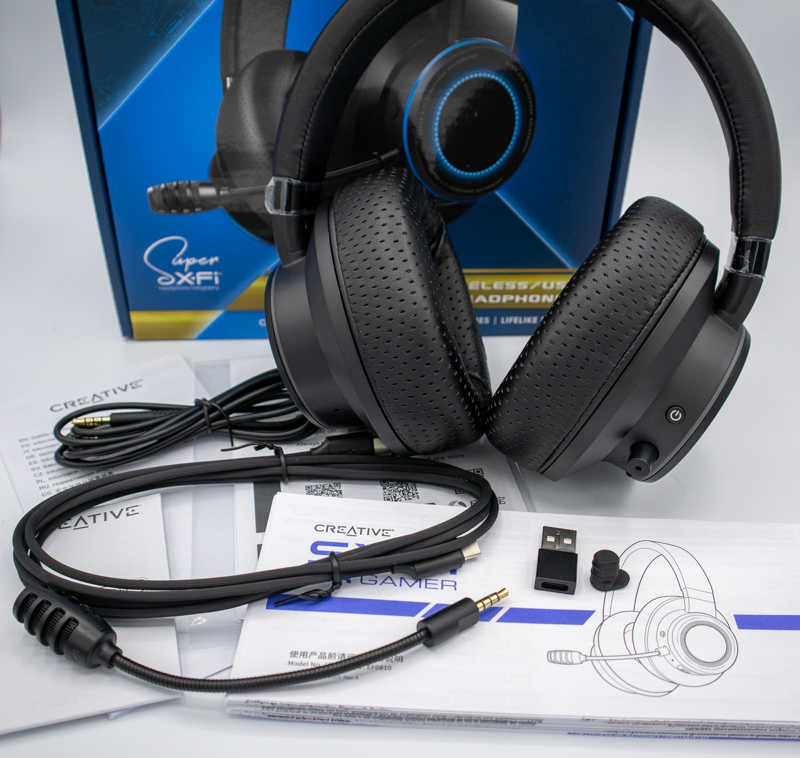 Creative SXFI Air Gamer headset
CommanderMic
NanoBoom Mic
USB-C Cable
USB-C to USB-A Converter
Quick Start Guide and warranty papers
Hardware specs
Compatible devices: Windows, MacOS, PS4, Nintendo Switch, Android, iOS
Audio Processing: Super X-Fi, SXFI BATTLE Mode
Interface: USB-C, 3.5 mm Stereo Input, Bluetooth 5.0, microSD Card (up to 32GB FAT32)
Weight: 313.6 grams with NanoBoom Mic
Frequency Response: 20 – 20,000 Hz
Driver: 50 mm (1.97 inches) Neodymium magnet
Battery: Rechargeable Lithium-ion Battery, up to 11 hours playback
Audio Codec: SBC
Operating Range: Up to 10m / 33 ft
Style: Over-ear
Microphone Impedence: <2.2kohms
Microphone Frequency Response: 100-16000 Hz (ComanderMic)
Microphone Frequency Response: 100-8000 Hz (NanoBoom Mic)
Sensitivity: @1 kHz: -42 dB (CommanderMic)
Sensitivity: @1 kHz: -38 dB (NanoBoom Mic)
Microphone Technology: SCFI InPerson®
Controls: Buttons plus touch
Lighting: RGB ring light, 16 million colors
Ear pad material: Perforated Protein Leather with memory foam
Design and features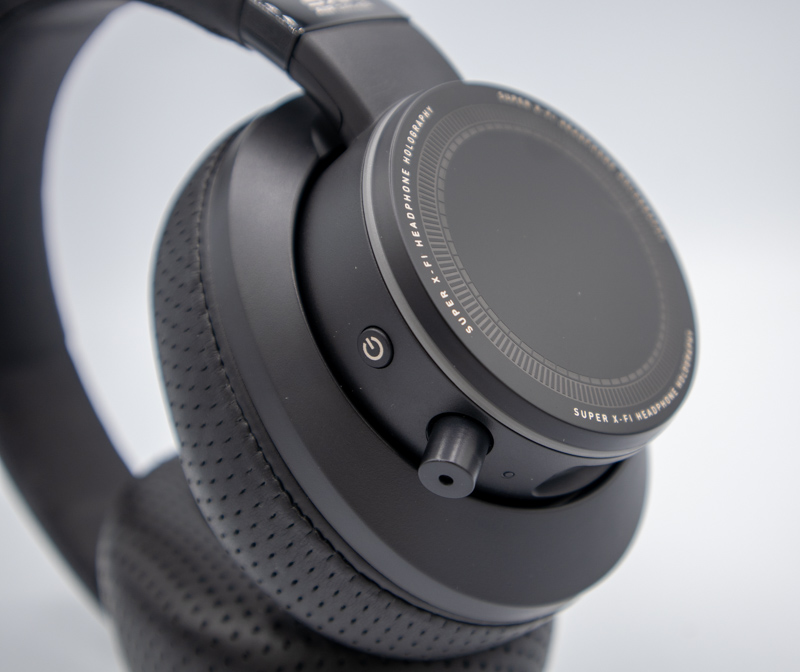 Right out of the box the Creative SXFI Air Gamer headset impressed me with the feel and build quality. A combination of high-grade plastic, metal, and leather result in a premium feel and it definitely seems like it's built to last. On the front of the left earcup (pictured above), there is a power button and the NanoBoom Mic (a little nub of a microphone that's great for travel or if you just hate boom microphones in your face). The LED light ring runs around the entire earcup and can be customized via software to 16 million different colors or turned off if you don't want lights on your ears. The outside earcup discs are touch sensitive surfaces that can be used to adjust volume and play/pause media as well as answer phone calls.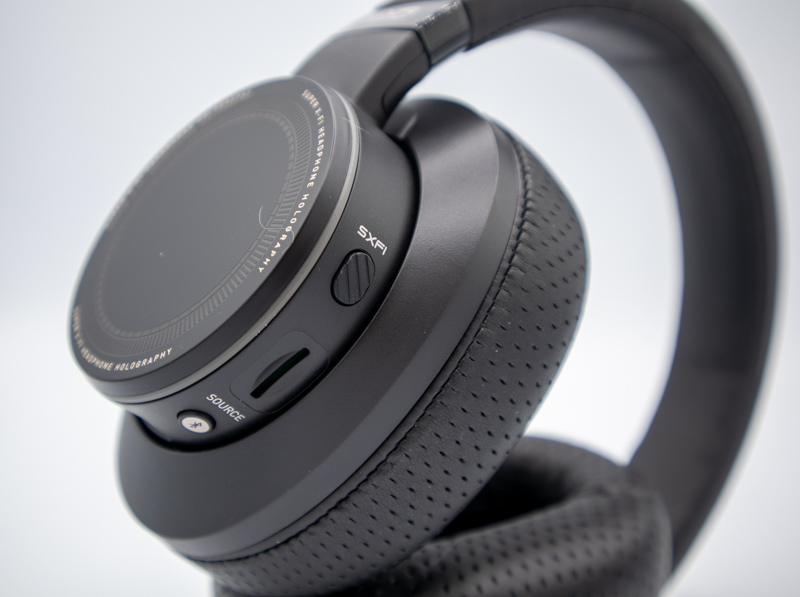 The backside of the left earcup has an SXFI button to enable/disable SXFI (Creative's high-fidelity audio mode). Below that is a microSD card slot that allows you to play music from a microSD card without any other device connected. This is an interesting feature that I haven't seen on devices like this very often. It's not useful for me, but maybe there are people out there who would want/need something like this. Finally, there's a Bluetooth-icon "source" button at the bottom.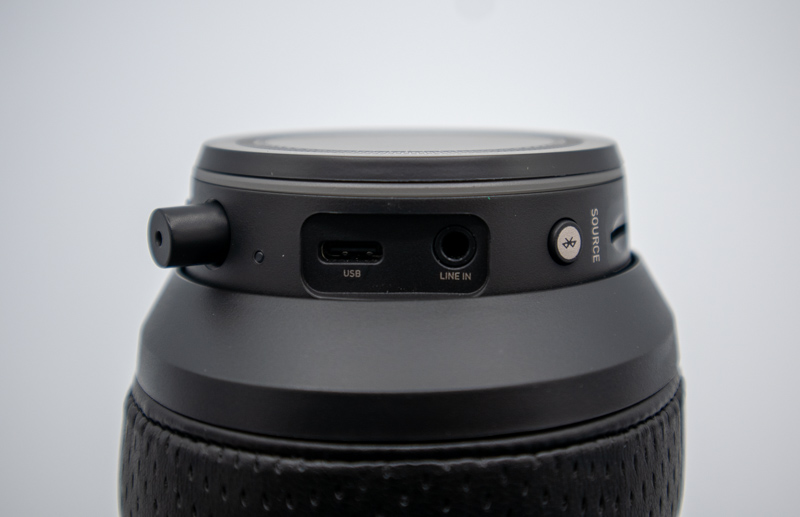 And the very bottom of the left earcup (a lot going on with this side versus the right earcup) is a USB-C connection for both charging and playback, and a 2.5 mm line-in jack. I'm glad Creative included this, there are still quite a few audio devices out there that have 2.5 mm audio out and no USB-C.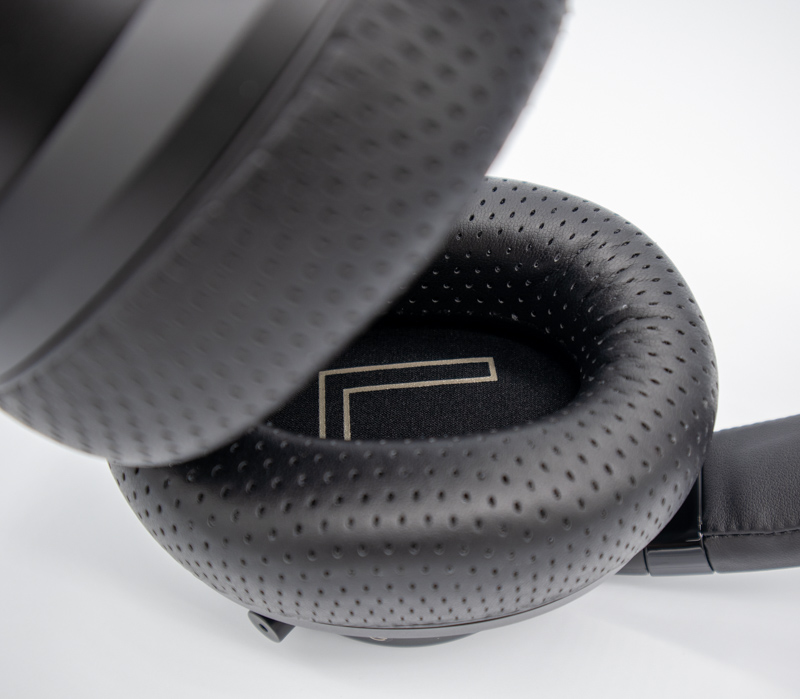 Here's a shot of the inside of the earcups. The padding is generous and soft, and the memory foam feels good. After about a month of use, I'm not seeing any troubling signs of wear. The speaker area doesn't touch my ears when worn (something that's been a problem with other over-the-ear headsets). My ears do get hot and sweaty under these earcups after a while though. The earcups do swivel a few degrees but not 90 degrees like some headsets. This makes them bulky around your neck if you temporarily take them off, and a bit bulky for transport as well.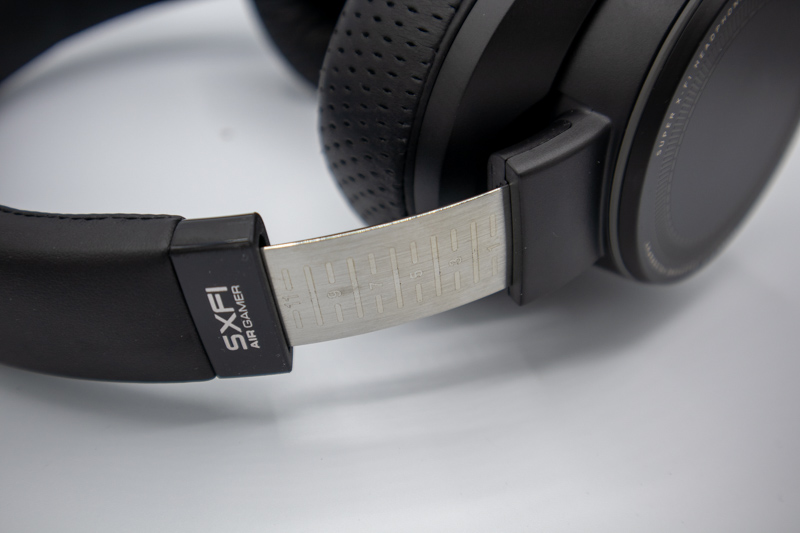 The adjustable metal band clicks into different settings and holds the spot well. I love that they labeled these lines with numbers so you can remember your ideal spot instead of experimenting each time you collapse the headset.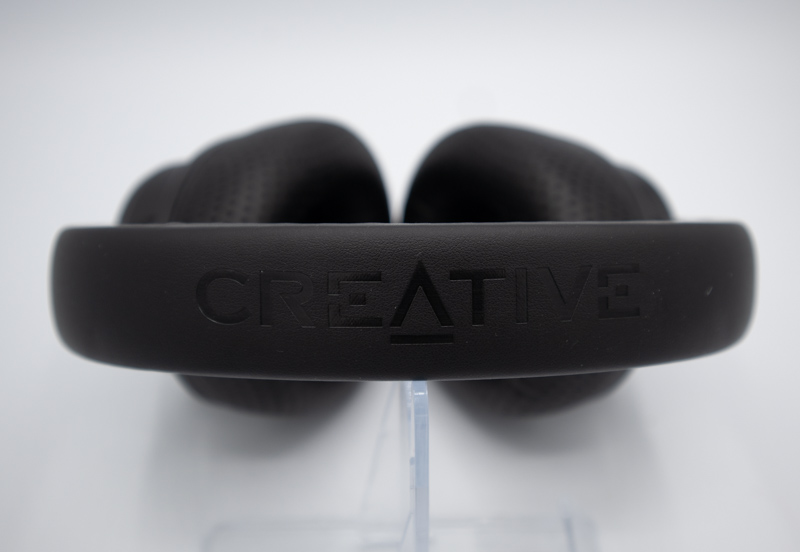 Overall I really like the design aesthetic. Except for the RGB light rings which can be turned off, the headset doesn't have screaming colors or crazy angular elements broadcasting "GAMER!" to everyone who might see you.  Even the RGB lights look pretty classy in a soft-white color.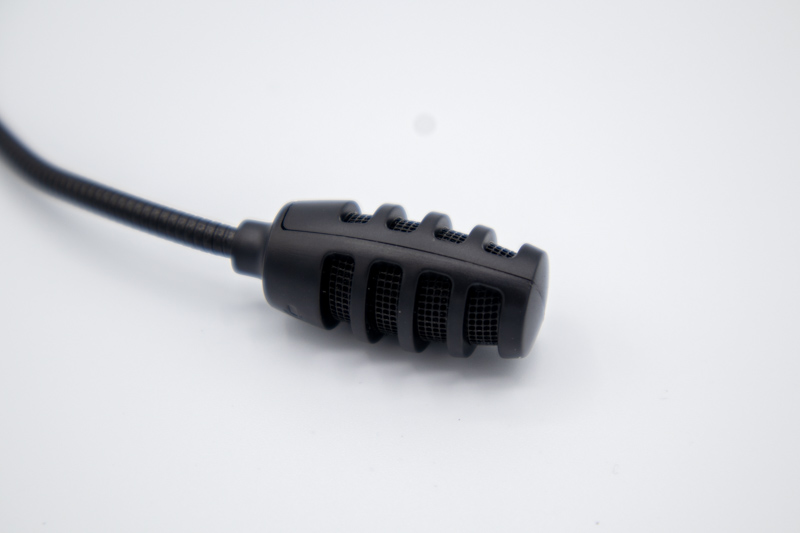 The "CommanderMic" is one of the best I've ever used. It sounds better than the dedicated USB condenser microphones that I've relied on for years for work and gaming. It does a great job of pop filtering (reducing overblown "p" sounds from breathing while speaking), it does a great job of filtering background noise, and it even pipes in your voice back to your ears at a low volume so you can hear yourself speaking which is more natural. I love this microphone. The tiny "Nanoboom Mic" that comes preinstalled is fine, it's like using a smartphone's speakerphone function, so if you really don't like a boom mic in your face that's also an option.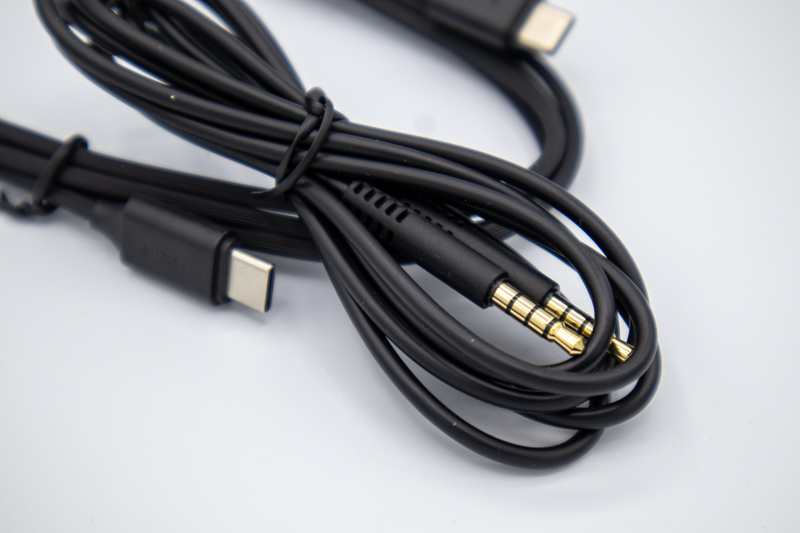 The cables included with the Creative SXFI Air Gamer headset seem to be high quality. Their marketing material boasts of "kevlar-infused" cable sleeves on the USB cable, and the 2.5 mm audio cable is gold plated. My only minor complaint here is that the 1 meter (~3 feet) USB-C cable was a bit short sometimes, even leaning away from my desk while still in my seat resulted in me discovering the limit of the cable length.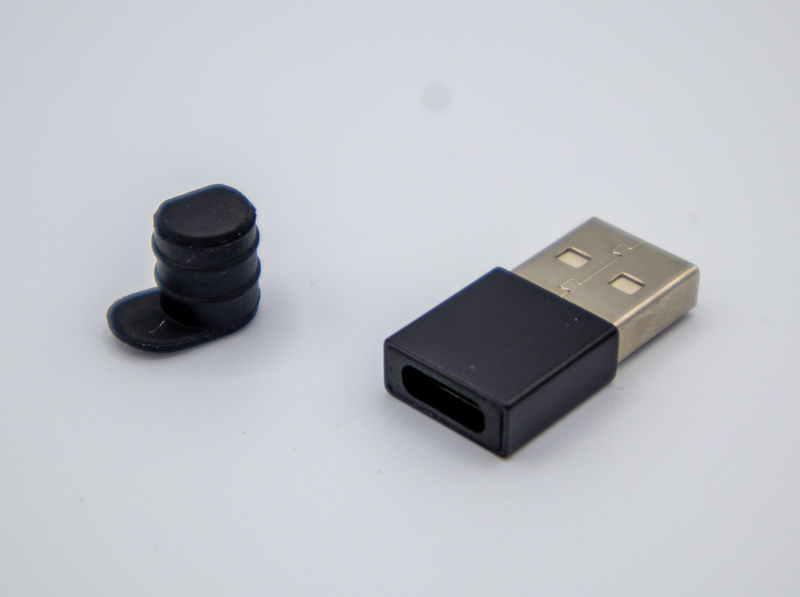 In the box is also a small plastic plug if you don't need any microphone option at all, and a USB-C to USB-A converter. I appreciated the latter since both the USB-C ports on my daily driver are already used and I had a free USB-A port.
Installation and setup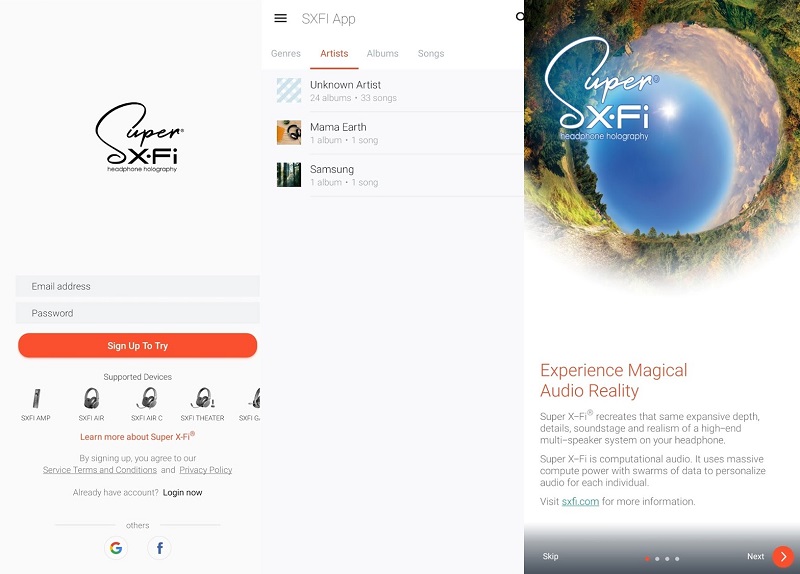 Creative's user guide recommends setting everything up on a mobile device first, even if you're going to use the headset primarily on a game console or computer. Getting the app and setting it up was fairly easy.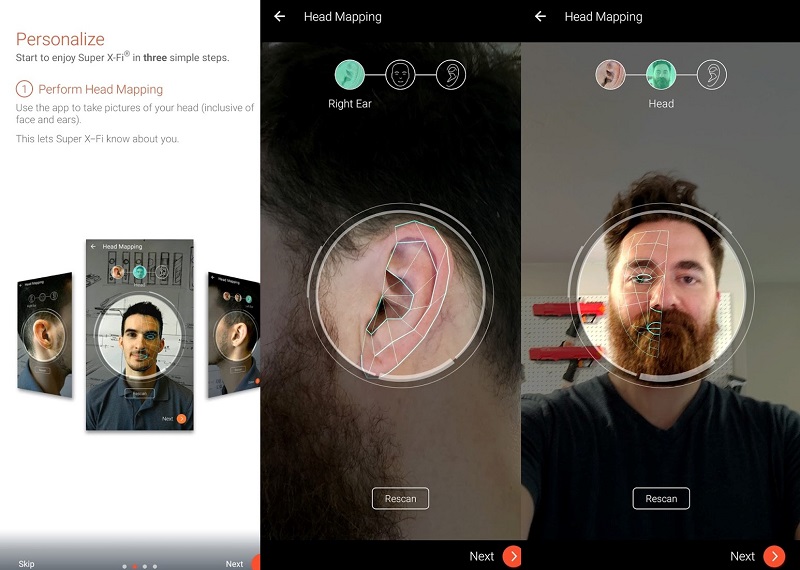 Once you've created a Creative account, the app prompts you to take photographs of your face and ears. Creative claims that they will customize the sound profile specifically for your head and ears shape. I tried listening to a variety of things using this customized profile and without it, and while I can hear a difference, I'm not sold that the "holographic" custom profile is any better, to me it just sounds slightly different. Maybe for other people it will make a huge difference.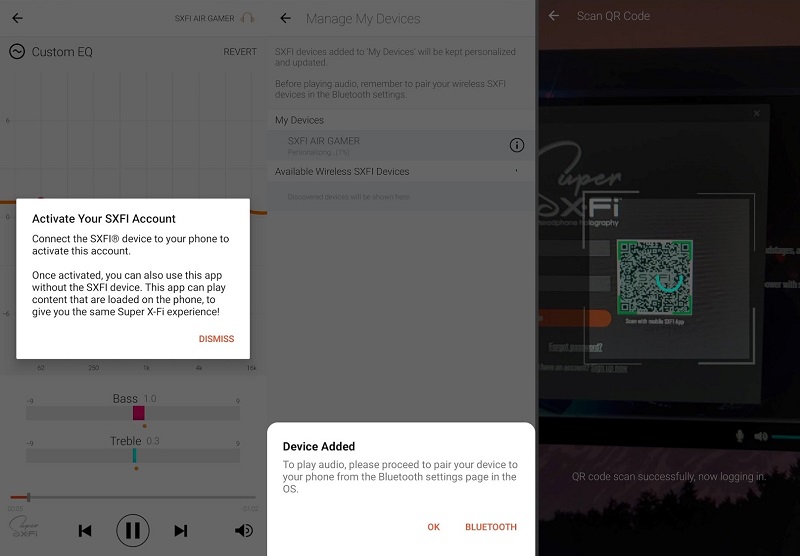 Once your customized profile is set up, you can access an equalizer and eventually use the mobile app to log into the desktop software (if you're using the headphones on a computer).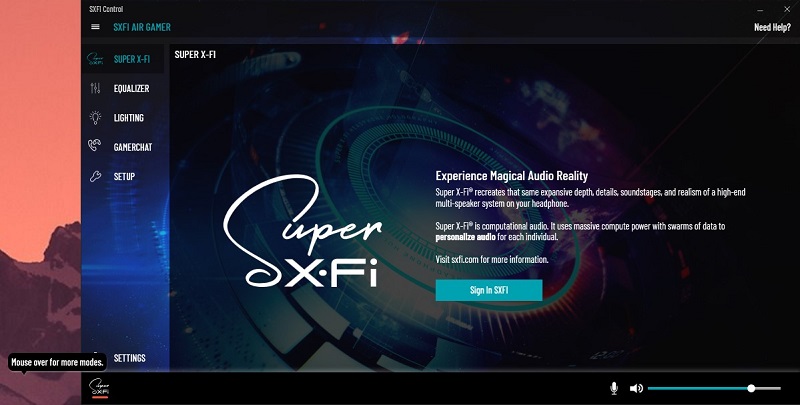 Next up is software setup on my main testing device: a Windows gaming laptop. Download and install were straightforward, and the software immediately prompts you to sign in to your Creative account so it can sync your customized audio profile. It appears that this software is needed for the full Super X-Fi audio mode and due to any settings changes for the headset, but you could use the headset without the software if desired.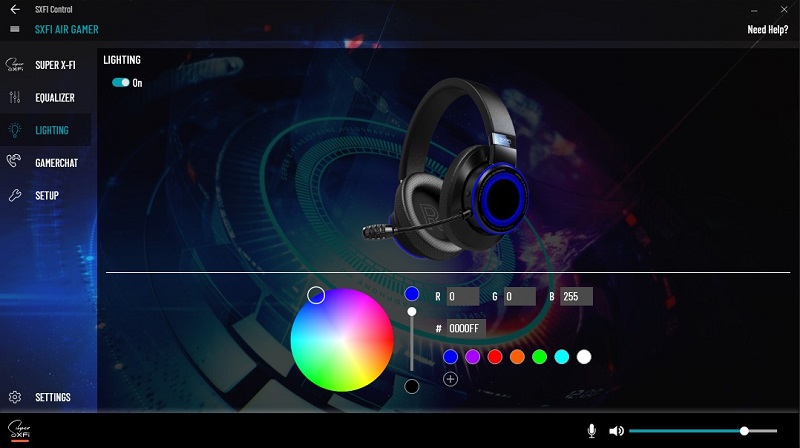 Color customization was easy and simple, you can pick a preset color, an RGB / HTML value, or from a color wheel, then set brightness.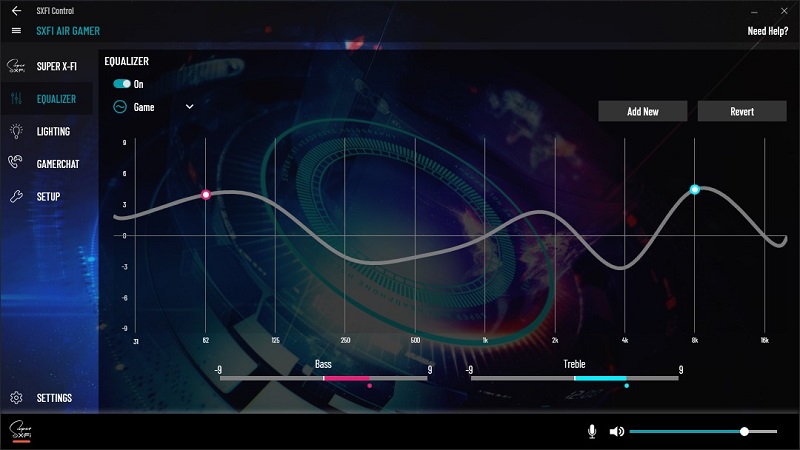 There's an equalizer in the software with different prebuilt modes as well as a fully custom mode. The sound was already so rich and well balanced that I ended up reverting to the non-equalizer mode for most of my testing, but other people might love the different sound modes.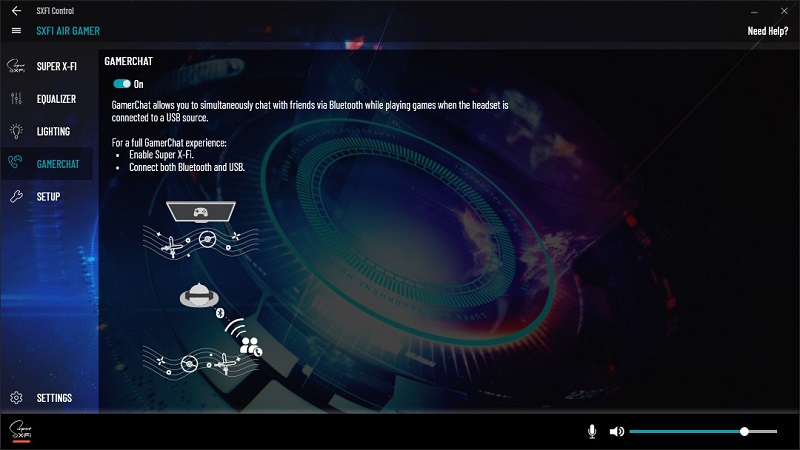 Finally, the pièce de résistance: Gamerchat. This feature lets you connect the Creative SXFI Air Gamer headset to another device (like a mobile phone or tablet) for Bluetooth audio communication while still remaining connected via USB-C for high-quality game audio. This feature can be triggered by the "source" button on the headset or in the software as shown above. While you do have to follow steps carefully to successfully get this working, it was pretty neat once it was set up. I was able to switch Discord channels or receive phone calls from my mobile phone, while still hearing the in-game audio in my headset.
Performance
Wow. For me, a non-audiophile, most headsets fall into three categories: meh, good, and great. Past headsets I've reviewed in this price range have all fallen into the "good" category, I can hear much more detail in the audio versus cheap headphones, and nothing is overblown or unbalanced. Jumping to the $500+ category yields diminishing returns for my ears, I can usually appreciate that they sound a bit better than "good" headphones, but not in a way that justifies such a big spend. When I first played some "Spring/Summer/Winter/Dread" by Everything Everything, I immediately took off the headphones because I thought I had the wrong audio device selected and my desktop speakers were playing loudly. Imagine my surprise when I took them off and nothing was coming out of my high-end desktop speakers! The audio is crisp, every detail super clear, and most of all the sound stage is wider than any other sub-$500 headphones I've tested. It really sounds more like you're listening to great monitor speakers rather than a pair of headphones.
For me, the 7.1 game surround functions and "holographic" customized audio didn't really improve on this already great sound quality. In fact, I much preferred the regular stereo mode instead of the surround mode for all games, shooter, strategy, and RPG/Action alike. Maybe some of these gamer modes would help "pro" gamers with audio cues, but for my enjoyment, I kept switching back to good ol' stereo.
The best-in-class Commander mic is icing on the cake. I had people ask me what microphone I was using in business conference calls during the testing period, it sounds near-studio quality (if not full studio quality).
What I like
Amazing sound
Comfortable fit
Bluetooth and USB-C connection options
What I'd change
Fully wireless would be nice if the same sound quality could be achieved
Earcups can get warm – better ventilation
Final thoughts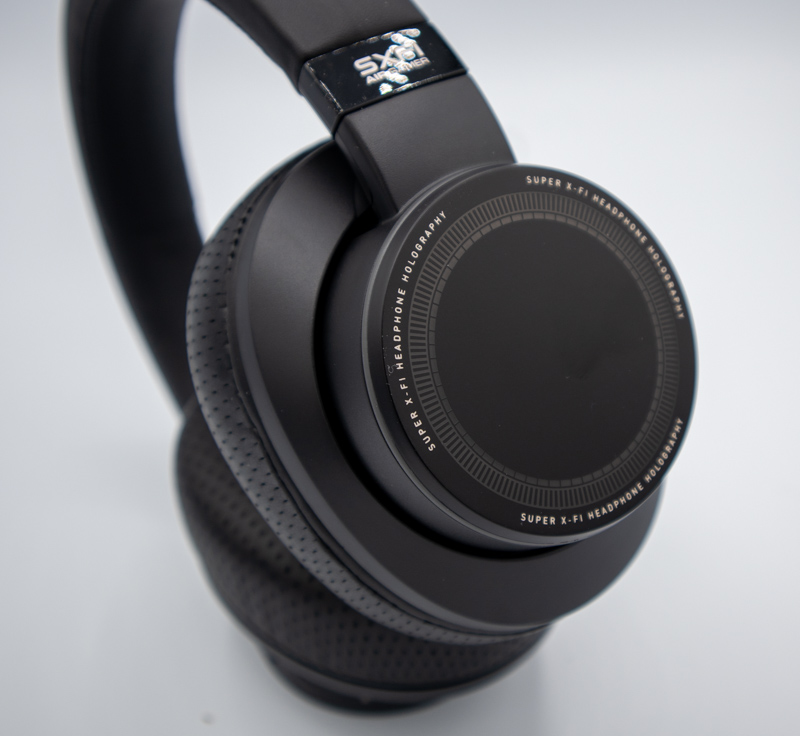 The Creative SXFI Air Gamer headset was a delight to review. It's earned a spot as my daily driver, even though I usually prefer wireless headsets. The top-notch sound quality combined with a phenomenal microphone ticks all my boxes. If you're a gamer you're probably going to love these, but they might also be appreciated by people looking for amazing sound quality at a more affordable price.
Price: $149.99
Where to buy: Creative and Amazon
Source: The sample for this review was provided by Creative