We use affiliate links. If you buy something through the links on this page, we may earn a commission at no cost to you. Learn more.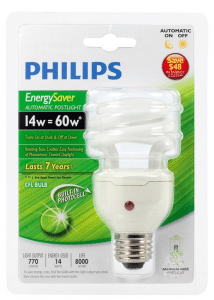 I recently reviewed the Belkin WeMo Switch and said it was one of the steps I was taking to automate my home and increase its security. The Switches work great to control lamps plugged into outlets inside my house, but my porch lights don't plug in to an outlet. I had first thought that I might use the new WeMo light switches with my porch lights, but I think my house wiring is too old to use with them. I like to have my lights automatically turn on and off with the sun, and I used to use a screw-in base with a photocell when I had different fixtures and used incandescent bulbs. I have smaller fixtures now, so that separate base was too big. It was a moot point anyway, because you apparently can't use most photocell sensor fixtures with most CFLs.
I had just been leaving my porch lights on 24/7 so I was sure they were on when I needed them, but I was tired of wasting the extra energy. I found my answer while digging around on Amazon one day recently. The Philips 405852 Energy Saver Compact Fluorescent Dusk-to-Dawn 14-Watt Twister Light Bulb has a photocell sensor that turns the lights on at dusk and off at dawn. Because they are designed for use in outdoor fixtures, the base can be twisted around to properly position the photocell after the bulb is securely screwed in to the fixture. The 14W bulbs are equivalent to a 60W incandescent bulb, and the package says they will save you $48 over the life of the bulb. Philips "warrants that this bulb will be free from defects in material and workmanship for 11 years based on up to 3 hours average usage per day/7 days per week, when used as directed." These bulbs are available at Amazon for $9.97 each, and they qualify for Prime shipping.
So I have the WeMo Switches controlling my lights indoors, these Philips bulbs controlling the porch lights, and a Dropcam and the Dropcam app monitoring the interior of my house. What else do I need for increased security and automation?
Update April 18, 2015:  Although I moved to a condo since I wrote this, we still own the house where these bulbs were installed.  Both original bulbs are still installed on the front porch, and both still operate perfectly.  They come on at dusk and go off after sunrise without fail.  They improve the safety of my house by helping keep the front well-lighted at night.  It's a great security feature for $20!