We use affiliate links. If you buy something through the links on this page, we may earn a commission at no cost to you. Learn more.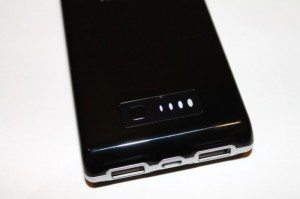 I have a problem.  It's a personal problem, but I can admit it publicly.  I need power.  Lot's of it.  I crave it all day (or, at least my gadgets do), and I have a fear of being without it.  So I have chargers everywhere – my house, my vehicles, my computer bag, my office.  I have reviewed several portable battery gadgets here on The Gadgeteer, and I liked them all because they did what they were supposed to do.  But just 2 years ago, I reviewed one that was a good charger but the capacity was only 1,000 mAh, which couldn't even charge my cellphone one time.  For the same money, you can now get a battery that has 10 times that capacity.   The Dynamo-on-the-Go RP-PB07 10400mAh Portable External Battery Pack from RAVPower  has 10,400 mAh of power.  Is that enough to make me happy?  Let's find out!
Manufacturer specs
Here is some info about the Dynamo from RAVPower regarding which gadget models it is compatible with, and the specs of the Dynamo:
Compatible models:
All smartphone/tablets with Micro/Mini USB connector
Apple: iPhone 5/iPhone 4/4S/iPhone 3GS/iPod touch/classic/nano/iPad 2/new iPad
HTC: One S/X/XL/Sensation 4G/XE/XL/Amaze 4G/Radar 4G/ EVO 4G/Inspire 4G/Vivid 4G/ ThunderBolt/incredible 2/Rezound
Samsung: Galaxy S4 S3/Mini Galaxy S3/Galaxy Note 2/Galaxy S ii/Skyrocket/Epic 4G touch/Galaxy Nexus Prime/Galaxy note/Focus S/Infuse
Motorola: Atrix 2/ Droid X/Triumph/ Photon 4G/Droid 3/X2
Blackberry Bold 9900/ Xperia Arc S/Nokia N9/lumia800
Specifications:
Capacity: 10400 mAh
Input: DC 5V / 1A
Output 1: DC 5V / 1A
Output 2: DC 5V / 2A
Size: 4.4″ x 2.75″ x 0.55″
Weight: 8.29 oz.
Product Warranty: One Full Year
Design and Overview
The RAVPower Dynamo-On-the-Go 10,400 mAh Power Bank (hereinafter referred to as the Dynamo) is roughly the same size as an iPhone 4 and about twice the thickness.  When you pick it up, you immediately feel the weight.  It has heft, as it should for carrying around 10,400 mAh.  And the design is oh-so-comfortable in the hand, with nice rounded edges all around.  The simple design has just a button on the front that lights up the indicator lights and 3 USB ports on the bottom edge for the in and out jacks.  That's it. Nice brushed metal accents (actually made of plastic) on the sides are reminiscent of many of the cellphones today that use that look.  The case is a shiny black plastic, which is one of the few negatives I can find about this device.  Just like the shiny plastic covers of some cellphones today, it is a huge fingerprint and smear magnet, and it scratches way too easily.  I think a rubberized outer layer would have made more sense.  But the device is solid feeling, no doubt.  It feels good.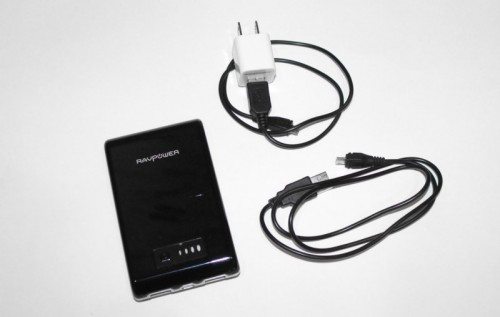 The Dynamo came with a simple black felt drawstring bag (not pictured) that many devices come with today.  It also came with 2 USB cables and one power brick that appears to me to be the exact same as an iPhone 5 power brick.  In fact, everything in the box was black except this power brick.  This makes no sense to me.  This is my second negative, if I were to be a little picky.  It looks like I am borrowing someone's iPhone 5 power adapter, and well, that just hurts my feelings.  I am being a little too picky, I know.  But that just goes to show you how hard it is for me to find something wrong with this device.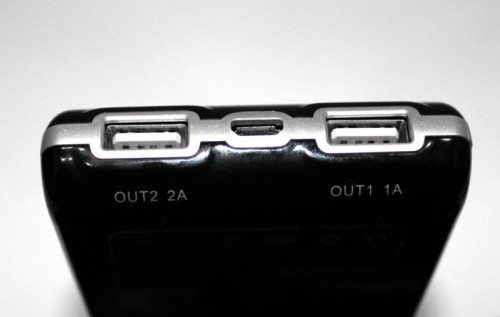 A closer look at the ports on the bottom edge show 2 full-sized USB ports for connecting your devices and a small micro USB for charging the Dynamo.  As you can see from the picture, you can charge two devices at the same time and the ports are clearly marked as 'out', so you won't be confused about which ports to use to charge your devices.  For some devices, like tablets, you can use the larger output capacity 2.2 amp USB port, and for gadgets like cellphones you can use the 1.1 amp USB port.  I used the Dynamo to charge multiple devices, and the next section details my personal results that I experienced.
Performance
Just like the manufacturer states, it took a little over 10 hours via the wall charger to fully charge the Dynamo from completely dead.  If you use your computer's USB port, which most likely has a 500 mAh max output, then it will probably take you twice that long, so I don't charge the Dynamo with my computer.
My cellphone is an HTC Thunderbolt with a 1,400 mAh battery.  From completely dead, it took 2.5 hours to charge it back to 100%.  And I used both the 1.1A and 2.2A ports to see if that made a difference.  It did not; a full charge from either port took 2.5 hours.  I was able to charge my phone six times with the Dynamo before it gave out.
I have an iPad 2, which has just under a 7,000 mAh battery.  I was able to fully charge it once with the Dynamo, which had one indicator light left afterwards.  I was then able to charge my cellphone one more time before the Dynamo died.
Conclusion and bottom line
I think I just might have discovered my holy grail of backup battery power.  I can overlook the scratched up and smudgy black plastic cover, and I can hide the white power brick from my smug iPhone-owning friends.  With this device, I can literally be away from a power outlet for days.  It's just the right size, easy in the hand, and it performs exactly as expected. And did I mention that you can get it on Amazon for $37.99?  Are you smiling yet? The only thing that could make me happier is a Dynamo with a 20,000 mAh capacity.  So until they can pack these huge batteries into my gadgets, I'll take the Dynamo everywhere I go.