We use affiliate links. If you buy something through the links on this page, we may earn a commission at no cost to you. Learn more.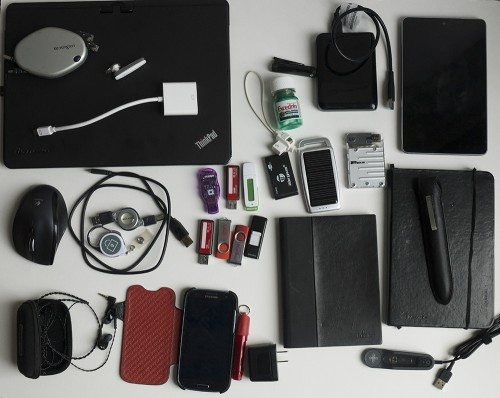 As you have become aware, Julie challenged us to open our everyday carry bags to share what has become our standard gear. It was an interesting exercise, I used the opportunity to get rid of some gear that has remained in my bag, but when I was done, I still had a lot. You can click on the picture for a closer view. Let's take a look at my gear.
I figured I would categorize my gear to help sort things out:
Systems
ThinkPad Twist. (Upper left) A few years back I tried an experiment and purchased a MacBook Pro as my primary machine. I don't regret the choice, but when I had to replace it I was happy to return to the ThinkPad. I never really adjusted to the Keyboard on the MacBook Pro, and though the Twist is a redesigned keyboard, I still prefer its feel to any other laptop I have used. I also wanted a touch screen and Windows 8 to get some exposure. I have quickly grown to love having a touch screen (I don't think I will buy another laptop without it) and also actually like Windows 8. I know that is not the cool thing to say, but there I said it, I like Windows 8.
Nexus 7. (upper right) I am surprised how much I like this tablet. I have used a number of tablets, and always thought I wanted something in this form factor. What do you know, I was right. In addition, the ability to have multiple users setup on the tablet, and the fact that this is a Nexus device, and gives me access to vanilla Android are huge pluses.
Sony Reader T1. (Bottom Middle) I do a lot of reading on my Nexus 7, but I still like my Sony Reader. This is the 3rd one I have owned, Janet reviewed it a while back. I love the Wi-Fi, and use it a lot to download library loans directly to my reader. I also ended up buying the cover with the light for late-night reading. I find reading on an e-ink device less straining on the eyes than an LCD display.
Samsung Galaxy S3. (Bottom Middle) This has been my main phone for a while now. I generally like it. I don't like that it has the Samsung UI, and I don't like the order of the buttons (which is not the standard order) but beyond those compromises I am happy with the phone. Coupled with my Vaja Agenda  Case, it is a great combo.
Pebble Watch. (not pictured) I did not get this in the picture, but I really enjoy this watch. If you read Bill Kuch's review, you know he was underwhelmed. Consider me sufficiently whelmed. I get a solid 7 days on each charge (the SGS3 connects via low-power Bluetooth 4.0) and the integration with RunKeeper has been a great add. I've played with a number of watch faces, and look forward to the continuing development of this watch.
Storage
Flash Drives, LOTS of Flash Drives. (Middle) It seems I never throw away a flash drive. The lavender one is actually a Lexar 64 MB one. That's MEGAbyte. I think it just keep that way to say "back in my day…" I also have a 256 MB and 1 GB Jumpdrive Sport. Not sure if you remember those, but they had an available MP3 player you could plug them into. I thought it was a great design, and was the future. I was wrong. I still have the MP3 player though. My favorite is the SanDisk Cruzer with the retractable USB. Caps just get lost.
Western Digital 1TB My Passport with USB 3.0. Sometimes you just need to bring out the big guns.
Targus Multi-Format Reader. This is a compact reader that supports Compact Flash, SD, MemoryStick along with other media. It has a Mini-USB port that I use to connect to my computer.
Audio
Plantronics Marque M155. (Upper Left – Middle) I really like this Bluetooth headset. Good battery life, good sound quality and it connects quickly to my phone. So quickly that when the phone rings I can grab it, turn it on, insert in my ear and answer that call before it goes to voice mail.
Westone TS-1 earphones. (Bottom Left) These earphones changed my attitude about ear buds. These are not even the high end models, but I found the quality to be noticeably improved over any earbud I have used in the past. The case does a great job of keeping them in good shape, and easy to find in my bag.
Sony Ericsson MW600 Hi-Fi Wireless Headset. (Top Middle) I don't use this a lot anymore, but I have always like this device. It is essentially a Bluetooth plug for your Bluetooth-enabled device. You can plug any headset into the jack, and that headset gets a wireless connection to your phone, tablet, or computer.
Input
Logitech M705 Marathon Mouse. (Middle-Left) For the longest time I only used Bluetooth mice with my laptops. Then I was on a project with a Dell that had no Bluetooth and gave this a spin. That battery life on this mouse is phenomenal. I am currently using it in my Twist even thought it ties up a USB port. I have had the same AAs in it for almost a year, and no sign of needing to replace them.
LiveScribe Pen and Notebook. (Bottom right) I bought this after reading Julie's review back in 2008. This piece of technology is probably the one that has had the greatest impact on my work process. I am a consultant who works on Instructional Design and Business Analysis projects. As a result I find myself in many meetings. Being able to come with a simple notebook and pen, and capture the the notes digitally, as well as recording the audio if desired for the meeting has been a huge boon. I still have a Pulse pen. I have not upgraded because the one big negative is that LiveScribe has never come up with a way to transfer your journal to a new pen. They come up with all kinds of reasons why you don't want/need to do that, but I both want and need. As my pen is almost full, I will likely be upgrading soon. I have tried to find another solution (mainly do to their attitude of the aforementioned missing feature) but there is really no substitute that offers the same feature set.
Power
Arctic C1 Mobile Portable Universal Charger. (Middle) This is getting a little long in the tooth (I reviewed it over 2 years ago.)  Its 4440 mWH battery seems really small for today's devices, and I don't use the Solar charging ability, but it is handy in a pinch.
USB AC Adapter. I have quite a collection of these anymore. This one happens to be from my old Motorola Droid X, but it is indispensable when I need to charge a device. I carry a few cords for charging that fit into this, and any device with a proprietary connector has a hard time making it in my bag. The only two that do are the Pebble (which has a 7-day capacity, and the trade off is that its waterproof) and the LiveScribe pen (the newer models now have micro-USB ports).
Connectivity
Mini-Display Port to VGA Connector. (Upper Left) My twist only has mini-hdmi and mini-display ports for video out. This will let me connect to any VGA compatible projector or display. I just bought the cheapest I could find on Amazon.
Kensington Network and USB cable. (Upper Left) Sometimes you need a hard connection to the network, or a USB cable. I am not sure how long I have owned this, but it has been a great gadget on many occasions. With a touch of the button it retracts into the case. The USB has a mini-USB connector, so useful for fewer and fewer devices, but still needed on occasion.
Micro-USB Cable. (Middle Left) Once again, I have collected a number of these, but the one that travels with me is my old Motorola Droid X cable. It seems to be the sturdiest one I have owned.
Micro-USB Cable/Handstrap. (Middle Top) This was the bonus strap that came with the Draco S3 bumper. I attached it to the Arctic C1 battery so I would always have a connector.
Belkin Retractable Type-A to Type-B USB cable. (Middle Left) I don't know when I last  needed this, but it takes up very little space, and I imagine I will be glad I have it sometime in the future.
Targus 4-Port Hub. (Middle Right) This is a very compact and self-contained 4-port hub. Handy in a pinch.
LiveScribe Charger. (Bottom Right) As I mentioned above, the older version of the LiveScribe I have requires a proprietary connector, so this is a single-use cable. I will be happy when it hits the gadget bin.
Miscellaneous
Retractable Badge Holder. (Middle Left) A fact of work life is the ubiquitous badge. I always try to have a retractable holder available for my next gig.
Post-it Flag Holder. (Middle Bottom) A small red tube that holds a pack of Post-it note flags. I use these a lot, and love the convenience of this storage tube.
Excedrin. (Middle Top) Technology can cause headaches. When it does, I always have some of this available.
So that is a snapshot of what I carry when I am on the go. It was good to filter out the stuff I no longer use, and I look forward to looking back on this post in the coming years.