We use affiliate links. If you buy something through the links on this page, we may earn a commission at no cost to you. Learn more.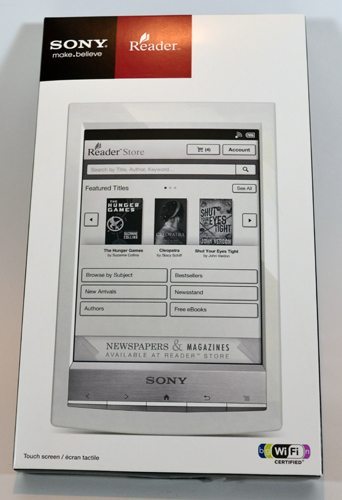 Every year I've been writing for The Gadgeteer, I've reviewed the newest Sony ebook reader.  I admit I have moved on to reading mostly on my iPad 2, and I did just buy a Kindle, but I couldn't let the new Sony reader pass without giving it a look.  For many years, starting with the PRS-500, my Sony readers were my most beloved gadgets.  I loved the sleek, strong metal chassis.  I loved being able to store dozens of books in memory, and I didn't mind at all that I had to connect my Sony to my computer to get new books.  I felt the design of the readers was perfect; after all, Sony was a hardware company invested in producing good hardware.  (Amazon was a bookseller invested in selling books…)  When I heard that Sony had switched to a plastic chassis and had added Wi-Fi access, I knew I had to give the new reader a look.  I ordered my Sony Reader Wi-Fi (PRS-T1) and hoped that I wouldn't be disappointed in what I'd receive.
Specifications
Display Technology : E Ink Pearl™ with Clear Touch Infrared Technology
Gray Scale : 16 level gray scale
Resolution : 600 x 800 pixels
Screen Size : 6 inches
Media formats supported: DRM Text : ePub (OPS v2.0, .epub file extension, Adobe DRM protected), PDF (PDF v1.6 or before, .pdf file extension, Adobe DRM protected); Image : JPEG, PNG, GIF, BMP; Unsecured Audio : Unsecured Audio: MP3 (Non encrypted), AAC (Non encrypted); Unsecured Text : ePub, PDF, TXT
AC Power : Built-in rechargeable battery: 3.7 V DC
Battery Life (Approx) : A single charge lasts over a month with wireless off based upon a half-hour of daily reading time.; Read on a single battery charge for 3-4 weeks with wireless on.; Up to 14,000 continuous page turns when reading only.
Recharging Time : Fully charges in approximately 2 hours via the approved U.S. power adapter. Approx. 2.5 hours supports charging from your computer via the included USB 2.0 cable.
Wi-Fi : IEEE 802.11b / g / n
Memory Size : Internal: Approx. 1.3 GB after initial setting. External: Micro SD card up to 32GB.
Works with Windows and Mac systems
In the Box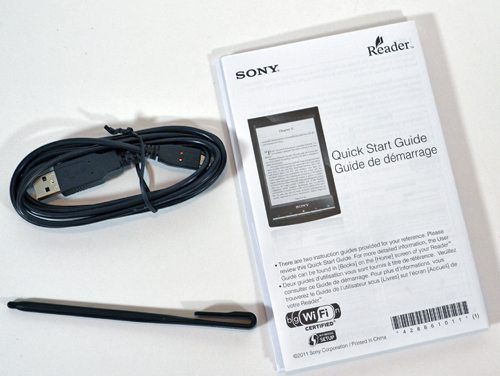 Reader Wi-Fi
Stylus pen
USB cable
Quick start guide, Warranty, Audio safety tips, Important product information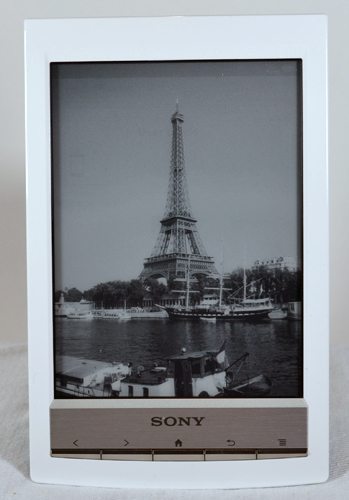 Please excuse my tilted pictures.  As you can see, the Sony reader has a rounded bottom.  I haven't found any workable method to keep the reader straight while I photograph it.
The Sony Reader Wi-Fi (I'm going to follow my tradition of the ages and call it the PRS-T1) now has a plastic body, but it looks similar to the previous PRS-650 model.  It measures about 6.76″ long X 4.25″ wide X 3/8″ thick.  It weighs 5.7 ounces on my digital kitchen scale.  The reader is sturdy, and it passed Julie's patented Creak Test with flying colors.
The PRS-T1 is available in red, black, or white.  Normally I'm all about the red gadgets, but I found that I wanted the white for a change. The plastic is shiny and slick.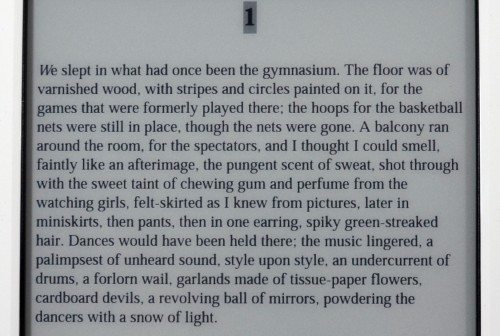 The screen is the same 6″ eInk Pearl screen used in the PRS-650 (and the Kindle that Julie and I recently reviewed).  Images on the screen are sharp and clear.  You can see an amazing amount of detail in the photos that display as screensavers.  Text is very clear, too.  The PRS-T1 has a touchscreen, but it uses an IR grid overlay on the Pearl screen.  Since IR energy is invisible to the human eye, you don't see any glare or other degradation of screen clarity because of the touch layer.

This IR grid is neither resistive nor capacitive, but it is as responsive as the iPad 2's capacitive screen.  The lightest touch is sufficient to turn a page or enter data on the keyboard.  Although your finger works perfectly well with the screen, Sony included a stylus for more precise control when you are entering handwritten notes or drawing.  This is a big stylus; it's about 4.75″ long with a circumference of about 5/8″ inches.  There's no silo on the reader to store this stylus, but it does have a clip that can hook over a cover, if you use one.  This stylus is much easier to hold than the tiny little things that came with the previous versions of the Sony reader.  I didn't get cramps in my hands because it's big enough that I don't feel I'm pinching a toothpick between my fingers.
Unlike the Kindle, you have complete control over the screensaver, by the way.  You can load up any images you like onto the PRS-T1, or you can turn off screensavers completely.  I used the PRS-T1's handwritten note feature  to write my name and phone number, saved it as an image within the note function, and used that image as a screen saver.  If I lose my reader, the (hopefully honest) person who finds it can call me.

Even though the PRS-T1 has a touchscreen, there are a few physical buttons on the front of the reader.  From the left, they are: page back, page forward, Home, back to previous location, and the options menu.  The panel above the buttons is metal and seems to be brushed aluminum.  The buttons are made of a silver-colored plastic.  They operate well.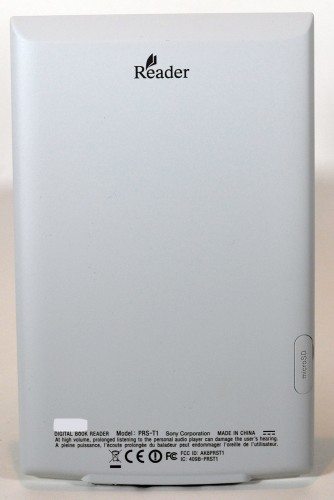 The back of the white PRS-T1 is covered in a putty-colored rubber.  This covering improves your grip and makes the reader a little less likely to slide off a tabletop.  Click the above image, and you'll be able to see the microSD card slot.  This is the first Sony reader I've used that uses the microSD card.  You can use up to a 32GB microSD card to hold extra books or music files.  Sony warns that performance speed and battery life may be degraded when a microSD card is in use.

The only other controls for the PRS-T1 are on the bottom.  From the left is the reset button (I was able to use a ballpoint pen tip to reset my reader!), the microUSB connector (used for charging and for syncing the reader with your computer), the headphone jack, and the power switch and status light.
I did try the headphone jack with the sample music that came with the reader.  The sound was good, but the audio player isn't something I've ever been interested in.  At least they moved the volume controls to the touchscreen and removed them from the bottom of the reader.  I always found a way to bump the old volume rocker, and I swear that seemed to shorten my battery life.
Speaking of battery life, Sony still describes life as page turns.  They say you'll get 14,000 continuous page turns when reading only.  They also now describe the battery life in time.  The battery charge lasts over a month reading for 30 minutes a day with wireless off or 3-4 weeks if the wireless is on.  I've had my reader for a while now, and I still have about 3/4 of the charge left, as shown on the battery indicator.  I leave WiFi on, by the way.
Sony doesn't mention the type, but the battery is a rechargeable 3.7V DC battery.  It charges in about 2.5 hours from your computer's USB port.  With the optional AC adapter, the reader charges in about 2 hours.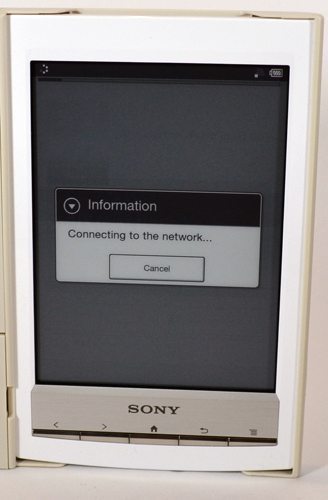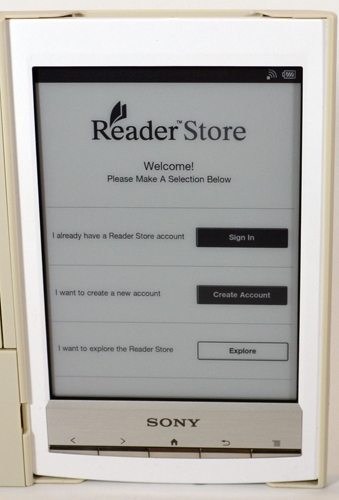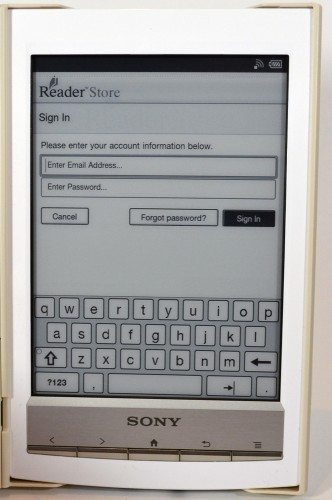 After you've opened up your reader and charged it, you're ready to connect it to WiFi.  I had no trouble getting connected to my home network.  I selected my network from the list, entered the password and was connected in a few seconds.  After I was on the network, I was asked to log in to my Sony Reader Store (bookstore) account or create a new one.  I've had an account for many years, and I was able to log in without a hitch.  You can see the on-screen keyboard that's used for all input with this reader.  It's touch-responsive, so no scrolling around and selecting keys like on the Kindle.  The keyboard is very responsive, and it worked well with my finger or the stylus.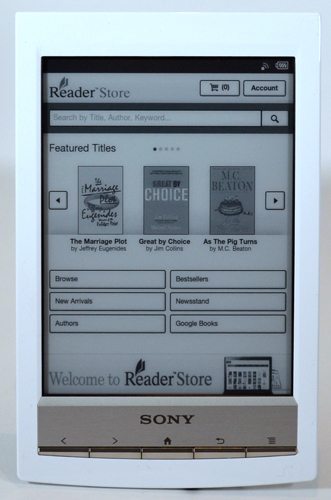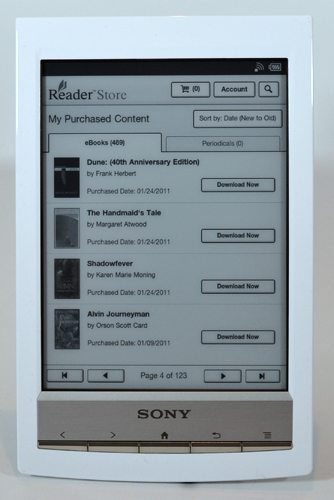 Once I logged in, I connected to the Sony bookstore.  Navigating the store from the reader is much like using the store through the computer-based application.  I can browse, search by various criteria, read book info and reviews, and purchase and download books.  I was able to see the several hundred books I've bought at Sony's bookstore over the years.  I was able to quickly download a previously-purchased book to my reader, but I decided I'd connect to my computer to transfer most of them over in one easy step.  I could also purchase and download a book directly to my reader.  Sony has always had the policy that you can redownload books you've purchased, so I could either download the book to my computer application or have it synced over to the computer when I next connect my reader.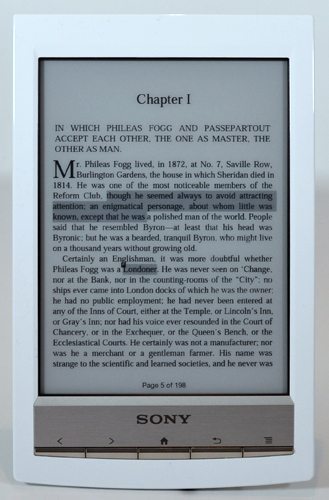 Reading was easy with the PRS-T1.  You can change the font size or the font type, but Sony warns that page turns and performance may be adversely affected by these changes.  Pages turn easily with a finger swipe on the screen.  Of course, the eInk screen is great in well-lighted areas and even outdoors in direct sunlight.  It doesn't work so well in a dark room without a good source of light.
After it was pointed out to me, I finally noticed that the Kindle I recently reviewed with Julie doesn't do the flash-to-black page change after every page.  You'll get 4 or 5 pages where just the text changes, then you'll get a black page change with the Kindle.  The Sony PRS-T1 doesn't do that.  It goes to black for every single page change I've noticed.
The PRS-T1 remembers where you left off reading, but you can make other bookmarks by touching the upper right corner to "dogear" the page.  You can even leave a note with the bookmark to remind you why you marked the page.  You can highlight text, and you can leave handwritten or typed notes with the highlights.  You can even handwrite a note directly over the page.  You'll be able to search for your notes within a book.  You can also search for a keyword or phrase within a book.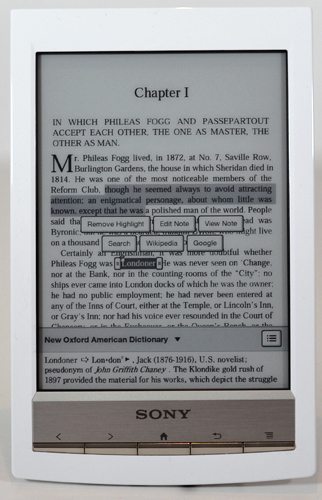 There are eleven dictionaries stored in the PRS-T1, and you choose one to be the default dictionary used when you look up a word by tapping it while reading a book.  The dictionaries include the New Oxford American Dictionary, the Oxford Dictionary of English, and 9 bilingual dictionaries.  You cannot add additional dictionaries to the reader.  You can also access the selected dictionary directly from the home page and enter words for lookup or browse, just as you can with a paper dictionary.
There are actually two pages of options in Home.  Before we discuss them, I'll mention my biggest quibble with the reader.  You always swipe the screen to turn pages – everywhere but in the menus.  There are buttons at the bottom of the home and some menu pages that you have to tap to change pages.  I don't know why these pages can't follow the normal protocols.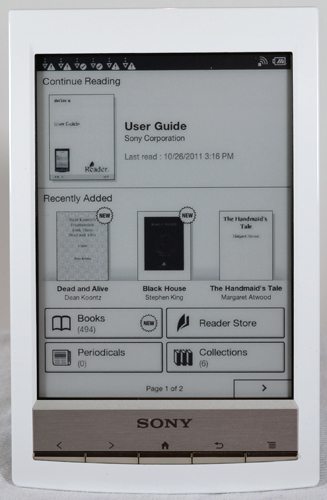 The first home page shows the last book you were reading at the top.  Touch the book's cover to open up the book and return to the place where you left off reading.  The next row shows the three books most recently added to your reader; the New badge indicates that you haven't opened these books yet.  Other buttons let you see a complete listing of all the books you have on the reader, the periodicals (magazines and newspapers which are purchased from the Reader Store) on your reader, and the collections (book categories which can be created and populated either in the reader or on your computer using the Reader application).  You can also open up the Reader Store for shopping or downloading.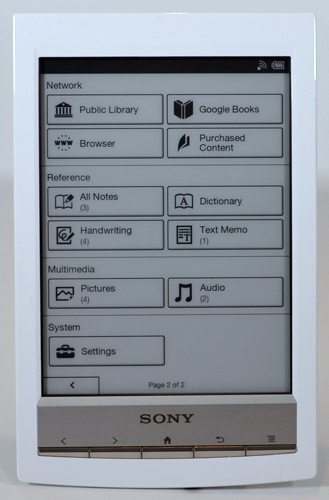 The second page is where you'll be able to access your music files or your pictures.  This is where you find the setup options for the reader.  You can also connect to the public library through the Overdrive Media console to checkout and download books, get Google books, or go straight to a list of all your purchased content at the Reader Store.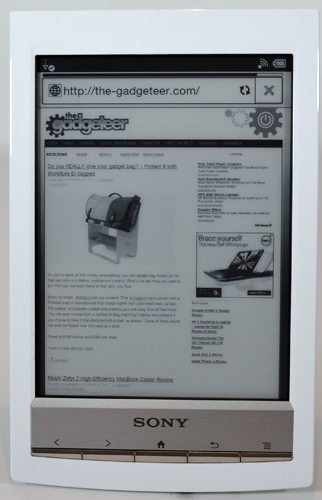 There's also an internet browser;  it's slightly better than the one on the Kindle, but it won't win any speed prizes.  The images are clear enough, and you can use the pinch gestures to zoom in or out for a better view.  You actually use this (indirectly) when you checkout library books, so it's not completely useless.  I'll have to be desperate before I'll just surf the internet with this browser, though.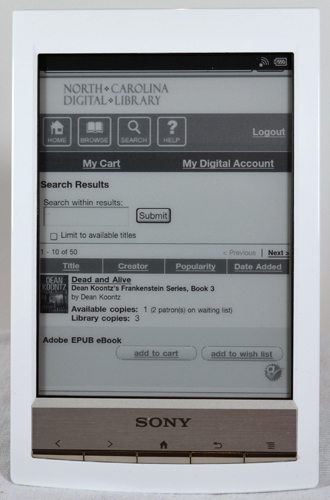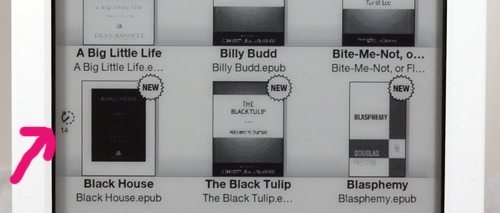 Checking out books is easy, albeit a bit slow.  You'll go to your library through the Overdrive Media Console and log in with your library card number.  You'll be able to search for books and check them out easily enough, then you'll have to download them with the Overdrive download option.  Once they're downloaded (directly) onto your reader, they'll appear and act just as any other book – you can search, take notes, highlight, bookmark, etc.  They'll have a little time-left counter beside them in the book list so you'll know how long you have left before the book automatically checks itself in.  You can also turn it in manually if you finish it before your time period is up.  As a note, you can search for a book within the complete book list, and you can sort books by title, author, date, etc.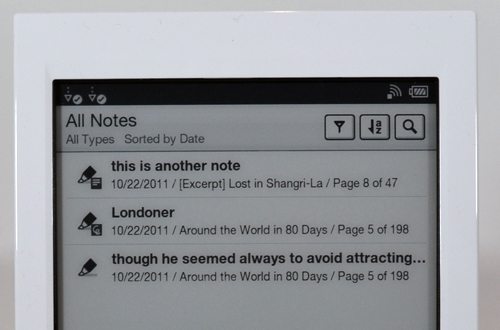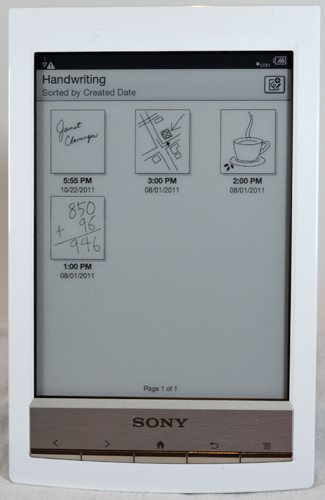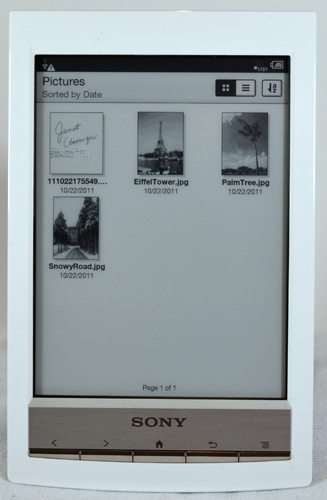 I've already mentioned the notes – both typed and handwritten – you can add within books.  You can use the All Notes option on the 2nd Home page to see all the notes you've created within the books on your reader.  You can search within this list to find the note of interest, then tap it and jump directly to it within its book.  You can also leave notes to yourself outside of your books.  They can be handwritten (or drawn) or typed.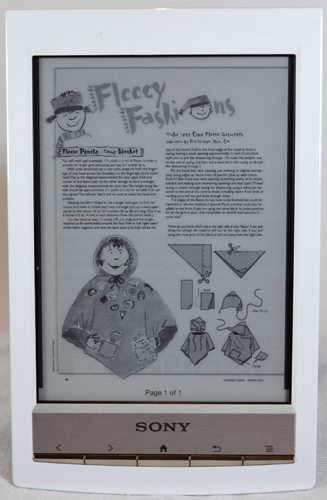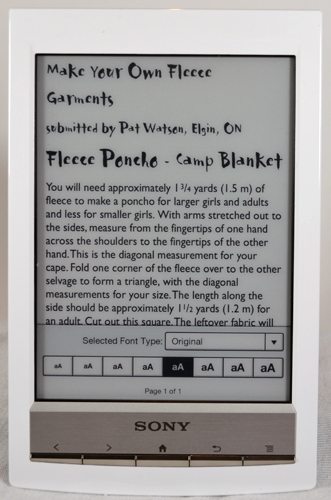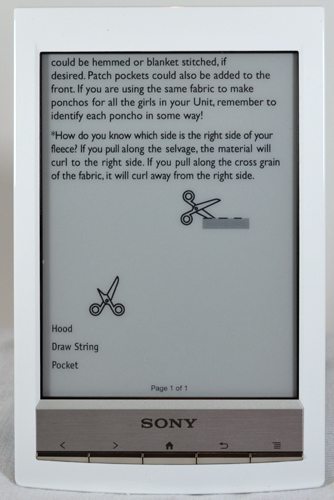 The question that everybody wants answered is "how does it handle PDFs?"  The PRS-T1 does work with PDF files.  The first picture shows how it looks with standard settings.  If you use the pinch gestures to zoom in on the PDF, you won't be able to read it because it will be grainy and choppy.  If you use the font size adjustment, you can resize the font and the text will be very legible.  Reflow will cause a page numbering artifact – multiple pages will show the same number until you have paged through all the information on that original page.  Reflow doesn't always handle the images properly, though.  The third image is all I could see of the original illustration.  I did find that I could pinch-zoom in on the image in the original format to see more details, but the images did get fuzzier as I zoomed in.  Also, I noticed that page turns were slower with this PDF file that with the ePub files.
To indicate how much internal storage the PRS-T1 has, I have 494 books, 4 images, and 2 audio files, and various notes on my reader and I still have more than 65% of the 1.4GB internal storage free.  I won't have to worry about putting books on a microSD card, so I won't have to worry about the card usage reducing the reader's performance and battery life.
Apparently Sony has replaced their three previous models with the Reader Wi-Fi (PRS-T1), because it's the only reader I see on their site.  I think this is a really good reader and combines portability of the previous PRS-350 and PRS-650 models with the Wi-Fi connectivity of the PRS-950.  I think the reader is a good size, but it would be a little easier to hold in a case.  It also needs a light source for reading in a dark room.  (Read my review of Sony's lighted case for the PRS-T1.)   Sony has made changes – plastic chassis instead of metal – to help bring the price in line with other eBook readers, but I don't think they've compromised the quality of the reader.
I like the Sony PRS-T1 Reader Wi-Fi and I find myself reading on it a lot lately.  (I passed the Kindle along to my husband.)  It's much easier to hold for long periods than my iPad 2 is, and it doesn't have other apps that lure me away from my book.  If you're looking for a good eBook reader with a clear screen, the ability to check out and read library books, and a screen you can read in bright sunlight, you can't go wrong with the Sony PRS-T1 Reader Wi-Fi.
Product Information
Price:
$149.99
Manufacturer:
Sony
Retailer:
Sony and other retailers
Pros:

Clear eInk screen
Responsive touchscreen that doesn't add glare
Can check out and read library books
Can read even in direct sunlight
Wi-Fi connectivity to buy and download books from the Sony Reader Store (bookstore)
Lightweight

Cons:

Can't read in very dim or dark rooms