We use affiliate links. If you buy something through the links on this page, we may earn a commission at no cost to you. Learn more.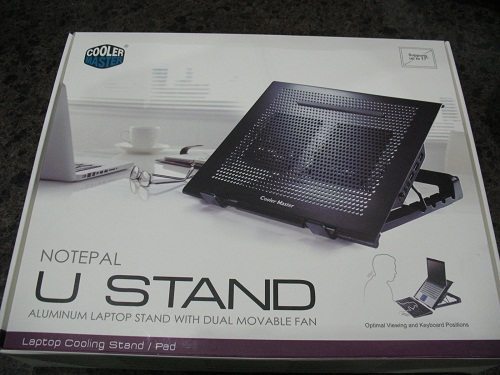 Cooler Master has recently released the NotePal U Stand, a multi-functional cooling pad/laptop stand for hassle-free cooling.  It comes as a ergonomically designed five angle stand, has two removable 100mm fans, and has a three port USB hub.  U Stand is firmly constructed of brushed aluminum and can accommodate up to a 17″ laptop. U Stand weighs 3.3 lbs and comes in black only.  Let's give it a closer look.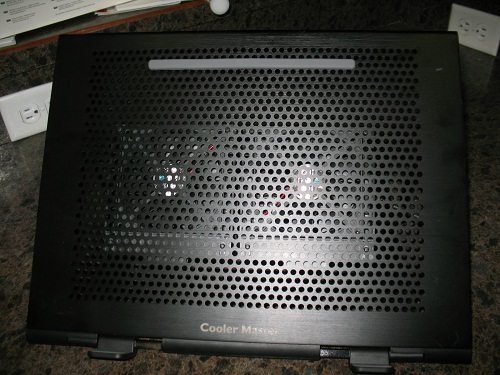 U Stand has holders on the bottom that are adjustable and anti-slip with a rubber coating to rest the laptop upon.    There is a rubber grip strip in gray near the top that is also adjustable to personalize for your size of laptop and angle of use, working well for 9-17″ laptops.  It grips well to help prevent the laptop from moving side to side.  The brushed aluminum design spreads out the heat and is a better material to withstand normal wear and tear associated with laptop use.  The stand assembly feel sturdy in composition.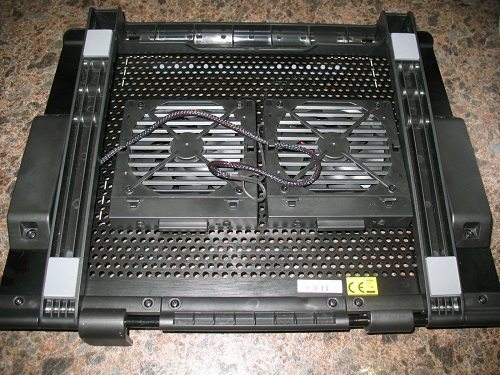 It is also equipped with two 100 mm fans (100 x 100 x 15 mm fan x 2) that may be removed and re-positioned.  It's nice to have this feature in order to adjust the positioning over memory/CPU for maximum cooling.  The fans are very quiet when running, listed at 21 dBA.  They won't provide you total silence, but just a peaceful hum.  The fan airflow is 70 CFM and fan speed is 1200 R.P.M. +/-15%.  I already was using a Cooler Master, but a NotePal, and feel U Stand did seem to cool slightly better.
The enclosure of the fan has four corner pegs for mounting to the back of the U Stand.  There is a simple push and release button located at the bottom of each fan to unlock the bottom two pegs and move the position of the fans.  There are four screws to each fan that can be removed if you were ever in need of cleaning the fans.  The cable is braided from the enclosure up to about the last 2-3″ that connect up to the fans.  There are four cable hooks on each fan to lessen cable clutter.  U Stand also has four anti-slip grips on the stand assembly.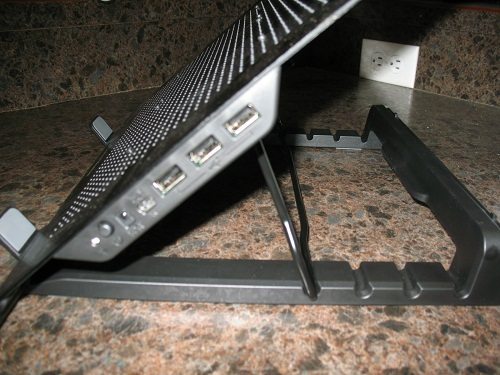 This stand has five height settings and is ergonomically designed to reduce strain on your back and wrist.  Simply unlock the bar from the low profile position and the bar will then adjust for angles ranging from 21.5 degrees to approximately 42 degrees.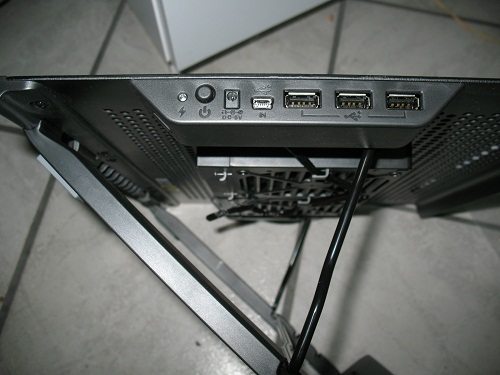 U Stand features a three port USB (2.0/1.1) hub to allow for connections to other devices.  It also has a 5V DC outlet and 1 mini-USB for power input.  There is a switch for providing power to the fans, second in from left.   It has a blue LED light that is illuminated when the fans are on or off.  Power consumption is 1.8 W/current consumption is listed at 0.36 A.  There is just a solid frame on the left side of the assembly.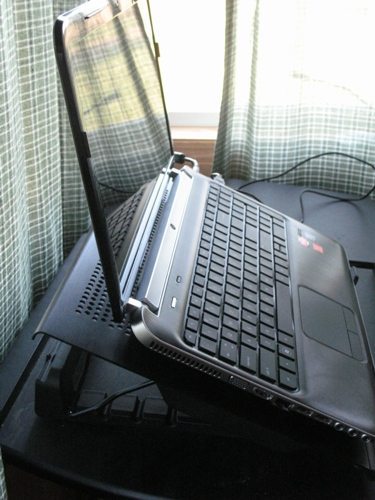 Cooler Master Notepal U Stand has some great features: the 3 port USB hub, adjustment for height, a power button for fans, nicely accommodates up to a 17″ laptop, and adjustable fans to maximize cooling.  It would be just a touch better if it had a solid underside to make it comfortable when positioned on your lap as a pad.  Then it would be less likely to tug on men's leg hairs, as my spouse noted when using while wearing shorts.  U Stand is best suited for a solid surface, like a desk, not your lap.
U Stand does have the option of 5 DC power, but does not come with the adapter.  The adapter may be needed if you run multiple peripherals through the extra USB ports.  It does however, come with one mini-USB cord for power input to the fans that is the length of U Stand.
Product Information
Price:
$49.99
Manufacturer:
Cooler Master
Pros:

It has ergonomic design and features five different height settings with stand.
U Stand feels sturdy in design.
The two fans can be re-positioned for maximum cooling.
Features three port USB hub to plug in additional devices.
U Stand can accommodate up to a 17" laptop.
Power source can be 5 DC or connection to laptop by mini USB.

Cons:

The open bottom design. It does not work well as a lap pad.
Adapter for 5 DC power is not included.