The Gadgeteer is supported by readers like you! If you buy something through links on our site, we may earn an affiliate commission at no cost to you. Thank you! Learn more.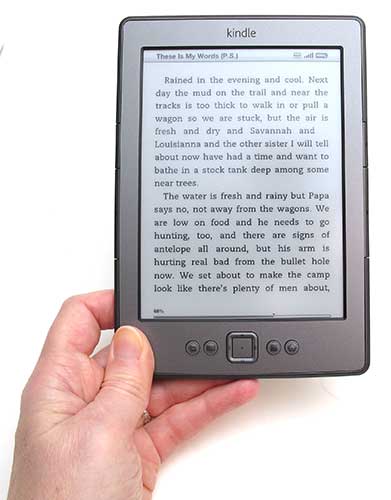 Last week Amazon went a little crazy and announced 4 new devices all on the same day. The Kindle, Kindle Touch, Kindle Touch 3G and the Kindle Fire. The first 3 devices are e-book readers and the Fire is a tablet. That is a lot of devices and of course we plan to review all of them because that's just what we do 🙂 We have to wait a little while for the Kindle Touch and Kindle Fire devices to become available, but we're happy to give you the scoop on the $79 Kindle today. For this review, I'm enlisting the help of our own e-book reader expert Janet. She's been fan of Sony eReaders for a long time until she dumped them for the iPad. She's never used a Kindle before, so it will be interesting to see what she thinks of the most popular e-book reading device on the market. For me, I've purchased all the Kindle devices in the past (except for the DX), but didn't continue to use them once I reviewed them. I find that I use my phone as an e-book reader most often. This new smaller Kindle might make me change that… Let's find out.
My comments are in Black and Janet's are in Blue italics.
I'm very excited to do my first co-review.  Thanks for letting me help, Julie!
Note: Click the images in this review to see a larger view.
Package Contents
Kindle wireless e-reader
USB 2.0 cable
Quick Start Guide
Hardware Specs
Display: 6″ diagonal E Ink display 600 x 800 pixel resolution at 167 ppi, 16-level gray scale
On-device Storage: Up to 1,400 books or 2GB internal (approximately 1.25GB available for user content)
Cloud Storage: Free cloud storage for all Amazon content
Content Formats Supported: Kindle (AZW), TXT, PDF, unprotected MOBI, PRC natively; HTML, DOC, DOCX, JPEG, GIF, PNG, BMP through conversion
Wi-Fi Connectivity: 802.11b, 802.11g, or 802.11n standard with support for WEP, WPA and WPA2 security using password authentication or Wi-Fi Protected Setup (WPS); does not connect to WPA and WPA2 secured networks using 802.1X authentication methods; does not support connecting to ad-hoc (or peer-to-peer) Wi-Fi networks
USB Port: USB 2.0 (micro-B connector)
Battery Life: A single charge lasts up to one month with wireless off based upon a half-hour of daily reading time. Keep wireless always on and it lasts for up to 3 weeks
Charge Time: Fully charges in approximately 3 hours via the included USB 2.0 cable connected to a computer
Size (in inches): 6.5″ x 4.5″ x 0.34″ (166 mm x 114 mm x 8.7 mm)
Weight: 5.98 ounces (170 grams)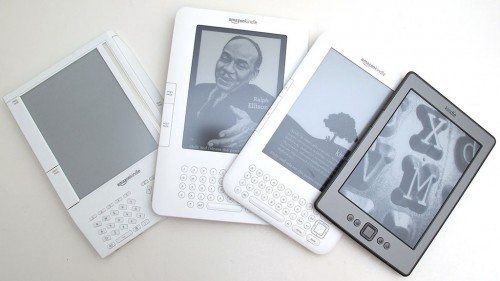 Here's a family photo of the original Kindle, Kindle 2, Kindle 3G (which Amazon now calls the Kindle Keyboard) and the latest Kindle that we're looking at today. It's fun to see the evolution of these devices. The original was really ugly wasn't it? One thing to note is that since the Kindle was introduced back in 2007, the display has stayed at 6 inches diagonal (not counting the DX of course) through all the new versions.
That first one was a bit wedge-shaped, wasn't it?  I like the 6″ screen.  It makes the reader about the size of a paperback book and keeps it light.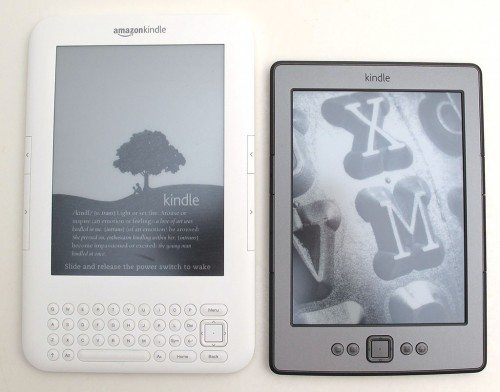 Here we see the latest Kindle next to the previous Kindle Keyboard. All of Amazon's new Kindles lack a physical keyboard now. That might be a deal breaker for some of you… I rarely use one as I don't tend to add annotations or do a lot of searching in the Amazon store on the device itself. But more about the keyboard in a bit. First let's take a tour of the whole device.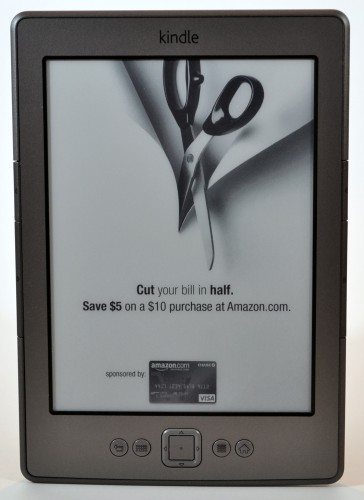 When I first took the Kindle out of the box I was really surprised at how much smaller and lighter it was over the previous model. It's almost pocketable if you happen to have big pockets 🙂
And it fits nicely in a purse!  It's so small, it's a bit hard to hold.  I can't decide where to put my hands.  I ordered the lighted case for it, which I think will make it easier to get a grip on.
It's only available in one color, which is grey. The bezel looks like it is made of aluminum, but this hasn't been confirmed.
This latest Kindle uses the same e-ink screen technology as the previous Kindle, so there's nothing new there. I find it to be very crisp and clear and it's easy to read in most lighting conditions. It's great for very bright environments like outdoors on a sunny day, as well as slightly dim light indoors. Basically, wherever you can comfortably read a regular physical book, you'll be able to read on the Kindle. How do you think the Kindle's e-ink screen compares to Sony eReaders?
Amazon's specs for this reader says it has the Pearl screen.  That's the same screen that was used in the last Sony Reader I reviewed, the PRS-650.  I love this screen, because it is so sharp and easy on the eyes.  The page refreshes very quickly, and I haven't seen the slightest hint of shadowing on this screen.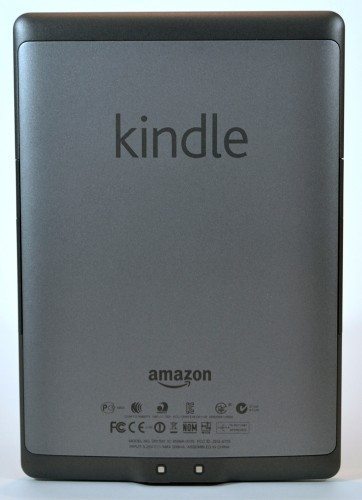 The back is the same color as the front bezel, but it's made of plastic with a thin rubberized coating that helps you grip the device. You'll notice two metal contacts along the bottom edge that appear to be used for some sort of charging dock that we've yet to see.
I'm thinking those contacts are for the lighted Kindle case, but I can't be sure until my case gets here in mid-November.  The new lighted case requires no batteries; it pulls power for the light from the Kindle itself.
Oh, I bet you're right!

There are several buttons below the e-ink display that help you navigate through the on-screen menus. From left to right, there's a back button, on-screen keyboard button, 5-way navigation button, menu button and home button. All the buttons are raised and have very good tactile feedback.

On the Left side (and right side) of the reader, you'll find two narrow buttons that allow you to page forwards and backwards through books. For me, these buttons feel almost too small. I find it a little awkward to hold the device in one hand and press the paging buttons with my thumb on that same hand. I usually just rest the Kindle in my lap as I read and hold it by one of the upper corners with one hand and use the other hand to press the page buttons.
They feel a little awkward to me, too.  I always want to push in on them, but you have to push them to the back to make them work.  The thing I find confusing about them is their size.  Both sides have one big button on the bottom and one smaller button at the top.  I think the big button on the right side should advance you one page and the big button on the left should take you back one page.  Amazon thinks differently, because both big buttons advance a page and both small go back one page.  
It would be nice if there was a way to remap two of the buttons below the display to page forwards and back. Then you could more easily hold the Kindle in one hand and use your thumb to press the buttons.
One thing I noticed is that the Kindle doesn't have the little slots on the Left side for special cases that don't require elastic bands. I'm slightly disappointed in that fact, but I guess it's not a big deal.
Kindle is changing the style of their cases.  You can imagine I spent a long time pouring over their official cases before I decided on the lighted case.  I noticed that both styles – lighted and unlighted – now hold the Kindle in a "shell".  You snap the Kindle into the shell, and it covers the back and wraps up around the Kindle's sides.  Closer inspection of the lighted case does show two metal contacts that should connect with the contacts on the back of the Kindle.
Of course we'll start seeing a bunch of cases that use elastic bands too…
I don't like the elastic band cases.  I like to see my gadget's face.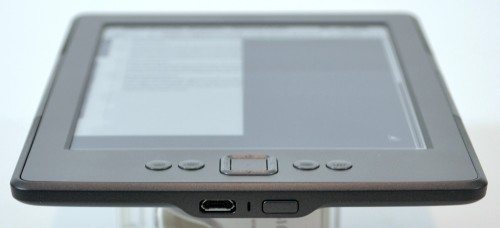 On the bottom edge you'll find the micro USB port for charging / copying content from a computer, the charging status LED and the power button.
Speaking of USB charging, I wish Amazon had included the AC power adapter, but I guess you can't have everything at these prices…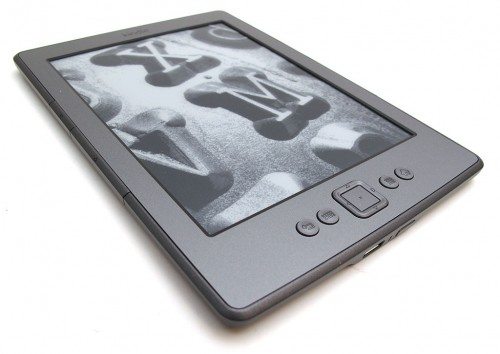 The Kindle is comfortable to hold and carry because it's so lightweight. It's made well and feels solid, but since it's so light, at first I felt like I could snap it in half just by looking at it cross eyed.  After using it for a few days though, I'm sure that it can withstand everyday abuse without any problems. It passed the good old Gadgeteer squeeze and flex test with no problems.
The Sony readers didn't seem heavy to me at the time I was using them, but they did all have metal bodies.  The Kindle feels so light I thought I'd throw it over my head when I picked it up!  Even though it's mostly plastic, it is very sturdy.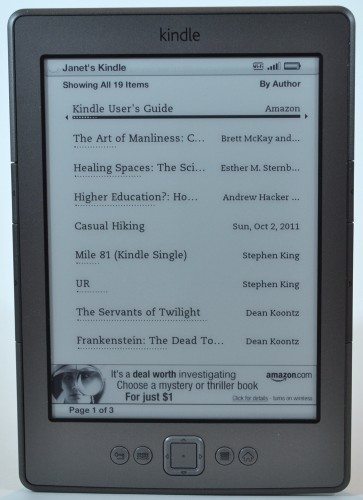 You probably have noticed that our Kindles are showing ads in some pictures, but not in others.  The shots without ads are Julie's Kindle.  She opted for the slightly more expensive version ($109) without "Special Offers".  After four generations of Sony readers costing $250-$350, I was ready for a discount.  I bought the discounted version($79) with "Special Offers."  The "Special Offers" are simply ads; agreeing to them earns you a a 27% discount off the Kindle's purchase price.  The ads replace the screensavers that are normally artist pictures or book covers, or the like.  They also display in a banner at the bottom of the home screen, as shown in the picture above.  You click on them and they take you to learn more about the offer.  They never show up within the books.
I find the ads very easy to ignore.  For the review, I have made an effort to notice the ads.  So far I've seen mostly ads for Amazon products and services – 50% off the power adapter and extra charging cable, an Amazon credit card with rewards and a $50 gift card, books for $1.  I also have seen an ad for pet supplies, so I assume they check my Amazon purchasing records to gauge my interests.  They also have an app called Amazon AdMash you can download to the Kindle if you'd like to vote on the appearance of possible future ads.
My question to you is – are ALL the screensavers ads? Do you never see a non-ad? If that's the case, I'm glad I opted to pay a bit more. I have come to enjoy the screensaver images and often wonder what the next one will be when I put my Kindle in idle mode. I also noticed that you can login to your Amazon account and adjust the types of pictures you want to see more or less of – Nature, Architecture, etc. Too bad you can't add your own images though…
Yes, all the screensavers I've seen are ads; the same ad shows up in the banner when you turn the Kindle on, too.  I just went to see if I could adjust the type of ads I see, but my only option is to turn off the special offers.  If I do that, I'll be charged $30 plus tax.  I guess my Kindle would have screensavers like yours if I decide to do that.
That's nice that you have the option to switch to no ads if you desire and don't mind paying for that option.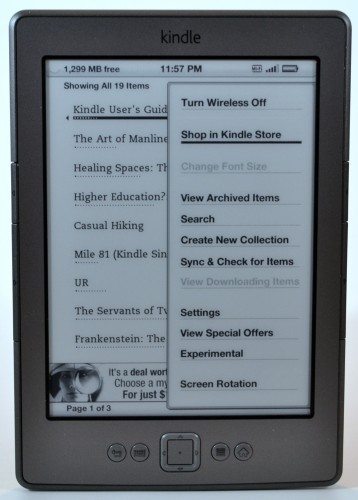 This Kindle doesn't include the free 3G access to the Kindle store, but you can still shop and purchase books anywhere you can connect to WiFi.  Connecting to my home network was easy; I simply selected my network from the list it found and entered my password. I was a bit worried about how it would connect to networks in public places.  My experience with those networks on other devices is that I choose the network, then I have to go to the browser and accept their terms of service.  This Kindle does have an "experimental" browser, but I was still afraid it would be difficult to connect.  It turns out to be a snap.  I took it along on a family visit and was able to connect to their network as easily as my own.  I took it to Starbucks Sunday morning, and found that I only had to select the network and I was connected.  I didn't even have to use the browser to accept terms.  The Kindle even remembered my home network and reconnected me when I got home from Starbucks.  I was just looking at the info on Amazon, and it may be that you only connect to AT&T public hotspots so effortlessly, though.
That's great. So far I've not tried any of my Kindles on another wifi network other than the one I have at home.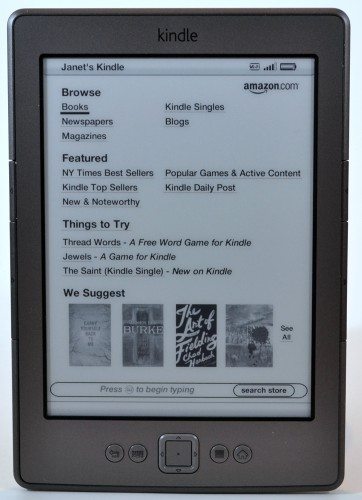 It looks different than the online version, but you'll have full access to the content in the Kindle store.
Most of the time I look for new books via my laptop or desktop. It's amazing how fast the Kindle downloads new content. As soon as I click the buy or download sample link, it's on the device within a few seconds.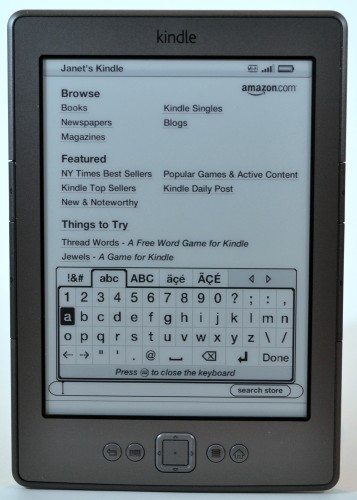 I find the on-screen keyboard a pain to use.  You use the 5-way navigation buttons and the page forward and back buttons to move around on the keyboard.  You have to select each letter then close the keyboard before you can navigate down and select the button to search the store. 
You can actually press the on-screen return button to search the text you've entered instead of closing the keyboard and selecting the search store button. I'm not a big fan of on-screen keyboards either, but this one isn't too terrible for occasional short searches. I'm pretty fast at entering text with it due to years of using similar on-screen keyboards for other devices.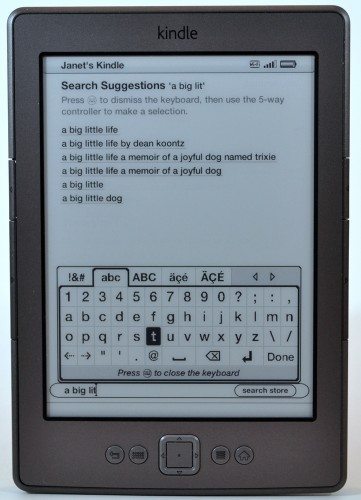 The search is "intelligent" and starts showing you a list of possibilities based on the text you've entered. You can close the keyboard as soon as you see what you're looking for and move up to select it from the list.  There was a bit of a delay, but it populated this list without me having to hit the return key.  The keyboard is pretty quick and responsive, but it's a pain for me because I just can't keep myself from tapping on the screen to select a letter.  The last two Sony readers I owned had touch screens, as does my iPad.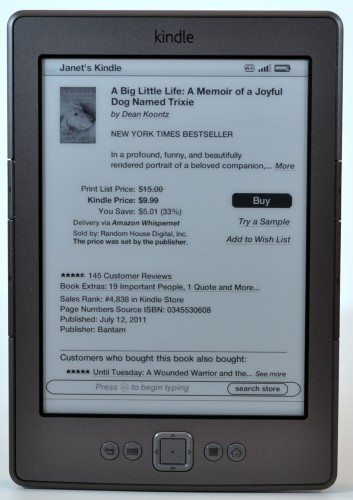 Just like the online store, you can read about the book or even download a sample chapter to read before buying.  Purchasing is easy.  Press the Buy button and your book starts downloading.  You can also download previously purchased books to the Kindle.  Every book I've downloaded has taken far less than a minute.
My favorite feature is the ability to download a sample chapter. I always do that before I buy anything because I'm pretty picky when it comes to books. It takes a great author to grab my attention.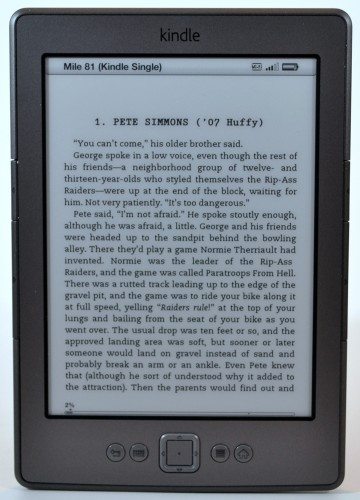 The books look great on the Pearl screen.  Letters are sharp and easy to read.  A status bar at the bottom shows you how far you've progressed in the book.  At any point, you can press the Menu button to read a book description, search the book, add a bookmark, or view your notes and highlights.
Also, when you press the Menu button while reading a book, you'll see the time of day and the page number at the bottom of the display.
I love this feature!  I tend to lose track of time when I read, and I can't risk forgetting to pick up Rachel from school!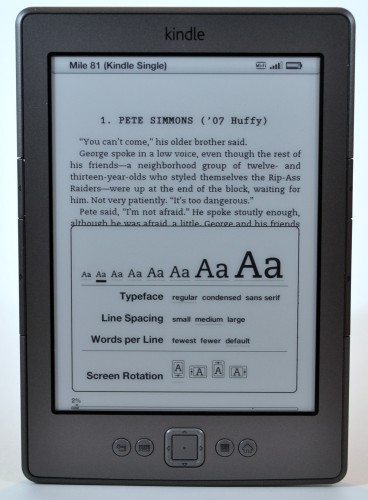 If you don't like the font face or size, you can change it.  You can choose from three typefaces and eight font sizes.  You can adjust the amount of white space on the page using the line spacing and words per line options.  You can also read in vertical or horizontal orientation, and choose the position of the control buttons for each.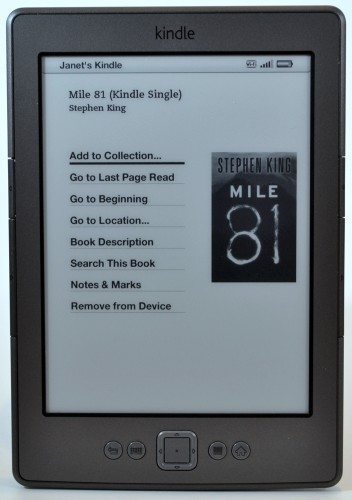 You can jump to the book information page from the home screen, too.  Move the cursor to the book, then press the right arrow on the 5-way navigation button.
This is also the screen that allows you to move your books to Collections (aka folders).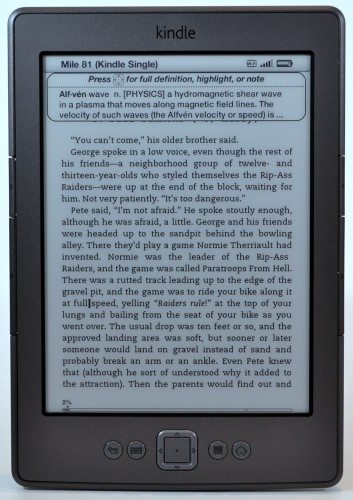 The Kindle has a multitude of dictionaries available to you.  Mine defaulted to using The New Oxford American Dictionary.  Look up a word by moving to the beginning of it with the navigation buttons.  If the dictionary has a definition, it pops up a small window displaying the information.  You can click to see the full definition.  I've found the dictionary sometimes shows you strange definitions.  For example, I stopped on the word "speed" and I was shown the definition for Alfven wave.  It often showed me definitions as I navigated down the linked table of contents, too, but it would jump me to the desired location when I clicked the linked entries.  
You can also choose to add a note or a highlight by navigating to the word in the above manner.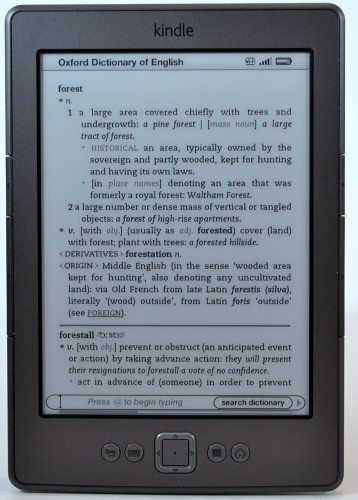 You can download multiple dictionaries from your Kindle account, open one like a normal book, and search through it.  My Kindle arrived with two dictionaries on it, and there were 5-6 other dictionaries available for download in my archived items.  I had not purchased these dictionaries separately, so I assume they come with the Kindle.
They did come with the Kindle… I had them too. Several alternate languages, right? I ended up deleting them since I'll never need them…
I plan to delete those other dictionaries, too.  I can't even tell what language some of them are for!  I held on to them just in case I needed them for the review.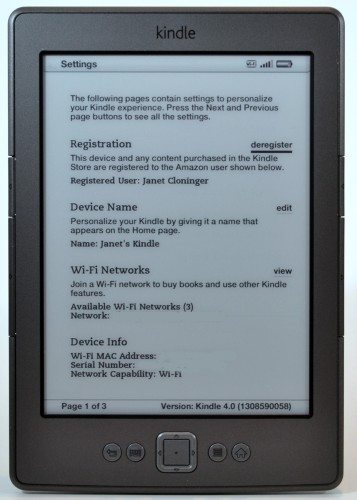 Settings lets you do a variety of things, from connecting to a network, to finding the email needed to send your own materials to your Kindle, to backing up your annotations.  You can even turn on "Popular Highlights" and "Public Notes", if you want to see what other people had to say about the book you're reading.  You can even share notes about books using your social network accounts.  Here's where you can change the default dictionary the Kindle uses to look up words as you read, too.
I'm not sharing what I'm reading because people would make fun of me 😉 One of my friends at work still thinks I'm looney for saying that the Harry Potter series is my favorite book(s) ever. Come on J.K. Rowling, pleaseeeeeeee write something else soon.
I don't care what other people have to say about books.  If I like them or if I hate them, that's what matters!  (Although I think everyone should love Dean Koontz as much as I do!)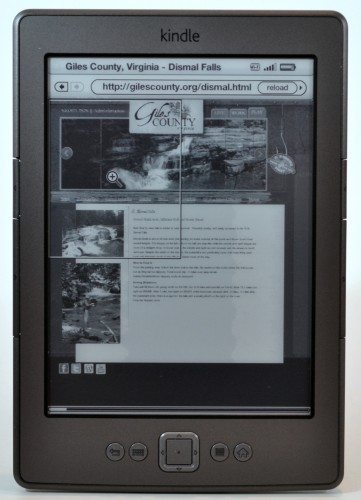 As mentioned above, the Kindle does have an "experimental" browser.  It's a pain to enter long URLs, and I haven't found a way to store favorites.  It's slow, but it does work if you need to look up something and you have no other way to connect to the internet.  You launch the browser from the book list menu (press the menu button to see it).
I think I'd rather stick a fork in my eye than use the Kindle's browser. It's way too painful. But speaking of experimental features… It's important to note that this Kindle can not read books to you. It's not only that the feature isn't in the experimental menu, but this Kindle doesn't have a headphone jack. That's a bummer for those of you that like to use the text to speech feature or even play background MP3s while you read.
I was actually glad that there were no audio functions.  I've never used the text-to-speech feature, and I never wanted music on my readers.  I never liked paying even a few cents for the audio functions.  The volume buttons on the Sony readers were always some place easily bumped, and I swear that somehow drained the battery faster.
I never use them either but I'm guessing some people thinking about upgrading from a previous Kindle model might miss that feature if they were used to it.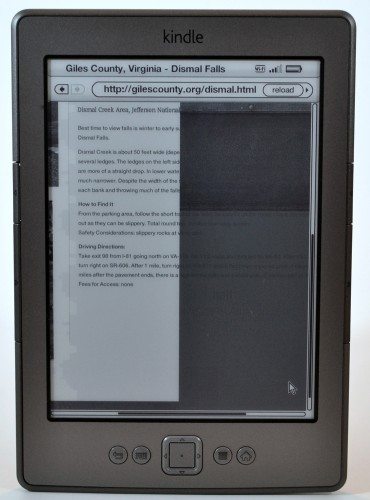 The browser doesn't always display the pages perfectly, though.  I couldn't make this dark box go away, and I couldn't read through it.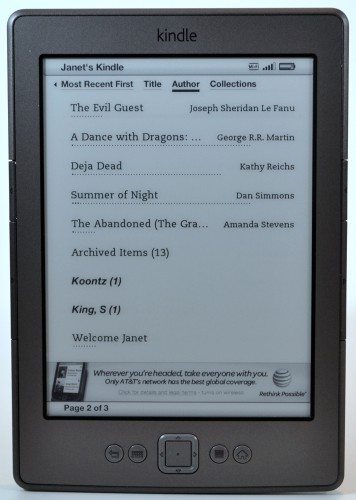 Unfortunately, I haven't found a way to search for a book in the book list.  You can sort the books by title or author.  You can also sort them by collections, which you can create and populate on the reader.  Yes, creating collections requires a lot of clicking on that on-screen keyboard.
Searching for a book on your Kindle is easy. Just click the Menu button on the home screen and then select Search. You'll have to use the horrible keyboard to type in the name of the book though 😉 It will also show other books that have the same words located somewhere in them. So if you're just looking for a particular title, you need to be specific.
Hmm, I just searched for Dance With Dragons as you described.  The only search result was the book "A Dance With Dragons", but clicking on it opens up a list of locations within the book where it found that phrase, or dance, or dragons.  It didn't just open up the book for me to read, although I guess I could open one of the search results and navigate to the beginning.
Ok, I'm sorry, you're right. It works but not as expected…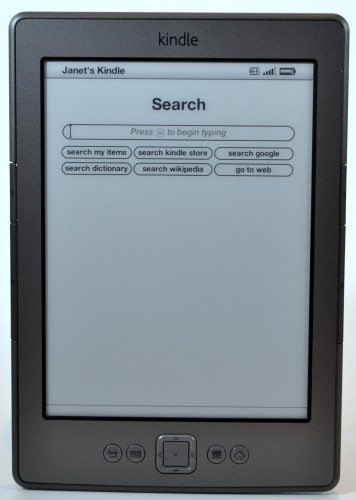 You can search all your books to find every instance of a word, and the same option allows you to launch a search in the dictionary, the Kindle store, or online.  Too bad it doesn't let you find a book this way.
The Kindle really shines when it comes to battery life. Unlike reading on a tablet or a smartphone, it seems like the Kindle's battery takes ages and ages to drain. Actually Amazon says it will run for 1 month on a charge. That's with wireless turned off and 30 minutes of reading per day. It also never gets hot while you're using it.
I decided to test out the battery.  I received the book on September 29th, charged it up, and started using it about 7:00 pm that night.  I've left the WiFi on continually.  I leave the Kindle in standby when I'm not using it, and I've read and played around with it to learn the features for at least an hour a day.  My battery icon shows about a 2/3's charge still remaining.  That's not bad!
When will smartphone batteries last this long? 😉
Amazon recently announced that you can now check out library books and read them on your Kindle.  I tested that out and found it works great.  You go to your library's website (on your computer), search for the Kindle books, and go through the Overdrive checkout procedure.  You then click on the "Get for Kindle" button; you'll go to Amazon where you'll choose which Kindle device you want the book downloaded to.  The book was automatically downloaded to my Kindle.  It looks like any other book on my device; it's not marked as a library book in any way, and I can make highlights and notes in the book.  (I can back up my notes using an option in the Menu.)  The book will be automatically returned on its due date, or I can go to Amazon's online "manage my Kindle" option to return it early.
One other feature worth mentioning is how the Kindle handles embedded images.  You use the navigation button to move the cursor to the image, then click to select.  The image will enlarge to fill the screen.  Click again to return to the book page.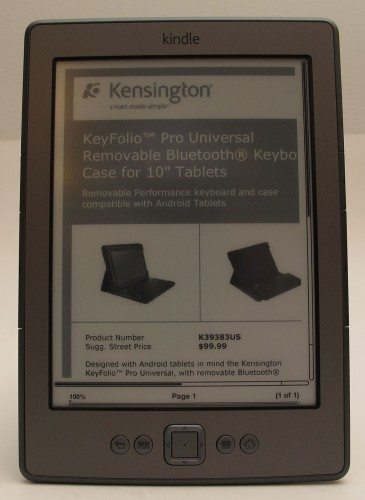 Speaking of embedded images, the Kindle can view PDF files. Using the special email address that each Kindle receives, I sent a PDF to my reader and a few minutes later, I was able to view the PDF by zooming in and out. Viewing PDFs on a 6″ screen isn't that fun, but it's doable.
This is my first experience with any Kindle reader, and I find that I enjoy reading on the e-Ink screen again.  Reading on a backlit screen, like my iPad, doesn't bother my eyes at all.  I can and do read for hours on that bright screen.  However, I find that I don't read as many books when I use my iPad exclusively.  I guess there's just too many other things I can do on the iPad.  Trust me, I won't find myself tempted to go surfing on the experimental browser, so I'm sure I'll be reading more books with my Kindle. I just hope my lighted cover gets here sooner than the expected date.
I think this new Kindle is a great little e-book reader. The $79 price tag makes it a no-brainer for anyone wanting to try one. If you already have Kindle Keyboard though, I wouldn't be overly gungho to upgrade if it were me as they both have the same display and features. This is especially true if you happen to do a lot of searches and annotations and prefer the physical keyboard.
Will I continue to use this Kindle to read e-books or will I go back to my normal habit of using my smartphone? I actually think I might start using both. I'll use my smartphone and the Kindle app when I'm not home and the Kindle when I am home. We'll see if that works for me…
One down, 2 more Amazon devices to go 😉
Update:  Because I'm such a dedicated reviewer, I decided I'd "upgrade" my Kindle to the non-ad version.  It was very easy to do.  I went to Amazon's Manage my Devices function and agreed to the $30 charge, to be paid with 1-Click, just like purchasing a book.  I then had to turn on my Kindle, waited a couple of seconds then got a message that my Kindle had been converted to the non-ad version.  I now have no ad banner at the bottom of my library pages, and I have non-ad screensavers.  Quick and easy!
I also tried returning my library book early.  I just went to the Amazon Manage my Kindle function again, and used the option to return the book early.  I got an email at the account I use for Amazon telling me the book had been returned, and it no longer showed up in my book list on the Kindle.  
Update on 10/19/11:  Because I truly had learned to tune out the black flashes, I didn't notice until today that the Kindle doesn't do the flash-to-black for every page turn.  As Erin asked in comment 18 and Bryan explained in comment 21, the Kindle is like the Nook.  It simply changes the text for 5 page changes, then it flashes to black for one page change.
Product Information
Price:
$79 (special offer version / ads), $109 (non-ad version)
Manufacturer:
Amazon
Pros:

Small, Thin
Excellent battery life

Cons: