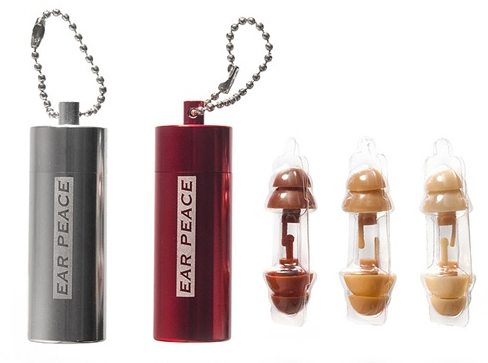 Have you ever been to a concert and then spent the next day listening to the ringing in your ears?  That sound indicates that your ears were exposed to possibly damaging sound levels.  "The National Institute on Deafness and Other Communication Disorders states that about 15% (26 million) of Americans between the ages of 20-69  have high frequency loss due to loud sound exposure, work-related noise, and leisure activities."  Effective hearing protection can be hard to find and hard to keep with you.  EarPeace has a solution that is proven to protect your hearing by Michael & Associates, the leading independent lab in the country for measuring hearing protection performance.  EarPeace hearing protectors are made of strong, reusable, hypoallergenic silicone.  They protect your hearing by reducing sound pressure by 75%, but they maintain high-quality sound fidelity.  They come in three colors to match skin tone, so they're discreet.  They're always with you, stored safely in their aluminum cylinder clicked to your keychain.  At only $12.95, they're affordable.  The holiday gift-giving season is close – why not give someone the gift of good hearing with EarPeace hearing protection?
Support The Gadgeteer
:
We may earn a small affiliate commission from purchases made from buying through links on our site. As an Amazon Associate I earn from qualifying purchases. Learn more.