We use affiliate links. If you buy something through the links on this page, we may earn a commission at no cost to you. Learn more.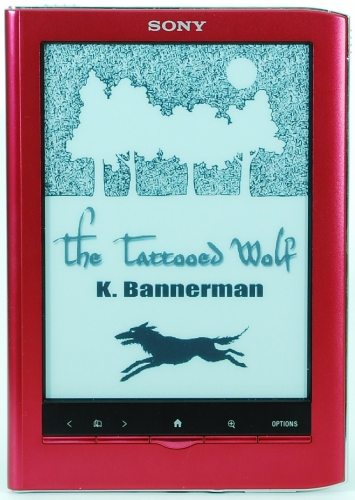 It's September, and that means updated readers from Sony!  I've been a devoted fan of the PRS readers since 2006 – first the PRS-500, then PRS-505, and the PRS-600 last year.  I've loved my Sonys and spent thousands of hours reading on them over the years.  Unfortunately, the PRS-600, while beautiful, eventually fell out of favor with me.  The touchscreen layer made the reader reflective and glare-y, and it also made the text on the screen lighter and a bit harder to read than on the previous PRS-505.  I admit that I eventually began reading exclusively on my iPad.  The iPad screen was beautiful and it never caused eyestrain for me, but all its other fabulous functions seemed to tempt me away from reading.  I haven't been reading much at all for the past few weeks.   When the new Sony readers were announced, I was excited to hear the old resistive touchscreen layer had been replaced with a new method – neither capacitive nor resistive.  Hoping that the PRS-650 Touch Edition Reader would be a return to the sharp, clear screens I had loved in the past, I decided I'd give the new version of the Touch Edition a try.  I placed my order and waited – and waited when the original ship date passed.  Eventually I got my reader.  Was it worth the wait?
Some of the pictures in this review are clickable for a larger view.
Hardware specifications
Size in inches : 6.625 x 4.75 x .4
Weight  : 7.58  oz
Screen: E-Ink Pearl 6 inch (diagonal) display with 16-level gray scale and a resolution of 800 x 600 pixels
Memory Size: 2 GB.  User available capacity: Approximately 1.4 GB
Dual memory card expansion slots for Memory Stick PRO Duo and SD card up to  32 GB
Media formats supported : ePub (Adobe DRM protected), PDF (Adobe DRM protected), BBeB Book (PRS DRM protected), ePub, BBeB Book, PDF, TXT, RTF, Microsoft Word (conversion to the Reader requires Word installed on your PC), JPEG, PNG, GIF (only 1st screen of animated gif will display), BMP, MP3 (non-encrypted), AAC (non-encrypted)
Connectivity : micro-USB for file transfer from PC
Power : charge  with micro-USB cable (supplied) or optional AC adapter
Battery: Built-in rechargeable lithium-ion battery: 3.7V DC, 940mA;  battery life is approximately 14 days;  recharging time 3 hours with USB, or about 2 hours with the optional AC adapter (PRSA-AC1)
System requirements: Microsoft Windows 7 (32/64 bit), Vista (32/64 bit), and XP, and Apple Mac OS X 10.4.11 or later (32 bit only)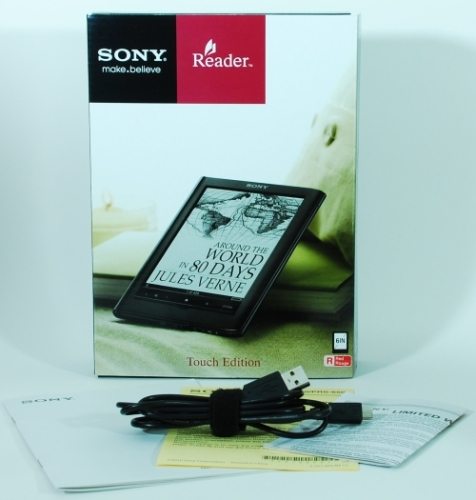 What's in the Box?
Reader
Micro-USB cable for charging and synching the device
Quick start guide

You can see my collection of Sony readers in this picture.  You can also see I have a thing for red.  In this picture, it's a little hard to tell exactly how the three reds of the last three models compare.  No matter what I did, it was impossible to get a picture that showed exactly what my eye sees.  When you see the pictures comparing the text on the 505 to the 650 and the 600 to the 650 later in this review, you can see a somewhat better comparison – but I still couldn't get an exact color rendition.  I'll try to describe what I see.  The 505 reader seems to have an orangey cast to it.  The 600 reader is a bluer color, and it almost seems to be matte.  The 650 reader also has a bluish cast, and it is lighter and shinier than the 600.  I've tried and tried to come up with a color name for the 650.  It's definitely a red – not pink – but in some light it appears to be a raspberry color.  There – that should be all you need to know about the color. 😉
There's no installation CD in the box.  Apparently, the internal memory has an installation partition with the software setup program like the PRS-600.  I already had the latest version of the Sony Library software installed in anticipation of receiving my new reader.  I simply connected my new PRS-650 with the new micro-USB cable, waited for the driver to install, and I was ready to load up my reader with books.  I had a ton of space to load up, too.  The PRS-600 had around 380MB of user-accessible internal memory, but the PRS-650 has about 1.45GB of space available to me.  I've never felt the need to use memory cards with my readers in the past, and I certainly won't need them now.  I could load up all my books (about 550 or so) and still have plenty of room to spare.  Sony says you can store up to 1200 books in internal memory.
You can use memory cards to add books to the Sony reader, or you can load them up with music for the internal audio player application.  I never have used the audio player on my reader – I don't want to waste the battery when I have an iPod for music.  Sony warns that using the music player drains the battery faster, and simply having the memory cards in the reader can drain the battery faster.  I'll save my battery for reading, thanks.
Sony no longer uses the same sync and charging cables that it has used since the PRS-500.  The old mini-USB cable has been replaced by a micro-USB cable.  There is no separate AC adapter jack any longer, so you can't use your old Sony reader (or PSP) charger.  Instead, you can charge your reader in about 3 hours using a USB port on your computer.  You can also buy a $30 AC-to-micro-USB charger from Sony.  I found that I can use the micro-USB charger with my Charge4All charging system quite successfully to charge my reader.  Some people on MobileRead have reported using cellphone chargers with their readers.  You can charge your reader in only 2 hours with the AC adapter.  You can also read while charging with the AC adapter.  You can't read while charging with a USB port because your reader always goes into sync mode when connected to the computer.
I complained last year in my PRS-600 Touch Edition review that Sony had cheapened out by supplying only a neoprene sleeve instead of a proper cover.  They are apparently feeling the pinch of the ereader price wars, because they didn't supply any case or cover with the PRS-650.  Since I was used to using the iPad practically naked (in a Belkin Grip Vue only), I thought I'd try using the PRS-650 without a book-style cover and just store it in the neoprene sleeve I'd scorned last year.  That experiment is over, and I have a standard Sony case on the way to me now.  Hopefully M-Edge will soon have some cases and an e-Luminator2 light available for the PRS-650.
Speaking of the price wars – many people were shocked to hear that Sony was offering their newest Touch reader at $229.99 – only $70 less than the PRS-600 Touch Reader last year and much more than the new prices announced for nook and Kindle readers.  Some were shocked that the Touch doesn't have 3G, Wi-Fi or any method of shopping for or loading up books without tethering to your computer.  Sony announced that they would not be vying for the lowest price; they would be competing on quality.  I haven't seen a lot of other readers to compare, but I can say Sony has always built quality readers.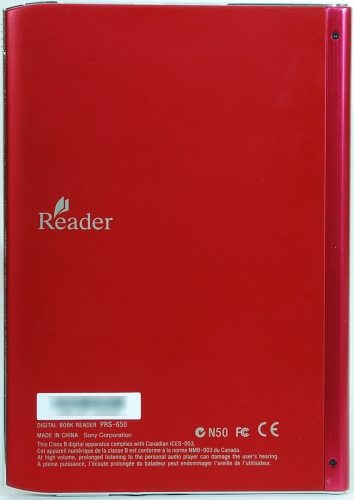 The PRS-650 reader seems to be built of aluminum, just like all its predecessors.  The back of the reader still has that rubberized coating, like last year's reader.  The PRS-650 passed Julie's Patented Gadgeteer Creak Test with flying colors.  As you will have noticed from the pictures, I got the red one.  It's also offered in black in the US.  The colors offered vary depending on the country where you live. There's a shiny "chrome" strip on the top, bottom, and right side of the reader.  I think it is actually a plated plastic instead of metal.  The reader is smaller and lighter than the PRS-600.  (It's small enough that you can't use any of the older cases with the Sony connectors with the reader.) 
Another way that Sony competes is by giving you more choices for obtaining books for your reader.  Sony supports both industry-standard formats – ePub and PDF.  You can buy books from the Sony bookstore, but you aren't limited to it.  I buy almost exclusively from the Sony bookstore, but I've bought ePub books at other bookstores that worked perfectly with my Sony readers.  You can of course use public domain books, like those at Google Books and Project Gutenberg.  And something that most other readers don't allow, you can even check out books from public libraries.


The top of the reader has a small light to show charging status, a power/standby slider, and expansion slots for Memory Stick PRO Duo and SD cards up to 32 GB each.  There's also a stylus that you can remove from the far right side.

The bottom of the reader has a recessed reset button, micro-USB charging/sync port, a 3.5mm headphone jack, and a volume rocker.

On the face, the PRS-650 looks very much like the PRS-600.  There are five buttons along the bottom of the screen that are labeled the same on both readers, but the buttons on my red PRS-650 are a red metallic color.  In some light, the buttons appear to match the color of the body.  In other light, the buttons appear to be darker and bluer than the body.  It's hard to see in the pictures, but the bezel around the screen is slightly deeper than on older Sony readers to allow for the IR grid that makes up the touchscreen.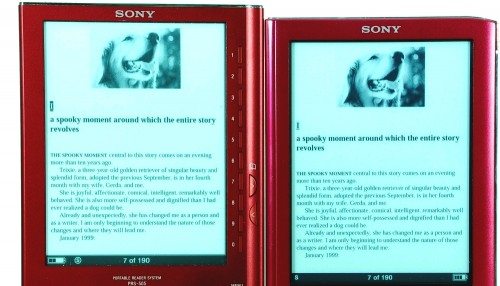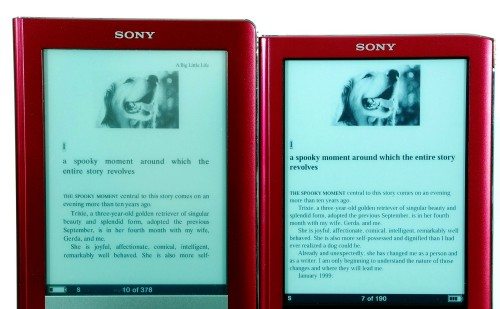 The screen on the PRS-650 is a beauty.  The shiny, reflective, hazy, resistive touchscreen used on the PRS-600 is gone. In its place is an IR touchscreen that introduces no glare and no reflectivity.  The IR touchscreen is amazingly sensitive and responsive.  With the resistive screen on the 600, I had to use a heavy touch to get a response.  I had to use the side of my finger or my fingernail to get a firm touch on the 600, and I'd still sometimes have to try more than once to get a response.  The IR touchscreen is as responsive as the capacitive screen on my iPad.  I can even use the pad of my finger to successfully operate the screen.  The very lightest touch is able to flip a page or make a selection.  Best of all, IR energy is invisible to the human eye.  It seems that you are looking at the bare E-Ink screen, just like in the PRS-505 reader.  With no touchscreen in the way, the text and images on the PRS-650 are sharp and clear – better than on the PRS-600 and even the PRS-505, which some Sony fans say is a perfect ebook reader.
It's not just the invisible touchscreen that improves the images.  The PRS-650 has the new E-Ink Pearl screen.  I don't really notice that the background on the Pearl is a lot whiter or brighter than on the old Vizplex screens, but the contrast between the text and the background is greater.  This makes the text seem sharper and darker and more readable to me.  The E-Ink Pearl screen is still 800X600, like the Vizplex screens, but it has 16-bit grayscale.  This makes things sharper, too.  This is especially noticeable when you look at images on the screen.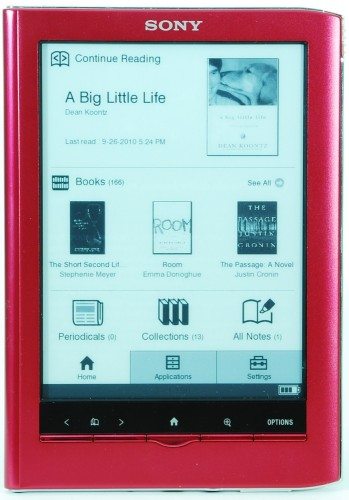 Sony has updated the user interface a bit to make it easier to navigate.  The home screen now has tabs along the bottom so you can quickly move between books, other applications like notes and audio, and settings.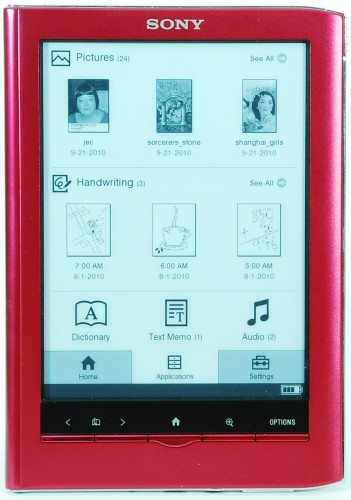 You can use the PRS-650 as an image viewer.  The pictures are sharp and clear, but I still don't think grayscale is the best way to view my images.  I did load up a picture of myself to which I added my name and phone number.  If I ever lose it, hopefully an honest person will find it and use that information to contact me and verify I'm the owner when I come to collect it.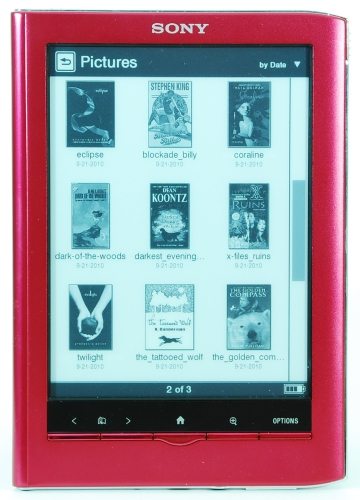 Sony has adopted standby-screen images like those used by Kindle and nook. (See first picture.)  I did load up some book covers to use as standby-screen images.  You can use a setup option to select the pictures you want to use for your standby images, and you can choose to have a message also shown telling people how to turn the reader back on, or you can turn off standby images.  It seems that a lot of the book covers I found appear dark, but simple, high-contrast images look very nice.  You don't have to worry that the standby images will drain your battery faster.  E-Ink screens only use power while they are being drawn (more on that later).  The image will stay on the screen until you wake the reader.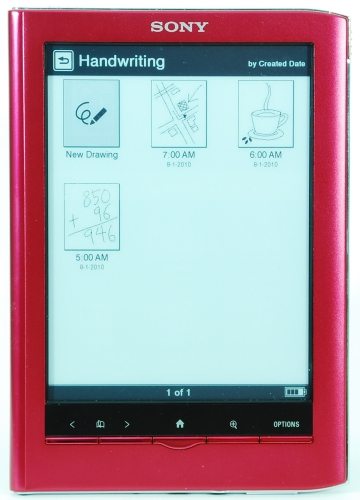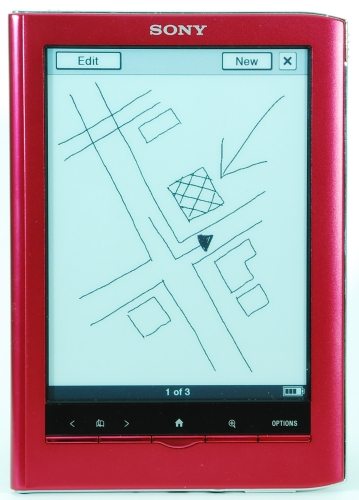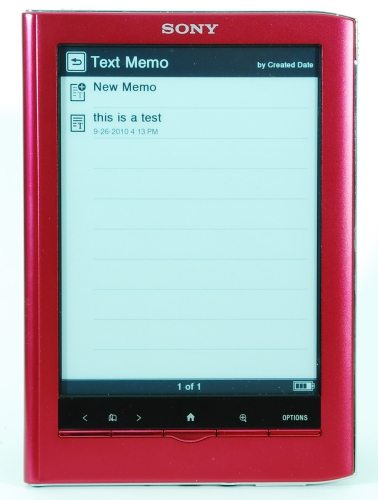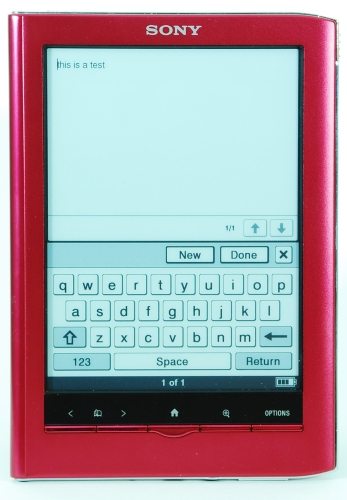 There's an application that lets you make notes in the Sony PRS-650.  You can enter handwritten notes using your finger or the included stylus or use the on-screen keyboard to enter text notes.  You can enter "stand-alone" notes or you can enter notes within books.  From the "applications" screen, you can view, edit, or make new stand-alone handwritten or text notes.  I found that handwritten notes are a bit more legible if I write big, and it works better if I don't go too fast.  I wouldn't want to use this to write a novel, but it works well for jotting down a phone number or a quick note to yourself.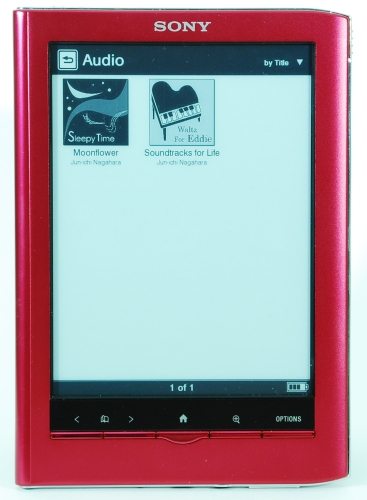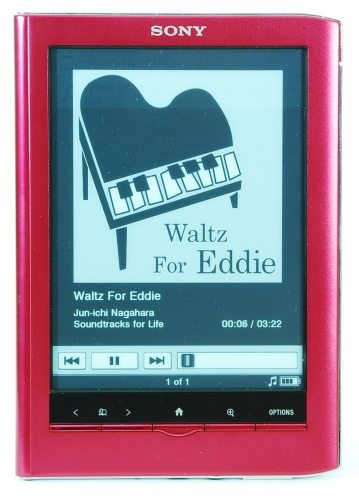 I've already mentioned the audio application.  The audio player has been in every Sony reader I've owned, but I finally tried it out for the first time with the PRS-650.  Playback sounds fine, but I'm just not interested in using it.  It's not very sophisticated, and I don't believe it will remember where you left off, so it won't be useful for audiobooks.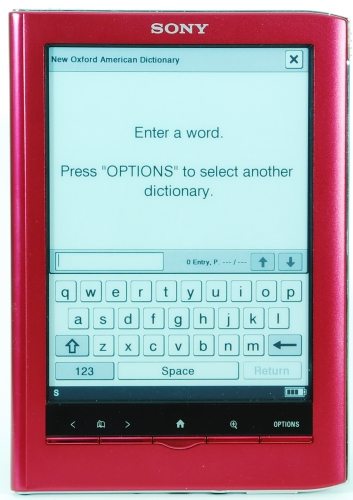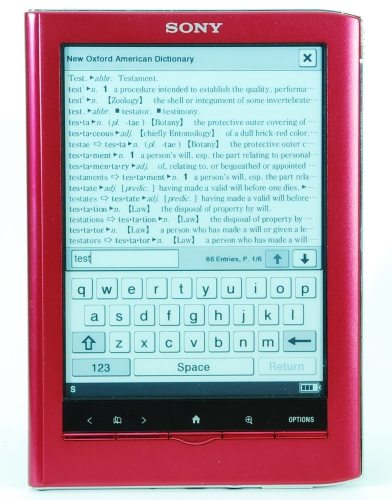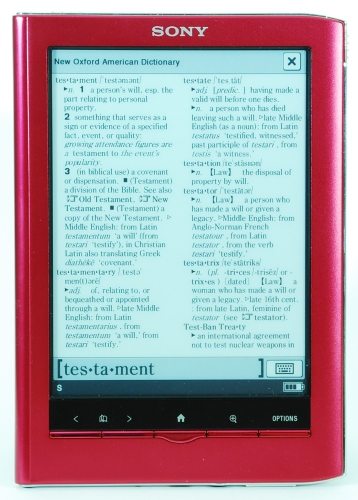 The final application is the dictionary.  The PRS-600 had a dictionary, but you could have only one and you accessed it from within a book.   When you set up your PRS-650, you choose which dictionary you want as your main source.  I chose the New Oxford American Dictionary for American-flavored English.  There's also the Oxford Dictionary of English (for those in the UK), and there are several translating dictionaries.  You can choose Oxford-Hachette French/English, Collins German/English, Oxford Spanish/English, Collins English/Italian, and the Van Dale Pocketwoordenboek Engels-Nederlands translating dictionaries.  You can easily change your main dictionary at any time with a simple settings change.  You can access the dictionary application without having to be in a book now.  Just enter a word using the on-screen keyboard in the dictionary application, select the entry of interest, and then you can page through the dictionary or look up other words.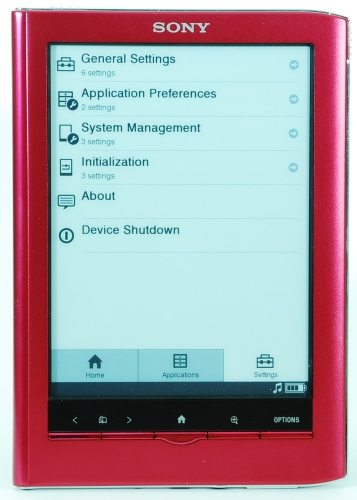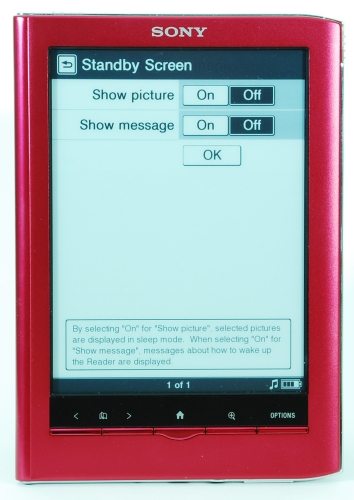 Setup options let you change things like menu language, dictionary, enter date and time and change the format for their display, choose keyboard layout, rotate screen orientation from portrait to landscape, or choose the gesture for changing the page.  You can also initialize your reader or do a power-down.  (Powering down is more quickly done by sliding the power slider and holding it until a message appears asking if you want to power off the device.)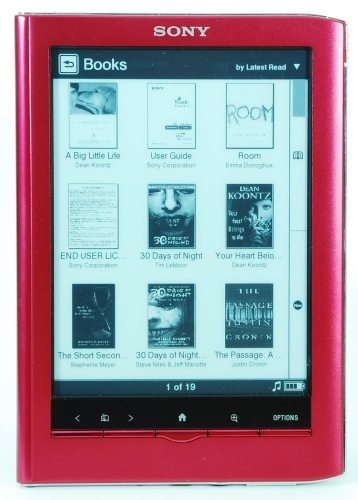 And now books and reading – the reason we're here.  From the home screen, you can quickly choose to open the book you last read.  Tap the cover picture of the last-read book and you'll jump to the page where you stopped.  You navigate through the book using a finger-swipe to turn the page or by using the page-back and page-forward buttons on the bottom left of the screen.  You can also tap the status bar at the bottom of the screen to enter the desired page number or to access a slider bar to quickly move through the book.
I haven't been able to find any official documentation telling what processor the PRS-650 uses, but I can tell it is fast.  The books open with a bit of a lag, but it's still faster than on the PRS-600 and much faster than on the PRS-505.  Page turns are fast.  There's still the blink (quick negative image of the current page before the new page is displayed) that many people find irritating, but it happens so quickly on the 650 that it's easy to ignore.  The increased speed of the processor is most evident to me when loading books onto the reader.  With my older readers, a set of spinning arrows would appear on-screen after loading up books and disconnecting from the computer.  Even with the 600, it would take many seconds – sometimes minutes – for the loading process to complete and the arrows to disappear.  With the 505, you could plan to take a nap after loading up a lot of books.  With the 650, the loading process was completed and my reader ready for use in less than five seconds after loading up 163 books in one step.  I was so surprised that I had to check to be sure the books were really on there before I could believe what had just happened.
Books are segregated and grouped by various criteria.  If you select to view all your books, you can sort them by date (added to the reader), title, author, file name, or by latest read.  Books that have been added to your reader but not read are indicated with a little circle with "new" in the middle.  Books are displayed with a thumbnail of their cover with their title and the date they were added, or by a list of title and author, or by a list of title only.  There's a scroll bar along the right side of the screen so you can flip through your library to find the book you want.  Once you've found the book, touch the thumbnail or list entry to open it.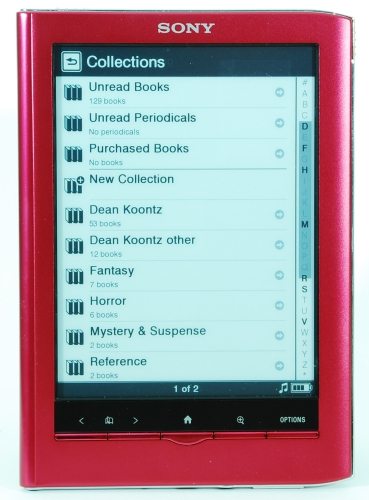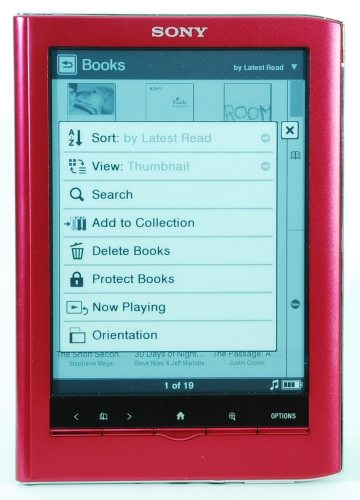 You can also choose to view your books by collections.  Three collections are created by the reader itself – unread books, unread periodicals (purchased through the Sony bookstore), and purchased books.  Collections are similar to playlists in iTunes and iPods.  They are virtual collections – a single copy of the book can appear in multiple collections.  Previously, you had to create collections and add books to them using the Sony library software on your computer.  Now, you can create collections and maintain them directly on your reader.  Collections can also be created by editing the metadata for your book files before loading them on the reader.  You'll automatically see collections created by the tags in the metadata and populated by the books having those tags.  Collections are displayed alphabetically, and you use the scroll bar on the right of the screen to page through them.  Once you select a collection, you'll see a list of the books that can then be sorted by all the criteria mentioned above for viewing your entire collection of books.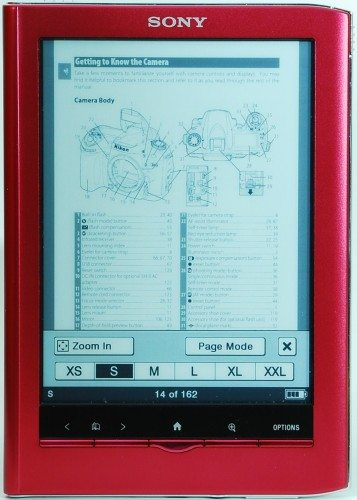 One thing ebooks offer that paper books can't is changeable fonts.  You can easily change the size of the font by pressing the button marked with a magnifying glass at the bottom right of the screen.  There are six font sizes available – XS through XXL.  Even my aging eyes can find a readable font size for most every book in those choices.  This font size screen also lets you zoom in and pan-and-scan around the page or even change the page display mode.  We'll talk more about those options when we discuss PDF files.
While in a book, you can easily bookmark, highlight, or make notes.  Press the option key to choose the notes option.  You can highlight words or you can "dog-ear" a page to make a bookmark.  You can also make a handwritten note.  These notes can all be backed up to the copy of the book on your computer using the "sync" option in the Sony library software.  You can see a list of all the notes in your book and quickly move to that location by touching it to select it.  You can also search for a word or phrase within the book.
Just a quick note about a new feature you'll see when you press the options button.  The current time will display on the status bar at the bottom of the screen for a few seconds when the options window opens.  This is a much easier way to check the time than the old way – by exiting the book and navigating down several levels of the settings to see the clock.
You can easily maintain your reader library by deleting books you no longer wish to have on your reader, by creating collections and adding or removing books in it.  You can even protect a book on your reader to prevent accidental erasure.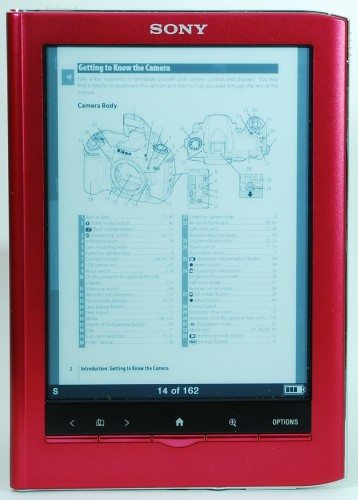 I personally don't use many PDF files, but I know many people are very concerned with how well a reader can render them.  I don't have a lot of PDF files at my disposal, but I do have the manual for my Nikon D80 camera.  That manual has images, tables, and columns, so I thought it would work well for demonstration purposes.  When you open the PDF file, the full page will be sized to display on the screen.  Depending on the PDF file and on your eyes, you may be able to read the page this way.  You'll probably be happier opening up the font sizing window and using the Zoom and Page Mode buttons to adjust the size and layout.  (The font size buttons had no effect on the pages in my D80 manual.)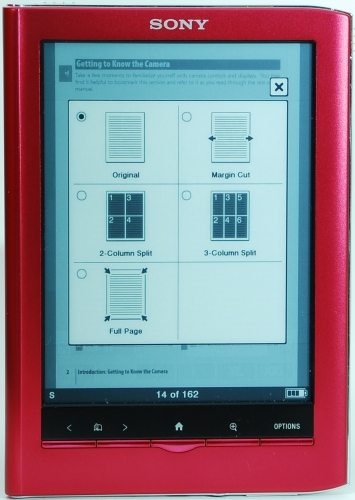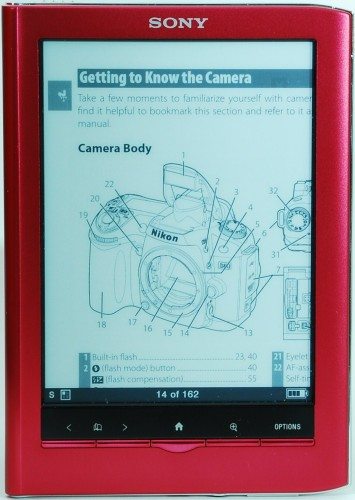 With the page mode button, you can set the screen up for columns.  I chose the double column option for my manual.  The page is actually divided into quadrants, and you navigate down the column then to the next column with page-change swipes. If you have a table or an image you'd like to better see, you can use the zoom option.  Use the slider bar on the left of the screen to zoom in/out and use the up/down/right/left arrows to move around the screen.  You can even lock the zoom level so you can change pages and keep the same settings.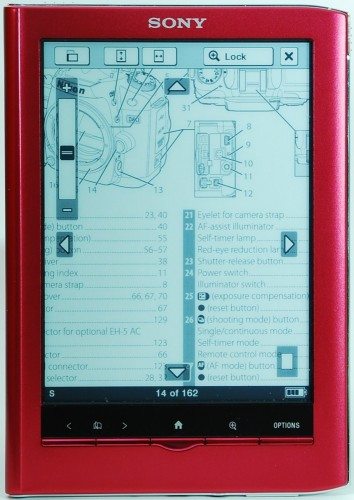 I was able to open up the dictionary by tapping on a word in a PDF.  Opening the dictionary means that I can also do a search for other instances of the selected word within the PDF.
Battery life is very good.  Sony is still sometimes describing it as page changes, which can be very misleading.  At least now, they tell you that they determined the number of page changes by fully charging the battery, opening a book of a particular size and format, then changing the page as quickly as possible until the battery is drained.  Nobody reads like that, and people were concerned when they'd get nowhere near the stated number of pages before needing to recharge.  Most of the power is used to change the page.  However, unless you actually power off your reader, it's slowly draining small amounts of power all the time in standby mode.  A more useable descriptor of battery life is that you can expect about 14 days between charges if you read for a couple of hours or so a day.  I've always gotten at least that much time with every reader I've had, and I fully expect to get that from my new PRS-650.
A question many Sony owners want answered is "does the screen fade in direct sunlight?"  Apparently there were a few defective screens with this problem, but the majority of Sony readers apparently don't fade in sunlight.  I've never had a problem with my Sony readers fading, but then I don't spend a lot of time in direct sunlight.  I did take this reader with me when I'd go pick up my daughter after school, and I'd make a point of having the reader in sunlight.  My reader never faded.
When I got the PRS-600 Touch Edition reader last year, my elation soon turned to dismay when I finally noticed how reflective and glare-y the screen was.  I even started the return process before I changed my mind and decided to keep it.  Eventually, even its beauty and slick features weren't enough, and I retired it for my 505 and then my iPad.  There is nothing about the PRS-650 that dismays me.  It's pretty, it's compact and light, it has dictionaries, and note-taking abilities.  It has a fast processor that makes loading up books, opening and reading books a snap.  It has a responsive touchscreen.  Best of all, it has the sharpest, clearest screen I've ever seen on a Sony.  I LOVE the PRS-650.  I recommend it to anyone who doesn't require instant gratification of shopping and downloading books within the reader.  Heck, I recommend it to them, too!  I still love my iPad and spend way too many hours surfing, emailing, keeping my calendar and to-do lists, etc.  However, I'll be reading on my Sony PRS-650.