We use affiliate links. If you buy something through the links on this page, we may earn a commission at no cost to you. Learn more.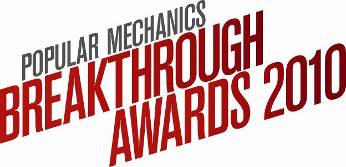 Popular Mechanics lists 10 products and innovators in science and technology that they believe moved society forward in 2010. The winners vary from vehicles, to mobile processors, to a battery powered hedge trimmer. Who knew that keeping your bushes neat and tidy could be a life changer? 😉 Full press release after the jump.
From Digital Sight for the Blind to Earthquake-Proof Buildings
POPULAR MECHANICS RECOGNIZES WORLD-CHANGING INNOVATIONS WITH THE 2010 BREAKTHROUGH AWARDS
— J. Craig Venter Takes Top Honors With Breakthrough Leadership Award —
— Product Winners from Chevy, Nissan, Sprint, Sony and Qualcomm —
http://www.popularmechanics.com/breakthrough10
NEW YORK, NY (September 28, 2010)—Today, POPULAR MECHANICS announces the winners of its sixth annual Breakthrough Awards, recognizing the innovators and products poised to change the world in the fields of technology, medicine, aviation, environmental engineering, and more. The honorees will be celebrated at a ceremony at Hearst Tower in New York City on the evening of October 5. The exclusive sponsors of this year's event are Cub Cadet and DigiKey.
"From soccer balls that generate light to cell phones that diagnose medical conditions, our diverse, inspired winners are making the seemingly impossible a reality," says James B. Meigs, editor-in-chief of POPULAR MECHANICS. "The 2010 POPULAR MECHANICS Breakthrough Award honorees are the people and products leading the way into the future, and we're thrilled to recognize their advances."
The winners of the 2010 POPULAR MECHANICS Breakthrough Awards are:
Breakthrough Innovator Awards: Celebrating Innovation in Science and Technology
LEADERSHIP AWARD: Genomics Pioneer
•          J. Craig Venter: Venter's vast accomplishments promise to expand the frontiers of personal medicine, biofuels and more. While working at the National Institutes of Health in the early 1990s, Venter developed a way to rapidly discover genes by exploiting snippets of DNA called expressed sequence tags. In 1992, he founded The Institute for Genomic Research, and, three years later, he and a team decoded the first genome of a free-living organism. That led to Venter's best-known breakthrough, mapping the human genome. Last May, he achieved a defining moment in the history of biology when he inserted digitally created DNA into a living bacterium, forming the first synthetic life. His ultimate goal is to design new organisms that will benefit humanity. To that end, he has entered into a deal with Exxon Mobil to develop a biofuel alternative to petroleum and he has begun working with Novartis to develop more effective vaccines.
NEXT GENERATION AWARD: Energy-Generating Soccer Ball
Jessica Lin, Jessica O. Matthews, Julia Silverman and Hemali Thakkar: While still undergraduates at Harvard University, the creators of sOccket found a way to harvest the kinetic energy of the world's most popular sport. After just 15 minutes of play, their soccer ball can provide families in sub-Saharan Africa—where less than 25 percent of the population has access to reliable electricity—with 3 hours of LED light, a clean alternative to kerosene lamps. Field-tested in South Africa during the World Cup, sOccket has an imbedded DC jack and weighs only 5 ounces more than a FIFA-regulated ball. A future model should hold enough juice to charge a cellphone.
FUTURE FLIGHT: Green Airplane
Mark Drela, Edward Greitzer, MIT; Jeremy Hollman, Aurora Flight Sciences; Wesley Lord, Pratt & Whitney: By 2035, commercial air travel in the U.S. is expected to have doubled. The D series aircraft could send the industry's environmental impact in the other direction, burning 70 percent less fuel and emitting 75 percent less nitrogen oxide than a Boeing 737, while dampening noise from takeoffs and landings. The craft's unique "double bubble" fuselage dispenses with the tube-and-wing structure of current airplanes, providing extra lift while reducing drag. It was developed in response to a NASA research program for future aviation technology called N+3.
MOON MISSION: LCROSS
Daniel Andrews, Anthony Colaprete, NASA's Ames Research Center; Stephen Carman, Craig Elder, Northrop Grumman: Space exploration missions are rarely cheap, but a team from NASA's Ames Research Center proposed a scrappy way to accomplish a monumental goal: confirm the presence of water ice on the moon. With help from Northrop Grumman, the team slammed what would otherwise have become space junk—the upper stage of an Atlas V rocket—into the moon and analyzed the dust it kicked up using a spacecraft outfitted with off-the-shelf parts. The team came in under its $80 million budget—and the mission was a headline-screaming success: The spacecraft calculated a 4 percent moisture concentration in the plume, double that of the Sahara Desert.
DIGITAL SIGHT FOR THE BLIND: Argus II Retinal Implant
U.S. Department of Energy Artificial Retina Project Team, including Mark Humayun, James Weiland, Doheny Eye Institute; Satinderpall Pannu, Lawrence Livermore National Laboratory; Wentai Liu, University of California, Santa Cruz; Armand Tanguay, University of Southern California; Yu-Chong Tai, California Institute of Technology; Kurt Wessendorf, Sandia National Laboratory; Robert J. Greenberg, Second Sight Medical Products, Inc.: There are 10 million people in the United States with degenerative retinal diseases, such as macular degeneration and retinitis pigmentosa. The Argus II retinal implant is designed to restore vision to people who are blind because of these conditions. The device takes images from an external video camera and sends electric signals to an array implanted in the eye, bypassing damaged photoreceptors to kick-start retinal cells that are still viable. Even as clinical trials for the second generation of the device continue, a massive effort involving six national labs, four universities and a commercial partner is developing technologies that will enable third- and fourth-generation models—which could provide enough resolution to read 24-point font and recognize faces.
MORE AFFORDABLE SOLAR: Ultra-Efficient Thin-Film Solar Cells
Harry Atwater, Michael Kelzenberg, Nathan Lewis, Caltech: In standard photovoltaic panels, more than half of the silicon acting as a semiconductor winds up as shavings on the factory floor. Harry Atwater's team at Caltech is poised to revolutionize solar technology thanks to new cells that waste virtually nothing. Composed of silicon microwires surrounded by light-scattering particles, the cells use only 1 percent of the silicon as standard PV while absorbing 90 percent of the light that hits them. As a result, they're both incredibly flexible and much cheaper to manufacture.
Earthquake-proof buildings: Replaceable Fuse System
Gregory Deierlein, Stanford University; Jerome Hajjar, Northeastern University: After absorbing the brunt of seismic shaking during a severe earthquake, buildings often must be demolished. Determined to change that, engineers at Stanford and Northeastern universities designed a system that protects both people and the structures they live and work in. Steel "fuses," not structural elements, absorb the shock of earthquakes greater than magnitude 7, and after the shaking stops, cables pull the building back into plumb. The deformed fuses can be replaced in about four days while the building remains occupied, restoring it to pre-earthquake condition.
CURING CANCER PAINLESSLY: Laser-Based Cancer Therapy
Karen Brewer, Brenda Winkel, Virginia Tech; Roger Dumoulin-White, Theralase Technologies: Two Virginia Tech scientists may have invented the future of cancer treatment—a way to eradicate tumors without the harmful side effects of chemotherapy, radiation or the surgeon's scalpel. They've built what chemist Karen Brewer calls a molecular machine: It seeks out fast-replicating cancer cells and becomes lethal only when exposed to light. When combined with a deep-penetrating laser from Theralase Technologies, the new molecule could help combat fast-growing cancers, such as breast, prostate and lung, previously impervious to photodynamic therapies. The treatment has recently begun Phase II trials, part of a seven-year road map for FDA approval.
MOBILE HEALTHCARE: Cellphone Microscope
Aydogan Ozcan, University of California, Los Angeles: Aydogan Ozcan hopes to make microscope lenses obsolete. By hacking a cellphone's software to perform the same function, Ozcan has engineered a device that can be used to diagnose disease cheaply and effectively anywhere in the world. It uses a camera's image sensor to create digital holograms of samples, such as red blood cells misshaped by the malaria parasite, which can then be analyzed instantaneously. Future apps could screen for parasites in drinking water and help monitor the health of HIV patients by counting T-cell levels in their blood. Eventually, Ozcan believes, U.S. point-of-care facilities will begin replacing expensive and time-consuming lab procedures with cellphone-based diagnostic tools as well.
REDEFINING MAGNETISM: Multipolar Magnets
Larry Fullerton, Correlated Magnetics Research: Larry Fullerton set out to create a self-assembling magnetic toy that would fuel his grandchildren's passion for science. Instead, he invented a new way to manipulate magnetic fields that redefines one of the fundamental forces of nature. Rather than magnets with two opposing poles, one on each side, Fullerton's magnets have multiple north and south poles of varying strengths. To create them, he invented a machine that programs complex patterns of magnetic pixels—much like a printer that emits electricity instead of ink. The applications appear limitless: from pick-proof locks and easy on/off snowboard bindings to frictionless gears and robots that can scale walls without touching them.
Breakthrough Product Awards: The Year's 10 Most Transformative Products
2011 Chevrolet Volt: With the Volt, Chevrolet has tackled an electric-vehicle early adopter's worst nightmare—running out of juice when miles from the nearest charging station—by creating a plug-in series hybrid that automatically switches to a gas engine once the car's 16-kilowatt-hour battery pack becomes depleted. It's a dramatic reinvention of the great American car that doesn't sacrifice the great American road trip. $41,000 ($33,500 after the federal subsidy)
2011 Nissan Leaf: It's not the first pure EV, but the Nissan Leaf hits the mainstream like none of its predecessors. Powered by a 24-kilowatt-hour battery pack, the Leaf provides a 100-mile range, enough for most commuters, for the price of an average vehicle—and with much lower operating costs than gasoline-powered vehicles. It seats five, so with the exception of the silent driving experience, it feels like a practical family car too. $33,720 ($26,220 after the federal rebate)
HTC EVO 4G from Sprint: Sprint's 4G WiMAX—a cellular network that offers Wi-Fi-like data speeds—is already available in more than 50 cities with more to come this year. The first phone to deliver it to consumers is the HTC-manufactured Sprint 4G EVO. The phone's power isn't confined to the 4.3-inch screen: It can also serve as a mobile hotspot, allowing up to eight Wi-Fi-enabled devices to tap into the network. $200
Bosch Axial-Glide Miter Saw: Typical compound-miter saws are stuck on rails. For the Bosch Glide Miter Saw, the company's engineers looked at the tool's limited range of motion and envisioned the saw as it should have been designed, replacing the rails with a series of hinges so that a pair of triple-jointed limbs on the 12-inch, dual-bevel saw articulate like scissor jacks, gracefully and intuitively snapping into position to chop at an odd compound angle. $700
HSA 65 36-Volt STIHL Lithium-Ion Hedge Trimmer: The 36-volt STIHL HSA 65 Cordless Hedge Trimmer—the first product to be introduced in a new line of battery-powered yard tools by STIHL—is poised to convert those homeowners demanding a pro-level cut from electric models. A single charge provided more than enough power to completely trim and shape a good-size yard during our tests, while emitting far less pollution than its two-stroke, gas-powered predecessors. $500
Trane ComfortLink II Thermostat: The 7-inch touchscreen interface of Trane ComfortLink II eclipses the competition in ease of use and clarity of information—which is key, because the device has so much data to give. It gathers online forecasts and fires up heating and cooling equipment as the weather changes. It also remembers a house's HVAC history, allowing users to compare costs from year to year, and will eventually sync with the local utility to project costs over time. $300
Alpha NEX-5 Camera: The 14.2-megapixel Sony Alpha NEX-5 is the smallest interchangeable-lens camera yet. The NEX-5 even trumps an expensive SLR in one key respect: It is so adept at low-light shooting that Sony's engineers decided to design the camera without a built-in flash. $700
Qualcomm Snapdragon: While today's app-hungry superphones require almost as much speed as a desktop, the chips that power PCs consume enough energy to drain a phone battery in minutes. Enter the Qualcomm Snapdragon, a processor that offers phones (such as the Sprint EVO) more than 1GHz of speed, as well as almost-all-day battery life.
Earthmate PN-60w With SPOT Satellite Communicator: DeLorme's Earthmate PN-60w with SPOT Satellite Communicator can be a valuable tool on any trip that extends well outside of cellphone range. It not only provides detailed topographical maps and GPS guidance in the backcountry, it also lets explorers send SOS messages with embedded coordinates via satellite if they're in trouble—or Facebook updates if they're not. $700
GoPoint Technology GL1: By using an iPad, iPhone or iPod Touch as a window into a car's computer, GoPoint Technology's GL1 offers the kind of diagnostic info that usually requires a trip to the mechanic to retrieve. After plugging the scan tool into a car's OBD II port, a DIYer can use the GL1's corresponding app to view trouble codes, turn off the "check engine" light and monitor every electrical signal that goes through the computer in real time. $100
Criteria and Evaluation
In selecting the candidates and winners of the 2010 Breakthrough Awards program, the editors of POPULAR MECHANICS canvassed a wide range of experts to come up with a list of worthy nominees. In addition, members of PM's editorial board of advisers, which includes astronaut Buzz Aldrin and MIT's Amy B. Smith, and contributing editors, including MythBuster Jamie Hyneman, reviewed the nominations to help choose the innovators. PM editors test hundreds of products in a wide range of categories all year in order to arrive at the true game changers for the Breakthrough product awards.
A complete report of the Breakthrough Awards will be published in the November issue of POPULAR MECHANICS (on newsstands October 12). High-resolution images of the winners as well as full conference coverage will be available upon request and at www.popularmechanics.com.
ABOUT POPULAR MECHANICS
Popular Mechanics, published monthly by Hearst Magazines, inspires, instructs and influences almost 9 million curious readers. Their mindset—the desire to understand how the world works—drives them to explore, experiment with and experience a wide range of interests. Each issue engages readers with the latest innovations in science and technology; educates with informative "how-to" stories on automotive, home and digital technology; and motivates them to action with product reviews and comparison tests of the newest equipment and products. Popular Mechanics is also the top-ranked men's monthly magazine in reaching an environmentally conscious audience.