We use affiliate links. If you buy something through the links on this page, we may earn a commission at no cost to you. Learn more.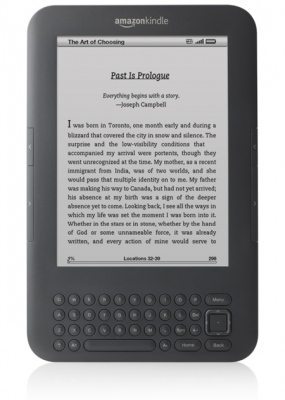 So I'm sitting on the Reunification Express on my way to Hue from Hanoi in Vietnam.  It's a 13 hour trip and I need something to while away the time.  This is the third overseas trip I've done with my Kindle and figured why not write a quick review of how useful the Amazon Kindle 3G is as a travel companion.
Note 18/1/2011: – We've just established that only the UK/International Kindle 3G has any coverage in Vietnam see comments below 
Everyone knows how good it is as an ereader.  The capability to carry multiple books certainly helps relieve those boring plane flights and waits in Airport terminals. In many destinations it's very hard or expensive to find books and taking books with you isn't realistic because of the size and weight that this would curtail.
I always used to pack at least a Lonely Planet Guide and often a Frommers as well, these are now readily  available as ebooks and are much easier to carry on the Kindle and leave much more room and less weight in your travel bag. The ability to quickly search and find information quickly is invaluable.
One of the most asked questions I've seen on Kindle forums is "Is it worth the extra money to get the 3G version ?" Well I suppose  it's really a case of YMMV, primarily based on how and where you use.  Now Amazon sells the 3G mainly as a means to instantly download a book wherever you are without needing WiFi but I must admit I don't see myself sitting on a beach and getting the urge that bad to obtain a book that I must have straight away. For the connected traveller however it's the "experimental" browser coupled with the 3G that's the real bonus.
Lets be honest, the browser is slow to  refresh,  only monochrome and it's very slow to navigate, but for a quick email, a check of Facebook or to keep up with a text based forum it's pretty good and works just fine. Push it a little bit harder with a more graphic intensive site and it's not unusable but can be slow to load or refresh graphics. Here's a picture of  the-gadgeteer site. Apologies for the quality but I'm now in a dark Vietnamese Hotel Room 🙂  You can see the zoom section ( with the magnifier ) that you can move around with the cursor, as I say not unusable but not the most efficient way of viewing a web site.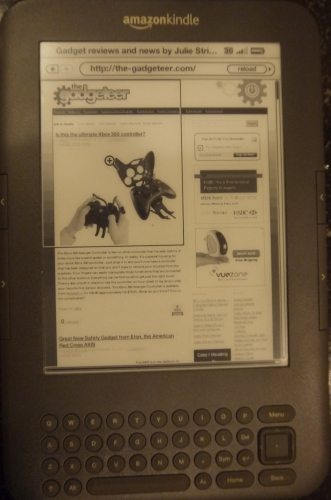 Now here's the kewl part, Amazon's 3G covers a multitude of countries and best of all….. it's free ! Just be aware that in some countries you will only get the Amazon Store and Wikipedia ( I can't actually find a full list of access by country ) and not full web access.
You don't have to be tethered to finding a Wifi hotspot or accumulate big International Data fees. A lot of your basic stuff can be done right on your Kindle.
So here's some of my hints how to make this free service work for you while overseas.
1. Don't have 3G turned on all the time.  Only enable it when you're going to attached to the Internet.  One of the great things about the Kindle is its long battery life.  3G sucks the battery life big time.
2. Use mobile versions of websites.  It'll display quicker, better and be quicker  to navigate. There are some exceptions though. If I want to just view Facebook then I can use the mobile version but if I want to update my status the cursor won't find the status input bar. I need to use the full Facebook site.
3. Now Australian telecommunication companies International Roaming fees are horrendous.  A single SMS send back to Australia is three times the normal cost. I have set up an account with an Australian VOIP provider.  Using the service I can use the mobile version of their website on the Kindle  to send SMS at a fraction of the cost back home, in fact I use these guys to sent SMS even at home as they're so cheap. The service is set up to display my Australian mobile number as the sender so people know its from me and there's no charge while roaming to receive an SMS back to my mobile.
4. Similarly my VOIP provider allows me to do Webcallback. By using their site I can put in my current hotel phone number, the person I want to calls number and the provider will connect the two all at their much lower cost (especially compared with hotel rates ).
5. Use it to keep up to date with currency exchanges via  www.xe.com
6. Here in Vietnam some ISPs block Facebook.  I'm guessing it's political but can't find the exact reason and I'm not sure why it only seems to be some.  Because the Kindle 3G uses Amazon's proxies access isn't an issue. Facebook away. I must admit I'm not a big Facebook user but it allows me to put the odd post up so family and friends know where I am and that I'm all right. This should also work in other blocked countries.
7. Store documents like your itinerary, travel insurance, medical notes in either PDF or Mobi format on you Kindle so it's always available and not subject to paper creasing, ripping or accidental disposal. Being on the Kindle means no connectivity required.
8. Subscribe to a "cloud" service like Evernote or Springpad to keep online copies of documentation accessible via you Kindle.
So is 3G worth the extra money ?  To me it's a resounding YES!! It allows me anywhere, anytime internet access to quickly check emails, Facebook and all my regular forums. It keeps me up to date with all the latest news from home via newspapers online and stay in contact with the loved ones. It helps fill in those hours waiting or travelling . Sure it's slow and clunky, but it does the job.  I know I've saved more money in a single trip than the extra dollars for the 3G.
Oh and did I mention that 3G access is free all over the world ? 🙂
The downsides ? Page loads, screen refresh and navigation is cumbersome. The keyboard is also the same. Its painful to type too much and its handling of numbers (two input methods ) and especially punctuation is atrocious. But let's not forget that this is meant to be an ebook reader. The experimental browser is really just the cream on the top 🙂
Hopefully these hints help someone out there and if you've got any more hints please post them.
(Oh and in the interest of full disclosure this article WASN'T written on my Kindle.  The keyboard just isn't good enough for an article of this length. This was written on my other travel companion,  my Galaxy Tab 7″ using Swype)
(Oh and apology for any spelling, grammatical or other mistakes. Let me tell you, I'm glad we went with the "soft sleepers' on the train because I'd hate to think what the "hard sleepers" are like !!!  Not a lot of good sleep.  🙂 )
( Final Oh, I promise. I've just edited and amended this article from my 3G Kindle using the WordPress mobile web page in bed, in a hotel in Hoi Anh. For some reason every room I've had this trip seems to be a WiFi deadspot 🙁 )
Available from Amazon for $189

Product Information
| | |
| --- | --- |
| Price: | $189.00 |
| Manufacturer: | Amazon |