We use affiliate links. If you buy something through the links on this page, we may earn a commission at no cost to you. Learn more.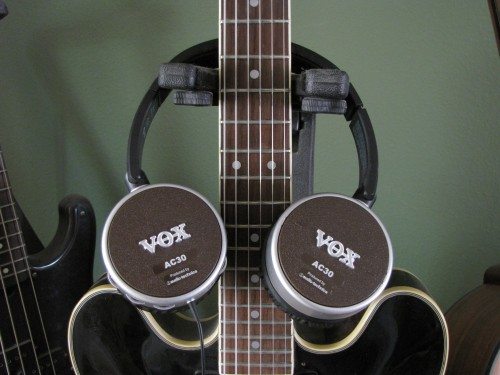 I love to play electric guitar. I love to turn my amp up not to 10, but to 11 (some may get the reference). But what happens when you live in a small house and your housemates don't have the same opinion of the rock god-like skills you possess? The amPhones AC30 headphones from Vox Amplification  may just save your fantasy tour from cancellation.

Note: Images can be clicked to view a larger size.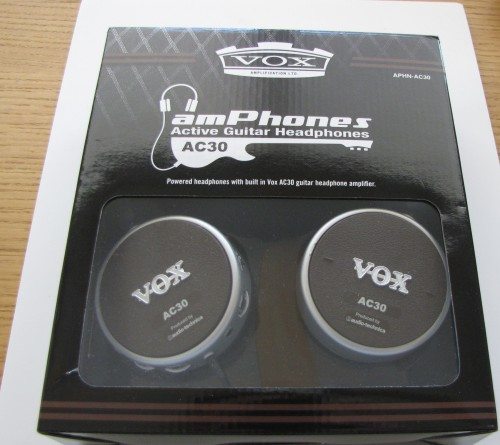 So, all rock fantasy aside I do enjoy playing my guitar loud and with several effects, but it is an issue living in a small house. There are a lot of solutions to this problem, usually involving plugging your guitar into some sort of mini amp, plugging your headphones into that mini amp, and then getting your cords tangled and wrapped up in everything. VOX has come up with a simpler solution having the amp and even effects built into a set of headphones.
The amPhones come in 4 flavors; Lead, AC30, Twin and Bass. I chose to review the AC30, as that is the amp that I mostly associate with VOX. On the VOX website, they have a description of what each amPhone type emulates. Except for the AC30 and Bass versions,  my guess for the Twin would be a Fender Twin Reverb, the Lead would be a Marshal amp. So you can choose a amPhone based on your sound preference.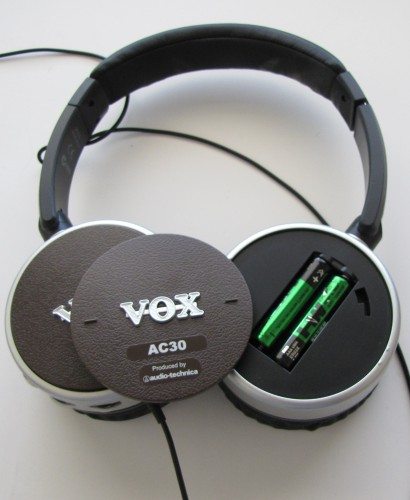 Upon unboxing the headphones, one of the first things you will notice is the weight. Since the amPhones have all of the electronics built into them and also house two AAA batteries, they are a little heavy compared to standard non-amplified headphones. That being said, I was not uncomfortable wearing the headphones for more than an hour at a time.
The right side of the amPhone houses the two AAA batteries (which were included), hidden under the removable cover. Battery life is dependent on the volume and use, but the VOX website states that they should last between 7 to 16 hours depending on the battery type.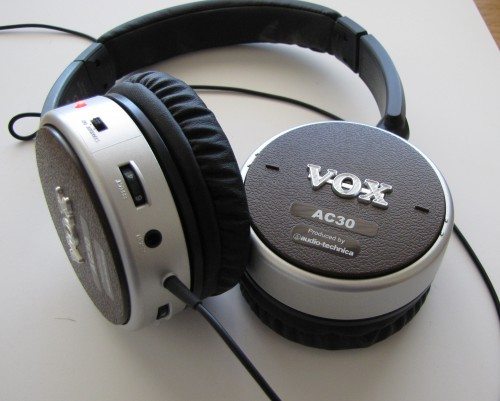 The left side of the headphones has four dials: gain, tone, volume, and effect. The effect for the AC30s is reverb. Also on the left side are an aux in (auxiliary input), a stand by on/off  switch, and a red indicator light that lets you know when the headphones are turned on.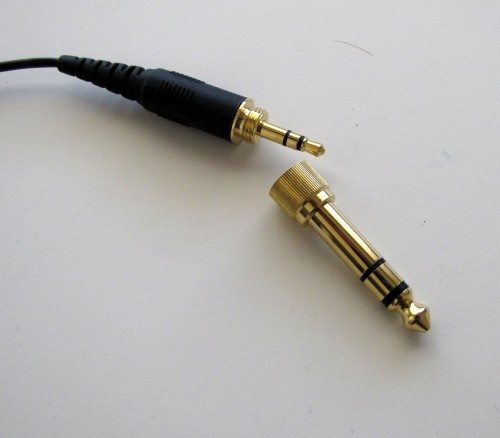 A nice feature of the amPhones is the dual headphone jack set up. The headphone jack has a 6.3 mm screw on adaptor that fits over a 3.5 mm plug. (I am not 100% but I believe the 6.3 mm is a 1/4 inch equivalent and 3.5 is 1/8.) This set up allows you to use the headphones for the guitar or for a portable listening device. The cord on the headphones is a little thin in my opinion, but that did not affect my playing or use. Listed below are the amPhone specifications from the VOX website.
Headphones section
Type: Closed-air dynamic headphones
Driver diameter: 40 mm
Output sound pressure level: 97 dB
Playback frequency range: 20 Hz – 20,000 Hz
Maximum input: 1,000 mV
Impedance: 49 Ω
Cable length: 1.3 m
Amp section
Output: 1.4 V (Maximum)
Controls: Dials (Gain, Tone, Volume, Effect), Switch (Standby)
Input Terminals:  Guitar Input, AUX Input
Power supply: AAA battery x 2
General section
Dimensions (W x D x H): 195 x 160 x 50 mm / 7.68″ x 6.30″ x 1.97″
Weight: 230 g / 8.11 oz. (without batteries)
Included items: AAA battery x 2 for trying product, plug adapter (3.5mm, 6.3 mm)
Specifications and appearance are subject to change without notice for improvement
Audio-Technica is registered trademarks of Audio-Technica Corporation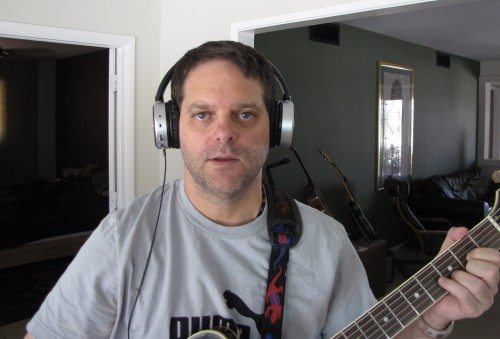 After doing all the preliminaries, I plugged the headphones into my guitar and fired things up. One of the first things you will notice about the amPhones is that they are LOUD, I mean wake-the-dead loud. I am no stranger to a wall of sound, having worked many concerts in my time, and I will tell you these will give you all the sound you need and then some. After playing with the controls, I found a sweet spot for the sound I like and played for a while. I rather enjoyed the playing experience of these headphones; they performed very well with anything from  a clean to a dirty sound. If you are a VOX amp fan, these headphone will give you a great representation of the amp's sound. Now having said that, I know some folks will want to throw out an argument about digital vs tube sound and warmth. I can't fight that argument, because I would agree in principle that you will never get the same sound from digital over tube, but not having a set of tube driven headphones, these are a great approximation.
If I have one complaint about the amPhone, it would be that I cannot easily change the settings on the controls while wearing the headphones. This is minor, but sometimes when trying to fine tune a sound, it would be nice not to have to take the headphones off to change the settings. (It may be me but I can't alway remember what dial changes what while they are on my head.)
Now that I have had an ample amount of time to test the basics of the headphones, lets talk about what I expected from them. Being from VOX, I would expect them to be LOUD, and they are. I would expect them to be of good quality and straightforward to use; they are. I would expect the effects to be superior and pleasing, and they were.  What I was not expecting was how good the headphones sounded when used as non-amplified music headphones.
Now don't get me wrong, I know Audio-Technica (they actually make these headphones for VOX) is a quality name in the music business, but I guess I just wasn't expecting how good they would sound as personal audio listening devices. I have found myself using them as much for my music listening at home as I do for practicing guitar. No these are not a high-end (and sometimes overpriced) set of headphones, but for a set of dual-purpose headphones, I give them high marks.
If you are looking for a great and portable way to practice your guitar, I would highly recommend the amPhone, if for no other reason then the convenience.  They work as advertised.

Product Information
Price:
$99.99
Manufacturer:
Vox
Retailer:
Various Music Retailers
Pros:

Great Sound
Versatile
Batteries are included
Bang for your buck

Cons: