We use affiliate links. If you buy something through the links on this page, we may earn a commission at no cost to you. Learn more.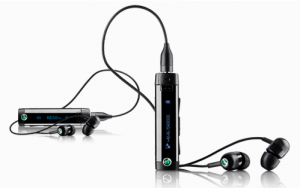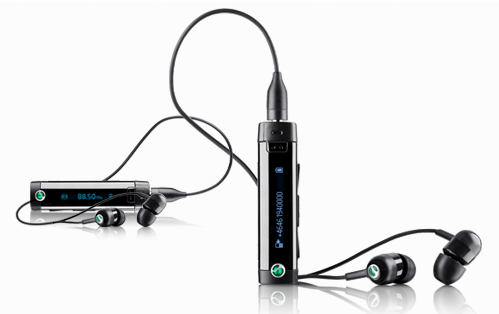 It seems that if you have a bluetooth headset hanging out your ear you risk be labeled a "blue-tool", but if you have your headphones on, that's OK. If you worry about such things, I recently received a solution in the Sony Ericsson MW600 Hi-Fi Wireless Headset. While designed to work with Sony Ericsson phones, the headset will work with most mobile phones with Bluetooth. I was able to successfully use it with an HTC G1 and Samsung Devour.
I received a pre-release version of the set, so I did not get it in the packaging, but it included:
Bluetooth receiver with 3.5 mm headphone jack
Headphones
Small, Medium and Large ear buds
Micro-USB charging cable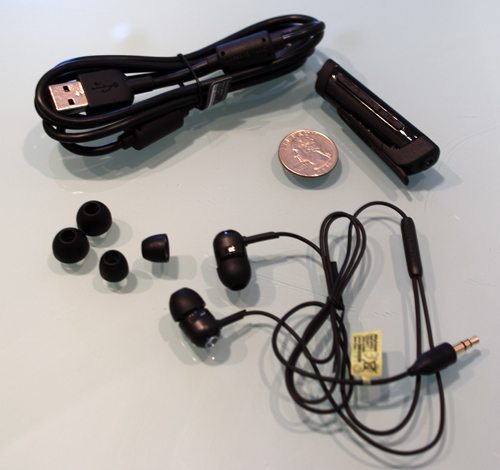 I really like the component design of the set. The bluetooth receiver has the mic for talking, a micro-USB port for charging and a 3.5 mm jack for headphones. You can use the included headphones, or use your own.
I do not have a phone that plays FM radio (since my toddler finally retired my old Sony Ericsson W810i) so I was unable to test the radio features.
Thanks to MRz's comment, I tracked down the full manual (as a pre-production unit it did not come with the manual) and I discovered the issue wasn't the phone features, but my ignorance. When I tried to use the FM feature, it would not start so I assumed that it used the phone's FM tuner (my old W810i had FM) but that is not the case. Once I performed a reset on the headset, and tried the FM feature again it worked great.
You use the FF and RW buttons to move up by .05 increments. A long press will cause the tuner to scan to the next station. It is not the easiest way to move though a lot of stations, but it works. There is no way to save stations.
The receiver has a power switch on one end, and a phone button on the face to pick up and hang up calls. The player controls are located on one side of the receiver: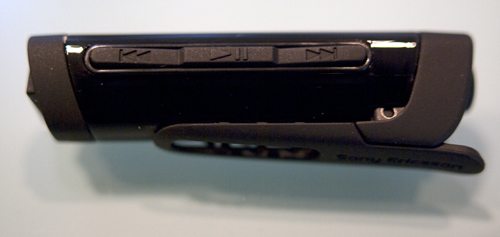 These include controls to play/pause, go to the next and previous track. They are small, but I found them very easy to find without looking. On the other side is the volume control: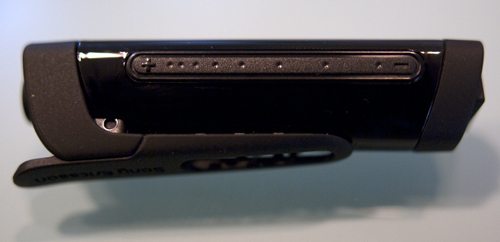 It took me a little time to get used to this touch-strip control. You use it by sliding your finger towards the – to lower the volume, and towards the + to increase. You can hold your finger at one of the extremes to adjust the volume further, but you have to slide to the + or the –, you can't just press them. Once I understood how this worked, I had no issues.
You can pair the headset with up to three devices. You can change which device you are connected to by holding down the Phone button for 5 seconds. When you do this, the OLED screen displays an icon for each of the devices:

In this case, you see a computer symbol (for my MacBook Pro), and two phone icons. You use the volume touch-strip to select the desired device.
The headset supports a number of Bluetooth profiles:
Handsfree profile Version: 1.5 Role: Handsfree
Advanced Audio Distribution Profile Version: 1.0 Role: Sink
Audio Video Remote Control Profile Version: 1.4 Role: Controller
Headset profileAudio Video Remote Control Profile Version: 1.4 Role: Target
Headset profile Version: 1.1 Role: Headset
Once connected to my G1, it performed as expected. If I was listening to music and received, or made a call, it seamlessly switched over to function as a headset. The sound is very clear, and the inclusion of different sized ear buds should help you find the right pick.
Now obviously, not everyone likes in-ear buds, but you have three different sizes to choose from. In addition I found that the included headphones were a little thin on the bass. The nice thing about this setup, though, is that you can plug in your favorite headphones.

Product Information
Price:
£49.98
Manufacturer:
Sony Ericsson
Pros:

Music controls
Stereo audio for music
Integrated microphone
Flexibility to use your own headphones
Standard Micro-USB plug for charging

Cons:

In-ear buds not for everyone
Included headphones a little thin on the bass