We use affiliate links. If you buy something through the links on this page, we may earn a commission at no cost to you. Learn more.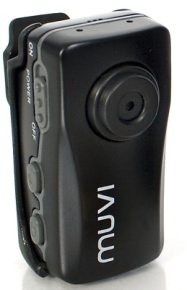 Veho are the creators of some of the smallest digital cameras you can get.  And, to show just how small they can make them, they've recently introduced the latest of the Muvi digital video camera range, the Atom.
Based on it's bigger brother, the Muvi Micro, the Atom is much smaller, measuring just 4cm x 2cm x 2cm.  Don't be fooled by its size though, it's packed full of features.  The Atom's internal battery, which is charged via your computers USB port, will let you shoot your videos for around one hour at 640×480 resolution at 30fps (The same specs as the Flip Mino and Ultra).   Plus, compared to the Muvi Micro, the Atom will take 2Mp still images.
Files are stored onto a 2Gb Micro SD card (included) although the Atom supports cards of up to 8Gb, if you find you need more space.  A nice feature of the Atom is its voice activation, so you can start/stop shooting videos without having to press any buttons.
It's tough aluminium casing allows it to be used almost anywhere, so Muvi have designed an optional 'Extreme Sports Pack' so you can easily strap the thing to your bike helmet to shoot the action, or if you prefer to shoot action videos underwater, you'll love the optional 'Waterproof kit'.
The Atom is priced at £79.99 (€90 or $120) and is available from Firebox now.