We use affiliate links. If you buy something through the links on this page, we may earn a commission at no cost to you. Learn more.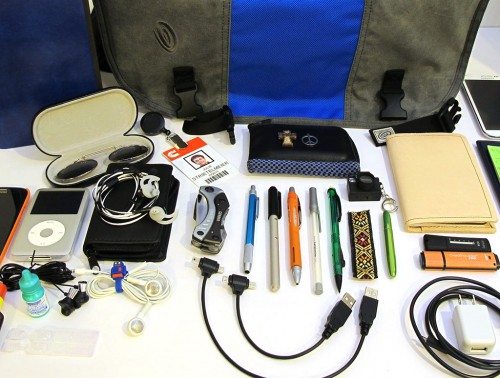 I thought it might be interesting and useful for me to capture a visual and text list of my EDC (Every Day Carry) gear on a monthly basis. Seeing my gear might give you ideas for your own EDC and I'm hoping you might make suggestions for things I should look at that might replace items I'm already carrying. I'll be breaking down the list into gear bag and keychain. Let's start with my gear bag.
Note: Images can be clicked to view a larger size.
02/27/13 Gear Bag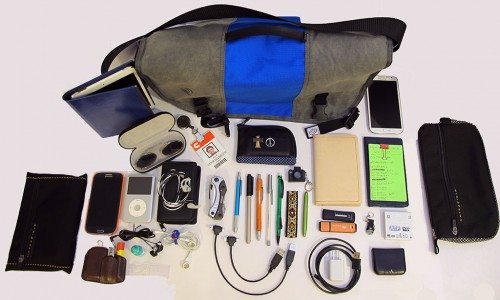 Timbuk2 Custom Laptop Messenger Bag – I reviewed a similar one back in 2010. I carried it every day till I accidentally ripped off one of the hanging straps while going through a turnstile at work. I wrote about the tragedy, Timbuk2 saw it and offerred to let me create a new custom bag. I chose waxed canvas and Blue. I love it
iPad mini in a Blue Prowis case that I'm currently reviewing
Generic sunglasses clips stored in a clamshell case
Cummins ID badge
Waterfield Designs Zippered Wallet with two good luck charms that are always zipped inside. One is  a little metal peace sign charm that I found in the parking lot after my first chemo treatment in March 2011. It felt like the universe was telling me that "everything is going to be ok". The other is a little plastic cross that someone sent me during that same time frame. I've been carrying this same exact wallet since December of 2005.
Leather Field Notes / Moleskine Cahier cover that I made myself
Checkbook and stack of colored index cards clipped with a binder clip – I write checks so rarely these days that I need to just stick it in a drawer
Samsung Galaxy Note 2 which I'm currently reviewing
Small Waterfield CableGuy pouch – holds some of the items seen here
Samsung Galaxy S3 (Verizon) in an Orange elago G5 Breathe case
iPod Classic 160GB – I rarely listen to this
Bose MIE2i Mobile Headset – Comfy and sound great
Gerber Crucial Pocket Tool Multi-Plier – I like this one because it's small and doesn't have a lot of tools that I will never use
HAND Stylus, GoSmart Stylus, Uniball Jetstream, generic Bic pen, cheap Papermate clicky mechanical pencil, Fischer Space Pen and a handmade protective sleeve which Janet made – My current favorite pen is the Uniball. It writes great and I won't overly sad if I lose it because it doesn't cost much to replace
Camera charm that flashes and makes shutter sound when you press the shutter button – gift from one of my best friends
2 USB flash drives
Little USB microSD card reader
ATP Pro Max card reader – can't remember the last time I needed to use it
Waterfield Designs iPod Gear Pouch – Holds a lot of the small items shown here
Dragonthorn Leatherworks Pocket Carry System – Holds an Altoid Smalls tin of Ibuprofen, Carmex lip balm and fingernail clippers
Small bottle and 3 tubes of eye drops
Some cheap Sony earbuds and stock Apple earbuds – Not sure why I'm carrying 3 sets of earbuds…
2 short USB cables that have both mini and micro connectors at the end of each cable – Can't remember where I bought them
Larger micro USB cable and a USB AC adapter
Vaja SD card wallet
Not pictured – Ziploc baggie of Stevia packets, kleenexes and an empty Walmart style plastic shopping bag just because…
02/27/13 Keychain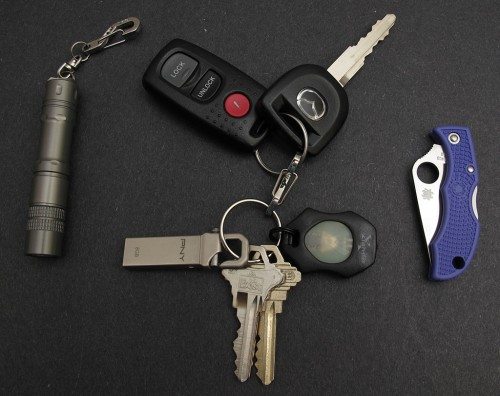 Nothing too elegant here… at least not yet. I have some high hopes for my keychain EDC. But for now, I am just using 2 generic split rings. One holds my key fob and car key. It's attached via a TEC Python clip to another split ring which holds:
House key and some other key I don't know what it opens
PNY USB flash drive which I plan to put to add emergency contact info
Photon X-Light Micro – I love this little LED flashlight because it's always exactly where I need it. It's tiny and easy to use with one hand unlike likes that require you to twist the head. Click once to turn on and once to turn off. Even has some special modes like SOS
The other two items I've included in this image really should be up in the Gear Bag list, but they were in a pocket that I forgot to check.
We'll see if things change next month…