We use affiliate links. If you buy something through the links on this page, we may earn a commission at no cost to you. Learn more.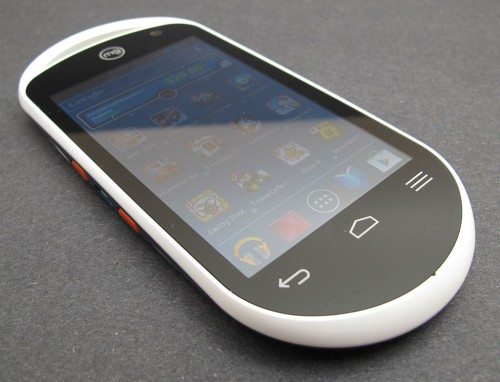 The MG is a WiFi Android device that has been created specifically for kids (and their parents bank accounts). If you own a smartphone and also have children, it's probably a common thing for them to want to play games on your phone. But giving kids your $500+ device to play games is probably not the best idea. The MG solves this problem because it gives them their own device so that you no longer will need to worry about them screwing up your settings or buying premium games from Google Play. Since it's WiFi only, there are no monthly data charges or activation fees. The MG also incorporates special parental reports and a purchase allowance so your kids can buy apps without needing asking you.
Note: Images can be clicked to view a larger size.
Hardware Specs
Processor: TCC8925 Cortex A5 processor at 1Ghz
OS: Android 4.0.4 (Ice Cream Sandwich)
Display: 4" WVGA (480X800) Capacitive Touch Display
Memory: 1GB DDR3 RAM, 4GB internal flash storage
Connectivity: WiFi 802.11 b/g/n
Camera: 1.3MP front facing camera
Expansion: Micro SD card slot (8GB SD card included)
Battery: 1880mAh battery
Dimension: 66.1×146.8×11.9mm
Weight: 127g
Package Contents
MG
8GB microSD card
Prepaid SpendSmart MasterCard Sample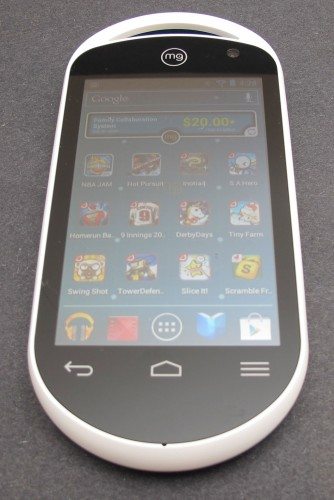 The MG has an oval shape that sets it apart from all the smartphones on the market and provides extra surface area for hands to grip the device while playing games.
The face of the MG has no physical buttons. There is a row of touch buttons below the display that map to Back, Home and Menu. Above the display is the 1.3MP forward facing camera. Note: there is no other camera built into this device.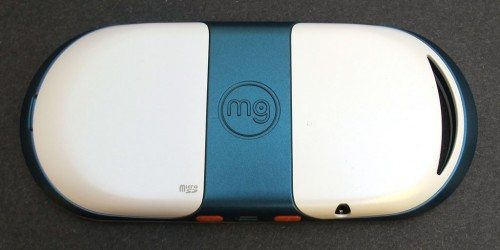 The back of the MG has a cover that can be removed to reveal a microSD card expansion slot.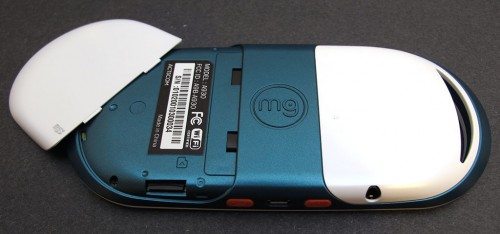 There is no access to the battery though. It's sealed and not user replaceable.

On the Right side of the MG is the volume button.

And on the opposite side you'll find a standard sized earphone jack, Power button, mini USB charging/sync port and a brightness button.
The MG has a White plastic case with Blue and Orange accents. It feels solid in hand and survived the Gadgeteer squeeze test with a passing grade. Hardware-wise, the MG is fine for most games. It doesn't have the latest blazing fast processor or a 5 inch display. But it's doesn't have a $500 price tag either, so there are trade offs. My biggest wish for this device would be for it to have a built in gaming controller. As it is, you have to use the onscreen virtual controls which I don't like for action games. Since the MG doesn't have Bluetooth, there's no chance of using a 3rd party gaming controller either. That's something to keep in mind depending on the games your child likes to play.
The MG is good size as a portable game system and I think it should hold up well to most normal kid abuse – as long as that abuse doesn't include throwing it or dropping it on hard surfaces. The display is decent, audio is decent and system performance is pretty good. The only hardware issue I have had with this device is with regards to battery life… It's pretty poor. I have been lucky to get one day of use out of the device and that is with barely using it. Reading the FAQs on their website, they advise not to just tap the home button when you're finished with an app. You are supposed to press the back button to quit the app. Even doing this, I find the battery life to be pretty bad. Hopefully system updates will fix this problem.
The MG is a pretty standard Android device, But what sets it apart is the Family Collaboration System which is installed on the device. Using this app with the BillMyParents SpendSmart prepaid MasterCard and companion app will help parents manage their children's game purchases and help them keep an eye on how they are using the device itself.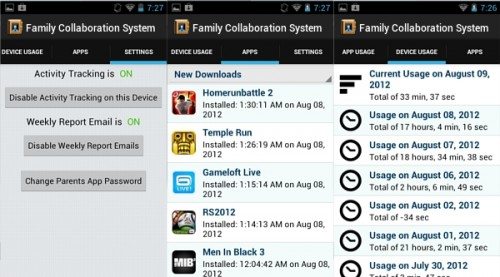 Logging into the Family Collaboration System app will let you see reports of which apps have been installed on the device, and time spent using them. You can also setup automated weekly emailed reports.
The MG Family Collaboration System includes a $10 offer from SpendSmart prepaid MasterCard. Parents will go to spendsmart.playmg.com to get a card for their child.  There is a "dummy" card in the box with instructions on the back.  Once they have signed up and loaded the card with their first $10, MG matches it with another $10.
There is a $3.95 per month fee to use the SpendSmart card unless you setup a recurring monthly "allowance" for your child which is a minimum of $20.00. If you use a credit card or debit card to fund the SpendSmart Card there is a $2.95 fee and the funds are available immediately. If you use a checking or savings account to fund the SpendSmart Card there is a processing time involved and there is only a .75 cent fee.
I like the fact that you can let your child learn spending responsibility by funding an acct for them. I was curious if MG also offered control over the types of apps used on the device and was given this info:
Google has some "Parental Controls", and there are some apps on the Android Marketplace that help you "try" to block access to various internet/app functions.  But we took a totally different approach with our Family Collaboration System by using a "Trust but Verify" approach.  Instead of Blocking, or trying to block (since many kids can figure their way around blocks), we allow parents to put in their email address and then once a week send a report on the MG's activity . . . i.e. apps that have been downloaded, apps that have been used, and amount of time spent on the device.  We believe, and realize that not everyone will share our opinion on this, that this will lead to very constructive and collaborative conversations about internet use between parents and kids.
The MG device ships with all the standard Android apps and also includes a collection of pre-installed premium and free games including:
Need for Speed Hot Pursuit normally $4.99
NBA JAM normally $4.99
Slice It
Swing Shot
Homerun Battle2
Tiny Farm
Tower Defense
9 Innings Baseball
Super Action Hero
Derby Days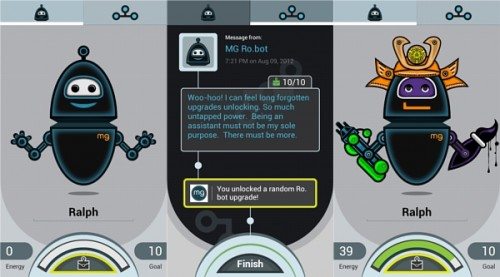 There's also a proprietary MG Origins Avatar System installed. As gamers use the MG, they gain points, customize and unlock the origin story of their own personal gaming companion. It's kind of cute for younger kids. Not sure kids over 13 or so will care.
The MG is a good alternative to allowing your children to play with your expensive smartphone. It's also more economical than Nintendo Gameboys, Sony PSPs and other handheld gaming systems which charge high prices for their game cartridges. With the Google Play store, your kids can download 1000's of free games and can use the prepaid SpendSmart card to purchase premium games. I still wish the MG had built in gaming controls, but maybe that will come with a future version of the MG.