We use affiliate links. If you buy something through the links on this page, we may earn a commission at no cost to you. Learn more.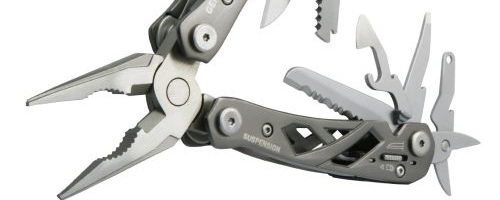 I love multi-tools, and they have come a long way since my first basic Leatherman Pocket Survival Tool in the 80's. I am always on the lookout for the 'perfect' tool for my own everyday carry- that magical balance between size, weight, tool options, and functionality that just works for me. My current 'everyday carry' multi-tool is the Leatherman Juice S2 and I am about 85% happy with it.
The Gerber Suspension is a fairly large tool with a solid steel body and a large selection of tools. I knew its size would count against it in this contest, but even if it was not a good 'everyday' tool, I would still be able to find several good uses for it so when I found one on sale, I snagged it quickly!
The tech specs for the Suspension are pretty nice:
Overall Length: 6″
Closed Length: 3.5″ (My actual measure was closer to 3.75″)
Weight: 9oz.
Handle Material Stainless Steel
Components: Needle-nose pliers, wire cutter, fine edge knife, serrated edge knife, saw, scissors, crosspoint screwdriver, small and medium flat blade screwdrivers, can opener, bottle opener and lanyard hole.
Besides all that, the main knife blades have an easy-open tab that allows one-handed opening with just a little practice. All of the little tools have a release mechanism. You need to pull the release tab on both sides of the handle for the best results, so it is not so much a one-handed close. The main pliers are spring-loaded to open automatically. As a nice bonus, the tool can be taken completely apart for tinkering or cleaning… if you are brave and have the right size Allen wrench.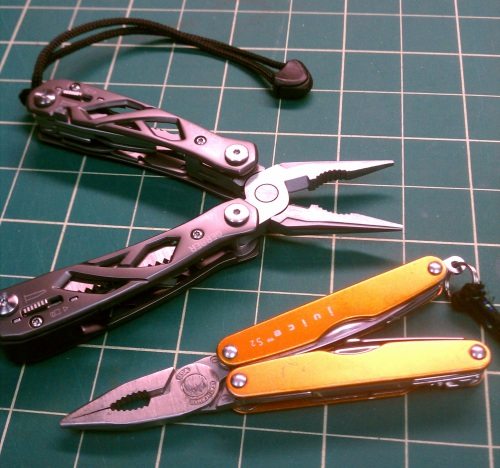 Gerber Suspension on top, Leatherman Juice C2 on bottom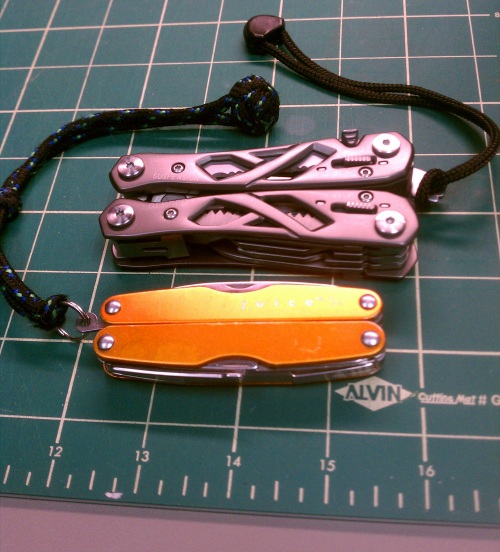 Never miss one of our posts again. Sent MON, WED, and FRI with the latest gadget reviews and news!
Tools in closed position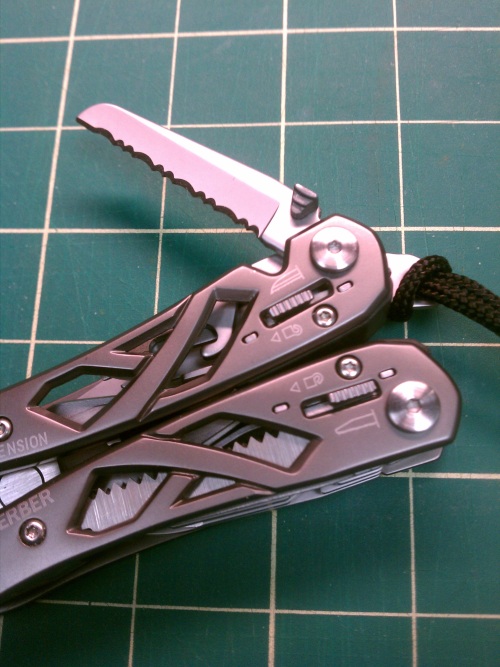 The overall tool is solid and hefty. Wiggling the handles reveals a little play, but it does not seem to be a problem. Opening the tool to the main pliers is easy, and can be done one-handed in a pinch. The main pliers are the somewhat typical modified needle-nose most multi-tools use now- long skinny tips, a semi-circular grabbing section, and wire cutters at the base. They seem plenty tough and have worked well for everything I have used them on.
The plier handles can be a problem with multi-tools- comfort, pinching, leverage and more affect the usefulness of the pliers. The Suspension handles are spring-loaded to open to the tool's max- 5″ at the furthest points. Even closed, it is 2.5″ from tip to tip of the handle. This may be awkward for someone with smaller hands, but the handles are so smooth and comfortable that this probably would not be a real problem. My Juice actually has shorter pliers and handles, and opens wider but there is no contest- the Suspension offers the stronger pliers and stronger gripping forces.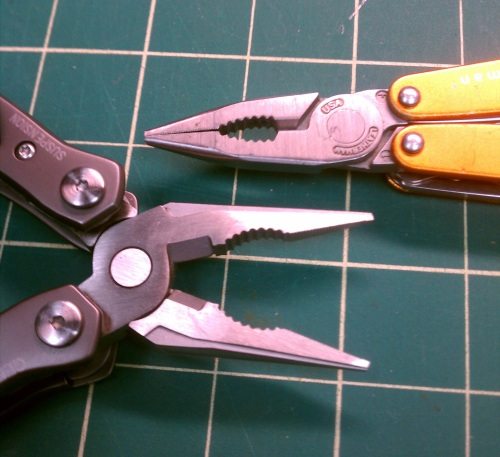 The tools in the Suspension are all solid and most follow classic Gerber design, like the rather 'plump' scissors. They are all accessible when the tool is closed, which is sort of a mixed blessing. In general, 'external' tools like this are easier to access, but the handle does not work quite as well with the tools, while 'internal' tools are only accessible when the pliers are open, but they usually work with the plier handles better. For example, the internal tools in the Juice are more in-line with the handle and you can use the handle fully open for length, or with the handle in a 90 degree configuration for more torque. You can certainly do this with the Suspension as well, just not as smoothly or comfortably as the Juice.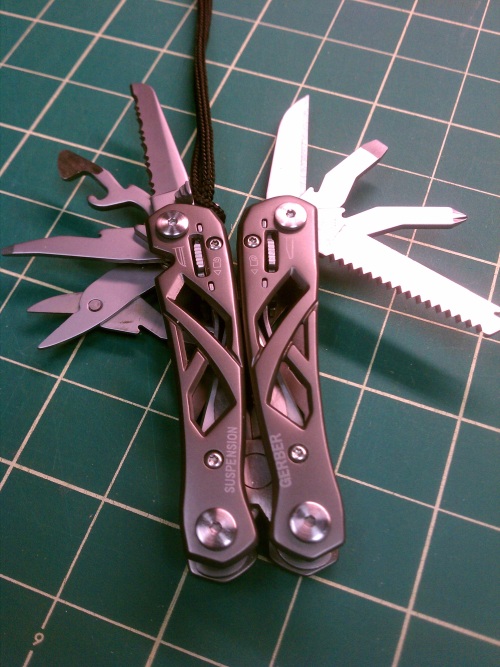 Suspension tools close-up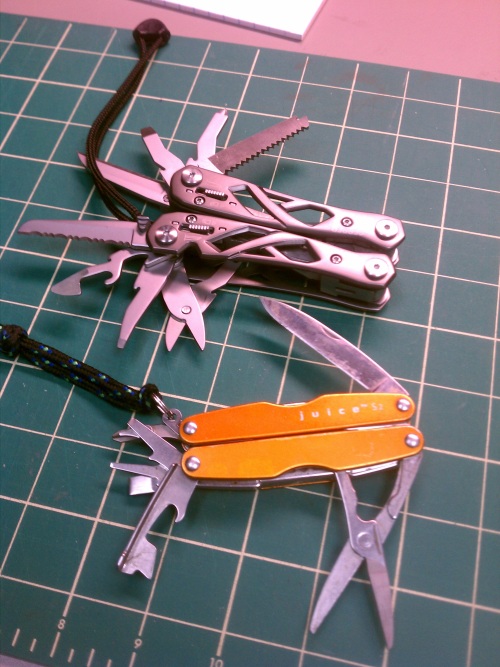 For a 3.75″ long tool, the knife blades seem rather short with just under 2″ of cutting edge. The main blade is a 'sheeps-foot' with a straight cutting edge which is a decent general purpose design, especially at this size. It has a quick-open tab set-up for right-hand use, and uses the same locking mechanism all the tools use. The serrated blade is about the same. The Juice's main 'spear-point' blade is 2.5″ long in a tool barely an inch longer and feels much larger in proportion.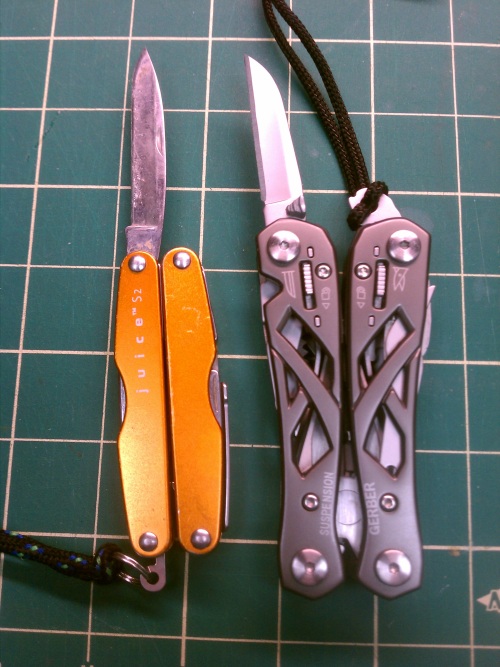 The other tools have big thumbnail notches that are easy to use for the most part and open easily enough that it does not threaten to rip off the nail, which sometimes happens in my smaller, tighter Juice. The 2″ saw blade is tricky to use since it is so short, but the can opener/bottle cap lifter blade is great! Typical nice Gerber scissors with great leverage, but only 1/2″ long cutting surfaces. The Juice's scissor blades are 1″ at the cutting edge. The Juice's scissors win for light duty stuff, but the more powerful Suspension scissors can handle tough jobs easier.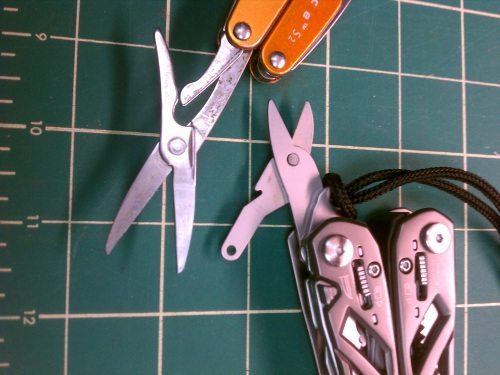 The screwdriver blades are slightly offset to work with the handles. There is a small flat blade just under 1/8″ wide but a bit thick; a decent 3/16″ wide flat blade that is still a bit thick but could probably double as a light duty pry bar; and a 'flattened Phillips' that works with an optional adapter that holds standard hex bits. The Juice bits are generally smaller and work with the tool's handle a little better- possibly just because of the difference in bulk.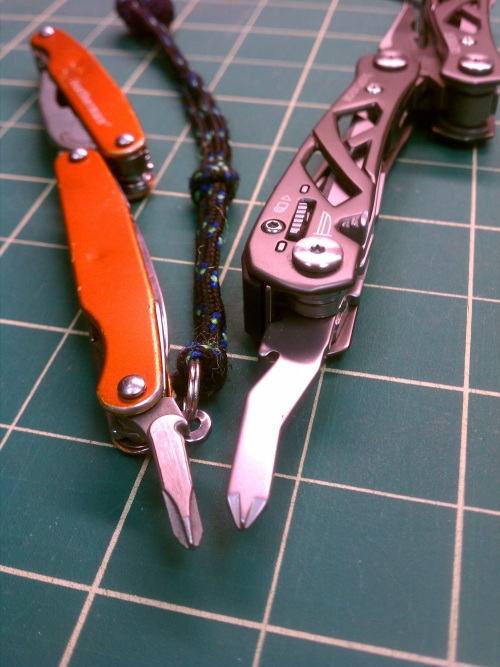 Both tools offer a lanyard hole. The Suspension's is large enough to run a 1/8″ cord through, the Juice's is, predictably, smaller. On both tools, lanyards can get in the way in actual use. It blocks part of the Suspension's scissors' handle and gets tangled with the Phillips bit on the Juice. I use the lanyards to let me carry the tool in my back pocket and easily pull it out.
The Suspension's case is a nicely designed ballistic nylon case shaped to hold the tools and can ride horizontally or vertically on a belt or strap.  There is an optional tool kit that fits on the Philips bit of this and many other Gerber full-sized tools that adds a lot of versatility.
In actual use, this is a nice tool most of the time. It is about the lowest price 'full size' multi-tool offered by the big brands, so there is a trade off- strength is accomplished by using heavier materials. I find that I am always aware of its bulk and weight. It 'feels' bigger than any other multi-tool I have used even though I have used several that were physically larger. On the other hand, you can crank on the Suspension in ways that would wreck the Juice and many other multitools I have owned. This thing may not cost much more than a low-end multi-tool, but it is as tough as any Gerber tool I have ever owned.
I may not choose to carry the Suspension every day (it ripped through a pocket the day I tried it!), but it would work well anywhere you need a decent assortment of tools and weight is not the primary issue. It has earned a place of honor in my 'carry along' tool kit at work, backing up other tools and offering helpful options.