We use affiliate links. If you buy something through the links on this page, we may earn a commission at no cost to you. Learn more.

Shapeways is a company that allows you to "print" a 3-d design you have created using their design applications or your own design software or a design others have created and made available for purchase.  You can choose a variety of materials – metals, sandstone, or plastics – to render your creation.  Recently Shapeways has introduced the Photoshaper method of rendering a 2-d photograph in 3-d.  Julie offered me the chance to try out the Photoshaper process myself.  Since I am not artistic and can't draw a stick figure in 2 dimensions and certainly couldn't design anything in 3-d, I was happy to have the chance to create a 3-d piece using my own photograph.
An account with Shapeways is required to create a Photoshaper product.  I didn't realize this at first, so I had to cancel the creation process to create an account.  You only need to give them a username, password, and email address for the account.  Wait for an email from Shapeways that will allow you to activate your account.  Don't make the same mistake I made – create this account before you get started.
Many of the attached images may be clicked on for larger versions.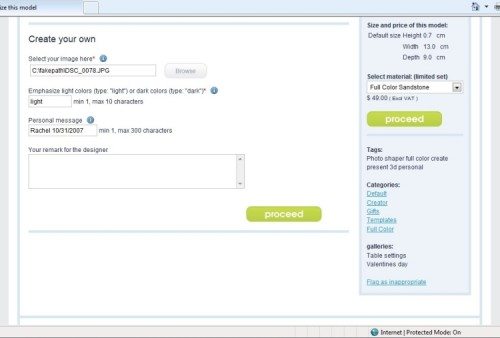 Designing your photographic piece is easy.  Simply go to the Photoshaper web site, choose the size for your creation (3.9 X 2.8, 5.1 X 3.5, or 5.9 X 3.9 inches), then click "create".  You browse files on your computer to select your desired image.  I chose a picture of my daughter in her Cleopatra costume from a recent Halloween.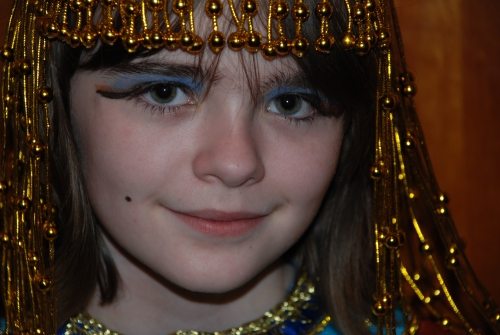 Next, you choose to emphasize light or dark colors.  I assumed "emphasize" meant the colors would be in the raised areas.  I chose to emphasize light colors.  You enter a personal message (up to 300 characters) to be displayed on the back of the piece.  (I simply entered "Rachel 10/31/2007".)  You can also enter remarks or special instructions for the designer; I left this field blank.  The right frame shows information about the model you are designing, including the material for your design.  The Photoshapers are restricted to sandstone only.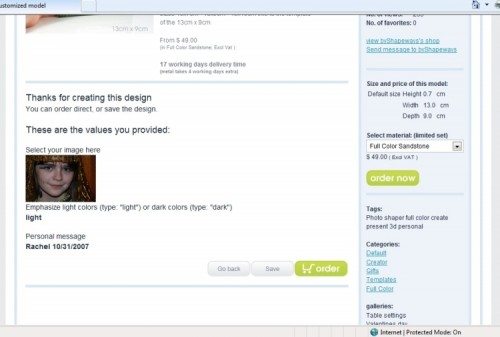 Your picture begins to upload when you proceed to the next step.  A thumbnail of your photo is displayed when upload is complete.  You also see a recap of the information you have entered.  When you "click to order", you'll enter your name and address, then you'll continue to the order details page.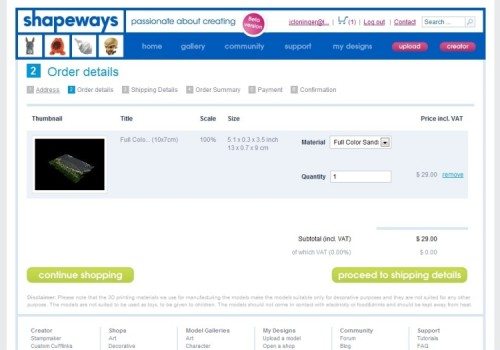 I was very concerned to see the thumbnail of what appeared to be a moldy piece of slate in my order details.  At this point, I concluded there must have been an error uploading my picture, so I cancelled out of the order and started the process again.  I went through the design process a couple more times, each time getting the same moldy-slate thumbnail.  I tried using two different browsers (IE 8 and Google Chrome), with the same results.  I finally was forced to assume there was either a problem rendering my correct thumbnail or they just always displayed a generic thumbnail in the order details, so I continued with the ordering process.  I entered the coupon code that Shapeways had been kind enough to supply to The Gadgeteer and proceeded.  Other choices for payment were PayPal or a bank transfer.  You could also select gift wrap for an additional $4.00.  I was surprised to realize at this point that shipping was included in the price of the Photoshaper piece.  I ordered the smallest size so that I would have a little more money left on the coupon in case I needed to reorder – if a 3-d model of a moldy piece of slate actually showed up!  I received two PDF documents in emails from Shapeways.  The first was an order summary.  The second was a five-page document outlining the Shapeways terms and conditions.  There was a warning that the Shapeways process was in a trial stage and therefore might not be bug-free.  They did say they would try to fix any problems as quickly as possible should any arise.
I placed the order on February 20, 2010.  On 2/22, I received an email saying Shapeways "has customized your Full Color Photoshaper (10x7cm) for you. It will now go into production".  On 2/23, I was notified my design was in production, and they said they tried to deliver models in the various plastics (including the sandstone used for the Photoshaper models) within 10 working days from the date of payment.
On March 1st, I got an email telling me the Photoshaper model was being shipped from the Netherlands with an expected delivery date of 3/3/10.  I did receive the package on 3/3/10.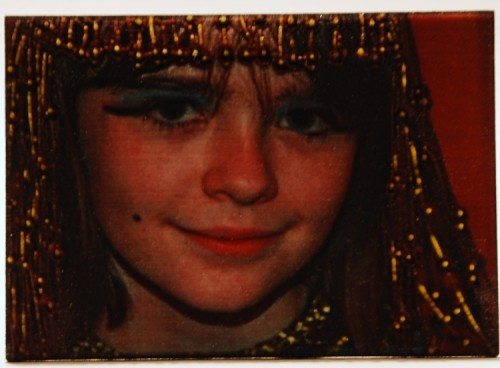 I was relieved to see that I did not receive a 3-d model of a moldy piece of slate.  I was a little disappointed to see that the colors were dark and a little streaky.  The model is 3-dimensional, but it is not exactly like a bas relief.  For example, the highlights on the golden beads extend significantly above the plane of the model, but her facial features don't rise above the plane.  Her nose, chin, and cheeks don't rise out of the background; it's more a case of the shadows around these areas are recessed into the background.  It's not like a statue's face.  Despite the colors being dark, you can see the various colors in the picture.  You can see Rachel's blue eye shadow and a glimpse of her gold eyeliner above the black eyeliner.  There's a glimpse of the blue on her Cleopatra collar just visible at the bottom.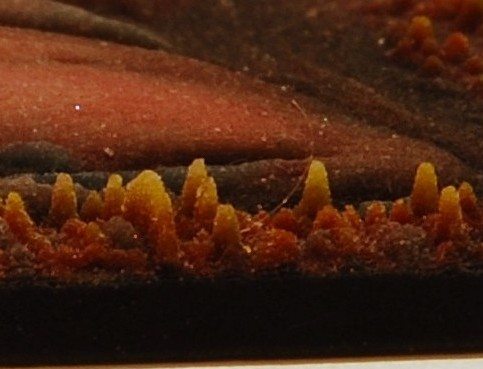 My biggest concern is with the very rough texture of the Photoshaper model.  It has a gritty, sandy texture which really grabs onto dust.  I had to clean the model with canned air to make sure it was as dust-free as possible before photographing.  In one of the included photographs, you can see what appears to be a hair laying on the surface.  The hair – or perhaps it was a piece of fiber that was a component in the sandstone material – was embedded in the material.  It was long enough that I could grab it and break it off with a good tug.  There is another "hair" near one of the eyes that is shorter and not so easy to grab.  I'll need some tweezers to get it.
I wondered if the dark colors were a result of the gamut available from the dyes or pigments used in the Photoshaper process, or if they were a result of my photo selection.  Before completing the review, I decided I'd contact Shapeways through their online customer service to ask about the picture.  I sent my question asking if it were normal for the colors in the Photoshaper to be much darker than the colors in my original digital image.  I was contacted by Maartje, a very helpful customer service agent who asked me to send the original digital image and a picture of the Photoshaper I'd received for her inspection.  I sent the images, and it was at this point I said I was writing a review of the Photoshaper process.  Maartje said they had looked at my images and determined that my original image itself was dark, and it was considerably darker than the image they had used to make their display for their website.  She said she would arrange for me to make another Photoshaper with a different image.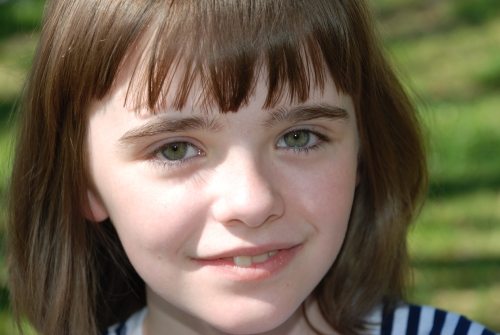 I looked through some of my pictures and found a brighter, simpler picture of Rachel.  It was taken outdoors;  the Cleopatra image had been taken indoors with a flash.  The new picture was less busy – just Rachel's face without the elaborate makeup and headdress.  I sent this picture to Maartje to ask if she thought it would be a better subject.  She thought it would work better, so I submitted a new order.  (This conversation with Maartje took place over a couple of  days.  She's in the Netherlands and I'm in the United States, so our work hours didn't sync up well.)
I made the new order on 3/12/2010.  I received an email on 3/13 from the Customer Service Team saying my design had been customized and would be sent into production.  On 3/16, I was notified my image was in production, and UPS notified me that my package was picked up on 3/18.  I received my package on 3/22.  Delivery took a little longer this time because UPS doesn't deliver on the weekends.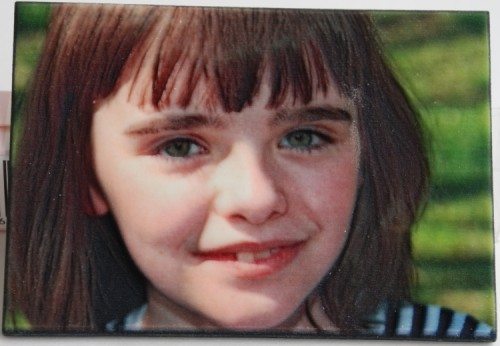 The new Photoshaper image is much lighter and brighter, and it looks much more like the original image.  There is also much more dimensionality to this Photoshaper.  Since there weren't so many details in this original image, most of the variations in levels were in her face.  This gave a stronger 3-d appearance to her face;  it is much more obvious to my eye.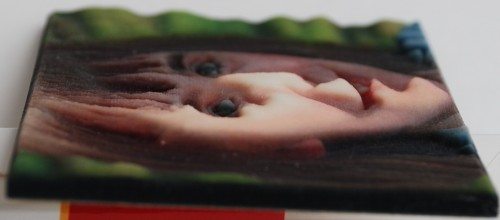 You will notice a smudge on Rachel's face near her right eye.  This was caused by me.  There was a piece of lint on the Photoshaper that I attempted to remove with my finger.  I accidentally scratched it with my nail and marred the rough texture of the 3-d photo.  I should have gone to get my can of air, and I apologize for the smudge.

You can see in this picture that the colors are much brighter in the new Photoshaper on the right than in the first one on the left.  I don't remember seeing anything on the Shapeways site recommending that the process would work best with a light, bright photograph with a simple composition.  If it was there and I missed it, I apologize.  If it isn't there, I recommend that Shapeways add that information to their instructions.
I wonder if you could spray the Photoshaper 3-d photo with some spray-on polyurethane or the like to give it a shinier, smoother finish.  The polyurethane may serve to make it easier to dust, and it may make the colors brighter.  In any event, I think the Photoshaper would make a nice addition to a shadowbox arrangement – a few mementos and a Photoshaper of a cherished photo would make a nice keepsake.  A Photoshaper 3-d photo of a grandchild would make a wonderful gift for grandparents, too.  The Shapeways Photoshaper 3-d photo is a surprisingly inexpensive keepsake, when you consider the price includes quick shipping from the Netherlands!
Product Information
Price:
Prices vary: $29 for 3.9 X 2.8 inches, $49 for 5.1 X 3.5 inches, and $65 for 5.9 X 3.9 inches
Manufacturer:
Shapeways
Pros:

Unique photographic keepsake
Reasonably priced, especially when you consider the price includes quick shipping from Europe to the US

Cons:

Rough texture will collect dust