We use affiliate links. If you buy something through the links on this page, we may earn a commission at no cost to you. Learn more.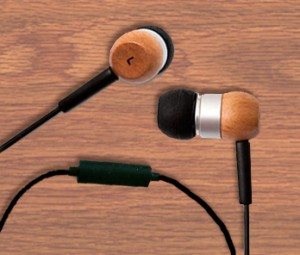 The American Heritage® Dictionary of the English Language defines "timbre" as "The combination of qualities of a sound that distinguishes it from other sounds of the same pitch and volume." The iFrogz folks do get their own joke. Their websites says the EarPollution Timbre earbuds feature "clean bass and you guessed it, outstanding audio "timbre" as well." The $49.99 buds come in dark or light wood.
I was predisposed to fancy iFrogz "EarPollution Timbre with Mic" when I saw the little wooden earbuds in the packaging. I love a good play on words. If your gadget is named Timbre – and is actually made of timber… that is, wood… well, that's an irony that rings my bell. I really liked the cord. Usually I'm a wire hater because I hate tangle. This cord (length 1.1 m) is made of material that seems anti-tangle, but is still flexible. On the iPhone, the mic on the wire controls the iPod and phone's on/off. The package included three earfit sets for personal comfort and control of ambient noise.
But what about the sound? I don't know if the wooden buds are a gimmick or if they actually do mellow the sound. I'm not sure my ears can tell the difference. The technical specs say the sensitivity is 103 dB and the frequency response is 20 Hz to 20Khz. I tried different kinds of music and some audiobooks for my test of the iPod function. I thought the sound was excellent, compared to my standard Apple iPhone headset… Not much of a comparison, I know, since the Timbre earbuds are in-ear and the iPhone headset is not.
I'm not a big fan of in-ear, noise canceling earbuds for iPhone telephone talk. It makes me feel like I'm under water. But these earbuds were loud and clear, in spite of the in-my-head-feedback feeling. I much prefer them for music and audiobook listening, but the mic worked great. My test conversation partners confirmed that there was good sound coming their way.
So if you are a fan of the buds, these are stylish, have excellent clarity and their wire is tangle resistant.
Product Information
Price:
$49.99
Manufacturer:
iFrogz EarPollution
Pros:

Stylish
Excellent audio quality
Tangle resistant wire

Cons:

When on the phone, noise canceling earbuds make my voice sound like it is underwater