We use affiliate links. If you buy something through the links on this page, we may earn a commission at no cost to you. Learn more.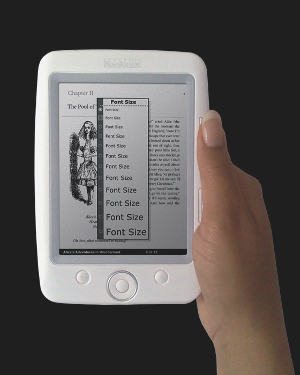 French company Bookeen introduces their fourth-generation electronic book reader, the Cybook Opus. It has a foot print of 4.2″ x 6″ x 0.4″ inches and weighs 5.3 oz (150g), which puts it 0.5 oz more than an iPhone 3GS. It features E Ink electronic ink with 12 font sizes, 4-level greyscale and a 200 dpi display. It has an accelerometer that allows it to switch from portrait to landscape mode automatically, which will appeal equally to left and right-handed readers. It ships with 75 classics free of charge; stores up to 1 000 titles in 1GB of built in flash memory, and 3 000 more on a microSD card. It can support HTML, PDF, EPUB or TXT formats without any conversions. It's available now for $280. Full press release after the jump.
Paris, Tuesday September 22nd
CYBOOK OPUS by BOOKEEN
150 grams (5.3 oz) of design and technology in the palm of your hand!
Introducing Cybook Opus, Bookeen's fourth-generation electronic book.

This true concentrate of technology, a result of ten years' innovation by French company Bookeen, boasts impressive features in terms of lightness, comfort and battery life, carrying up to 1 000 book titles in a featherweight 150g device.
Slimmer, lighter and faster than its competitors, Cybook Opus brings the best of technology to reading.
Cybook Opus is designed for readers eager to reconcile the freedom and wealth of the digital age with the feel of a printed page. Not only does its sleek look make it one of today's most desirable cultural goods, but Cybook Opus has also been designed to address the needs of passionately mobile readers.
Handy: Cybook Opus, the world's most portable electronic book, slips into a pocket and only weighs 5.3 oz (150g), battery included (just 0.5 oz more than an iPhone 3GS). Comfortable: Read in all conditions – indoors or outdoors, even in direct sunlight. Features the latest E Ink electronic ink technology. Even more comfortable: With its 12 font sizes and 4-level greyscale, Cybook Opus adjusts to anyone's eyesight. Its accelerometer will appeal equally to left and right-handed readers. Rich: Ships with 75 great classics free of charge; stores up to 1 000 titles, and 3 000 more on a microSD card. Even richer: Compatible with all current download platforms, Cybook Opus offers access to over one million contemporary or public-domain digital books over the Internet. Battery life: Recharges every 8 000 pages viewed, i.e. several weeks of normal use (consumes no energy when displaying a page). Simple: Easily downloads titles by connecting to a computer's USB port (PC or Mac).
Recommended retail price: 250 euros/299£/249 USD tax-inclusive (includes 75 free titles).
Available from: Fnac, Fnac.com, Virgin, Pixmania, Surcouf, Chapitre.com, Eyrolles, Gibert Joseph, WH Smith/Waterstone's/WeltBild/MVB/Libri/MediaMarkt/…
Visuals: http://www.bookeen.com/gallery/ebook-pictures.aspx
More info: www.bookeen.com
An extensive choice of digital titles
Cybook Opus is fully compatible with all major online digital bookstores: FNAC.com, BooksOnBoard, WeltBild, MVB, Waterstone's…Over 200 000 titles are commercially available to download, including back-catalogue works as well as many bestsellers and new releases. Every genre is represented – from thrillers to political pamphlets to non-fiction guides.
In addition, notably through Google Books, Cybook Opus offers access to more than one million public-domain classics in every language. They are available to download free of charge.
Electronic ink: technology dedicated to reading
Unlike regular display technologies, which require backlighting, electronic ink screens are purely reflective, using ambient light in the same way as ordinary paper does. Electronic ink can display text and images indefinitely, without consuming any energy whatsoever.
The Cybook Opus screen only consumes energy when the reader flips a page.
Bookeen: a French leader in consumer electronics
Bookeen was founded in France in 2003 by Laurent Picard and Michaël Dahan, and currently boasts more than 25% market share in Germany, Italy, France and Spain, Bookeen is the number two European player in electronic books, just behind Sony.
Thanks to many years of research and development based on the best screen technologies and ultra-optimised software interfaces, Bookeen creates reading devices recognized for their world-class quality.
A Forrester Research report (June 2009) estimates that there are almost one million users in 2009 and predicts this will grow to 13 million – a US$2bn business – by 2013. Digitimes (August 27, 2009) estimates the market will reach more than 77 million units by 2018. Many industries see the eBook as an emergent market with great potential, and Bookeen is one of its key players.
The founders: pioneers since 1998
After taking part – as early as 1998 – in the development of the first electronic book and associated services for Cytale, alongside Jacques Attali and Erik Orsenna, Laurent Picard and Michaël Dahan went on to found Bookeen in 2003. Since then, Bookeen has accumulated a unique experience on the eBook market and marketed the first multi-format reading support directly targeted to the eBook reader community.
Technical fact-sheet: Cybook Opus by Bookeen
Format Tablet
Screen B&W
Resolution 800 x 600 pixels
Processor / Speed Samsung ARM / 400 MHz
Memory 1 GB
Maximum memory 1 microSD memory card slot (4 GB max; up to approx 4 000 titles)
Sync with a PC computer Yes
Sync with a Mac computer Yes
Audio / video features Text formats supported: Adobe ePub / PDF (native or DRM-protected), TXT and HTML files; photo (black and white): JPEG, GIF and PNG
Connectivity Mini USB
Additional contents 75 books included – see list on following page
Power Rechargeable Lithium-Polymer battery
Battery life Up to 8 000 consecutive pages or 2 weeks
Additional features Accelerometer (automatically switches from portrait to landscape reading mode), left and right-handed, E Ink (electronic ink) technology, 4-level greyscale display without backlighting (prevents eye fatigue), 12 font sizes, can be read even in bright sunlight, "Reset" button, battery rechargeable through USB cable
Dimensions (l x d x h) Height 151 mm – 6″
Length 108 mm – 4.2″
Width 10mm – 0.4″
Net weight 150 g/5.3 oz
List of titles included free with Cybook Opus by Bookeen:
Livres en anglais :
A Dogs Tale – Mark Twain
Jack and Jill – A village Story – Louisa May Alcott
Moby Dick – Hermann Melville
Rose in Bloom – Louisa May Alcott
Tarzan of the Apes – Edgar Rice Burroughs
The Call of the Wild – Jack London
The Curious Case of Benjamin Button – F. Scott Fitzgerald
The Magic of Oz – L. Frank Baum
A Message From The Sea – Charles Dickens
A Pair of Blue Eyes – Thomas Hardy
Adam Bede – George Eliot
Alice's Adventures in Wonderland – Lewis Carroll
Bleak House – Charles Dickens
Dracula – Bram Stocker
Emma – Jane Austen
Frankenstein – Mary Wollstonecraft Shelley
Gulliver's Travels – Jonathan Swift
Middlemarch – George Eliot
Our Mutual Friend – Charles Dickens
Pride and Prejudice – Jane Austen
Sense and Sensibility – Jane Austen
The Adventures of Robinson Crusoe – Daniel Defoe
The Hound of the Baskervilles – Sir A. Conan Doyle
The Jungle Book – Rudyard Kipling
The Life and Adventures of Nicholas Nickleby – Charles Dickens
The Lost World – Sir A. Conan Doyle
The Picture of Dorian Gray – Oscar Wilde
The Railway Children – E. Nesbit
The Story of Doctor Dolittle – Hugh Lofting
The Thirty-nine Steps – John Buchan
The War of the Worlds – H. G. Wells
Through The Looking Glass – Lewis Carroll
Treasure Island – Robert Louis Stevenson
Around the World in heighty days – Jules Verne
Michael Strogoff or, the Courrier of the Czar – Jules Verne
The Mysterious Island – Jules Verne
The Three Musketeers – Alexandre Dumas Père
Grimm's Fairy Tales – The Brothers Grimm
Crime and Punishment – Fyodor Dostoevsky
War and Peace – Leo Tolstoy
Kiss Me Deadly – Michele Hauf
Baby Bonanza – Maureen Child
Livres en français
Ainsi Parlait Zarathoustra – Friedrich Wilhelm Nietzsche
Croc-blanc – Jack London
Alice au Pays des Merveilles – Lewis Carroll
Le Chien des Baskerville – Sir A. Conan Doyle
Les Aventures de Sherlock Holmes – Sir A. Conan Doyle
Frankenstein ou le Promothee moderne – Mary Wollstonecraft Shelley
L'île au trésor – Robert Louis Stevenson
Le Portrait de Dorian Gray – Oscar Wilde
Le Colonel Chabert – Honoré de Balzac
Les Fleurs du Mal – Charles Baudelaire
La Reine Margot – Alexandre Dumas Père
Les Trois Mousquetaires – Alexandre Dumas Père
L'éducation Sentimentale – Gustave Flaubert
Madame Bovary – Gustave Flaubert
Bel Ami – Guy de Maupassant
Boule de Suif – Guy de Maupassant
Notre Cœur – Guy de Maupassant
Pierre et Jean – Guy de Maupassant
Une Vie – Guy de Maupassant
Du Côté de chez Swann – Marcel Proust
Le Rouge et le Noir – Stendhal
20000 Lieues sous les Mers – Jules Verne
De la Terre à la Lune – Jules Verne
Le Tour du Monde en quatre-vingts jours – Jules Verne
Voyage au centre de la Terre – Jules Verne
Germinal – Emile Zola
La Bête Humaine – Emile Zola
Les Frères Karamazov – Fyodor Mikhailovich Dostoyevsky
Les âmes mortes – Nikolai Gogol
Le Moine noir – Anton Pavlovitch Tchekhov
Eaux Printanières – Ivan Sergeyevich Turgenev
Coming soon… German, Italian &
Spanish books will be available inside the Cybook Opus