We use affiliate links. If you buy something through the links on this page, we may earn a commission at no cost to you. Learn more.
Cardo Systems Inc. have long been known for their popular Scala line of Bluetooth headsets. I've reviewed both the scala-500 and scala-700 models and found them to be very capable. When the folks at Cardo contacted me about their S-2 Bluetooth Stereo Headphones, I was excited to try them as I'm always on the look out for a really good pair of wireless headphones.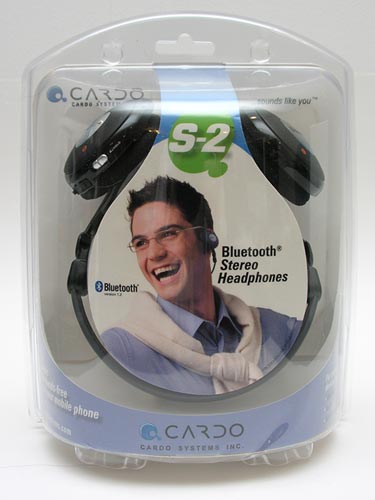 Hardware Specifications
Bluetooth Specification: v.1.2, Class 2
A2DP and AVRCP supported
Chip manufacturer: Cambridge Silicone Radio (CSR)
Battery type: rechargeable Li-Po (Talk time up to 8 hours, Music Time up to 8 hours, Standby time up to 250 hours)
Charging time: approximately 3 hours
Dimensions (main body): 1.77 x.0.70 x 0.91 inches
Weight: 79 gr. / 2.8 oz.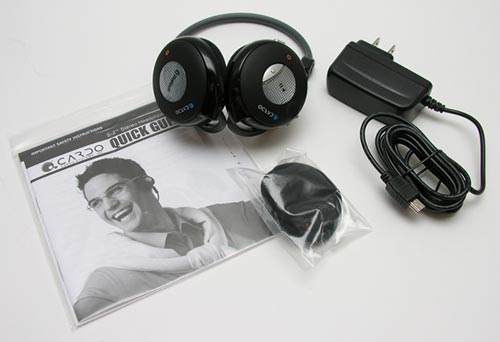 Package Contents
S-2 Wireless headphones
AC charger
Extra earpads
Quick start guide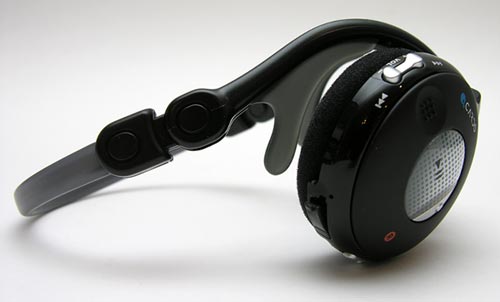 These headphones do make a good first impression with their snazzy styling. They are pretty much all Black with some Silver bits here and there. The combination of matte and shiny plastic looks pretty nice in my opinion. As you will notice in the image above, the S-2's are a behind-your-head style of headphones and fold up into a small footprint for easier gear bag stowing.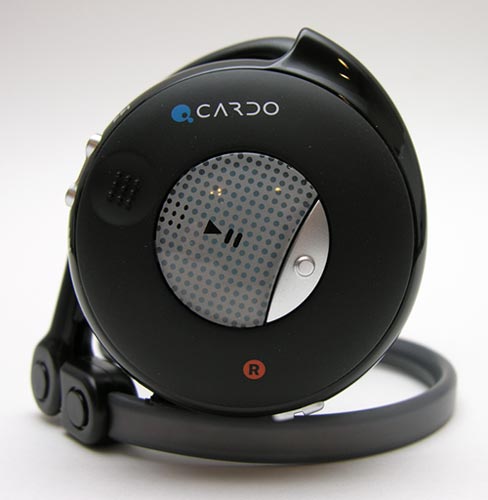 All of the user controls are located in the Right earphone. On the outside, there is a large round Play/Pause button with a small slice devoted to power and pairing. If you look at the image above, in the 10 o'clock position, you'll notice a small indentation with some raised nubs. If you press your finger into the indentation, you can actually pivot the spring-loaded ring forwards and backwards. Doing this advances playback to the next track or back to the previous track. Very cool!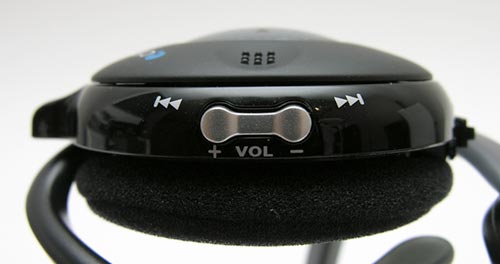 Along the outside edge of the same earphone, you'll find a volume adjustment button and…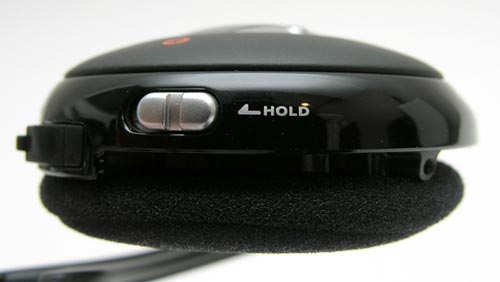 a hold switch. A mini USB connector is also built into the earphone.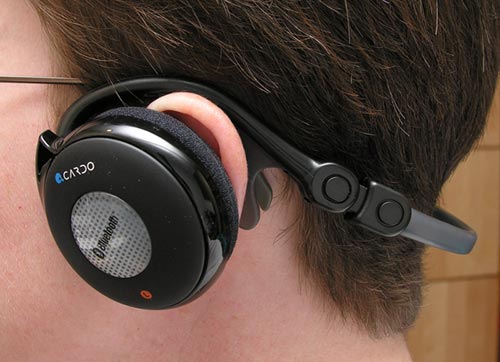 As far as comfort, I found the S-2's to be reasonably comfortable. They aren't adjustable, so it's basically one-size-fits-all. I had no real problem with the fit, but I did find that the plastic rail that rests in the crook of my ear, to be a little uncomfortable. This is probably due to the fact that I wear glasses and they interfere with the rails. There's also the fact that these headphones kind of squeeze my head a bit tighter than I would personally like, making my ears hot. The Wi-Gear iMuffs that I just reviewed are more comfortable because of their looser fit.
What about the audio quality you ask? Well, I was expecting the S-2's to blow me away because Cardo's other headsets have been so great. I wanted to test them with my iPhone, but unfortunately, these headphones must be paired with an A2DP capable device. Apple in their infinite lack of wisdom didn't include that feature set in this first incarnation of the iPhone… So, the first device that I paired these headphones with was the Treo 750v. Pairing was not a problem and within a few seconds, I was listening to tunes. I immediately noticed that the music sounded somewhat 'muddy', but I thought that maybe it was just the Treo, so I overlooked it.
Next, I paired the S-2's with my HTC TyTN Pocket PC Phone. Again, easy pairing. And Again, muddy audio quality. Hmmmmmm… I was online chatting with Rob at the time (co-author of our TyTN dually review) and he mentioned that the TyTN has a less than stellar A2DP implementation. This caused me to try yet another device. A non-Windows Mobile device this time. I chose the Nokia 6131 flip phone. I was sure that the audio would be much better this time around… But alas, it wasn't. It was just as dull as it was on the other devices. I always mention that I'm not an audiophile, but I do know what sounds good and unfortunately, these headphones are only adequate. They don't sound horrible, but the lack of brightness is disappointing.
In addition to listening to tunes through these headphones, you can also answer calls when they come in through your paired Bluetooth enabled mobile phone, as well as make calls. Music will automatically pause allowing you to answer the call by pressing the control button (the skinny button next to the play/pause button) on the Right side. The S-2's can actually be paired with as many as 6 devices. But only 2 devices can be paired and connected at any one time: 1 phone device (using handset/handsfree profiles) and 1 music device (using A2DP and AVRCP).
Using these headphones as a handsfree headset for my iPhone worked just fine. No problems at all. Music on the TyTN paused automatically when calls would come in and a jingle would play (The Twilight Zone theme) in the headphones alerting me to an incoming call. Pressing the Control button would answer the call. People on the other side of the conversation commented that I sounded a little muffled, but they had no problems understanding what I was saying.
I wanted to love the S-2's, but the comfort factor and lack of treble/clarity in the audio output, keeps them from becoming a keeper for me. Maybe Cardo will come out with some S-3's at some point that will address my issues. Here's hoping!
Product Information
Price:
99.99
Manufacturer:
Cardo Systems
Retailer:
Cardo Systems
Requirements:

Audio device with A2DP profile

Pros:

Easy to operate
Can pair with 2 devices at once (phone and audio device)
Auto pauses music when calls come in

Cons:

Audio sounds muddy
Fit is tighter than I like