We use affiliate links. If you buy something through the links on this page, we may earn a commission at no cost to you. Learn more.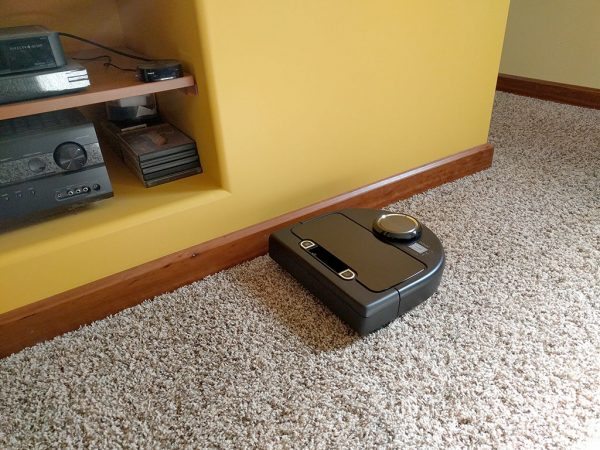 I'm not new to robot vacuums or more specifically, I'm not new to Neato Botvacs. I've been using the Neato Botvac 80 for over a year now and love it. No longer having to manually vacuum my 2-level home several times a week not only saves me time, but makes the house feel and look cleaner without me having to do any of the work. What's not to love? When I heard that Neato's latest Botvac model included the ability to control it with a smartphone, I crossed my fingers in hopes that I'd be asked to review it. Lucky for me, my gadget wishes came true and I couldn't be happier with this new model. Let's take it for a spin.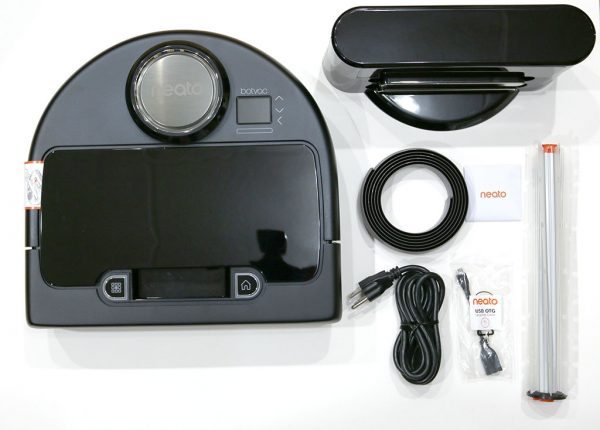 What's in the box?
Neato Botvac Connected Robot Vacuum
Ultra Performance Filter
Spiral Blade Brush
Combo Brush
Side Brush
Integrated Charge Base
Power Cord
Boundary Markers
Brush & Filter Cleaning Tool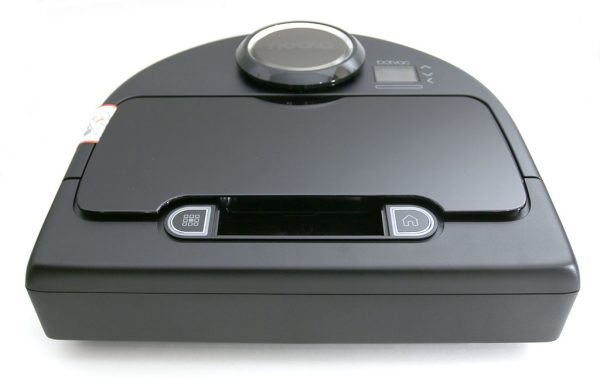 Other than the all black casing, the Botvac Connected looks almost identical to the 80 series model that I reviewed last year. I prefer my older model's white case though because I am not a big fan of shiny black plastic as every speck of dust is clearly noticeable.
On the top of the Botvac is a small color display with touch control buttons. There are also two physical buttons on either side of the built-in handle.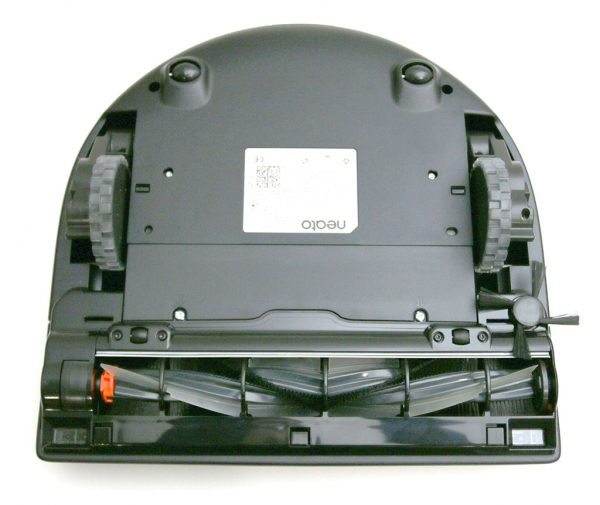 If you flip the Botvac Connected over you will see two large wheels, smaller wheels, the main cleaning brush and the side brush.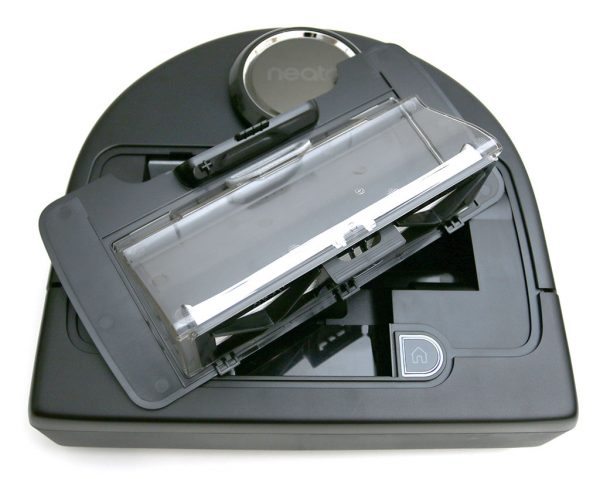 The first upgrade that I noticed between this new model and the previous model is the dirt bin. More specifically, the way the filter attaches to the dirt bin. With the previous Botvac, I had to use my fingernails to flex the plastic up so I could detach the filter and empty the dirt bin. The Botvac Connected's filter has been updated with a pinch clip that makes it much easier to remove the filter.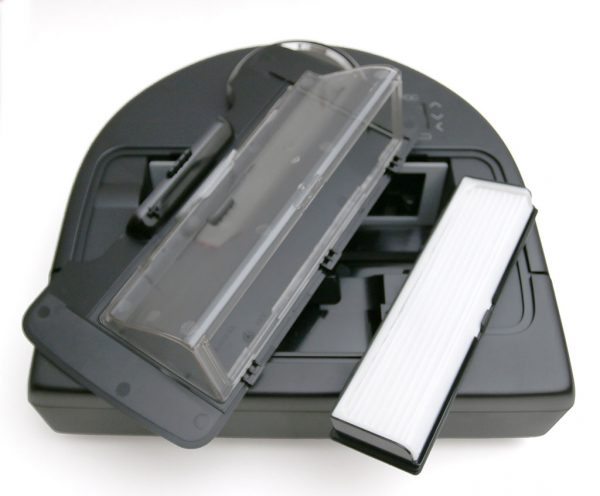 The filter itself has also been updated with a covering over the filter's "fins". This means that dust, hair and other dirt doesn't clog the filter as easily.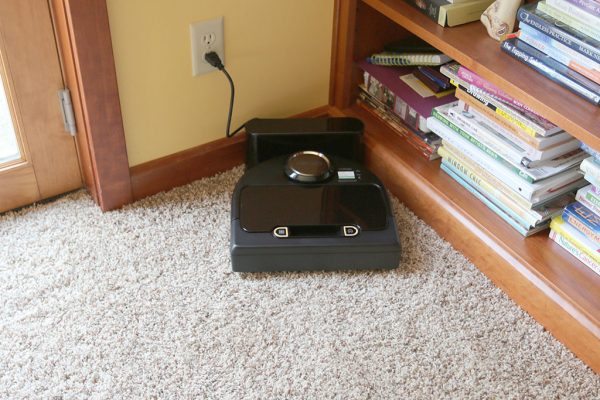 Setting up the Botvac Connected is very easy. Just connect the charging base to a wall outlet, set the Botvac in front of it so that the vacuum's contacts touch the contacts on the charging base and turn on the vacuum by pressing the home button.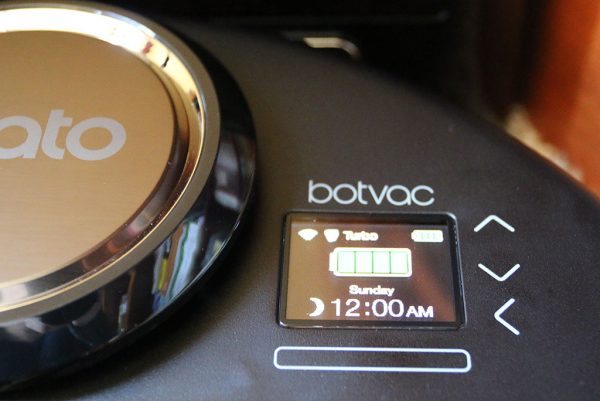 The first time the Botvac powers up, you'll be prompted on the vacuum's display to choose a language. From there you can install the Neato app on your mobile device and continue the setup process there.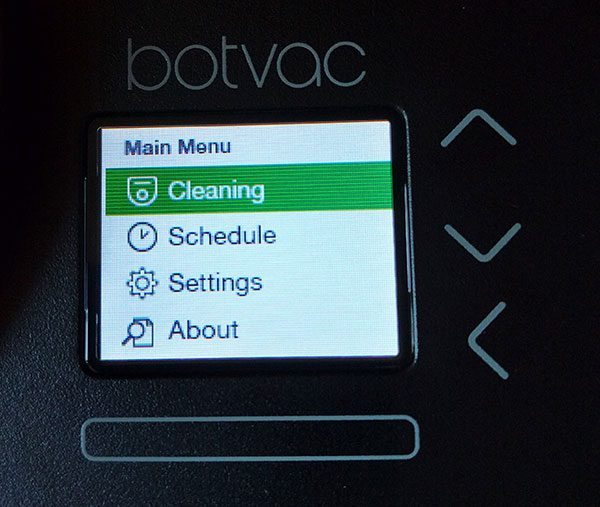 If you don't have a mobile device you can perform all the necessary steps through the vacuum's display and navigation buttons, but doing so through the app is much faster and easier.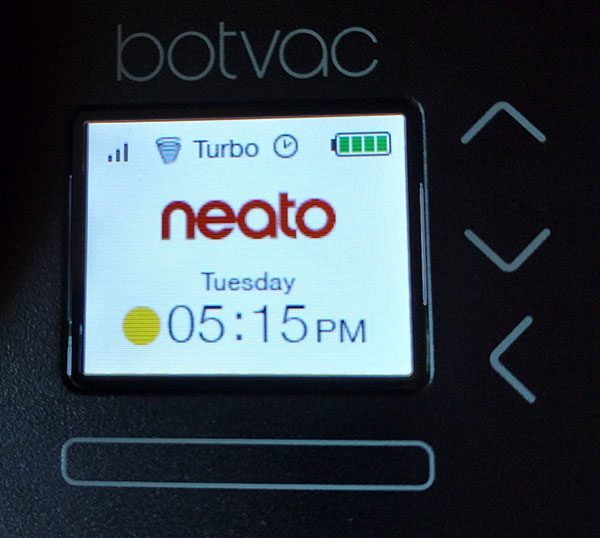 The on-board display shows the current day of the week, time, wireless signal strength, cleaning mode, and battery status.
The Neato mobile app, which is available for both iOS and Android, shows cleaning status and battery status along with the ability to setup cleaning schedules and even manually clean / remotely control the vacuum to move it to a specific location. Setting up and modifying the schedule is much easier through the app than through the Botvac's built in display and the app will also send notifications to the mobile device to let you know when a cleaning session has finished.
The manual clean / remote control is kind of a weird feature because you can easily pick up the vacuum and carry it to wherever you want to clean. It's also important to know that although you can trigger the Botvac to clean your house through your mobile device when you're away from home, you can not use the manual clean feature to remotely move the Botvac around when you're away from home because you have to be on the same wireless network to use the feature. I also could not find a way to tell the vacuum to return to the charging base when I was finished manually moving it around.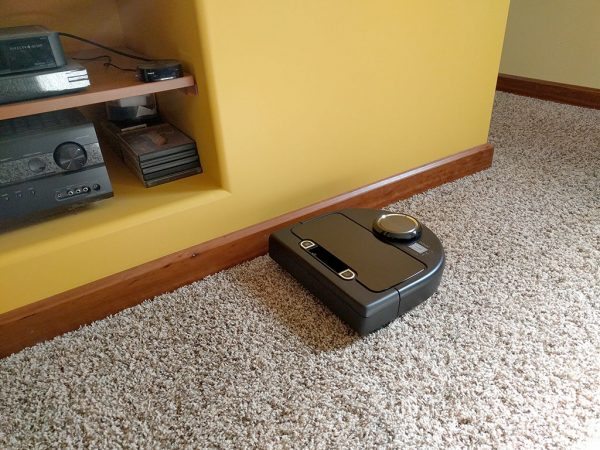 As far as cleaning ability, the D shaped body of the Botvac allows it to do a better job getting closer to walls and corners than the circular shaped vacuums offered by other manufacturers.
It's important to know that Neato Botvacs don't just travel around the room vacuuming up dirt until they run into an obstacle and then rotate and vacuum again until they hit something, on and on. Neato uses what is called LaserSmart mapping which creates a 360 degree map of the room so it can efficiently clean. The laser on top of the Botvac continuously scans for changes to make sure it's always cleaning the best way it can.
Check out this video I made of the Botvac cleaning a room in my basement. You can see how it vacuums in straight paths. This video has been sped up to be 10 times faster than normal.
To vacuum my basement it took about 30 minutes on Turbo or Eco mode which is quite a bit faster than the 80 series could do. Eco mode is supposed to provide a longer, quieter energy-saving clean, while Turbo mode provides a super-powered cleaning with maximum hair pickup. I couldn't really tell much of a difference in sound, speed or how well it picked up dirt. Either mode worked great for me. That said, I'd choose Eco mode if you needed to clean a very large area as it will be able to run longer between charging sessions.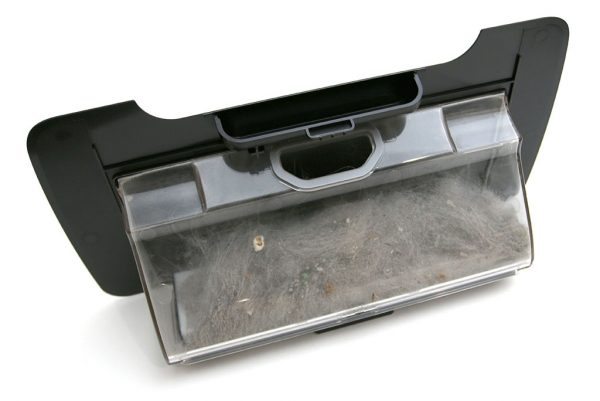 I've loved how well my Botvac 80 series vacuum picks up dirt and cat hair on carpeted floors, wood floors and vinyl floors. Compared to the 80 series Botvac, I have not been disappointed with the Botvac Connected vacuum. It does just as well, but is faster, so I have zero complaints. It keeps the cat hair tumbleweeds at bay and is even able to pick up cat litter tracked around the house. The ability to setup schedules and trigger a cleaning session through my mobile device is a very nice improvement over the previous model.
Sometimes a product comes along that makes you wonder how you got along without it. Neato Botvacs are that type of gadget for me. Sure, I am perfectly capable of using a traditional vacuum cleaner to clean my house. But with a Neato Botvac, I don't have to. I set it to clean on Mondays, Wednesdays and Fridays while I'm at work during the day so that my house always looks like it's been freshly vacuumed when I come home. It's cut down on dust and even seems like it has even helped minimize some of our allergies.
Update 11/14/16
I've had zero problems so far with this vacuum. I've set it to run three times a week and I enjoy coming home on those days to a nicely cleaned carpet.
The filter design of this vacuum compared to the 80 Series Botvac that I reviewed first is like night and day as far as ease of cleaning.
I really like that I almost never use the push vacuum. It's like having an invisible maid working to keep the floors clean while I'm not there.
Source: The sample for this review was provided by Neato. Please visit their site for more info and Amazon to price check and order.