We use affiliate links. If you buy something through the links on this page, we may earn a commission at no cost to you. Learn more.
What's better than listening to music on your iPod? How about listening to that music without the annoyance of earbud wires getting in your way? Or even better, how about listening to your iPod and having the music automatically pause whenever you get a call on your mobile phone so that you can answer the call without removing your headphones? Wi-Gear's iMuff Wireless Headphones will give you both of these features for iPods (and iPhones) that have a universal dock connector.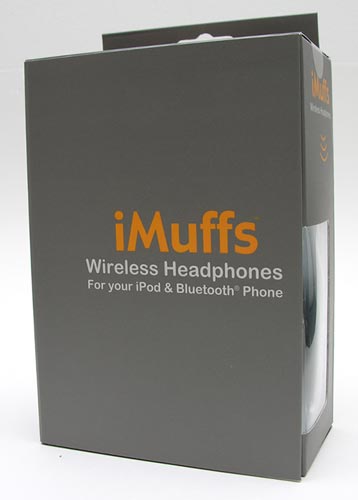 Hardware Specifications
Protocol: Bluetooth 2.0 A2DP, AVRCP
Frequency Band: 2.4 GHz
Tx Power: Bluetooth Class 2
Range: 30'+ (10m)
Audio Format: CD Quality (Sub-Band Codec)
Battery: Rechargeable lithium polymer
Battery Life: Up to 16 hours (play time)
Adaptor: AC input 110-240V AC
Weight: 2 ounces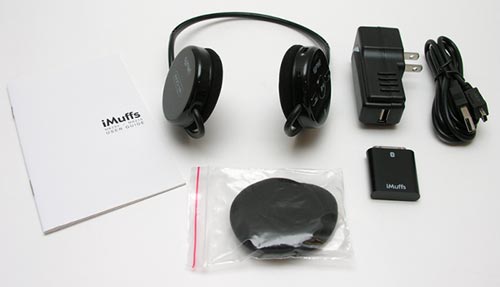 Package Contents
iMuffs wireless headphones
Dock adapter for iPod
Extra ear pads
Travel charger
USB cable
User guide
The iMuffs headphones are a light weight behind-your-head style of phones. I don't know about you, but I prefer this style as it doesn't muss up my hair ;o) The only drawback is that this style tends to lack any type of sizing adjustments. The iMuffs fall into that category too. More about the fit in a bit.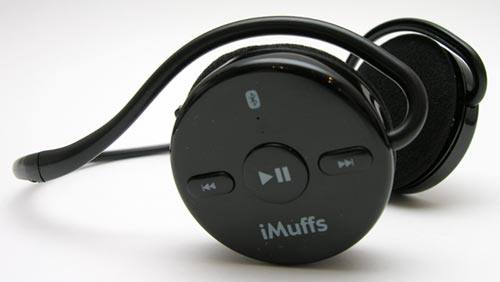 All of the user controls are housed in the Right side. On the outside face, there is a Play/Pause button in the center, with smaller oval Next / Previous track buttons on either side. This set of buttons is raised so that they are easy to locate and press with your fingers.
A tiny LED under the Bluetooth logo is a battery charging and Bluetooth pairing indicator.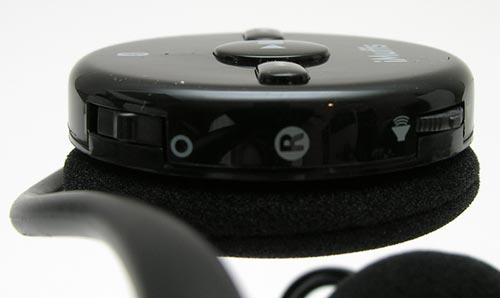 Additional controls are located on the outside edge of the same earphone. There is a power slide switch and a spring loaded volume adjustment rocker switch. A mini USB connector (not pictured) allows for battery charging.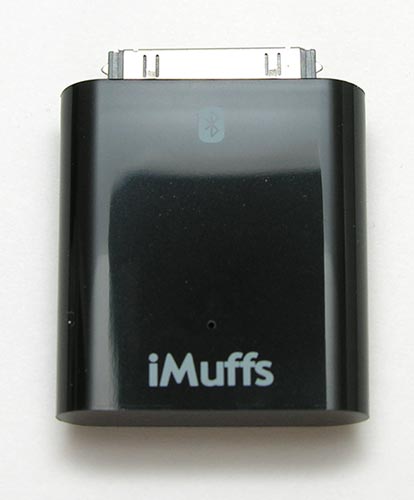 A small dongle is included with these headphones. This dongle is compatible with all iPods that have a universal docking connector. That includes the iPhone. The iPhone will complain that the dongle is not compatible, but it will work perfectly including the recognition of the play/pause and next/previous track button presses. It does cause the iPhone to go into Airplane mode (phone turned off) while you use it though.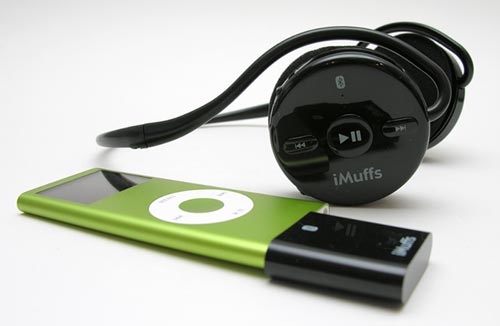 As soon as you plug the dongle into your iPod and turn on the iMuffs, pairing will happen automatically. You can see the small LED on both pieces flash Blue as this happens. Once it's complete, the LED will turn off and you're ready to listen to your music wirelessly.
I found the audio quality to be very good. Decent bass and clarity makes listening to music with the iMuffs very enjoyable. The range is good too. I love that I can leave my iPod Nano or iPhone in my basement and go upstairs to do other things and not have the music stutter or cut out.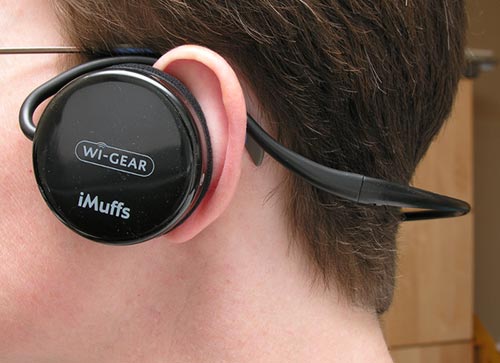 Even though you can't adjust the fit of these headphones, I found them to be comfortable to wear for hours at a time; I even wear glasses, which can sometimes interfere with headphone comfort. Not these…
In addition to allowing you to listen to music wirelessly, these headphones also have a built-in microphone which you can use to answer calls from a paired Bluetooth enabled phone. I tested this feature with my iPhone, Treo 680 and a Treo 750v.
My first test was with the iPhone. Since using the dongle causes the phone to go into airplane mode, I knew I wouldn't be able to listen to music through the dongle AND also intercept calls. So, I detached the dongle and plugged it into my iPod nano. Then I paired the iMuffs with the iPhone to use them as a headset. I was able to place calls thru the iMuffs, but was never able to answer a call using the iMuffs. Calls would just come through the iPhone and not the headset. Another issue that I noticed was a long pause between starting a call and hearing the phone ringing on the other end.
Next up was the Treo 680 test. Pairing worked fine, but I wasn't able to get the iMuffs to recognize an incoming call. However, if dialed out with the Treo it would pause the music and allow me to make a call. But, when I tried this a second time, I couldn't hear any sound in the headphones or in the Treo's headphone. Also after I hung up the call, I wasn't able to get the music from the Nano to continue playing through the headphones until I disconnected and then reconnected the dongle. I re-paired with the Treo and was then able to make calls several times without any issues, but I'm not entirely confident in using the iMuffs with this particular phone.
For my last test, I used the Treo 750v. It ended up working much better than the iPhone and Treo 680. Pairing was flawless and when calls came in, the iMuffs automatically paused the music on the Nano and played a short jingle to let me know that I should answer the call. Audio quality on my side of the call was excellent. Listening through both ears sure makes a difference when compared to typical one ear Bluetooth headsets. People on the other end of my calls said I sounded a bit muffled, but they could still hear me. Once calls were over, the music from the Nano automatically started back up without any intervention on my part.
I don't think I'd ever want to use the iMuffs as my primary Bluetooth headset for my mobile phone, but they are definitely convenient to use for quick calls while you're listening to music. Using them as wireless headphones though is a pleasure. The audio quality is very nice and using the dongle with your iPods is as easy as plug and play.