We use affiliate links. If you buy something through the links on this page, we may earn a commission at no cost to you. Learn more.
A week or so after I posted my iPhone review, I was right back to using my Treo 680. I made the switch back because the iPhone lacked the various features that I had come to rely on with other smartphones. Namely, the ability to install 3rd party applications. I missed not being able to extend the functionality of my device, so I set it aside and went back to my faithful Palm OS phone. I continued to use the iPhone as my daily iPod and kept an eye out for the day when it would be unlocked either by Apple or the hacker community. Sure enough, it didn't take long at all before iPhone brainiacs were publishing instructions on how to 'jailbreak' (term given to mean unlocking to allow for application installs) iPhones. The first processes were not for the faint of heart, and although I wasn't scared to try this on my own iPhone, I decided to wait a bit to see what other options might become available. I finally gave in to temptation over a week ago when I read an article on one of my fave sites Lifehacker that explained how to break the iPhone without having to get your hands dirty. I tried it and within 15 minutes or so, I was installing applications and feeling a sense of excitement about a mobile device that I'd not felt in a long long time…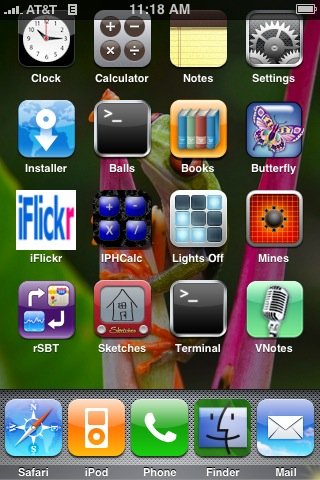 Here's a screen shot of my own iPhone with several applications installed. Unlocking it using the directions in that LifeHacker article could not have been any simpler.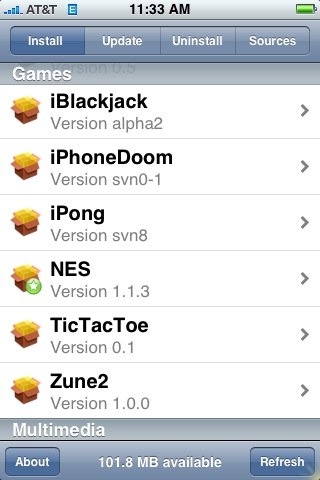 Now applications can be installed over the air (EDGE or WiFi) using a cool package manager. If you've ever goofed with Linux and a package manager, you'll be right at home. Basically, every time you launch it, it will update with a list of available applications that you can choose to download. There is already a nice collection of apps, with more added everyday. Another cool feature is that if there's a new version of an app that you've installed, it will alert you the next time you run the Installer, so that you can update it. Nice!
For the past week I've been compulsively launching the installer several times a day just to see if there are any cool new apps that I can install and play with. And there's the problem, mostly I've just been playing with games and little screen candy apps, etc. There are only a few actual utility applications and so far they have not been overly impressive. The best 'real' applications that I've found are the SummerBoard replacement launcher and the e-book reader application Books.app. Most of the other offerings lack substance and have bare basic features.
And now I find myself back at that point where I realize yet again, that the iPhone is fun to play with, but lacks features that I need in my everyday device. So, I'm about to hop again, but I don't know where to hop to. Sure, I could go back to the Treo, but honestly, I'm growing tired of it and how it likes to sometimes spontaneously reboot at the most inopportune times. This past weekend while I was working on some Bluetooth headphone reviews, I was using my HTC TyTN and really enjoyed it. Maybe I should hop back to Windows Mobile for awhile. Then there's always the Nokia E61i, which I was interested in trying. I ordered one weeks ago only to have the wrong phone shipped to me. After I got that mess straightened out, I never did re-order one.
Is it just me, or is the whole mobile device scene at a point where the current selection of devices seems lackluster and the only smart thing to do is to wait for something better to arrive? I have never been good at waiting though… ;o)
What do all of you think? Do you also feel restless, or are you happy with your current device? If you're happy, which device are you using?