We use affiliate links. If you buy something through the links on this page, we may earn a commission at no cost to you. Learn more.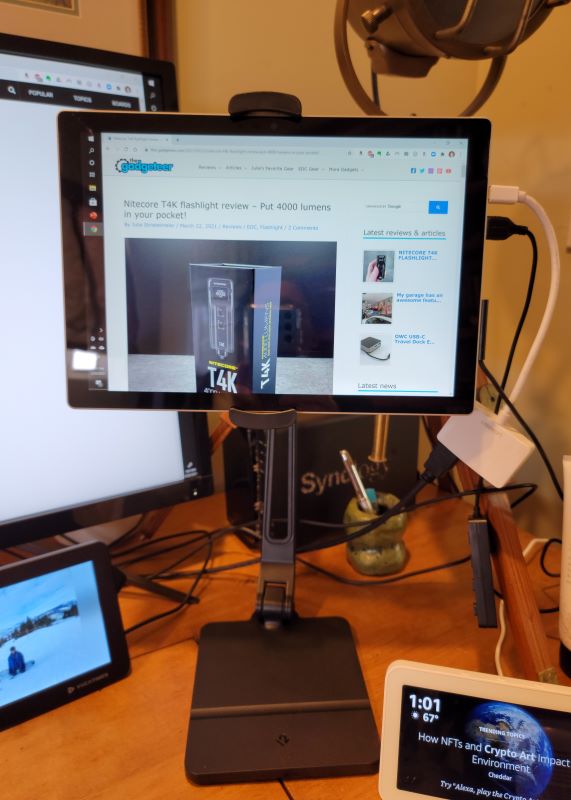 REVIEW – I use my tablet all over the house. In the kitchen when I'm cooking, in my bed if my husband goes to sleep but I'm in the middle of a Netflix binge, and on my desk for casual Zoom meetings.  As a result, I'm constantly on the search for the perfect tablet stand for each area.  The HoverBar Duo looks like it's the kind of stand that works everywhere, so I'm going to give it a good workout!
What is it?
It's a tablet (or phone) stand with an articulating arm that can either attach to a weighted base or clamp to a solid object.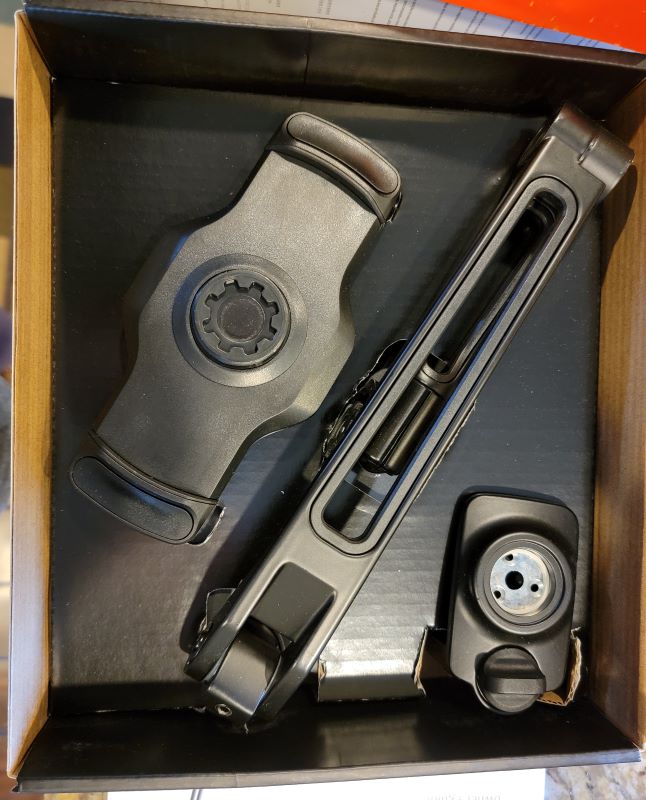 What's in the box?
HoverBar base and arm
Clamp attachment
Tablet clamp
Plastic ring
2 Allen wrenches
Instruction booklet

Features
Right out of the box you can tell that this is a quality product just by the weight of it.  Everything is metal, and it definitely feels like it can hold whatever tablet you have.  Setup was pretty easy, you just have to attach the part that clamps on to your tablet, and it screws on easily enough.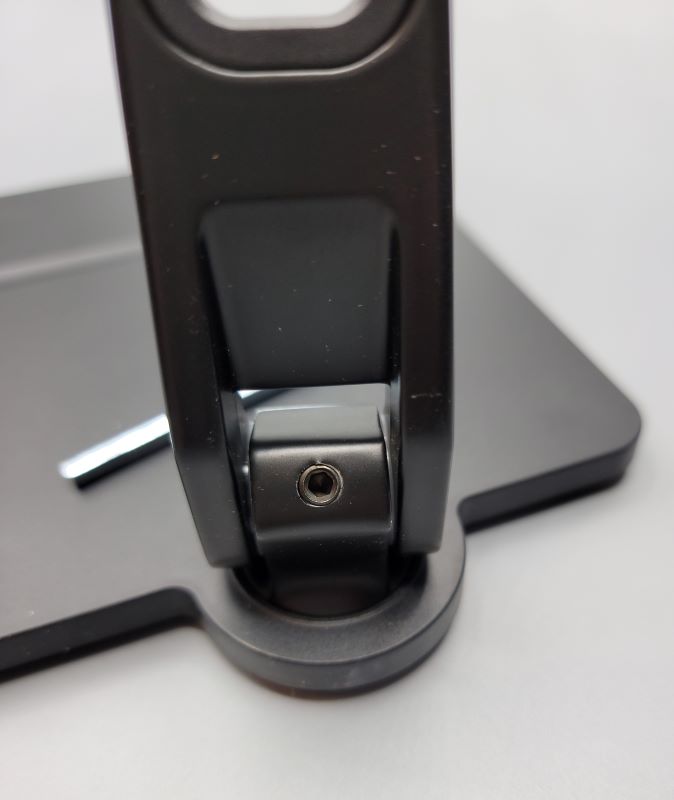 What attracted me to this tablet stand initially is the articulating arm and the clamp that holds your tablet.  I like the fact that you can move your tablet around and adjust it without worrying so much that it will fall off or tip over, and it will move between portrait and landscape modes easily.  I've had the tablet stands with the bendy arm previously and they eventually get metal fatigue and break, and they also sometimes can't accommodate the weight of a tablet when it's fully extended.  This stand doesn't have those limitations.
I also like that it will work with most of my devices.  As long as your device is between 5 and 8.68 inches wide on one side, it will work.  That means that it works for my MS Surface, my iPad Pro, my regular iPad and my phone.
I first gave the HoverBar a trial with my Surface in tablet mode.  The Surface weights a bit more than most tablets at 1.7lbs.  The HoverBar held it securely and allowed me to move my monitor up and down and forward or backward.  Once it was in position, it didn't move.  If you try to do something a bit more extreme with it like extending it all the way out and away from the base, it will tip over, but I think that would be the case with any tablet stand with a tablet this heavy.  If that is your plan, it's best to use it in "base clamp" mode.  I can easily move my Surface from "second monitor" position over to be the perfect height for Zoom meetings.  I can leave it in the HoverBar for charging, and the device clamp has a generous depth (.5 inch) so I could leave it in its case if it had one (I live dangerously without).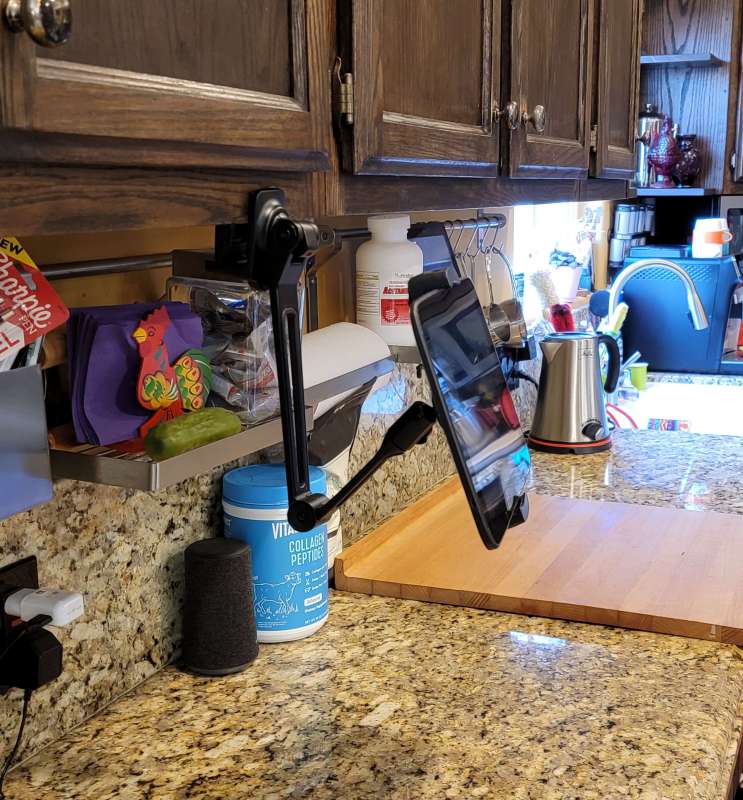 Next I moved it to the kitchen, because we had an old Nexus tablet sitting around and I decided it would make a great dedicated recipe tablet.  I love the concept of a hanging tablet and not taking up any counter space with a stand, so I changed the base from the weighted base to the clamp base.  This was fairly easy to do, but I had lost the plastic ring thing that came with the HoverBar and I had to track it down, which kind of annoyed me.  The stand came put together with the base attached, but in reading the directions, it made me think the plastic ring was supposed to be already installed.  I found it confusing.  In any case, once I found the ring it was very easy to attach the clamp base using one of the the hex wrenches that it came with.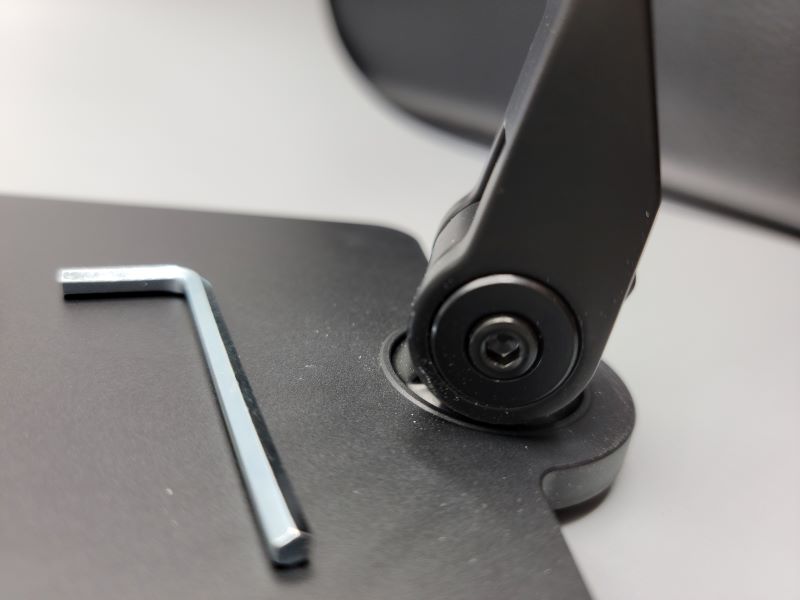 I searched for a good spot to clamp it and I settled on the bottom of some upper cabinets.   It wasn't the greatest spot to clamp to because there wasn't that deep of a lip on the cabinets, but it offered a power outlet and it didn't block any other important kitchen stuff, so I made it work.   It isn't trivial to adjust the clamp – the HoverBar is heavy (all metal)  and my hands are a little arthritic so I had my husband do the actual clamping.   The HoverBar held the tablet securely, but when you push the tablet back (thus bending the arms) the thumb screw does interfere with the swiveling of the arms.  Not a big deal, but ideally it would be better if the thumb screw was on the other side (although that would probably make it a little harder to set up).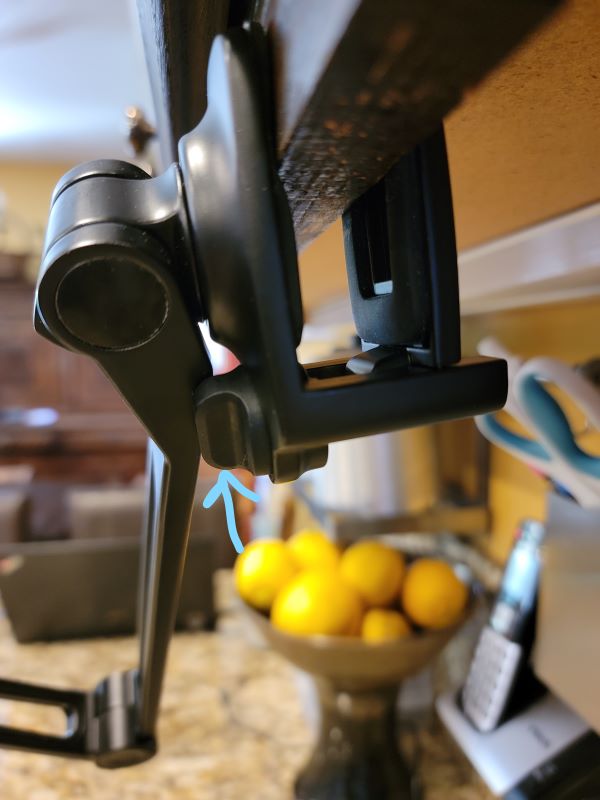 The part that clamps to whatever you're clamping to is very secure.  It has grippy rubber pads so it doesn't dent your furniture and it helps you get a good tight clamp.  I tried to pull the arm off the cabinets and I only succeeded in a little sliding, and I think the fact that the cabinet lip was so shallow was responsible for that.  If I had a better place to clamp it, I don't think that would have happened.
I didn't really discuss the little hex wrenches and that's because I didn't use them much.  I used one for the swapping of bases and then that was it.  They can also be used at all the bend points to tighten the movement if you think it's too loose.  Maybe because the HoverBar is new, it didn't need much of that adjustment, but I will have to keep them handy just in case.  Ideally, I think there should be some dedicated place to keep them because they are the kind of thing that gets lost easily (at least in my house).  If I were the designer, I would have made a spot for them to live under the weighted base.  I'm also not sure why there needed to be two sizes.  It would have been nicer to just keep track of one wrench, but that's me being picky again.
What I liked:
Weighted base or clamp mount versatility
Solid construction
Secure
What I'd change:
Make a place to hold the fiddly pieces (wrenches and plastic ring)
Final Thoughts
I like the HoverBar very much. I've tried a lot of tablet stands and this is by far the best one I've ever used.  There were some small things that bugged me, but if you are looking for something that can hold an expensive tablet or 2-in-1 very securely and you're not sure whether your plan is to mount it or not, this offers a lot of flexibility and I guarantee you won't break it!
Price: $79.99
Where to Buy:  Amazon or TwelveSouth
Source:  The sample for this review was provided by TwelveSouth