We use affiliate links. If you buy something through the links on this page, we may earn a commission at no cost to you. Learn more.
Product Requirements:
Any touch-screen PDA


If you are looking for a pen and stylus combination that looks sharp enough
to carry to your next board meeting – but that won't break the bank; here is
something you should take a look at.
The ttools Premierpoint™
Stylus/Pen, available from Stylus
Central, has a chrome look that seems almost formal . The design
reminds me of a slightly deco piece of artwork; and the price is such that if
someone "borrows" it from you, you won't take too big a hit in the
wallet.

The pen has an interesting style, in that when the ballpoint tip is
retracted, the black rim that surrounds the pen end actually becomes the stylus.
There is a special plastic "lip" that extends on the front, and dips
down – becoming an easy to use and smooth writing tip.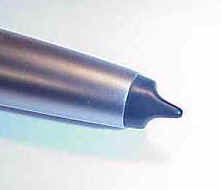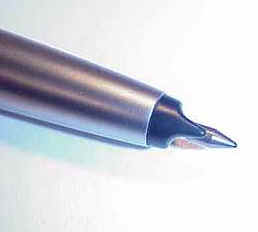 I tried the stylus tip with and without screen protection, and it wrote
equally well either way. 
The only negative that I can see to this type of tip involves what happens if
the tip is damaged. I don't see any easy way to remove the black band from the
bottom of the pen. Since the stylus tip is exposed all of the time, I think it
would be prudent to give it a once over before you use it – just to make sure
that you haven't damaged it somehow – before you actually use it on your PDA's
screen.
Hidden in the clicker of the pen is a reset pin. While the reset pin should
be long enough for most Palm PDAs and Pocket PCs; it is definitely too short for
the reset button on the m100.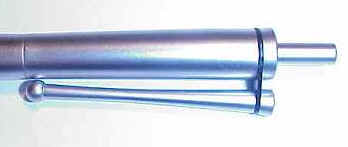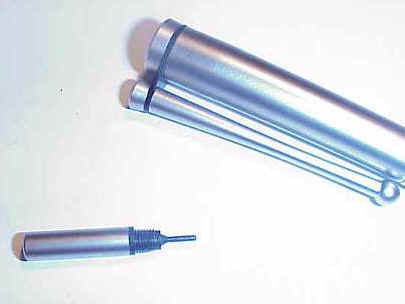 One of the neatest features about the Premier, involves the pocket clip. It's
true that you can tuck the clip on your shirt with ease – but the pocket clip
also possesses a hidden talent: The pen can dock into the silo of some
PDAs. 
Here I have the Premier docked in the silo of my IIIc. It will also fit the
m100 silo. On the Vx, it should be able to sit to the side of the PDA, as it
does on the V-Tech Helio pictured here – not to the rear, as it does in the PDAs
I have already mentioned. The Premier will not fit the silo on the iPAQ, as the
silo hole is set too far in from the side.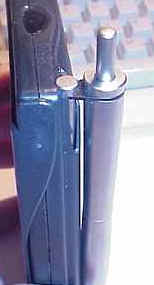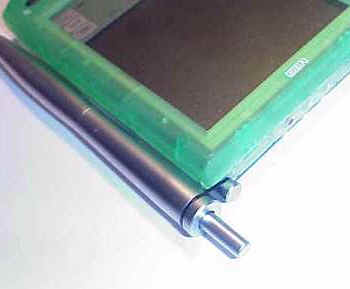 The Premier has a nice heft to it, being neither too heavy nor light, and is
quite comfortable in the hand. It's curvy shape – being just a little thicker on
the bottom end – makes it fit nicely in your grip.
Price: $24.99
Pros:

Interesting, slightly deco style design
Hidden reset pin in clicker
Feels good "in hand"
Uses standard Parker refills
Cons:

Stylus tip is always exposed, could become damaged
Product Information
Price:
24.99
Manufacturer:
ttools
Pros:

Interesting, slightly deco style design
Hidden reset pin in clicker
Feels good "in hand"
Uses standard Parker refills

Cons:

Stylus tip is always exposed, could become damaged