We use affiliate links. If you buy something through the links on this page, we may earn a commission at no cost to you. Learn more.
Product Requirements:
Device:
Compaq iPAQ, Casio Cassiopeia, HP Jornada (if using
PocketPVS module)

Desktop:
Windows 98/ME/2000 (Windows 95/NT currently not
supported)
Pentium II-350MHz or faster PC, with at least 1 GB of hard drive space, 16 MB of
RAM, a TV tuner or video capture card
Picture if you will, you're in a boring meeting or class. You stare at the
speaker's lips as they move but nothing they are saying is sinking into your
brain. You have just entered the Zone-Out Zone (I visit this place quite
frequently). How do you escape it you ask? You pull
out your Pocket PC and watch a classic rerun of Three's Company! No, I'm not kidding,
you can watch video on your Pocket PC using a software/hardware solution from SnapStream
Media.
The hardware side of the solution involves a TV Tuner card for your
desktop PC. Some cards that the SnapStream software supports are:
Hauppauge WinTV series PCI cards
Matrox Marvel G200-TV and G400-TV cards
AVerMedia TV98 cards
ATI All-In-Wonder and TV Wonder cards
Pinnacle Systems Studio PCTV-USB
Winnov Videum cards
Viewcast Osprey cards
any WDM video capture/tv tuner device
I used the Hauppauge WinTV series PCI card for this review. SnapStream
Media sells this card with the software in an optional bundle. Installation was
a snap.
The software side of the solution is a software package called SnapStream PVS.
PVS stands for Personal Video Station. This software in a
very basic sense is a recording and watching interface (aka VCR) for video recorded thru
the video/TV tuner card in your PC. There's quite a bit more to the package than
that though…. or there will be….
Installation of the software is pretty simple. A nice hardware wizard detects the TV tuner card that you are using and helps with the important
settings. Once the software is installed, it will put an icon in the task tray
that you can use to initiate recordings etc.

(Right most icon)
The interface to the software is actually a web page. A very cool feature to
be is the ability to actually set up recordings and view recordings across the
net. I had no luck in getting this to work during my testing, but supposedly you
can log into SnapStream (if it's running on your PC and your PC is online) and
setup new recordings. This is great if you happen to have forgotten to set up a
recording and are at work. Imagine this… you're talking to your friend
Bob and he says "Don't forget to watch Survivor tonight" and you say "Oh
darn! I won't be home in time to watch and I didn't set the VCR to tape
it!" With the network features of SnapStream, you'll be able to sit down at
any PC connected to the internet and program your PC to record the show.
How cool is that?
Never miss one of our posts again. Sent MON, WED, and FRI with the latest gadget reviews and news!
You are also supposed to be able to watch your
recorded shows via the net or other networked computer. Again, I was unable
to test this and there weren't any good instructions that I could find on
their site explaining how to do it.

Recording setup is done by clicking on the Record webpage button. From this page, you can set up a recording. Doing this is pretty easy. You
just give it a date, time and channel. You can also set it up so that the
recordings will repeat Once, Weekly, only on Weekdays or Daily. Unfortunately,
there isn't an electronic program guide to aid you in the setup. I think this
program would be great if it could interface with the TV Guide website and allow
you to click on a show and have it automatically set up to record.
The Advanced recording settings page allows you to change the recording
quality, show genre, ratings etc.

Recording quality is an important consideration. The better the playback
quality, the more space a recording takes on your hard drive. If you look at the
list below (there are more quality settings available than are shown), you'll see a
BIG difference in quality vs. space.
Near DVD:
2200 kbps, 30 min = 495.0 MB
VHS:
1200 kbps, 30 min = 270.0 MB
iPAQ High:
192 kbps, 30 min = 43.2 MB
iPAQ Standard:
128 kbps, 30 min = 28.8 MB
Casio, HP:
124 kbps, 30 min = 27.9 MB
One 'gotcha' with this program is that you can NOT watch a show (even the one
being recorded) while the software is recording a show. You actually can't use
any application that would use the TV tuner card while it's trying to record
something. There also isn't an interface to watch live TV thru the
software. You can only watch recorded shows.
I tested this software on an 800Mhz Athlon system with 256MB of RAM. I didn't
have any system slow downs while shows were recording. The only problem that I
had was that the display would flicker when a show began recording. This would
only happen the first second or two at the beginning of the capture process.
Although I didn't have any slow downs, I did have frequent computer lock ups.
I'm talking total lock ups where even the cursor wouldn't move and CTRL-ALT-DEL
would have no effect. I'm pretty sure this was due to the SnapStream software as
the problem stopped once I exited the application. I think there are still quite a
few bugs in the current version (1.2). One night during my testing, it
caused me to lock up about 5 times in a row…. interrupting my MSN Messenger
jabber-jaw session with Judie which annoyed both of us.
Once shows have been recorded, you can watch them directly on your desktop or
send them to your Pocket PC. This review is going to focus more on viewing shows
on your Pocket PC instead of a desktop, but I do want to talk a little bit about
it.
A nice listings page is created that displays the recorded shows. From there,
you can launch them into Windows Media Player which does a pretty good job of
displaying them. You can also delete shows thru this list.

It would be great if there was an option in Media Player that would allow you
to fast forward 30 seconds. It would be quite handy for skipping commercials!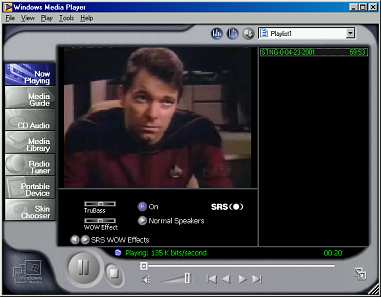 To view a show on the Pocket PC, you need the PocketPVS module…. The
PocketPVS module is a seperate module that syncs the recorded shows to your Pocket PC. This
module will convert the recorded file into a format that the Pocket
PC can read and will then ActiveSync it to the Pocket PC. However, I found that
as long as I chose one of the Pocket
PC quality recording settings, I could just take the file and copy it straight to my
compact flash card using a CF card reader. This was MUCH faster than
ActiveSyncing it!
That's the problem with having video content on a Pocket PC, it takes up a
LOT of space. You pretty much have to have a CF card since a 1hr show recorded
in standard quality will need about 57MB of storage space. And a high quality
formatted show will need about 86MB on the iPAQ.
I tested the two iPAQ quality settings and found them both to
be quite adequate. Actually, I couldn't tell a whole lot of difference between
the iPAQ Standard and iPAQ High quality recordings. They seemed pretty comparable to
me. So, I used the standard quality more often than not to do my testing.
To play back the shows on the Pocket PC, you need one of the latest versions
of the Pocket PC Media Player (the built-in version will not work).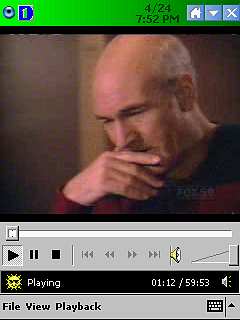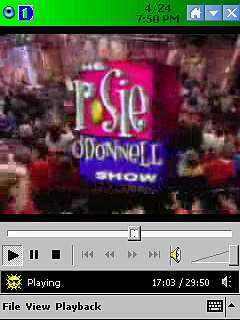 Playback while a tiny bit fuzzy, was still smooth and not jerky. Audio
quality was also nice. But like desktop viewing, I would really like to see a
30sec skip button. Also, a place marker would be great so if you didn't want to
watch the whole show at one time, you could mark your place and come back to it
later.
There is a huge gee-whiz factor to carrying around the latest episode of
Buffy the Vampire Slayer on your Pocket PC. Being able to watch your favorite
show while waiting for a flight at the airport, or waiting in line at the
grocery store is just too cool for words in my book.
We are in the era of Dick
Tracy gadgets and gizmos folks! And once SnapStream works out the kinks, I think
it's going to be a very popular application.
Price:
$49.99 SnapStream PVS
$29.99 PocketPVS module
$89.99 SnapStream PVS & Hauppauge WinTV GO-PCI TV Tuner Card
Freeware version available with 2GB storage limitation
Pros:
The ability to watch TV shows on your Pocket PC
Cons:
SnapStream software has quite a few bugs
Video content takes up precious storage space
Syncing shows to the PocketPC take a LONG time.