The Gadgeteer is supported by readers like you! If you buy something through links on our site, we may earn an affiliate commission. Thank you! Learn more.
Product Requirements:
Your nose, and a computer screen in front of it
While Julie and I were at Comdex, we saw lots of interesting products that
looked like they might add quality to our existences (I say that with my tongue
planted firmly in my cheek). One of the more interesting
products that we found were the Web-iWear
Computing Glasses.
Right now, there are two styles of glasses, and two styles of clip-ons.
Here are the glasses:
First we have the Cyber-Style
Oval:
And then the Cyber-Style Aviator: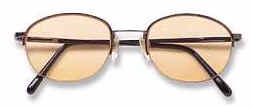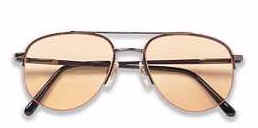 These are the Clip-on styles…
Here we have the
Oval:
And then the Aviator style: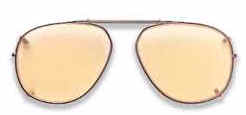 Evidently, there is a segment of the population that suffers from what is
known as Computer Vision Syndrome (CVS). What are the symptoms? Well, they
include, but are not limited to: "headaches and related general
discomfort; blurred vision; incorrect and delayed focusing on the computer
screen and the work-objects in front of you, but all of them being at different
distances; inaccurate color perception; red, sore and dry eyes." Does
this sound like something you suffer from? If so,  BCI Inc. thinks that you
should try their glasses.
As we were told at Comdex, these are not sunglasses, nor are they reading
glasses. They are only to use when you are sitting in front of your computer
screen.
The Web-iWear glasses have a slight magnification and an amber tint. The
reason for the magnification revolves around the fact that the letters on your
computer screen are slightly pixilated, and these glasses can
"tighten" the letters, and make them clearer. The amber tint is to
provide a "light enhancing effect", thereby reducing "straining
on the eyes."
There is also an "Anti-reflective coating" on both surfaces of the
lenses to help reduce glare coming from other light sources; such as overhead
lighting and "various other glare-reflecting objects at your
workplace."
Well, I am as skeptical as the next person – but if a product can actually
help me – I am also the first to bug everybody until they try it. So I gave the
Web-iWear glasses a shot…
I had Lasik corrective eye surgery in 1998, so these days I sport 20/15
vision. Although it felt slightly weird to once again put glasses on while
inside, I was game.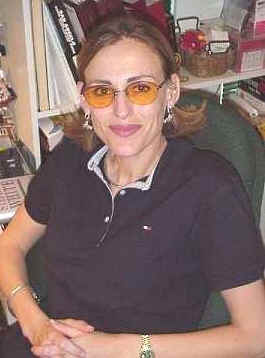 The amber tint seemed to make my normally bright office feel gloomy, but I
was determined to concentrate on the issue at hand – my computer screen. While
there is no denying that the amber cut down on the brightness (which I suppose
could be called "glare") of my monitor, it also made my screen
harder to read in my opinion. I could tell that there was a slight
magnification, and while it did manage to make the letters on my monitor look
slightly tighter, it also made them appear slightly smaller. I really didn't
like that.
I wore them for several hours on several different days, figuring that
perhaps they were something I needed to get "used" to, and that
perhaps I was reluctant to use them because of some hidden bias against
"going back" to wearing glasses. I found that on each occasion when I
wore them, I was squinting, and getting a slight headache.
These were exactly the symptoms that the Web-iWear were supposed to be
eliminating!
Since I do occasionally get the "red, sore and dry eyes" that they
mentioned, I thought that maybe the Web-iWear glasses might help me in that
area. Ultimately, I found that the Tears
Naturale II lubricant eye drops, that my ophthalmologist already has me
using, actually did a way better job of correcting this problem.
Fearful that it might just be "me", I gave Mike,  my
father-in-law, a pair to try at work. He is a Buyer for Olio, a soap and candle
manufacturer located here in San Angelo. Since he has to sit in front of a
computer for much of the day, I thought maybe he might find a benefit to the Web-iWear glasses.
Mike's first impression was that the clip-on glasses did not fit his glasses
properly, however, he was game to leave them on and try them out anyway (I wish
I had a picture of that!). Mike says he saw no difference in glare from
his computer, other than the fact that his computer monitor definitely looked
darker. He also felt that the glasses made his screen look smaller, which he did
not like.
Mike loaned the aviator style glasses to Amy, another Olio employee. She said
that while the Web-iWear glasses did seem take a little glare off her screen, it
definitely made the screen appear darker. Amy doesn't wear glasses, so she was
bothered by constantly seeing the outline of the glasses themselves. She felt
that the one benefit to the glasses might be that they cut down a little bit on
the glare.
Neither Mike nor Amy asked if they could keep their sample…I think that
says a lot.
Julie decided to keep the oval clip-on style for herself, so I was curious to
see what she thought of them. Other than the fact that they did not fit her
glasses properly either, she had many of the same complaints that I did: that
the screen was too dark, the words on her screen appeared too small,
and that they gave her a headache.
Personally, I see no benefit whatsoever to using the Web- iWear
glasses. I suppose that some people might like them; but then placebos
help some people, too.
Just for fun, I looked up CVS on the internet. It appears that this is an
actual problem that people really do suffer from. I found a site called Dr.
Ergo, which is tied to The Computer Eye Clinic, located in the School of
Optometry at the University of California at Berkeley. This site actually offers
a fun test to help you determine if perhaps you do suffer from CVS. After taking
the test, I was amused to find that one of their suggestions for CVS treatment
was…to use lubricated eye drops.
While I did find that there are "computer glasses" mentioned on the
Dr. Ergo site, the type they are referring to are ones that an actual eye doctor
would diagnose and prescribe for. Although they would definitely be more costly,
I think that I would be more comfortable with that type solution.
Price: $29.99 for the glasses, $19.99 for the
clip-on style
Pros:

May cut down on monitor glare
Cons:
Gave me a headache
Make computer screen appear darker and smaller
I didn't feel any benefits from wearing them
Every symptom that they mention for CVS (Computer Vision Syndrome) can be combated
by taking regular breaks, and using eye drops occasionally
Support The Gadgeteer
:
The Gadgeteer is supported by readers like you! If you buy something through the links on our site, we may earn a small affiliate commission. Thank you! Learn more.
Product Information
Price:
$29.99
Manufacturer:
Web-i-Wear
Pros:

May cut down on monitor glare

Cons:

Gave me a headache
Make computer screen appear darker and smaller
I didn't feel any benefits from wearing them
Every symptom that they mention for CVS (Computer Vision Syndrome) can be combated
by taking regular breaks, and using eye drops occasionally