We use affiliate links. If you buy something through the links on this page, we may earn a commission at no cost to you. Learn more.
Some of our readers might recall that in late 2002, my husband Steve was diagnosed with appendiceal carcinoma, a rare cancer that affects the appendix. The last few months of 2002 and the first months of 2003 involved various rounds of chemotherapy followed by radiation treatments. As a complete novice to the world of cancer, one of the first things that I learned about chemotherapy was that it didn't just occur in the hours Steve spent hooked to an IV. There were also subsequent chemotherapy and anti-nausea medications that had to be administered at the correct times on particular days. One of Steve's anti-nausea medications had to be taken every six hours around the clock and without fail, or he would get sick. Since our bedroom's clock only had two alarm settings, we had to rely upon my PDA's Calendar alarms to keep up with dosage times. This wasn't always practical but we made it work, and we eventually got past that stage of his treatment.
Several months ago, Alex Kac told me about a gadget that would have made prescription timing far more efficient and easy to manage, had it only been available or had I only known about it at the time: the Almeda Time line of multiple vibrating alarm watches. According to the website, the Almeda watch is the brainchild of Hans Scholl, a designer with over 30 years Swiss and US watch design experience, and the unique name was derived from the words Alarm Medical Alerts. Basically these are watches that will either sound an alarm or vibrate on the wearer's wrist when any of the six preset alarms go off. This type device would be a lifesaver for anyone that has to remember to take medications every couple of hours, but I would soon find that there were even more uses for a watch such as this…
According to their website,
"The idea for the Almeda six-alarm Timepiece grew out of conversations with aging but active friends and relatives. Their ailments often necessitate taking regimens of medications at different times of the day and night. They longed for a way to be clearly reminded of these scheduled times. Later on, others said they'd like a multi-alarm watch to keep track of a busy day. Nobody wanted something that looked "medical", and everybody wanted privacy-hence the vibration alarm. This feature addresses the needs of hearing impaired people, too."
Available in several different styles, I was sent the  Leisure Edition, model TT 1001 TS.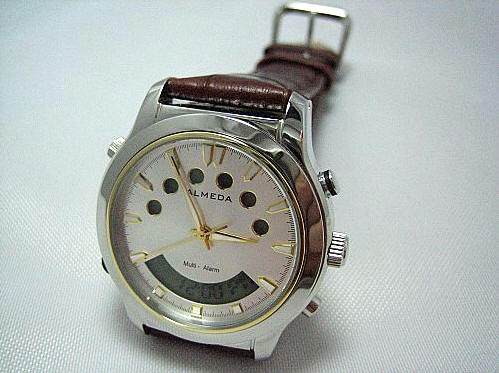 There is also a  City Edition with a black mock-croc strap, a Knight Edition with a metal mesh bracelet, and a "best suited for sound alarms" Pendant Edition for those who prefer not to wear a wristwatch. Each watch is basically the same timepiece, the only difference being the type strap or neck chain.
Included in the package were the watch, an instruction manual, a quick start guide, soft storage pouch, an extra CR2032 battery and a jeweler's multi-use screwdriver. Obviously the appearance of the watch is a large portion of its presence, so I'll start by talking about the hardware.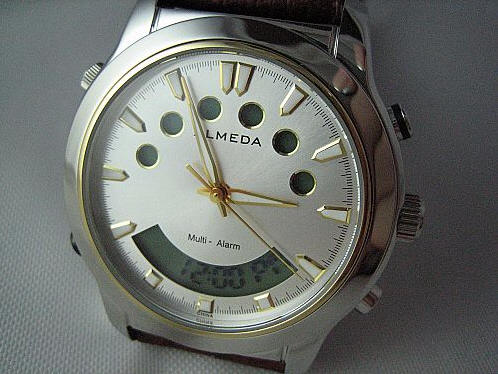 Never miss one of our posts again. Sent MON, WED, and FRI with the latest gadget reviews and news!
The watch's case measures 1.54″ (39mm) across, not counting the crown. The watch's case is 1.83′ (46.5mm) from lug end to lug end, or 1.52″ (38.6mm) not counting the lugs; the case is 0.55″ (14.06mm) thick. The weight is a substantial, yet not too heavy, 2.4ounces or 70g. The watch's bezel is trimmed with an
eye-catching gold rim, as are the edges of the time indices, the edges of the hour and minute hands, and the entire second hand. This watch will look nice with both gold and silver jewelry.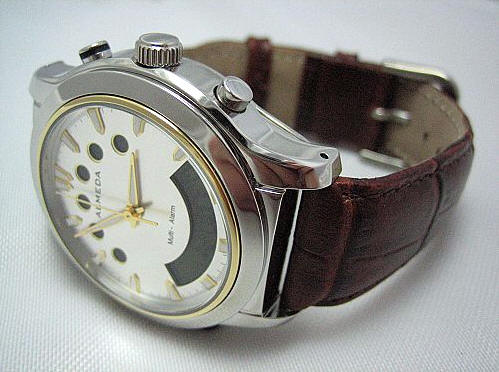 The Leisure Edition comes with a 20R brown leather crocodile embossed band. This regular length strap should fit anyone with a 6″ to 9″ wrist, but Almeda also carries extra short and extra long straps for those that need them. 20mm is a common watch strap size, so it should be easy to buy a replacement strap. I was very pleased to see that there are external spring-bar holes in the lugs, which will allow for the easy exchange of watch straps when the time comes.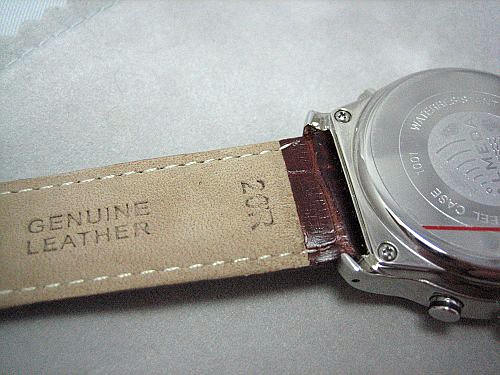 The buckle is 18mm, and for those that don't like or aren't able to manage a tang buckle, may I suggest a replacement deployment buckle which can be ordered from Banda or  Watch Prince; a 20mm Twist-O-Flex from Speidel would also be a great choice for wearers that suffer from arthritis.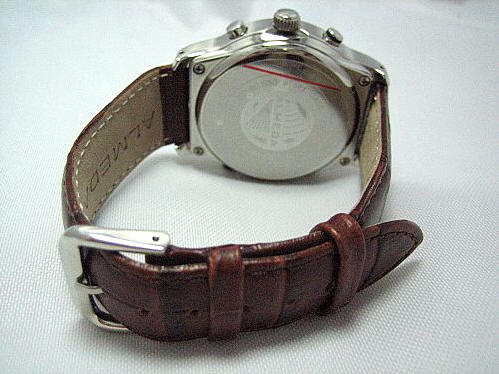 The watch's stainless steel case is water resistant to 5 ATM (165 feet), so it will easily withstand showers, rain and even swimming or snorkeling. The watch runs on a single CR2032 battery, which should last a minimum of six to eight months, and a maximum of over one year. The included jeweler's screwdriver can be used to open the case for battery replacement, but after opening the case the seals should be tested for soundness before the watch is again submerged.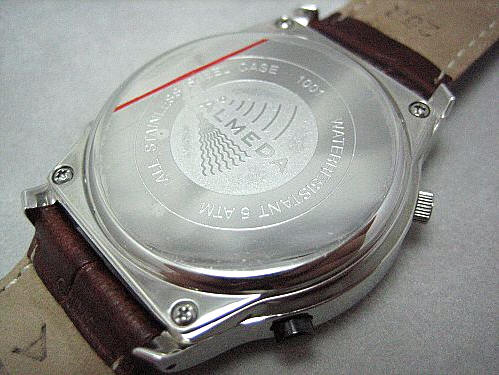 Because the Almeda watch is not too large, it can be worn comfortably by either a man or woman.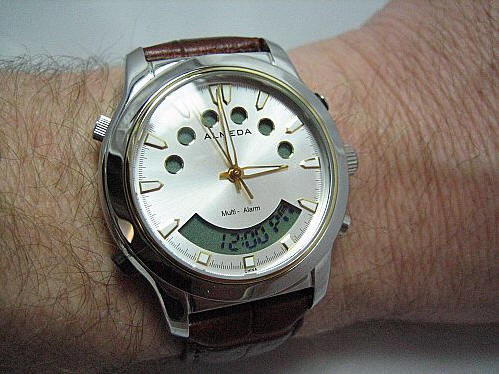 (Worn on Steve's wrist)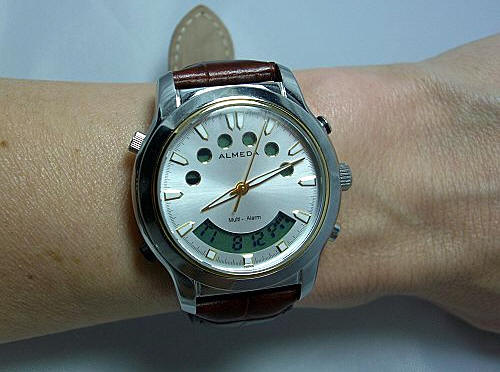 (Worn on my wrist)
The watch face is visually appealing with a classic analog style, but the addition of an LCD crescent above the six o'clock indicator and the six LCD circles inside the top half of the dial indicate that this is more than just an ordinary timepiece.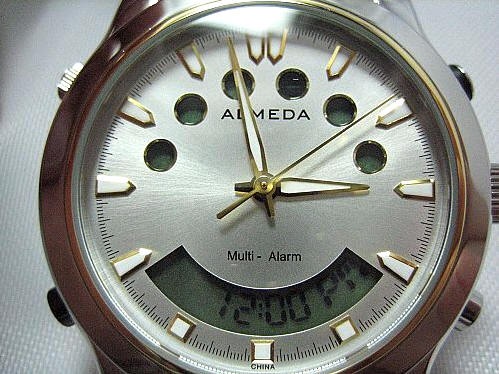 The Almeda Time Watches will not only tell the time, they will also display the date and as previously mentioned, can be set to either beep or vibrate at up to six separate alarm times.
There are four buttons on either side of the case in addition to the analog setting crown. On the left side is the black Mode button at 8 o'clock and the knurled Backlight button at 10 o'clock.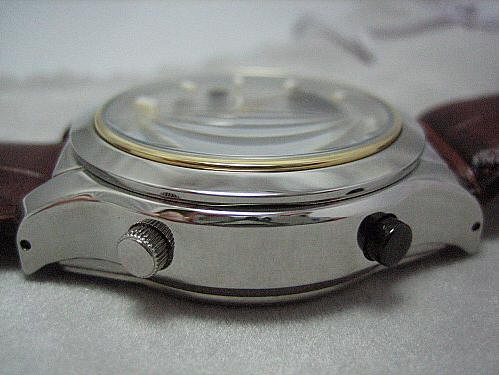 Pressing the backlight button causes all of the LCD windows to glow with a blue backlight. Don't ask me why the light shows as green in this picture, I honestly don't know!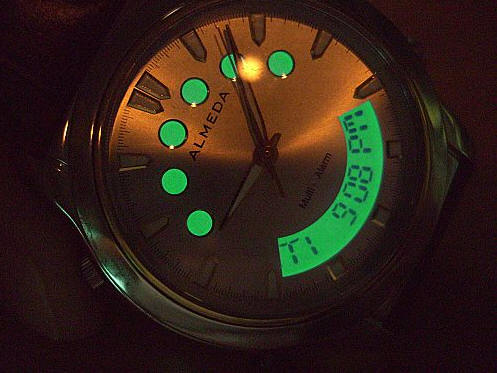 While I am talking about how the watch glows, I should mention that the indices and hands are covered in luminescent material, and they will glow brightly once exposed to sufficient light.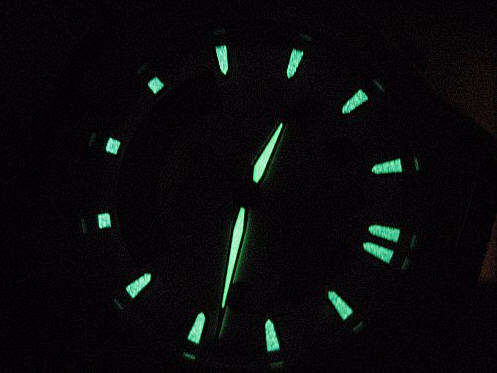 On the right side of the case is the plain Set button at the 4 o'clock position and the striped Adjust button at 2 o'clock. The center knob is the crown, which is used to set the analog time shown by the watch's hands.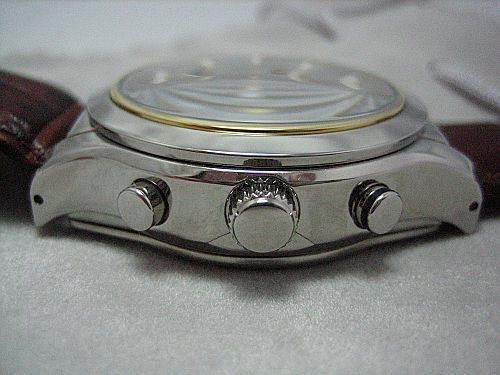 All of the six alarms are dependent upon the digitally set time, not the analog time shown by the watch hands. To set the watch's digital time, the black Mode button is pressed until the crescent LCD window displays TI (indicating "time") next to the hour and minutes about to be set.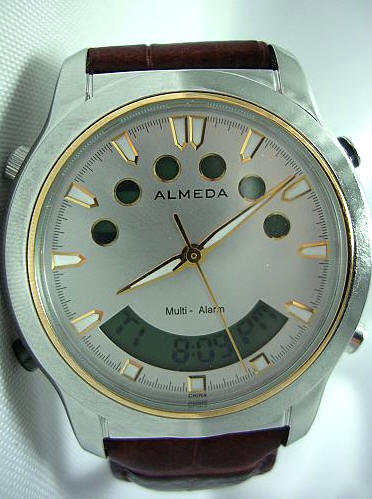 The plain button is pressed and held for two seconds, which will cause the hour to blink. Each setting – hour, minute, Am or PM – is selected by pressing the striped button. Pressing and holding the button will allow minutes or hours to rapidly advance. As each desired setting is achieved, the plain button is pressed to advance to the next option.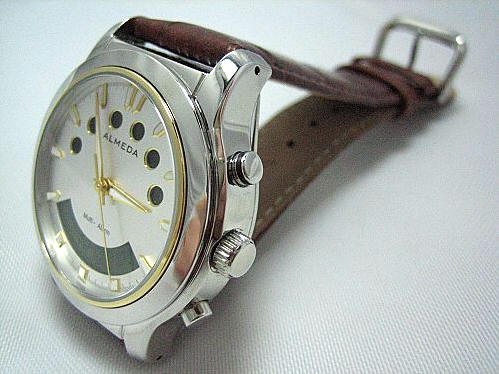 Pressing the black Mode button until the Calendar is displayed allows the date to be set. Following the same basic set and advance mode listed above, the correct date can be quickly entered.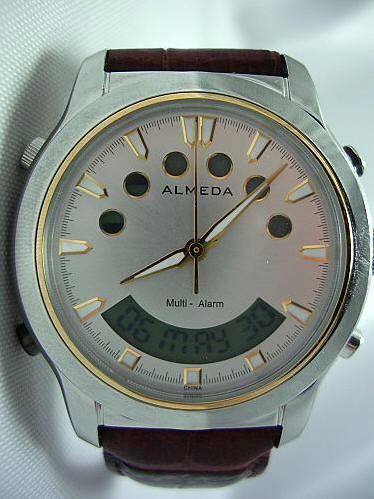 Now it is time to set the first alarm. Pressing the black Mode button will cycle the watch through Time, Calendar and to the first alarm setting. In this first alarm setting, the striped Adjust button should be pressed to display either V1, meaning "vibrate alarm one" or A1, meaning "audible alarm one". Each of the six circles starting on the left of the watch represent alarms one through six, and each circle is broken into two halves. Circles with the lower half filled are vibrate-only, and circles with the upper half filled are audible-only.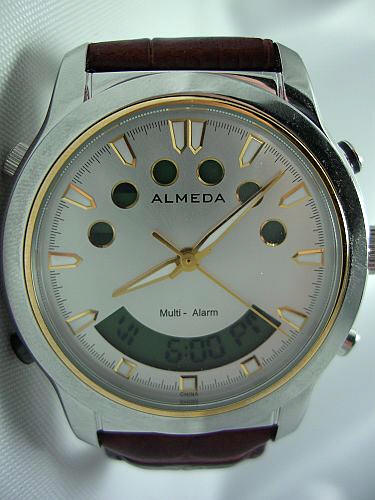 (Alarm 1 is set for vibrating alert and will go off at 6:00pm)
When there is no half shown in a circle, or when the full circle is flashing (during setting), it means that that particular alarm is deactivated.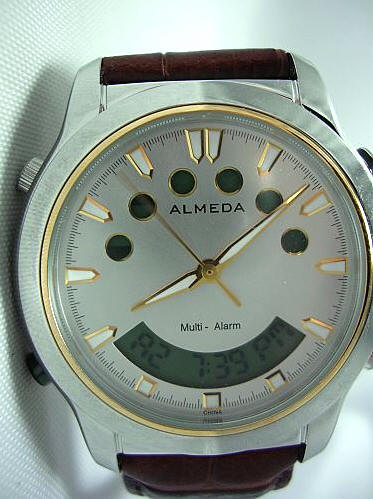 (Alarm 2 is set for audible alert and will go off at 7:39pm)
So in other words, according to the preceding two pictures, I have set the first alarm for vibrate-only, the second alarm for audible-only, and no other alarms set. It is not possible to set an alarm to give both a vibrating and audible alert, one or the other must be chosen.
The vibrating alarm will go off five times in a 20 second period. It is a steady vibration on the wrist, one that is attention grabbing but not bone-shaking. This type alarm is perfect for times when the wearer does not want to disturb others or indicate that anything out of the ordinary is about to happen. The vibration can be stopped at any time during the 20 seconds by pressing any button. The audible alarm consists of a persistent series of beeps that last for 20 seconds; it can also be silenced by pressing any button.
There are various scenarios presented on the website of people who would benefit from a multi-alarm watch, and the one that surprised me the most was the management of ADD/ADHD. I didn't realize it, but evidently an
"ADD watch or ADD/ADHD watch provides reminders for positive reinforcement and medications. The ADD/ADHD watch works through a series of alarms set to remind the user at specific times each day to either take medication or give the patient positive reinforcement. The ADD/ADHD watch has been proven to work wonders for children and teenagers suffering this disorder."
Who can benefit from an Almeda Multi Alarm Wrist Watch? Anyone, really. If there are certain times during your daily routine that certain things need to be done, then the Almeda watch can remind you. These reminders are not restricted to times for taking medications – they can be for classes or meetings that must be attended, or an alarm that signifies when a meeting must end. The vibrating alarm option will help those that are hard of hearing, who might otherwise miss an audible alarm.
If you have been looking for a watch that will help you manage up to six alarms in a 24 hour period, then the Almeda Time Multiple Vibrating Alarm Watch may be your perfect solution. If you have a parent or grandparent that wants to be independent, but sometimes needs a little reminder that it is time to take their meds, then this would be the perfect gift for them.
Download the .pdf instruction manual here, and read the FAQ here.
Almeda Time watches come with a 30 day money-back guarantee as well as a  one year limited warranty.
Product Information
Price:
170.0
Manufacturer:
Almeda Time
Retailer:
Almeda Time
Requirements:
Pros:

Good looking watch
Up to six separate audible or vibrating alarms in a 24 hour period
Easy to set and operate

Cons: