We use affiliate links. If you buy something through the links on this page, we may earn a commission at no cost to you. Learn more.
11/04/04 See updates in red below
The folks behind the wildly popular SCOTTeVEST gear jackets have been at it again! This time they've created a lighter weight jacket that can be worn during the cooler Spring season and even straight through Summer. The Version Three.0 Spring jacket, which is very similar in styling to their Limited Edition Leather Jacket, is available in Olive and Stone colored brushed nylon fabric. I was recently sent the Olive version to review. Let's take a closer look…
Early May weather here in Columbus, Indiana can be pretty chilly. We've still been getting early morning temps in the low to mid 40's. I'm not complaining, as this has given me the chance to review this new jacket. Trust me – it's definitely no fun trying to review a coat when it's 80-90 degrees outside.
Thankfully, the Spring jacket isn't heavy or bulky. It's just a little bit heavier than a typical windbreaker style coat. The nylon material from which it is constructed, is Teflon coated. This coating enables the jacket to be water repellant, while remaining soft and breathable.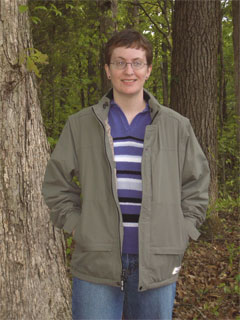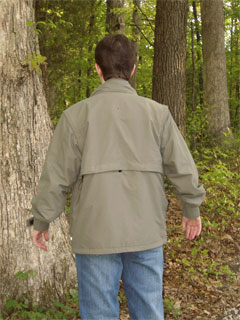 As I mentioned at the beginning of the review, this jacket is very similar in style and pocket layout as the Limited Edition Leather Jacket. It's almost as if they made a replica of it, but substituted nylon for the leather. Of course they are not identical, there are a few noticeable differences which we'll get to…
The exterior of the jacket has 6 pockets. Like all of the current SCOTTeVEST jackets, this one has two deep zippered slash pockets for your hands. An additional horizontal zippered pocket is located on the outside of both of these pockets. There are also 2 vertical breast pockets.
Although you can't see them in the picture, there is an epaulet located at the top of each shoulder. You can use them to clip on a hands free microphone, cell phone, etc.
The sleeve cuffs are adjustable and use my favorite material… Velcro…. Yes, I'm being sarcastic when I say I like Velcro. I much prefer the use of snaps on cuffs.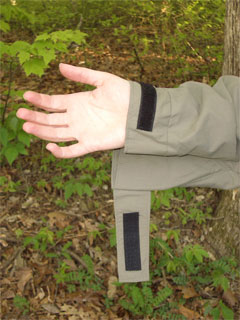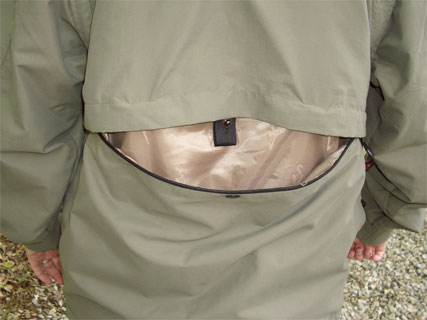 The lower back area of the jacket has a large horizontal zipper which opens to reveal a large pocket. A heavy duty snap is also employed to help keep the pocket closed. This pocket works great for holding magazines or other flat items / papers.
The collar on the Spring jacket is not as tall as previous jackets. I measured it at 2.5 inches, which makes it more tolerable for me than the one on the Leather jacket. That said, I still prefer a nice fold down collar over one that stands up. I can live with this one because it has a large removable hood that is concealed inside. No, you're not getting a picture of me with the hood on. I think I look like the Unibomber when I wear it. ;o)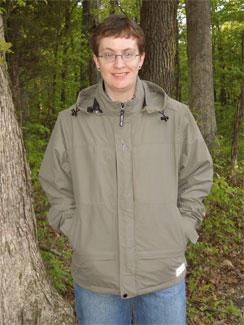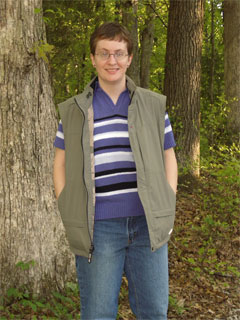 In addition to the hood, the sleeves are also removable. This allows you to wear the jacket like a vest in warmer weather.
The front of the jacket zips all the way to the top of the collar with a heavy duty zipper. A magnetic placket and a snap at the bottom conceal the zipper for a nice finished look.
Those of you whose biggest complaint was SCOTTeVEST's overuse of logo branding on their jackets will be disappointed to learn that this jacket is no different. I counted no less than 4 prominent logos stitched into the exterior of the Spring jacket in various locations. At least they don't stand out as much on this lighter colored background as they do on the dark Leather jacket.
On to the interior…
I was very happy to see that the silky nylon lining that was used in the Limited Edition Leather Jacket has also been used in the Spring jacket. This material, while not see thru, feels great and doesn't snag as easily as the mesh material that is used in their other jackets.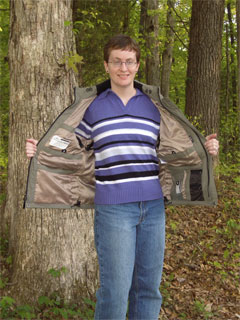 On the inside right panel there are 4 main pockets with 2 hidden pockets inside them.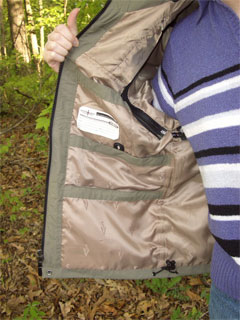 The left panel can be configured with up to 8 separate pockets. By configured, I mean that one of the pockets can be used as 1 large pocket or it can be separated into 2 pockets by using Velcro.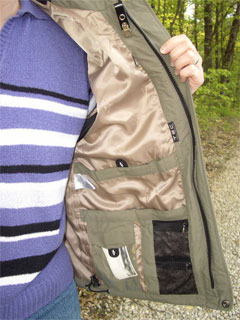 Of course, I can't forget to mention that this jacket features the famous Personal Area Network (PAN) which enables you to wire your gadgets throughout the garment. Ear bud holders are located near the top inside collar area.
There are a couple of other neat things that this jacket (as well as SCOTTeVEST's other jackets) have, that sometimes do not get mentioned in reviews. They include:
An eye glass cleaning cloth attached inside a pocket with an alligator clip on an elastic band
A spiral phone cord with key clip that is attached inside the right slash pocket
An elastic water bottle holder located inside the left slash pocket
A card inside almost every pocket, that gives you ideas of what you can store in them
No matter how you look at it, there is no shortage of storage in a SCOTTeVEST. With 31 pockets this can be a problem as you might actually forget where you put something!
While this jacket is functional and comfortable, I do have one gripe about it. In my opinion it's slightly too masculine for the female gadgeteer. I think that it is about time that Scott Jordan either consults with his wife to help him come up with a style that is more flattering to the female body, or he lets Judie and I help design one! What do you girls (and guys) think?
That said, whether you are a girl or a guy, the Spring SCOTTeVEST is a great way to hold a ton of gear without having to lug a shoulder bag or backpack!
Update:
SCOTTeVEST sent me their newest Three.0 Cotton jacket to take a look at. It is
very similar to the Spring jacket reviewed above, but this one is constructed of
Teflon coated cotton instead of Teflon coated nylon. The difference in materials
can be felt mainly in the overall weight of the coat and the fact that it is
more comfortable to wear on warmer days. The cotton material breathes better
than the nylon.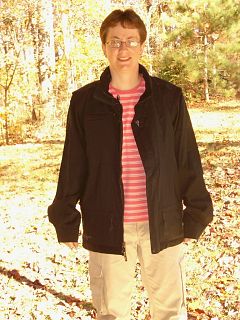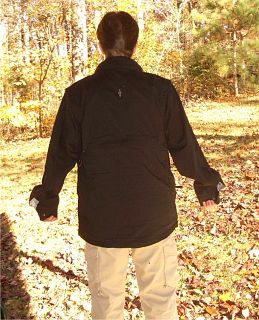 Available only in black at the time of this writing, I
wasn't too keen on the color when I received it. I'm not much for wearing black
as I'm pretty fair skinned to begin with. Wearing black makes me look like an
albino ghost. Black also tends to show lint more than I like.
The sizes that are available include Small – XXX-Large
+Tall. Women beware that the sizes run big. In the picture above, I'm wearing
Small. As you can see, it's too big on me.
The interior of the jacket has a silky silver lining
with little SeV logos embroidered in it. Some of the interior pockets are made
of a see-thru mesh material.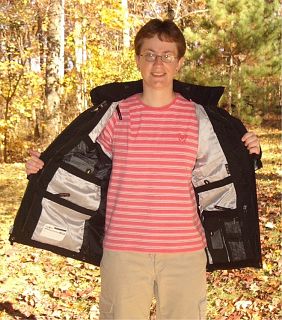 This jacket has 32 pockets instead of 31 like the
Spring jacket. Where's the extra pocket? Good question! A nice addition to this new
jacket are the rubber earphone
cable holders at the top edge of collar.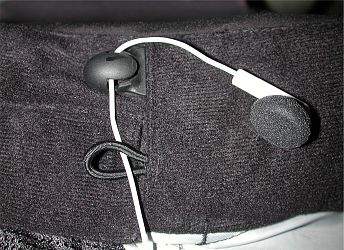 Speaking of the collar, the height of this one is 2.75 inches tall
and houses a removable hood. The height of the collar may bother some people.
The cotton jacket is very comfortable to wear, but at
$20 more than the Spring version, I'm not really sure if I would choose it. I
like the fit and the looks (on me) of the Spring version better. Maybe it's
because it's available in green, while the Cotton version is only available in
Black. Either way, these are great jackets that will carry all your gear and
allow you to look good while doing it.
 
Price: $149.99 ($169.00 Three.0 Cotton)
Pros:

Pockets, pockets, pockets
New colors
Cons:

Too many logos
Use of Velcro
Product Information
Price:
149.99
Manufacturer:
SCOTTeVEST
Pros:

Pockets, pockets, pockets
New colors

Cons:

Too many logos
Use of Velcro