Product Requirements:
Device:
HP iPAQ hx4700 series Pocket PC
The only form of protection that I've been using with my new
iPAQ hx4700, has been the included
plastic flip cover. I'm not too fond of the cover though, so I was happy to
accommodate Brando when he wrote asking
if I would be interested in reviewing the hx4700 series Clip Case.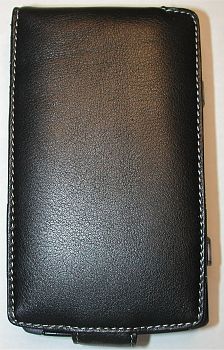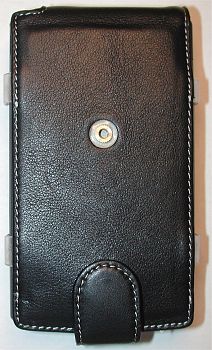 The Clip Case is available in both book style and flip style orientations.
Brando sent me the flip style to review. Constructed of a finely grained black
leather with contrasting white stitching, this case fits well into either a
casual or business setting.
The iPAQ is held inside the bottom portion of this case by way of 2 plastic
clips. The clips grip the sides of the iPAQ and hold it relatively securely in
place as long as you also line up a small plastic nub with the indentation on
the back of the PDA. When inserted correctly, the back of the iPAQ rests on a
bed of soft velvet like material that lines the interior of the case.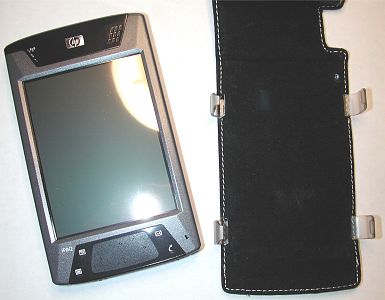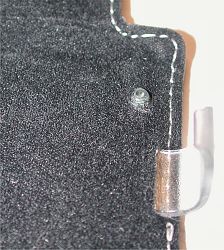 While the iPAQ is in this case, you have unrestricted access to all of the
features of the PDA. The only problem that I encountered with the Clip Case is
that the back of the case slightly covers the stylus silo making it a little
difficult to remove. Also, you can not plug the PDA/case combo into the cradle
for syncing and charging unless you slide the PDA down and out of the case about
an inch. You can also use a sync / charge cable.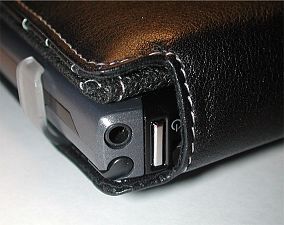 The cover portion of this case is slightly padded and reinforced with a stiff
insert. The interior of the cover has 2 SD card slots, and 3 business card
slots. Also included a combination screen protector and large ID pocket insert
which can be removed if desired. When in place, it will protect the PDA's screen
from business cards and media cards inserted in the slots/pockets.

The cover is held closed with a strong magnetic clasp. Due to this magnet, it
is probably not a good idea to house credit cards with magnetic strips in the
cover's card slots. Doing so may invite damage.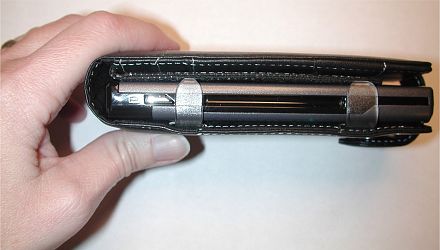 On the back of the case you will find a threaded brass cavity. Included with
the case is a brass belt clip post that you can screw in to turn this case into
one that can be worn on your belt. Also included is the plastic swivel belt clip
that fits on this post.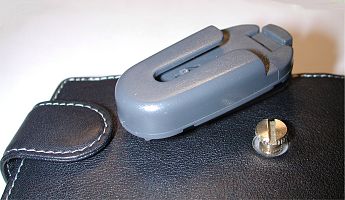 The Brando Clip Case is a well constructed economical classic looking case
that provides decent screen protection for your top of the line PDA. Since the
sides are open, it will not give ample protection to the PDA in the event of a
fall, but it should furnish enough protection to guard against the everyday
abuse that we all dish out to our PDAs.
Price: $32.00
Pros:
Play through
SD and business card slots
Removable belt clip
Cons:
Slightly hard to remove the stylus
Product Information
Price:
32.0
Manufacturer:
Brando
Pros:

Play through
SD and business card slots
Removable belt clip

Cons:

Slightly hard to remove the stylus