We use affiliate links. If you buy something through the links on this page, we may earn a commission at no cost to you. Learn more.
Product Requirements:
Tapwave Zodiac1 or 2
Ever since I started using a Tapwave
Zodiac2, I have wanted a case that would protect and enhance its looks.
Perhaps due to the Zodiac's curvy shape, landscape orientation, odd button
placement or maybe because this PDA isn't widely available in stores, there just
haven't been a lot of manufacturers rushing to create anything. I think it
really is a shame because the Zodiac has turned into one of the most dependable
workhorses I have ever owned. I think that the Zodiac deserves better protection
than the cheesy screen cover with which it ships.
Brando Workshop, a company that can
almost always be counted upon to introduce accessories for even the most
underappreciated  PDAs, has what I believe may be the only 
play-through Tapwave Zodiac
Case currently available on the market.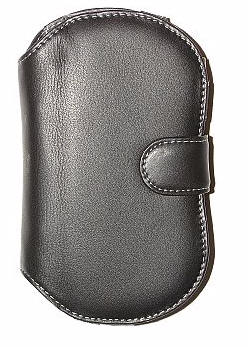 Comprised of a very finely grained, smooth black leather similar to Napa, the
Brando case has evenly spaced white stitching for a nice contrasting visual
effect. There is no branding on the exterior, in fact the overall effect is
quite subdued and businesslike. Not a bad way to cover what is still considered
by many to be a primarily a gamer's PDA!
The case is kept securely closed with a magnetic snap tab.
While the empty case may cause you to recall a traditional book-style, the
Brando is actually more like a flip-style due to the landscape orientation of
the PDA. With that in mind, here is how the Zodiac is presented when in the
case…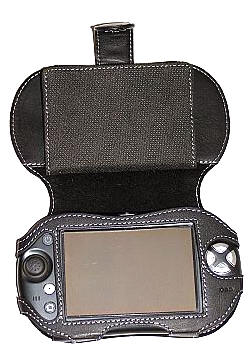 The lid portion is also comprised of smooth black leather with contrasting
white stitching. It feels like it has been reinforced with a sheet of plastic
sandwiched between the layers of leather. There are two pockets for ID or credit
cards, as well as two recessed slots for holding SD cards. A deep slash pocket
runs the length of the organizer area. The Brando logo is tastefully embossed
between the sets of pockets.
If you are going to use these pockets, then it's probably a good idea to also
use the included removable ID card pocket. This pocket is made of a soft
waffle-textured nylon in black, also with contrasting white stitching.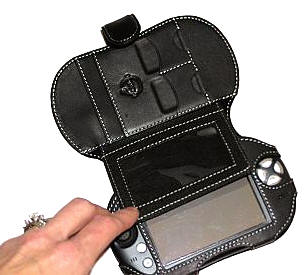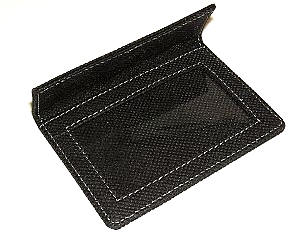 When this ID pocket is installed, chances of the Zodiac's screen being
scratched by contents of the wallet are virtually nil. If you are someone that
can get by with only carrying a few ID and credit cards along with a small
amount of bills, then you might actually be able to use the Brando case as a
replacement wallet.
The bottom portion of the case is lined in a soft velvet-like material. It
also appears to be reinforced with a sheet of plastic between the layers of
leather and velvet. This should protect the PDA from any scratches and add as an
additional shock buffer. The holster is made of layers of stiff black leather,
once again with contrasting white stitching.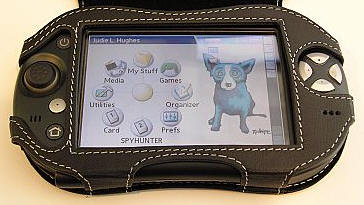 In order to insert the Zodiac into the holster, the stock screen cover will
need to be removed. Once the PDA is in place, it is immediately evident that all
buttons, ports, joystick, and slots are still easily accessible. Even the
inconveniently placed stylus becomes handy due to the way that the case flaps
back to expose it.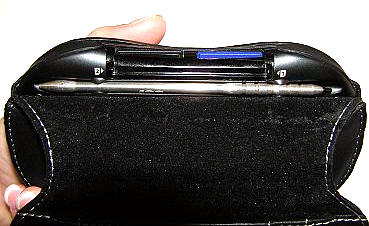 Because of the Zodiac's curves and port / button positioning, it would most
likely be impossible to cover all of the exposed corners and still have such a
functional case. With that in mind, the user will just have to guard against
dropping the PDA as the Brando will not provide corner protection. Of course, a
naked PDA is even less protected, so don't use that as an argument not to get
this case.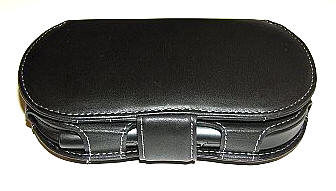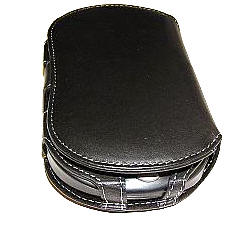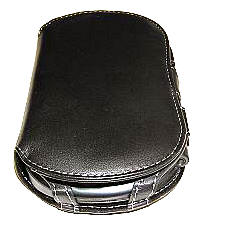 Since the Tapwave does not ship with a cradle, it will probably not matter to
many that the Zodiac has to be removed to sync or charge. If you are using just
the cable that shipped with the PDA then you will still be able to conveniently
do so.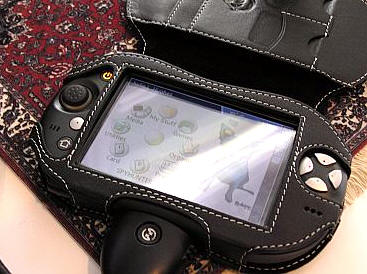 The main con I can see concerns the considerable thickness that is added when
this case is used. Without the case, the Tapwave measures 5.6" long x 3.3" wide
(at widest point) x 0.5" thick. With the Brando case including the card
holder/screen protector, the numbers jump to 5.8" long x 3.4" wide (at widest
point) x 1.4" thick (on snap). If you are trying to keep this PDA in your
pocket, then this may be a deal-breaker.
Exposed corners and added thickness aside, the Brando is an excellent case
that offers good looks and excellent quality. It is still quite easy to use the
Tapwave as a gaming device while it is in the case, and to me, that says a lot
about the planning that went into its making. If you have been looking for a
protective case that can also double as a light day wallet, then you should give
the Brando a try.
Price: $32
Pros:
Allows access to every button and port
Very well made with attractive design
Can serve as a mini-wallet
Excellent screen protection
Allows syncing/charging with Tapwave cable
Cons:
Adds considerable thickness to Zodiac
Corners are not protected in case of drop
Will not work with Tapwave cradle
Product Information
Price:
32.0
Manufacturer:
Brando
Pros:

Allows access to every button and port
Very well made with attractive design
Can serve as a mini-wallet
Excellent screen protection
Allows syncing/charging with Tapwave cable

Cons:

Adds considerable thickness to Zodiac
Corners are not protected in case of drop
Will not work with Tapwave cradle