We use affiliate links. If you buy something through the links on this page, we may earn a commission at no cost to you. Learn more.
Product Requirements:
A local FM radio station
If you read Julie's and my
CES trip
report, then by now you know about
LobeMan, the product that came from out of nowhere and pleasantly surprised
me. No, I was definitely not in the market for an in-ear FM radio when
Scott Hynd, their Director of Marketing, gave me a sample. To be honest,
listening to the radio is not something I do very often. When I am at home, I
listen to streaming Sirius over the computer; when I am in my Mini, I listen to
Sirius over the stock radio. But there are times when FM radio has it's place,
and I have been discovering them thanks to this little gizmo.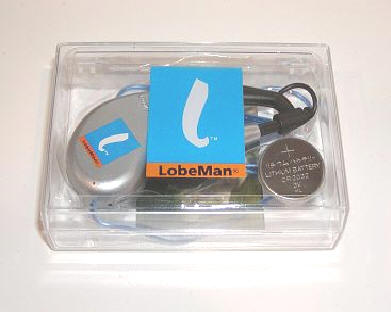 The LobeMan reminds me of an
BTE hearing aid, you know – the kind
that fit over the ear and into the canal. Unlike hearing aids of old, the
LobeMan receives incredibly clear FM radio transmissions instead of
conversations from the table across the room. Most likely responsible for the
clear signal is the 20" flexible wire antenna which hangs down from the body of
the device.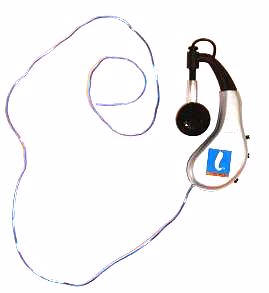 The unit measures 3" tall x 1.25" wide at the bottom. It is 0.6" thick and
weighs 0.5 ounces with battery. The body is comprised of two plastic panels, one
of which can be removed for changing the CR 2032 battery or customizing with a
different color plate. I was given panels consisting of the four primary colors,
so of course I have since removed the original silver plate and replaced it with
green. All available colors are shown
here.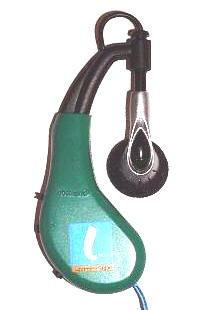 My LobeMan came with a battery installed as well as a spare in the plastic
pocket hard case. I have used the device for about six hours off and on, and the
original battery is still going strong. I am not sure how long the battery life
will ultimately be, but so far so good.
If you are wondering about the overall feel of the device, well it's not too
bad. Granted, it is made of plastic and weighs so little that it almost goes
without saying that it will feel cheap – and to a point it does. But then, my
LobeMan has managed to survive two drops from over six feet,
and it has kept right on working. So evidently it is a tough little
booger.
The earpiece itself is nothing special – a typical earbud design covered in a
light foam mesh that can slip on and off. I fully expected the bud to irritate
my ear within no time, but perhaps because of the way the device is supported by
the upper ear, there was no ache like I would typically associate with earpieces
of this design.
The LobeMan is simple to operate – its spine holds just three controls: the
slider from which you can choose Hi-Lo-Off, the reset button (which allows you
to start over from the beginning of the dial), and the Scan button.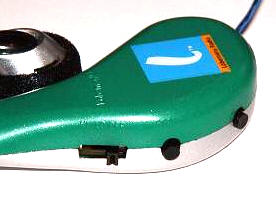 To wear the LobeMan, you choose an ear and then turn the earpiece to match
the needed direction.
At this point, I switch the LobeMan to Lo. Then I place it over my ear,
hooking the earpiece into the bowl. Sliding the body of the LobeMan over the
back of my ear "locks" the receiver in place.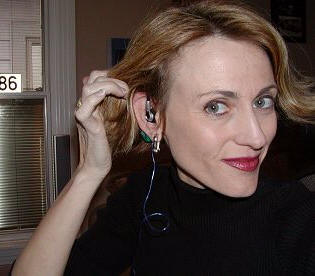 Graphical instructions are available
here
Once the LobeMan is on, tapping the bottom button advances to whatever
station I am looking for. The resulting sound is good – surprisingly good. And
while you are listening to the radio in one ear, your other ear is left exposed:
which means that you can still participate in conversations around you
without yelling or removing your headphones. It also means that you are
still aware of sounds around you that you should be paying attention to – such
as cars when you are jogging.
That brings up one of the great uses for this gadget – exercising. If you
aren't working out in an aerobics' studio with its inherent thumping music, then
you are probably used to carrying some sort of radio, MP3 or CD device along to
help keep your pace and pass the time. Let's face it though – it isn't always
practical or desirable to carry a

$300+ iPod when you want tunes.
Then there are other less expensive FM radio receivers, CD players and MP3
Players that attach with an earpiece, but you have to place that receiver
somewhere – whether in a pocket or on an arm-band. With the LobeMan, you have
the whole kit and caboodle securely placed on either ear. Plus there is the
peace of mind, knowing that if for some reason the LobeMan were to be stolen
from your gym bag or if you were to leave it somewhere, you won't be out big
bucks.
I can also imagine using the LobeMan at a sporting event, if you are one of
those die-hard fans that likes to watch the game and listen to the radio
play-by-play.
The LobeMan FM Radio is a simple gadget that performs as advertised. While I
am not so sure about the "stylish"
claim, I will agree with everything else said on the main page of their site. If
you want a portable radio that won't weigh you down, is tough, and won't break
the bank if lost or stolen, then you should check out this product.   
The LobeMan FM Radio is available
here.
Price: $14.99
Pros:
Comfortably fits either ear
Stays put while you are active
Can be customized with colors
Cons:
None
Product Information
Price:
14.99
Manufacturer:
Lobe Man
Pros:

Comfortably fits either ear
Stays put while you are active
Can be customized with colors

Cons: