We use affiliate links. If you buy something through the links on this page, we may earn a commission at no cost to you. Learn more.
An atlas or a full sized map can be great tools to have with you when you're
traveling. But, how many times have you forgotten the atlas or spilled liquid on
the map? Or, are you one of those people that get so frustrated that you end up
wadding the map into a ball after spending 15 mins trying to fold it back
correctly? If you are one of these people, then this product may be what you
need to consider for your next trip.
The MicroMap Viewer, available from
Sigma Automotive, gives you the ability
to carry almost an entire atlas worth of information in an audio cassette sized
device. Designed and made in the UK, this little gadget has won numerous awards
for its ingenuity.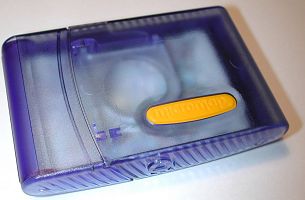 The viewer is made of translucent blue polycarbonate which is a very
durable form of plastic. The image above shows the viewer in the closed
position. But, when opened as shown below, you can see the true use of this device.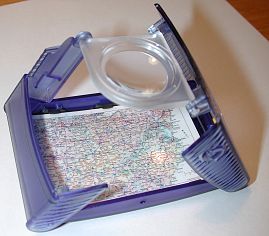 It unfolds to reveal a plastic magnifying lens with a miniature map below it.
By placing the device up to your eye and looking through the lens, you can
easily view the information on the map. By pivoting the lens left or right, you
can view the entire map from edge to edge. Even those who wear glasses like I
do, should have no trouble seeing the maps through the lens. I was really
surprised how well I could see the information. Because there isn't any
artificial light used to illuminate the viewing area, you will need to be in
adequate light. That said, I didn't have any problems even in indirect lighting
conditions.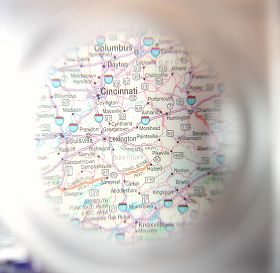 [View thru the lens]
The maps themselves are small laminated credit card sized cards which feel pretty sturdy. You
won't need to worry about spilling liquids on them, or otherwise soiling them as
they can easily wipe clean. You can even use a non-permanent marker like those
used to mark overhead transparencies to map
travel routes for easy viewing. Each map has been specially printed at 6 million dots
per inch. Several map sets are available including US highways, National Parks
and US Cities. I was sent the Major Highways of the US map set. This set
consists of 10 cards printed front and back. Most of the cards span more than
one state and there is even an index to cities and towns included.
To view a map, you just slide the plastic tray out of the viewer, slip a map
into it, and then slide the tray back in place. The tray can hold up to 6 cards
at a time, so it serves as a holder as well as a viewer. Unfortunately, the US
Highways set has a total of 10 cards, so I had to keep the map set box to store
the extras in.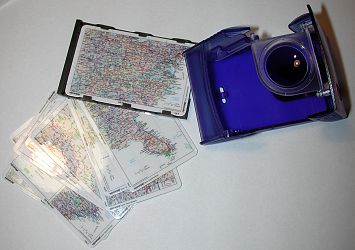 The MicroMap when closed, can easily fit into almost any pocket. Or, you can
attach it to your belt with the included clip. The clip isn't all that sturdy
though, so I would caution against using it. There is also an eyelet that you
can slip a string through to wear the viewer around your neck if you so choose.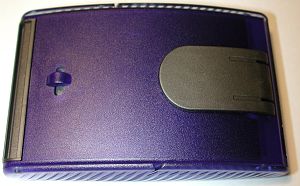 The MicroMap a unique little gadget that can be quite useful for motorists,
bikers, hikers and other people that want to carry map information in a small
package.
Price: $25 Viewer
Major Highways of the US $15
National Parks of the US $15
US Cities $15
Viewer and all maps $60
Pros:
Convenient way to carry maps
Different map sets available
Durable
Cons:
Tray doesn't always hold entire map set
Product Information
Price:
25.0
Manufacturer:
MicroMap
Pros:

Convenient way to carry maps
Different map sets available
Durable

Cons:

Tray doesn't always hold entire map set