We use affiliate links. If you buy something through the links on this page, we may earn a commission at no cost to you. Learn more.
Product Requirements:
Device:
Palm m500, m505, m515
Here's a case for those of you are looking to simplify your lives. Instead of
carrying both a wallet and your Palm m500, how about combining your wallet with
a PDA case? Covertec has just such a
product. The Palm m500 Series Wallet Case is an all leather case available in
black, red and gold. I was sent both the black and red versions.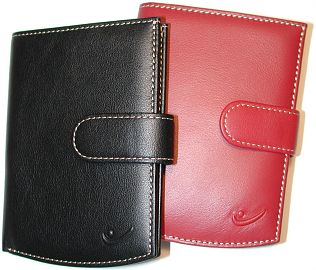 These cases have been created in a classic style that will fit in great in a
corporate arena as well as a casual atmosphere. The only adornment that these
cases have is an embossed logo on the front lower right corner of the case.
The leather used has a soft and almost spongy feel to it. Contrasting
stitching helps to make these cases as pleasing to the eye as well as the hand.
The Palm m500 is held in the case by the left stylus silo. A metal rod with a
rubber O ring is sewn into the spine of the wallet. This rod fits securely in
the stylus silo of the PDA. An additional O ring is supplied with the case.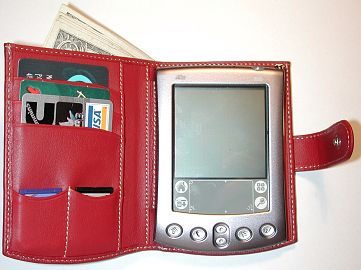 While in the case, you have access to every feature and function of the PDA.
Nothing is covered or obstructed. The cover of the case has 3 business card
slots and two SD media card slots. There is also a larger pocket located behind
the card slots.
Of course, since this is also a wallet case, there is a large pocket that
runs the length of the case.
Never miss one of our posts again. Sent MON, WED, and FRI with the latest gadget reviews and news!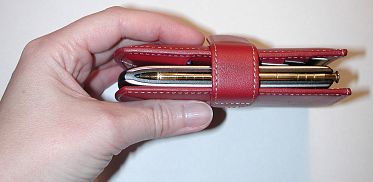 I decided to load up the case with 14 separate dollar bills, 3 credit cards
and 2 SD cards. I wanted to see just how bulky this case might be in real life
use. The result really wasn't that bad. It's also nice to know that you can load
this case up and still snap the cover closed due to the case having 2 snap
settings.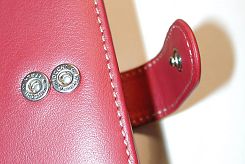 This is a nice case that is made well and looks great. The price is also very
reasonable! If you're looking to replace your PDA case and your wallet, you
should give this case a closer look.
Price: $40.86
Pros:
Case / Wallet combo
Lots of storage
2 snap settings
Cons:
None
Product Information
Price:
40.86
Manufacturer:
Covertec
Pros:

Case / Wallet combo
Lots of storage
2 snap settings

Cons: