We use affiliate links. If you buy something through the links on this page, we may earn a commission at no cost to you. Learn more.
Program Requirements:
Desktop:
Windows 2000, Windows 95/98 or NT 4.0 (NT 4.0 users
require Service Pack 3)
First they were called Palm PCs, then they were called Palm-sized PCs and now
they are called Pocket PCs. Regardless of the name, the new Windows Powered
devices are here. This is a review of one of the first units available, the
Casio E-115. This will not be a comparison review of the three new devices from
Casio, Hewlett Packard and Compaq as I have not had the opportunity to even see
the other two yet. I'll do separate reviews as I get/use the devices and will
then write a short comparison article with my opinion on the best choice of
Pocket PC.
Out of the box, the Casio E-115 Pocket PC will look very familiar to you. It
should as it is housed in the very same body as their very popular E-100 and 105
models. The only noticeable difference in the E-115's appearance is that the
casing and buttons are a slightly darker gray.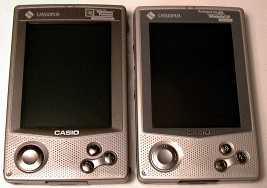 (E-115 on left… you can't really see the color difference here.)
Other than the casing, the E-115 is essentially an E-105 with the newly
updated operating system. The batteries are the same, the speaker is the same
and the display is the same. There may be some small hardware differences
internally, but I'm not aware of them. As always, let's first take a look at the
hardware specs. For background purposes, the E-100 has 16meg of RAM, the E-105
has 32meg and now the E-115 also has 32 meg of RAM. For deeper detail on the
physical look and feel of the device, you can read my E-100 review.
Hardware Specs:
Operating system: Windows CE ver 3.0
Desktop Software: ActiveSync ver 3.1
Processor: MIPS VR4121 processor operating at 131 MHz
Never miss one of our posts again. Sent MON, WED, and FRI with the latest gadget reviews and news!
Memory: 32MB RAM
Display: 240 × 320 pixel Color LCD, HAST (Hyper Amorphous Silicon TFT),
65,536 Colors
One CompactFlash slot Type I/II slot (3.3v)
IrDA ver 1.0 port
Earphone Jack: Stereo
Power: Lithium Ion Rechargeable battery pack, AC adapter also included
(Input: AC100-120V 50/60Hz 29VA, Output: DC5V 2A) Back-up Lithium CR2032 battery
Size & Weight: 5 1/8″ x 3 1/4″ x 3/4″, 9.0 oz.
The E-115 is the thickest of the three new Pocket PCs. I don't really have a
problem with the size now though. I guess I've grown accustomed to it. I had
been a Palm V user for about a year and really loved the slimness of it. Then
when the Palm IIIc came out, I had to get used to its larger size. But, after
using the Palm IIIc for awhile, I found I just wasn't all that excited about it.
It was basically a Palm III with a color screen. And although color was very
compelling,  I'm The Gadgeteer and wanted to have more of a wow-whee
factor. So, I switched back to my E-100. As far as size, going from the Palm
IIIc to the E-100 size really wasn't that big of a jump. And now, I'm using the
E-115 which is the same size. I do find that the size tends to make me leave the
unit on my desk instead of keeping it at my belt. I don't do this intentionally,
I think that it's mainly because I haven't found a perfect belt case for it yet.
Speaking of cases, the E-115 comes with a nylon / canvas type slip case. It is
similar to the original E-100 case in design.
I've read quite a bit about people complaining of the fact that Casio didn't
do a redesign of the PDA as far as the casing. Both HP and Compaq have totally
different looking PDAs than their previous models. I'll say that I was also a
little disappointed as well but not a lot. One good thing is that there are
already accessories available that are compatible with the E-115. People that
have a E-100/105 now and plan to upgrade can use all their same accessories.
Cases specific to the E-100/105 will work with it, styli will work and the CompactFlash
camera will also work. The E-115 is also the only new Pocket PC with a type II
CompactFlash slot. So people that have the IBM 340MB MicroDrive will have no
trouble using it with the E-115.
The cradle that you use to sync your data with the desktop is also the same
as previous models except for the darker color. One disappointment is that the
cradle is not USB but is serial. I guess this isn't a major deficiency, but I
would have really liked to have seen USB because it is faster and easier to use.
I also wish they would change the cradle so that you didn't have to press a
button in order to pop the E-115 out of it. I like the way the Palm cradles
work. The PDA pretty much just sits on the contacts so that you can easily lift
it out when you're finished syncing.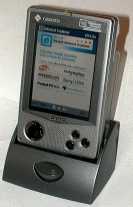 Now lets take a look at the real differences between the E-115 and the older
E-100/105 which is the software. First of all, the OS has been changed to look
more 'PalmPilot like'. The interface graphics are now flat instead of 3D. And
now double stylus taps only require one tap. The interface looks simpler and
is  easier to use.
The Start menu has moved from the bottom of the display to the top. Even
after almost two weeks of use, I'm still trying to get used to the new placement
of the Start menu. But I do think the Start menu is nicer and easier to use now.
At the top of the menu are small icons for the last six applications that you've
used. This is sort of a quick start bar. You can also customize the Start menu
by adding your frequently used programs. Luckily there aren't any more cascading
Win98 type menus in the Start menu. You either click on an app to open it, or
you click on the Programs icon which then opens a full screen view of
application and folder icons. Then those applications can also be launched by
tapping on them.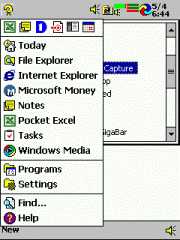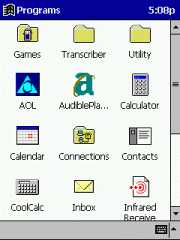 Unfortunately, you don't really have any easy way to customize the Programs
view. It works as an ok program launcher application but it could be a lot
better. For example, it would be nice if you could arrange the icons the way you
wanted to… or hide some of them, etc. I'll talk about the Casio Menu program
which is better a little later in the review.
A Today screen greets you when you power up your device every day. This
screen shows your upcoming appointments and tasks. It can also be customized to
show your inbox. This screen is hyper linked so if you tap on an appointment,
you will go into that appointment. You can also easily add new contacts,
appointments etc thru this screen.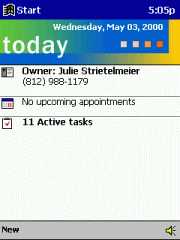 But, that's not all the differences. Quite a few new applications and
application changes are now installed on all Pocket PCs. I'll try to go over
each one briefly.
New OS Software standard on all Pocket PCs:
Pocket Internet Explorer with integrated Avantgo is now included. This new
app takes the place of the Mobile Channels viewer, the standalone Avantgo
program, and a web browser. With it, you can browse live websites (if you have a
modem installed), download websites for offline viewing or download Avantgo
channels for offline viewing. I don't have a modem, so I was only able to test
the offline capabilities of this program.  Creating mobile favorites
(offline WebPages) is easy. You just surf to a page in IE on your desktop and
click on Tools -> Create Mobile Favorite. You can then specify when to
synchronize the site info with the Pocket PC.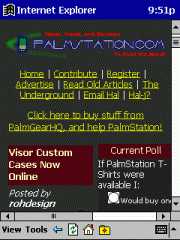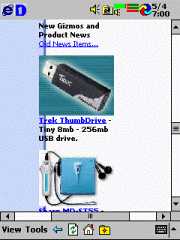 Pocket IE works pretty well. It does sometimes seem sluggish though when you
go back and forth between pages or when you use it as an image viewer. It seems
like it has to work at loading in the pages. I'm not sure why this is since the
info is stored locally. There is also an option to fit the info to the screen
size. This is supposed to help squish a website onto the little Pocket PC
screen. This only works well for certain websites. Basically sites that don't
have lots of tables will shrink pretty well. Others will look pretty broken up
and will still require you to use your horizontal scroll. What they REALLY need
to do is to allow you to rotate the screen 90 degrees to fit more info on it.
Pocket IE does do a really good job of shrinking images though.
Avantgo has been updated. It now supports better graphics. It also seems to
be faster on smaller channels…. and somewhat slower on larger channels than
the previous version. I use Avantgo a lot and really like it. It would be great
if it would sync faster with the desktop PC. Sometimes this seems like it takes
forever. I don't think it's a problem on the PC side as much as it might be a
problem with the Avantgo servers. I'm just guessing though.
Two other new applications included in ROM are Pocket Word and Pocket Excel.
Both of these are welcome additions to the Pocket PC. Pocket Word is a good
improvement over the basic NoteTaker app. You get more features such as
bulleting, fonts (4 to choose from), imbedded drawings, beaming, and emailing.
Pocket Word and NoteTaker files can be read directly by Word on your desktop.
Both the NoteTaker app and Pocket Word also allow you to take recorded notes via
the built-in microphone. And, your text notes in NoteTaker will now be synced
with Outlook 2000 which I really like. In my opinion though they don't really
need both NoteTaker and Pocket Word, they should just be integrated into one
app.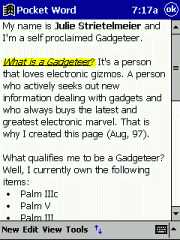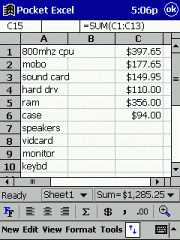 One problem I found was that I created a Word file on my PC, made a very
simple drawing inside the doc file and then copied it to my Pocket PC. All my
formatting showed up fine but the drawing only showed up as a box with an X thru
it. I'm not sure if I did something wrong or if embedded images can't be
transferred from the PC to the Pocket PC.
I like Pocket Word. Especially the multiple undos. One thing that Pocket Word
could use though would be a spell checker.
Pocket Excel has been missing on the previous Palm sized devices until now.
This version will allow you to sync your regular Excel spreadsheets with your
Pocket PC. You can view, create and edit simple spreadsheets on your handheld
device. The Pocket PC version doesn't have all the functions that the desktop
version does but it does have the basic ones needed to create and edit. You can
split the display, freeze panes, autofit columns and rows, hide columns and
rows, sort and filter. I was really happy to see Pocket Excel added.
Another really nice included application is the Microsoft Reader app. This is
a book reader and Audible player that uses Clear Type technology. It allows the
letters to look more smooth and is supposed to be easier on your eyes. I
personally never had a problem with the regular text style on PDAs… but this
does look somewhat better. The application is quite nice. You can add bookmarks,
highlight text, add notes and drawings to the texts. You can even look up words
via a dictionary that comes on the ActiveSync CD. Although this CD has quite a
few titles on it, there didn't seem to be a PC application that allowed you to
create your own Reader files. Microsoft Reader app also allows you to listen to
Audible.com audio books but I prefer using the regular Audible application for
this task. An Audible CD is also included with the E-115 and I think it works a
lot better. I couldn't figure out how to add bookmarks to the audio books inside
Microsoft Reader… but it's easy in the standalone Audible application.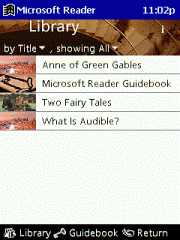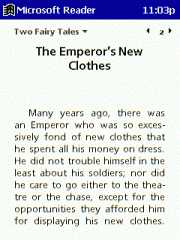 I love using the Audible application to listen to books while I'm driving
home from work. I never seem to have time to actually sit down and read so this
is a great way to do that. The audio level and quality of the books that I've
listened to from Audible so far have been really good.
The Pocket PC now has a simple File Explorer too. You can  use it to
copy, delete, and rename files as well as send via email and send via infrared
files. You have to hold the stylus down on a file in order to pop up a menu that
will give you these options. It would be nicer if the File Explorer had a split
view and would allow you to easily drag and drop files into folders.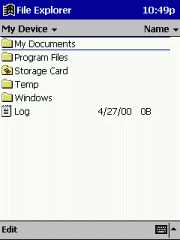 Windows Media Player is now installed in ROM also. It's a better version than
the one I had for the E-100. It no longer pauses when you bring up a play list
or do other things while playing a song. You can also blank out the display to
save your battery life. This app can be customized via skins, has a nice play
list editor and good sound quality. I think I still like Pocket Player a bit better though.
An Infrared beaming app that allows you to send and receive files and info
between devices is also included. I wasn't able to get this to work between my
E-115 and E-100. The E-115 would say it was connecting to the E-100 and then
would just sit there…
The input methods have changed somewhat with this new OS version. There are
now three input method choices. You still get the onscreen keyboard with word
completion as before. You also get a character recognizer. It's not called Jot
anymore but it is still very similar to it. Another option comes on the
ActiveSync disk which you have to install. It is called Transcriber and is very
much like Calligrapher. With this input method, you can write in cursive or
print and it will translate your writing to text. You can write whole words and
sentences across the screen. I found that the Transcriber app worked pretty
well. As long as I wrote fairly large, it seemed to translate my cursive and
even mixed printing and cursive very well. It wasn't always 100% accurate but
then I tend to write sloppy.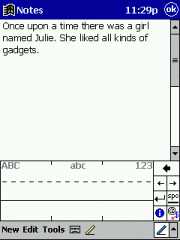 Besides the stock Pocket PC apps in ROM, Casio has also included several
pre-installed apps on the E-115.
Casio Specific Pre-installed software in E-115 ROM:
Casio Menu-
Casio's own launcher app that is started when you press the Rocket button on the
front of the E-115. It's been updated from the previous version to allow for
additions of new pages that can be accessed via a drop down list. I'd rather use
this launcher than going through the Program files screens because the Casio
Menu is faster and can be customized easier. But, If I had my druthers, I'd use
something even easier and more powerful such as Launcher (similar to Launcher
for the Palm) from Conduits Technologies Inc.
which allows you to create tabbed screens with apps or StarTap+
from Thumbs Up Software which has so many great features. Both of these are
shareware apps that I really like.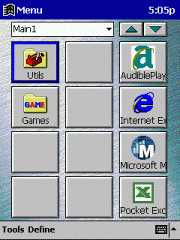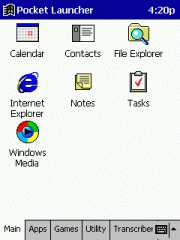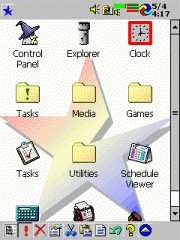 Mobile Calendar-
Casio's Calendar replacement app. This is a nice little app and could be a lot
better if was only faster. It gives you several views which I like much better
than the views that the built in Calendar uses. I've never liked the boring
'bar' type weekly view in the built in Calendar app.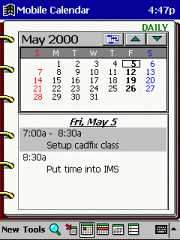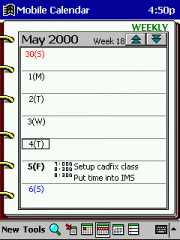 Mobile Address Book-
Casio's Contacts replacement app. I think this app is better than the built in
Contacts app. It has a nicer graphical appearance and layout. It allows you to
view by name or company name. You can also resize the columns so you can see the
info better. However you can't view by category like you can in the built in
Contacts app. The Mobile Address Book is a bit slower than the built in Contacts
app but not a lot.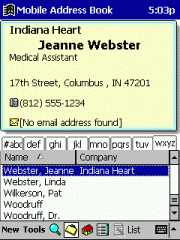 Mail Setup Tool-
Nice Inbox set up wizard that helps you set up your pop server info for pulling
down email to your E-115 from your ISP via a modem.
Card Backup Tool-
Easy to use tool that lets you backup and restore your E-115 files
(files/data/registry) to CompactFlash.
AOL Setup-
Setup program to use your AOL account on your E-115.
In addition to the built in Casio software, the E-115 also comes with a
pretty large software bundle. Some of the software is free and others are trial
or demo versions. Here's what you get…
Casio CD:
Button Assignment App-
This utility assigns CASIO Mobile Calendar to Button2 and CASIO Mobile Address
Book to Button3 on your CASSIOPEIA Pocket PC. I'm not sure why you need this as
there is a built in button assignment app in the regular settings area.
Mobile Camera-
Mobile Camera is a program that lets you record and playback snapshots and
movies. It also includes a number of functions for creating and viewing albums.
Mobile Video Player-
This application plays CASIO Movie Format files on the E-115.
Mobile Video Player for PC-
CASIO Mobile Video Player for PC is player software that lets you play CASIO
original movie format(CMF) files on your computer.
Mobile Video Converter-
The Mobile Video Converter works on your PC to convert most commonly-used
digital video formats
for viewing on the CASSIOPEIA. The following formats are currently supported:
MPEG1, AVI, and QuickTime(TM).
ZIOGolf Demo-
2 hole demo version of the popular golf game (Read my review).
Enterprise Harmony 99
Transfers data from a Palm device to the E-115.
Extra Software on ActiveSync 3.1 CD:
ActiveSync 3.1
Outlook 2000
Internet Explorer 5.0
29 Microsoft Reader Books (including classics like Tom Sawyer and Great
Expectations. As well as a Pocket Dictionary)
Pocket Streets – Mapping software (includes several large city maps)
MSMoney – Banking software that can sync with the desktop version of MSMoney
Transcriber CE – Handwriting Recognition Utility
Audible 2.5 CD:
Audible Manager for the desktop PC
And if that wasn't all, if you register your Pocket PC with Microsoft, they
will send you a free CD
and CompactFlash card with software on it.
Fun Pocket PC Expansion Pack CD and Compact Flash card:
4 Audible book excerpts
The Brethren by John Grisham
The Economist Survey
A Walk in the Woods by Bill Bryson
Don't Know Much About History: Everything You Need to Know About American
History but Never Learned by Kenneth C. Davis
3 Windows Media Music files by the Five Points Band
PocketBible by Laridian – [trial version]
Pocket Streets Mapping software.
BSQUARE Messenger [30-day trial]
Send and receive instant messages from your Pocket PC, while connected to a cell
phone or wireless modem for instant wireless messaging.
bUseful Backup by BSQUARE [30-day trial]
Back up your device on your PC or a storage card in just a few minutes. Plus:
Create a self-extracting backup that will restore your entire Pocket PC in just
a couple of clicks.
bUseful Zip by BSQUARE [30-day trial]
Read industry-standard ZIP files from your PC or e-mail attachments. Extract,
read and zip up all industry-standard compressed files, too, on your Pocket PC.
CoolCalc by Applian Technologies [trial version]
Three advanced calculators — an enhanced basic calculator, a scientific
calculator with a visible stack, date calculator and a tip calculator.
eWallet by Ilium Software [trial version]
Use eWallet to store your passwords, PINs, credit card numbers, and the other
information you need in a safe, secure encrypted form.
ListPro by Ilium Software [trial version]
Organize all your thoughts, notes, ideas and facts with ListPro — the list
manager for busy people. Use ListPro for to-do lists, trip packing, URLs,
interview questions, restaurants, shopping, errands, reference information,
collections, online auctions, event planning, information about people you know,
and everything else you shouldn't have to remember.
Primer PDF Viewer from Ansyr
Provides PDF viewing capability on the Pocket PC. Primer supports most PDF image
formats, as well as bookmarks, hyperlinks, and Table-of-Contents. Multiple
levels of magnification are available, including a box zoom feature to enlarge a
selected area. Other features include text find and access to PDF meta-data.
Pocket Artist LE by Conduits Technologies [lite version]
Pocket Artist LE delivers some of the essential tools of drawing and image
manipulation. It allows for touchups of images via the pencil and eraser drawing
tools.
PocketShot by FieldSoftware Products [free]
PocketShot easily captures, prints, and saves a snapshot of your Pocket PC
screen. Screen snapshots can be printed directly to a wide variety of infrared
and serial printers.
ScreenSnap by Developer One [free]
Instantly captures screen images to file with the press of a button. Capture and
organize your screen shots with ease, even view up to one hundred images at once
with the built-in browser.
Tipster by Ilium Software [free]
A fast, easy, and free restaurant tip and tax calculator for Pocket PCs.
PocketFriendly Backgammon by AnyWerx
Bubblets by oopdreams [trial version]
Chess – Microsoft [free]
Cubicle Chaos – Microsoft [free]
This is a Break Out style game where you clear out all of the cubicles without
losing the bouncing ball. Your desk acts as a paddle that slides across the
bottom of the screen.
Fire Drill – Microsoft [free]
A fire has started in your office and it's up to you to put it out before it
gets out of control! Grab your extinguisher! This top-down, scrolling shooter
depicts the floor layout of an office building, complete with cubicles, desks,
file cabinets, water coolers, and so forth. Be quick of the file will spread
throughout the office.
Hearts – Microsoft [free]
Card game. This is an infrared game that you can play with another person with a
Pocket PC with Hearts on it using the infrared port.
ZIOGolf by ZIO Interactive [demo]
Real-time 3D golf acceleration game. Two-hole trial version.
Pac-Man – Microsoft (on CF card)
This classic game is already celebrating it's 20th anniversary! Invented in 1980
it has proven to be a hit through many generations and returns today in this new
Pocket PC version.
Power Contacts (on CF card)
Windows Media Player Skin Chooser (on CF card)
Chooser app and 4 skins.
As you can see, you get a lot of software with the E-115. It's unfortunate
that quite a bit of the really good stuff are trial versions. Just call me
greedy! One good thing is that you don't have to upgrade to Pocket PC versions
of your current software. Palm-size PC software runs just fine on the Pocket PC.
It supposedly runs in an emulation mode… but I can tell little if any speed
degradation. All the apps that I had installed on a CF card in my E-100 worked
just fine in the E-115.
So, does the E-115 hack it as a Pocket PC? First of all, the E-115 seems to
me to be about 10% faster in overall speed than my E-100. I can tell a
difference in the time it takes to launch the different apps, switch between
screens, etc. The E-115 still isn't as fast as my Palm IIIc though. As far as
this new version of WinCE, I think it is a giant step forward in the right
direction. It's not perfect by any means, but there is something about the E-115
that just makes me want to use it instead of my Palm IIIc. I like the color
display on the E-115 better than the Palm IIIc. It is larger and easier to read.
Physically the only down sides I see to the E-115 are that the unit is thick,
and the screen is barely readable in bright sunlight. I've not had any
complaints about the battery life… I've been playing .mp3 files, audio books,
testing software etc. and have not had a low battery error. If you put your
E-115 in the cradle at night, you'll not have any problems.
And is the new version of Windows better than the previous version?
Software-wise, I like the new additions to the OS. I'd like to see a faster
browser, more powerful file explorer though. For someone that has been using a
Palm-size PC, it might take a little while to get used to the new interface. But
once you do, I think you'll like it better. I really enjoy the multimedia
aspects of it. I enjoy listening to audio books and .mp3 files. I like the more
detailed games etc. Ok, I know that's all just fun and games part of the unit…
As far as the PIM functions go, the Calendar, Contacts and Tasks applications
work just fine and I can't complain about them. And now with the addition of
Pocket Excel, I'm very happy with this new unit.
Should you change from a Palm OS unit to the E-115? That depends on what you
want to do with your PDA. If you want a multimedia PDA that can play books,
music and games, the E-115 is for you. If you want a super fast PDA for basic
organizer functions only then you should probably stick with a Palm OS unit. And
if you need to use a PDA outdoors more than 25% of the time, you'll not be happy
with the E-115 due to the visibility of the screen. But indoors it has probably
the best color PDA display.
Go to your local electronics stores and give the E-115 a try. I'm happy with
it. The E-115 has now dethroned my Palm IIIc
and is my everyday PDA.
Price: $599.95
Pros:
Snappier OS.
New built in apps (Pocket IE, Pocket Word, Pocket Excel)
Very nice software bundle.
Compatible with your E-100/105 accessories and peripherals.
Cons:
No USB cradle.
Thick device.
Expensive.
Product Information
Price:
$599.95
Manufacturer:
Casio
Pros:

Snappier OS.
New built in apps (Pocket IE, Pocket Word, Pocket Excel)
Very nice software bundle.
Compatible with your E-100/105 accessories and peripherals.

Cons:

No USB cradle.
Thick device.
Expensive.