We use affiliate links. If you buy something through the links on this page, we may earn a commission at no cost to you. Learn more.
Program Requirements:
Device:
ZIOGolf v1.1 supports Palm-size PC such as Casio
Cassiopeia E-100/105/500/503/507, Compaq Aero 21xx, HP Jornada 420, 430se,
ZIOGolf v1.2 supports Pocket PC such as Casio Cassiopeia E-115, HP Jornada 540
Series and Compaq's Pocket PC will be supported in near future.
2.8meg of memory.
ZIOGolf by Ziosoft is a
3D golf game for the Pocket PC or Palm-size PC. This is a major update to
their previous PalmGolf game (which is
still available).This new version adds 3D graphics, animations, and expandability. You
can purchase 4 additional golf course modules of real courses throughout
the US. They include Sedona, Hiddenbrook, Lely Flamingo, Bristol Harbor,
and Hidden Valley.  All the courses have 18 holes. The Bay Club
course comes standard with the game.
The game can be played with up to 4 players which can be either humans, computer
players or a mixture. You can actually just have the computer play by itself and
watch it if you like.
The interface is very nicely arranged. All the status information is along
the left side of the screen while the course, course map and swing gauge take up
the rest.  The status indicators tell you the wind direction and velocity,
what type of grass that you are in (for example rough, or fairway), hole
distance information, club info, and spin info.
The small course map in the upper right corner of the display can be
minimized to give you a better view of a shot. Although it looks like you can
move this map, you can't. It might be a nice feature if you could drag the map
to any location on the display.
One of the first things you think about when you're getting
ready to play a hole is what club do you use… You select a club to use
according to the distance and the location of the ball to the hole. You
can choose from Wood, Iron, Putter and Wedge type clubs.After selecting a club, decide what number of wood, iron or wedge to use
depending on the distance to the hole. Clicking on the arrow below the
club display will allow you to select and view other optional clubs. A
number above the club tells you how far your ball could potentially go
when you take a shot using that type of club.
After you pick your club, you will want to select the spin
of the ball. For example, you can choose to hit the ball with top-spin.
With top-spin, the ball will continue to roll after landing and carry the
ball to its maximum possible distance. Or you can hit the ball with an
under-spin to ensure a safe shot onto the green or to avoid a water hazard
or bunker.The next thing you do is to line up your shot. This can be done by
using different viewing angles to check the distance to the hole. These
different viewing angles include:

Normal – first person view (default view)
Down – overhead view
Top – 45 degree overhead view
Back – view from hole to cup (for reference only)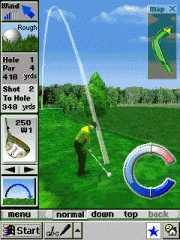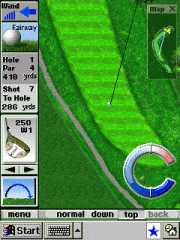 While you are in these views, you can see a line or arc from your ball to the
hole. Using your stylus you can move this arc/line to different angles. This is
the way you line up your shots. In the Top view, you can tap inside the little
course map window to checkout other parts of the course that you can't see on
the screen due to size limitations.
After you have your shot lined up, you can finally hit the ball. This is done
by tapping and holding the stylus on the swing gauge in the lower right corner
of the screen. This type of gauge is very similar to ones used in other golf
games that you might be familiar with. As you tap and hold, you will see the
power gauge increasing. And depending on when you let go of the stylus, the
power of the shot is determined. After you let go of the stylus, you then tap
the gauge once more to actually  make the stroke. The effect of a hook or
slice will occur depending on the last tap timing. The stronger the swing power
is, the more the ball is hooked or sliced.
ZIOGolf has all kinds of obstacles that will get in the way of your perfect
shot. You have to worry about trees, water hazards, sand traps etc. Funny sound
effects occur when your ball encounters one of these obstacles. You'll hear a
'kerplunk' sound if your ball goes on the water, or a 'smack' if it hits a tree.
The sound effects are well done and don't distract you from the game. There are
other nice little sound effects like the clapping and cheering when you hit the
ball farther than you ever have before. If you like to play this game while
you're supposed to be working, you can turn off the sound. 🙂
Game play is fun and easy to learn. I do think that this new version of the
game is a bit harder to play than their previous versions though. I didn't have
problems with the long shots, but once I got near enough to putt the ball, I
began to have troubles. I would either hit it to far or not far enough. I'm sure
this is something that a little practice would probably take care of.
Once you finish a hole, you are shown the scorecard. If you are playing with
more than one player, you can use the onscreen scroll buttons to view all the
data.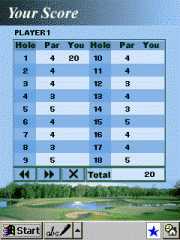 You do have the ability to save a game. Unfortunately, you can only have one
saved game at a time.
The graphics in ZIOGolf are very well done. The terrain is easy to
distinguish in all the different views. The animations make the game more fun
like when your player swings and hits the ball. Although the Palm-size PC
display is small, ZIOGolf doesn't look too cluttered. All the options are easy
to get to with a simple tap.  On my Casio E-100, the animations, and screen
refreshes were very snappy. I didn't feel like this game was 'too much' for my
PDA to handle.
There's really only one thing that constantly annoyed me with the game
though… after every shot, a small box popped up in the middle of the screen to
tell you how far your ball traveled. I found that this box blocked my view of
the rolling ball during putting. I think it would be much better if this status
box would popup at the top the screen instead.
ZIOGolf is a great sequel to PalmGolf. If you even remotely like golf games,
you'll surely want to check this one out. It is a bit on the expensive side for
a game, but a demo version that allows you to play two holes is available on the
Ziosoft website. So, you can try before you buy.
Price: $34.95 (additional courses are $14.95 each)
Pros:
Very entertaining.
Great graphics.
Ability to play more courses.
Cons:
Uses a big chunk of storage space.
Can only save one game.
Expensive.
Product Information
Price:
$34.95
Manufacturer:
eXpansys
Pros:

Very entertaining.
Great graphics.
Ability to play more courses.

Cons:

Uses a big chunk of storage space.
Can only save one game.
Expensive.