We use affiliate links. If you buy something through the links on this page, we may earn a commission at no cost to you. Learn more.
Jack of All Trays is an
expandable lap desk that you can pretty much use anywhere. Made of two sections
of anodized aluminum, the lap desk weighs 16 ounces. When collapsed, the 1/4
" x 8.5″ x 10″ tray is smaller than a pad of notebook paper and
can be stored in a briefcase, backpack or drawer. When you are ready to work,
the two sections slide open to create an 18″ x 8.5″ work surface.
That's enough room for a notebook computer, mouse and maybe even a small mouse
pad.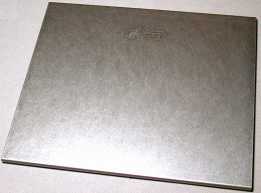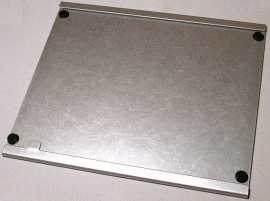 The trays are available in eight colors: blue, purple, green, silver, red,
gold, and black. It is also available in platinum which has a hard coat finish
and costs more. Anodized color finish is an electro-chemical process that
penetrates the aluminum surface.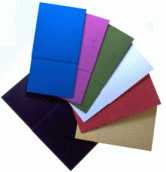 The bottom section of the tray has 4 rubber feet and the tray can only slide
open one way due to a metal stop on the bottom of the tray. This stop also keeps
the two sections from sliding totally apart. Unfortunately, there is only one
stop which in my opinion makes the tray seem a bit wobbly. There is also no way
to lock the sections in place. It would be nice if some kind of mechanism was on
the bottom of the tray to keep the sections from sliding back and forth. When
you use the tray on your lap, moving your thighs in and out will make the tray
sections slide open and closed.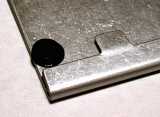 I did find the tray to be useful with my Stowaway keyboard and Palm V. It made a nice flat surface which the Stowaway needs.
Basically that is the only real use that I personally found for this tray. It is
too small to be really useful for anything else. I find that if I need to use my
notebook computer on my lap, I just use it. I don't need to put anything under
it. But, if you need to use a mouse with your notebook, this tray might be
handy.  Although most notebook computers now have some type of integrated
pointing device so using a mouse with one isn't always required.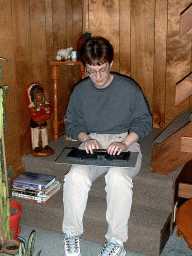 This tray is a pretty simple device that has been made simply. There aren't
any sharp edges nor any parts that are breakable. The tray does what it is
advertised to do. But at $25, I would like to see little something extra to make
it worth that price. You do get a 30 day 100% satisfaction guarantee though.
Price: $24.95 ($39.95 for the Platinum model)
Pros:
Portable.
Adjustable.
Variety of colors.
Cons:
Can't lock expanded tray in place.

Product Information
Price:
$24.95
Manufacturer:
Jack Of All Trays
Pros:

Portable.
Adjustable.
Variety of colors.

Cons:

Can't lock expanded tray in place.