We use affiliate links. If you buy something through the links on this page, we may earn a commission at no cost to you. Learn more.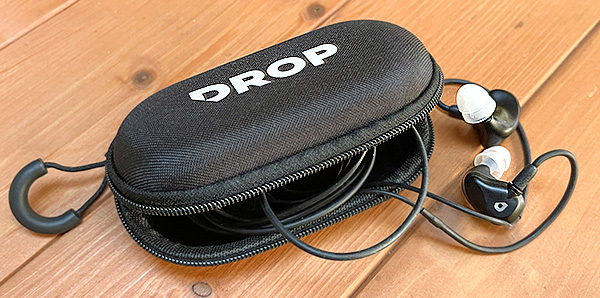 REVIEW – When I was sent the ERX earphones by Drop+Etymotic (built by Etymotic, tuned by Drop), my first thought was how much they would sound like just another pair of Etymotic earphones. Or would they have their own personality? Let me back up a bit. I've reviewed a few Etymotic earphones—and liked them for what they were. No one makes earphones that sound like Etymotic. They are accurate to a fault. They reproduce everything good in a song—and everything bad. There is no "compromise". Until now—kinda.

What is it?
Drop (formally Massdrop) is known for taking existing products, putting their own spin on them, and making something unique at a more affordable price. It's been a successful concept—their Massdrop+Sennheiser HD 6XX headphones have been a huge hit for years.
The Drop+Etymotic ERX earphones are what Drop calls a "blend of two Etymotic all-timers: the ER4XR and the EVO." As I said earlier, the ER4XR earphones are extremely accurate. Etymotic claims the ER4XR have an added bass boost, but I still wouldn't call them bass monsters. The EVO earphones are supposed to have more bass than the ER4XR earphones. Since I have not heard the EVO earphones, I can't say. 
The ERX are wired behind-the-ear earphones. They look like those earphones you see musicians wear on stage. They are designed to insert deep into the ear—much deeper than most popular universal-fit earphones. The fit reminds me of how custom earphones feel. This deep insertion makes active noise canceling (ANC) virtually unnecessary.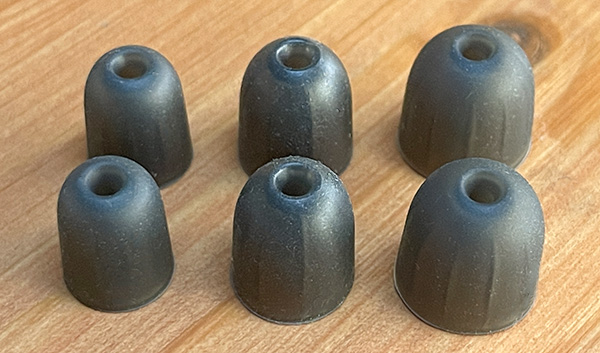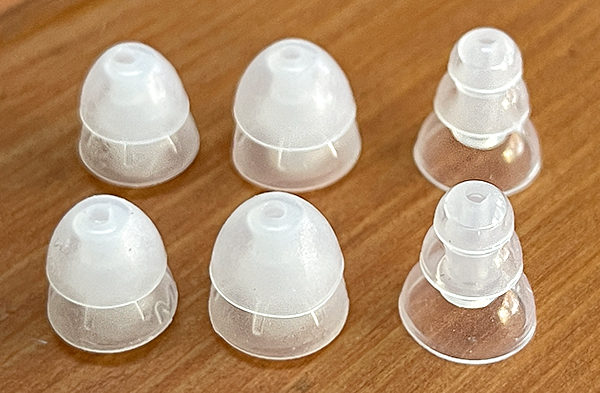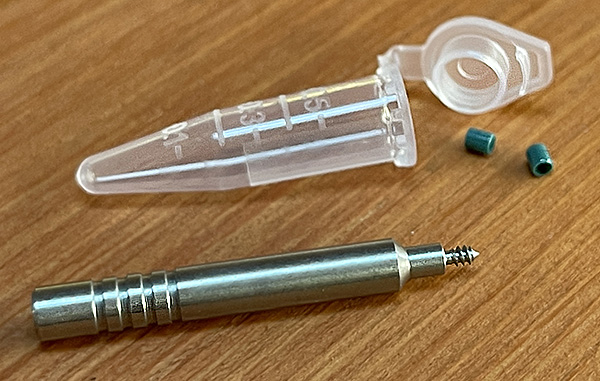 The ERX earphones come with many ear tips—3 pairs of regular silicone and 3 pair of flange designs. A Small zippered case is included. Spare filters with a filter tool are included, but there was no manual included. I also could not find an online manual on the Drop website.

Specs
Frequency Response: 20Hz – 16KHz
Transducers: Single balanced armature driver per channel
Impedance: 45 Ohms @ 1kHz
Max Output: 120dB
Cable: 4 ft, user-replaceable, with Estron T2 connectors

 

Design and features
It's becoming increasingly rare that I write about wired earphones. So many now are wireless with Bluetooth. However, wired is still preferable if your main objective is audio quality over convenience. It's safe to say that the Drop+Etymotic ERX earphones fit (pun intended) into the audiophile category. Their sound is both accurate and pleasing—unless you are a bass-head.
If the ERX is that blend between the ER4XR and EVO earphones as Drop states, then Etymotic won that battle. You can hear that Drop wanted—and got—more bass, but Etymotic's ER4XR's signature sound prevails. Drop's own frequency response graph shows that their ERX earphones have an ever-so-slight bass boost over Etymotic's EVO, which the design of the ERX is based on. However, in order to get the bass I desired, I had to boost it in the iPhone's EQ settings—something I'm loath to do.
The shell of the ERX is metal making the earphones noticeably weighty. They aren't too heavy and the build quality of the shell is impeccable. As I said earlier, they feel like custom earphones.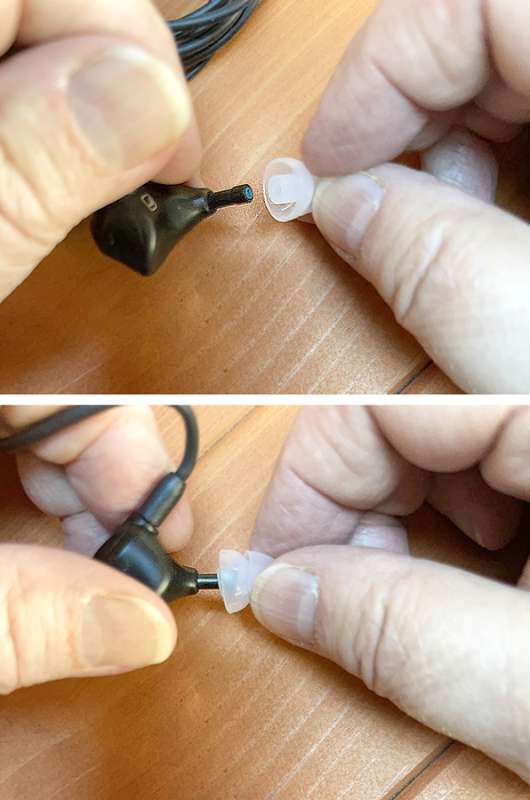 However, they must go deep in order to hear any bass. If you don't like earphones being deep in your ear, pass on these. AirPods Pro, these ain't. To help achieve the ear depth needed, Drop supplies two types of ear tips: round and flanged silicone. At first glance, round silicone tips look like many of those you see on many earphones, but these measure longer. Unfortunately, they instantly hurt my ears. The flange ear tip design is more triangular-shaped with overlapping parts (flanges) that help create a tight seal inside the ear. It works. The flange tips were comfortable, blocked out all noise, and gave me the bass I wanted.
Note that one of the drawbacks to deeply inserted earphones is what's called ear-suck. This is air pressure inside the ear canal that feels like something is sucking on the eardrum. While it doesn't bother me, there are some who can't stand the feeling, so be aware.
Comfort with the ERX is a mixed bag. I was happy listening for a couple of hours. I think it's the in-ear depth over longer listening sessions that made them less comfortable.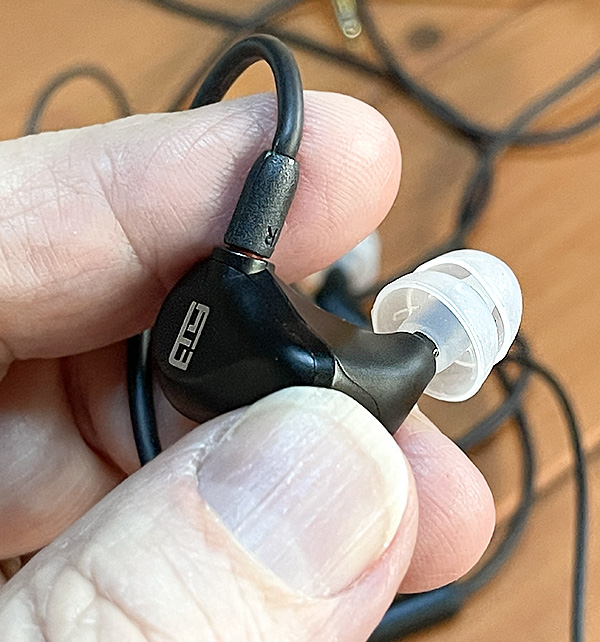 The ERX operates on a single balanced armature, which may explain why deeper bass might benefit from a hybrid design (an added dynamic driver) or playing around with the EQ as I did. Generally, armature speakers (derived from hearing aids) are more treble-sounding, while dynamic speakers (look like tiny headphone speakers) are more bass friendly. Generally. Etymotic makes their armatures full-range sounding. While the ERX earphones have accurate bass, it can sound a bit on the weak side if you are a bass fan. It's strictly subjective—based on your preference.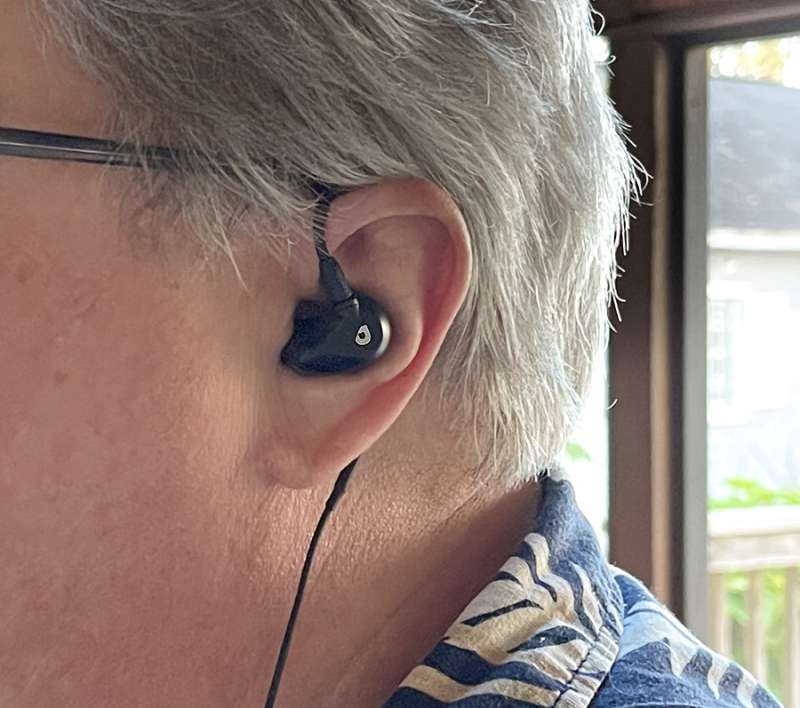 These earphones are an over-the-ear design. This means the wiring wraps over the ear rather than straight down. This has the advantage of eliminating what is known as microphonics, that thumping or rustling sound from touching an earphone's cord. I've gotten used to it but it can be annoying.
The wiring attaches to the earphone shell using the T2 connector, instead of the more common MMCX connector. This can limit the ability to choose another brand of cable.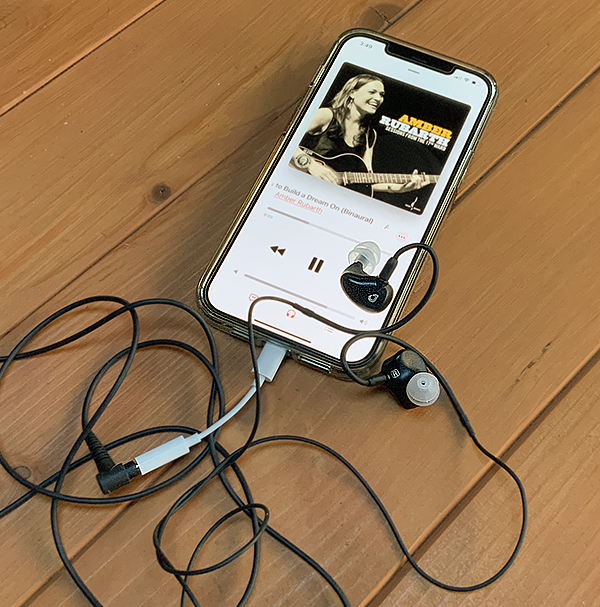 When listening to the Drop+Etymotic ERX earphones, I relied on my iPhone using the Apple headphone jack to Lightening adapter (an extra-cost accessory—of course). This allowed me to listen to Lossless audio (CD quality). Listening on an iPhone no longer has to be an exercise in compromises. With wired earphones, such as the Drop+Etymotic ERX model, you can enjoy hi-res recordings—from an iPhone.
As I've said before, the music sounded accurate, but the detail was sometimes amazing—depending on the recording. The ugly secret in music recording is that the quality of mixing and mastering is vastly more important than the resolution of any digital file. My hi-res version of Amber Rubarth's "Sessions from the 17th Ward" album is a binaural recording that sounds like you are in the middle of the session. It's eerie. The ERX earphones have a good soundstage that exploits the binaural technique.

What I like
Well made
Accurate sounding
Great sound isolation
Affordable when compared to the Etymotic EVO or ER4XR

What I'd change
More comfort for longer listening periods
Where's the manual?
T2 connector can be limiting

Final Thoughts
The Drop+Etymotic ERX earphones are a niche buy for those who either prefer accuracy in their recordings or are fans of the Etymotic armature sound, but not the Etymotic tubular earphone shape—all at a more affordable price.
Price: $249.00 ($299 after pre-release offer)
Where to buy: Drop.com
Source: The sample of this product was provided by Drop.