We use affiliate links. If you buy something through the links on this page, we may earn a commission at no cost to you. Learn more.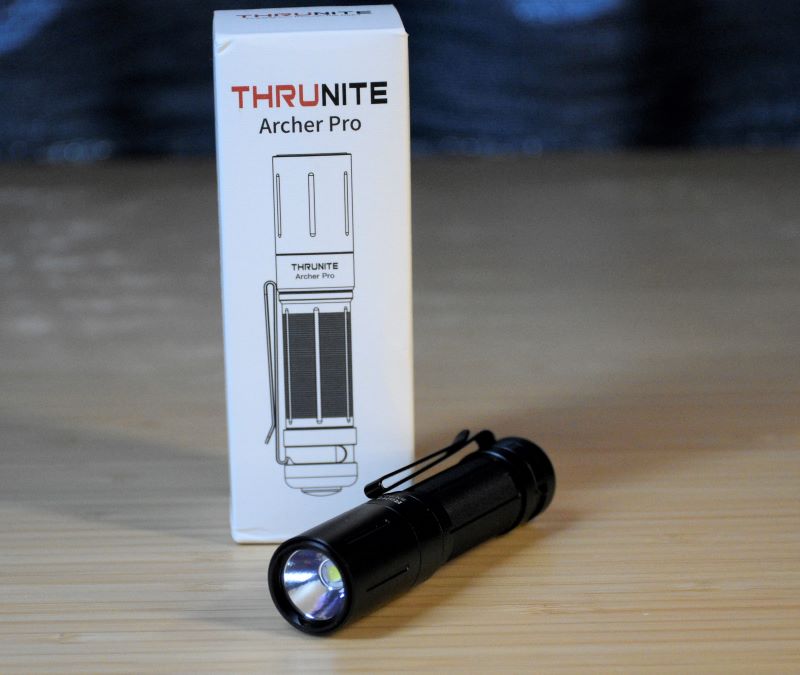 REVIEW – The Thrunite Archer Pro is a 1022-lumen pocketable, rechargeable flashlight making it an EDC-friendly option for those of us who like to be prepared. It's bright and lightweight. Will this complete your dream EDC pocket loadout? Is it worth the price of admission into the land of Thrunite's product lineup? Well, keep reading to find out.
What is it?
The Thrunite Archer Pro is a USB C rechargeable flashlight with a lockout function and several modes of lighting to keep you prepared for almost any situation without weighing you down.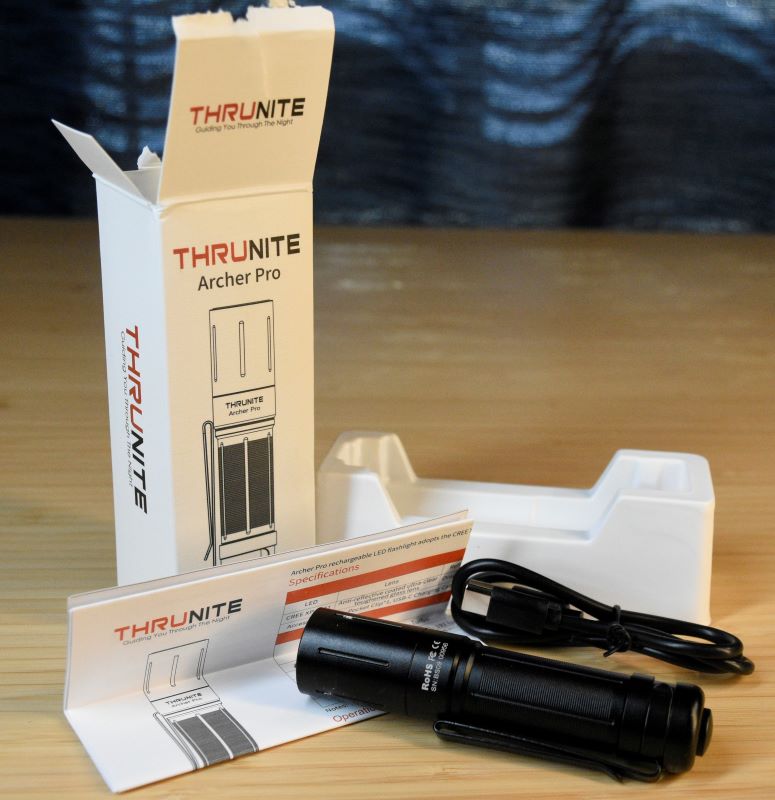 What's in the box?
Thrunite Archer Pro flashlight
USB A to USB C charging cable
User Manual
Hardware specs
LED: CREE XP-L2
Lens: Anti-reflective coated ultra-clear toughened glass
Reflector: Orange Peel
Body: Premium Type III anodized AL 6061-T6
Dimensions: 3.8in x .8in (96mm x 21mm)
Weight: 2.3 oz (65.5g)
Modes:

Turbo – 1022 lumens to 191 w/ runtime 1.5 mins + 145 mins
Infinity High – 478 lumens to 208 w/ runtime 1 min + 150 mins
Infinity Low – 13 lumens w/ runtime 37 hours
Firefly – .41 lumens w/ runtime 15 days
Strobe – 92 lumens w/ runtime 260 mins

Beam Distance: 440 ft (134 m)
Intensity: 4500 cd (max)
Impact resistance: 5 ft (1.5 m)
Waterproof: IPX-8
Design and features
The Thrunite Archer Pro flashlight is constructed of an aluminum alloy with an anodized finish. The only color choice available is black but there are two choices of color temperatures. You can get a cool white or neutral white LED.  The review sample I believe is cool white. Currently, neutral white is unavailable on their website but is available on Amazon.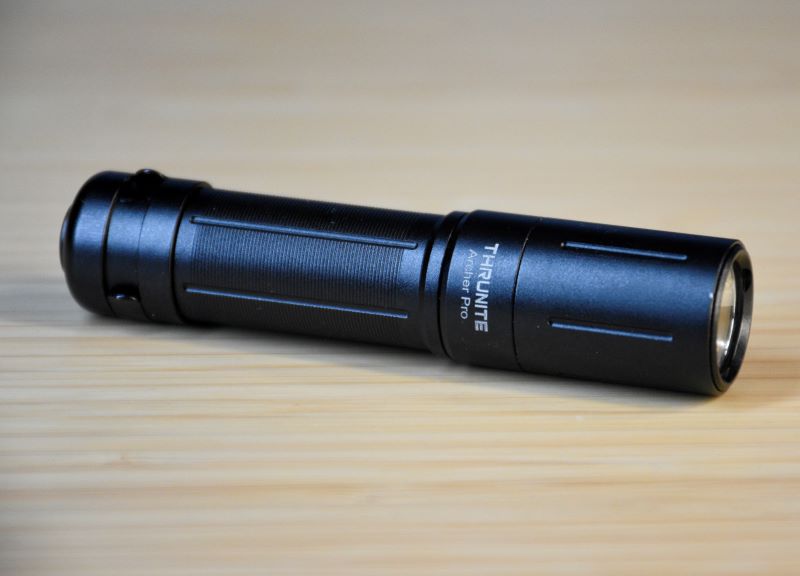 Typically, I'm not a fan of pocket clips, not even on my pocketknives, but considering I'm carrying this in a Selework TH21 EDC belt organizer, it's necessary. It has a dual-direction clip, giving me a couple of carry options. It's also removable, so if I do get tired of it, I don't have to cut it off.
According to Amazon, the Thrunite Archer Pro features double helix body knurling. Not sure if that's an accurate description. The Olight i3T EOS flashlight that I reviewed earlier also has double helix knurling and they look completely different.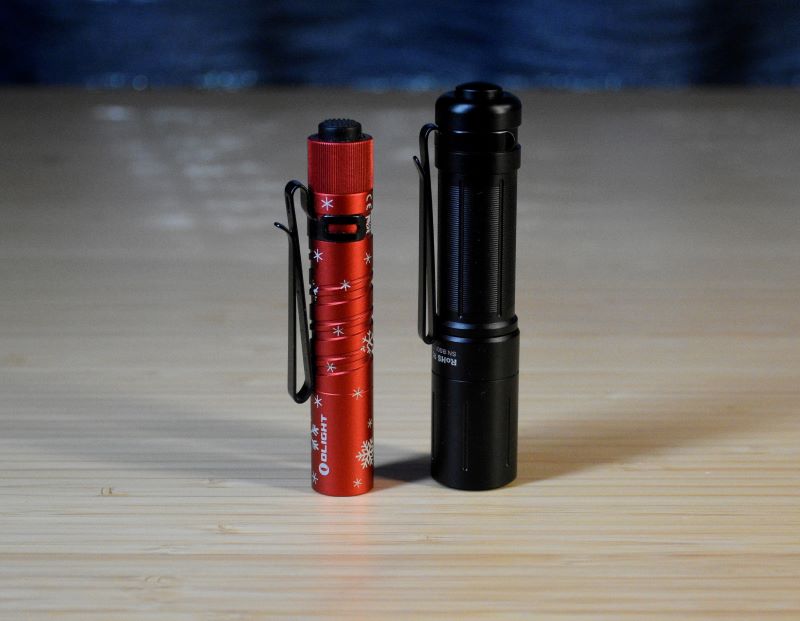 The tail switch is aluminum, just like the rest of the body. It has a slick finish. I was a little surprised that there was no knurling there. I guess it's no big deal. I mean, I don't see having problems with wet fingers slipping off it. The switch operation itself is not a very long throw with a soft click. It's not bad but I'd prefer something with a little more resistance to press for activation. I forgot to lock the flashlight and ran the battery down a few times by accidentally pressing the button while it was in my sheath.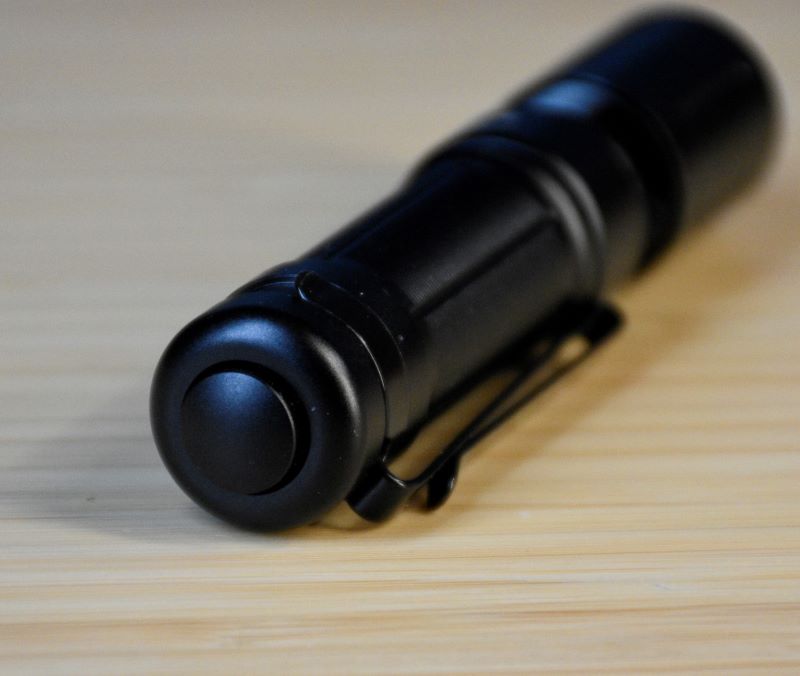 The Thrunite Archer Pro flashlight uses an "ultra-clear toughened"glass lens. I'd never heard of toughened used as a type of glass before, so for those of you who don't know either, read it as impact-resistant.  According to Google, toughened glass has an increased clarity of 3-4% and is 12 times more stretch resistant.
The Thrunite Archer Pro is IPX8 rated so it's waterproof to about 2 meters. There's an O-ring visible when you unscrew the top to access the USB-C charging port.  There wasn't an extra included in the box.  I found that a little odd.  It seems like most other manufacturers include them, so why not here?
The flashlight has a built-in 1000 mAh lithium-ion battery. Read that as in non-removable. I'm a little disappointed. Yes, I'm sure the number of charge cycles will give the light a long life, but once it's done you have to get a new flashlight. Charging it is simple enough.  Unscrew the cap all the way to reveal the USB C port and connect the included cable to a power source and the flashlight.  Don't lose the included cable, because not every USB C cable will fit into the port.  There's very little clearance between the Thrunite Archer Pro flashlight body and cap to allow a cable to plug into the port. I was able to find another one of my cables that would fit, but most of my stash wouldn't.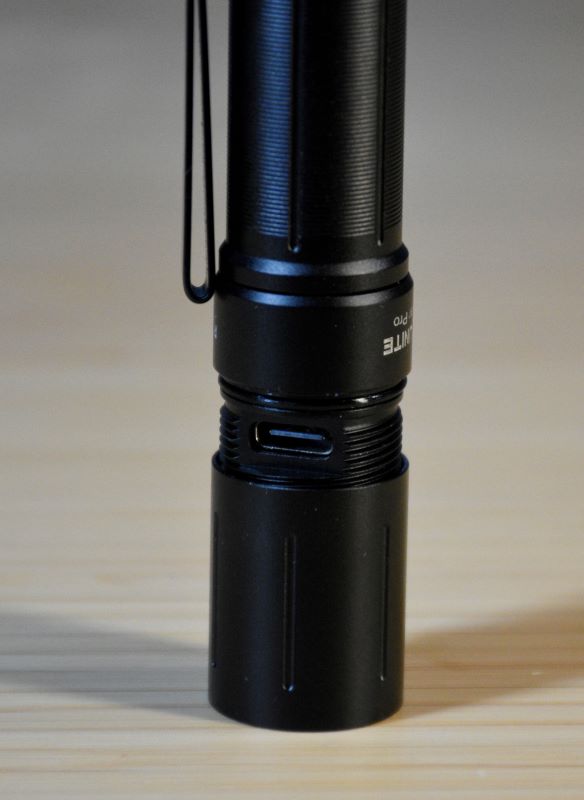 Performance
The Thrunite Archer Pro flashlight performs its duties well enough. It's small, a little longer, and bigger than a 18650 battery, but not much.
It has several different modes, such as Turbo, Firefly, Strobe, and then there's what they call Infinity high and low. To access Turbo mode, make sure the lockout is off and double-tap the tail switch. For firefly mode, press and hold the switch for 2 seconds. For the Infinity modes, press the switch once then hold it. The light will either get brighter or dimmer to a point. When it reaches maximum brightness or minimum dimness, it will blink 3 times to let you know. For strobe, just triple-click the switch. Finally, to access the lock, you first have to be in firefly mode, then press and hold the switch until it blinks 3 times. The light will then go out and now it's locked.
To see the modes in action, click here to watch a video demonstration.
What I like
Offers multiple modes, although I've never found strobe useful
The clip, it's bidirectional and removable
Size, it's a full 4 finger grip for me
USB C charging
What I'd change
The tail switch
A replaceable battery would be nice
Final thoughts
This is my first experience with a Thrunite flashlight, so I only have the Thrunite Archer Pro to go by. It's an ok flashlight. I like the firefly mode and the ability to cycle through different brightness levels.  It should be tough enough to survive bumps and drops. And, if you remember to use the lockout feature, the runtime should be fine. I just think it would be better if the switch was a little harder to press so I didn't have to worry about inadvertently switching it on.
Price: $39.99
Where to buy: Thrunite  or  Amazon
Source: The sample of this product was provided by Thrunite.