We use affiliate links. If you buy something through the links on this page, we may earn a commission at no cost to you. Learn more.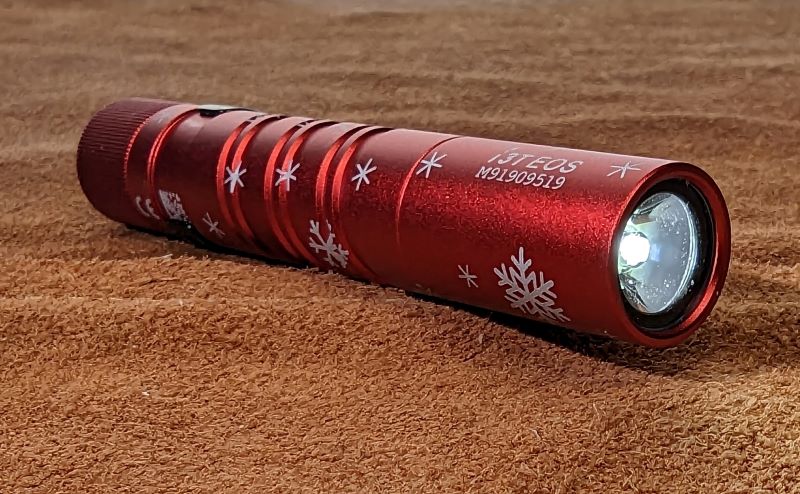 REVIEW – The Olight i3T is a pocket-friendly flashlight from a company that tons of people seem to be turning to as part of their chosen EDC. So will it find its way into my pocket and yours every day? Let's find out together.
What is it?
The Olight i3T EOS is a pint-sized AAA flashlight with two lighting modes that offer up to 180 lumens.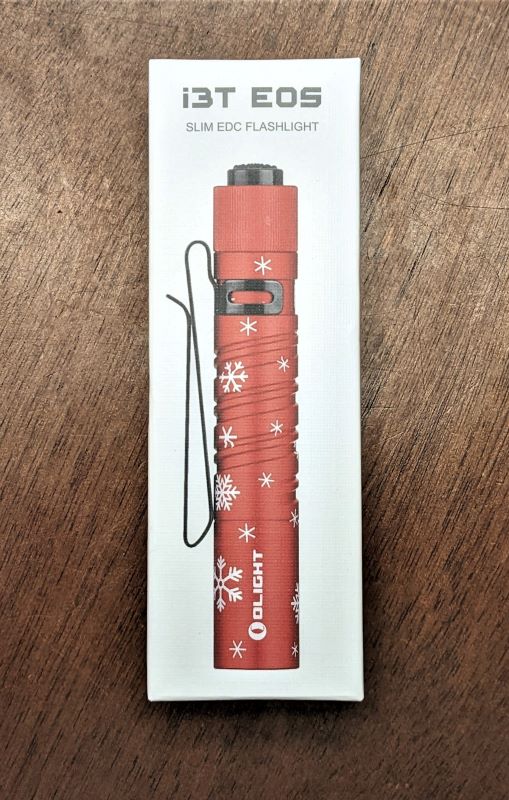 What's in the box?
The Olight i3T EOS
1x AAA Alkaline battery
User Manual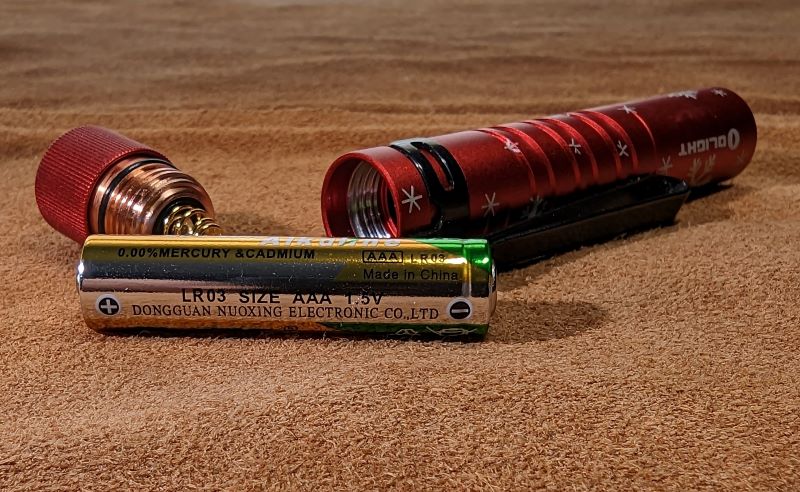 Hardware specs
GENERAL DATA
Beam Distance 196 ft (60 m)
Max Performance 180 lumens
Compatible Batteries 1 x 1.5V AAA Alkaline Battery (Included), 1 x 1.5V AAA NiMH/Lithium Battery (Compatible)
Max Light Intensity 900 candela
Light Source Philips LUXEON TX CW LED
Lens / Reflector Type TIR Optic Lens
Mode Operation Tail Switch
LIGHTING LEVELS
High 180 lumens
Run time 21 minutes
Low 5 lumens
Run time 16 hours
TECHNICAL CHARACTERISTICS
Waterproof  IPX8
Weight 1.4 oz (39 g)
Length 3.5 in (89 mm)
Head Diameter 0.59 in (15 mm)
Body Diameter 0.59 in (15 mm)
MATERIALS
Body Material Aluminum Alloy (Review Sample)
Design and features
The Olight i3T EOS flashlight is constructed of an aluminum alloy with an anodized finish.  The review sample came with a festive snowflake motif, so it could be the perfect stocking stuffer.  Olight also offers it in black, dessert tan, and polished stainless steel if that strikes your fancy.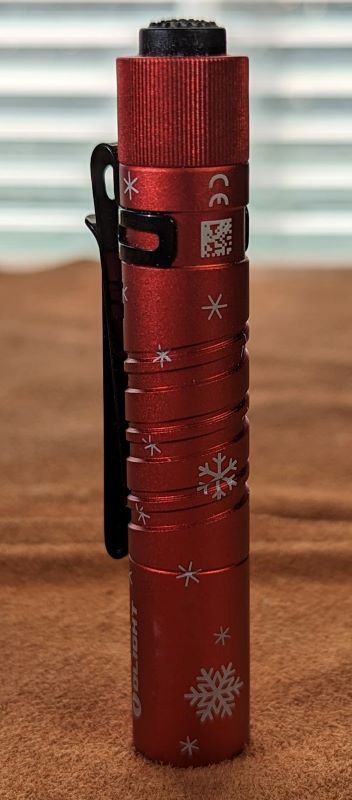 It comes with a dual-direction pocket clip so you can easily carry it in your pocket or clip it to the brim of a hat. I carry in my EDC wallet, along with a pen and a pocket knife.  It's extremely lightweight so I don't notice any difference in weight after replacing the flashlight that used to reside there.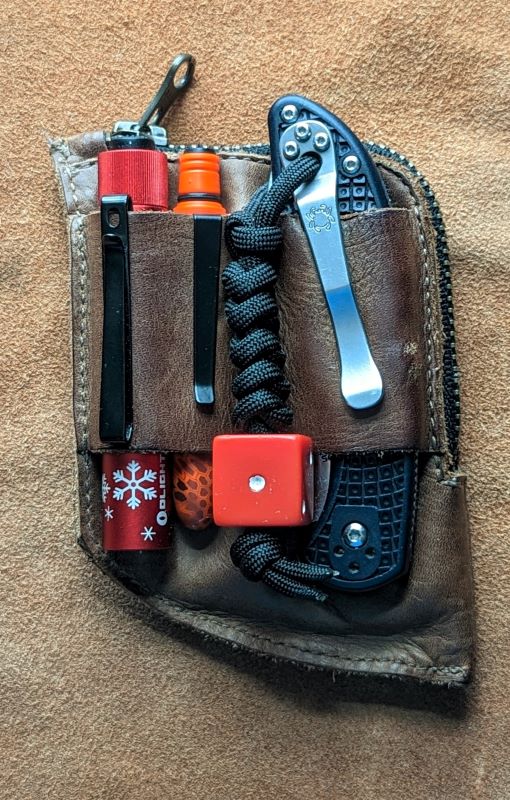 The Olight i3T EOS features a double helix milled pattern on the body to avoid slipping from your hands. It should make it easier to clean as well.  Most of my other flashlights are knurled in some way or another that fill with dirt and grime.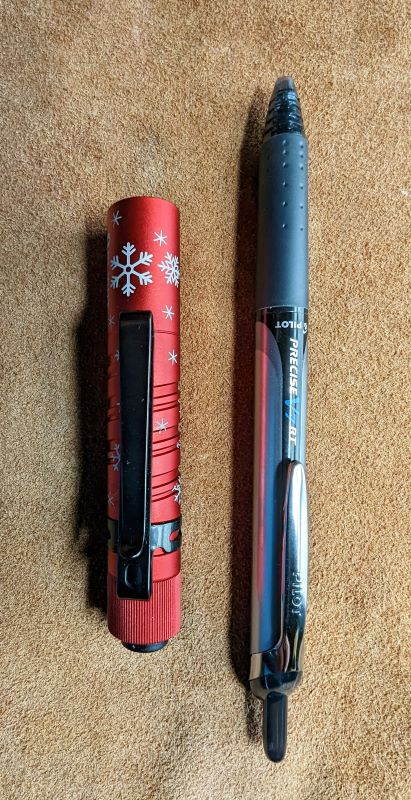 The tail switch is rubberized with a knobby texture. It has a positive click when pressed. It can also be used momentarily which is perfect in my mind. A light press can be used to select either low mode, light press again to select mode. Press it fully to use that mode.  You can select the modes with full presses as well, but I prefer the former.
The flashlight uses a TIR optic lens to produce a soft, balanced beam.  If you're like me and have no idea what that meant, I looked it up. TIR optic lenses are rotationally symmetrical which gives round light distribution with sharper edges.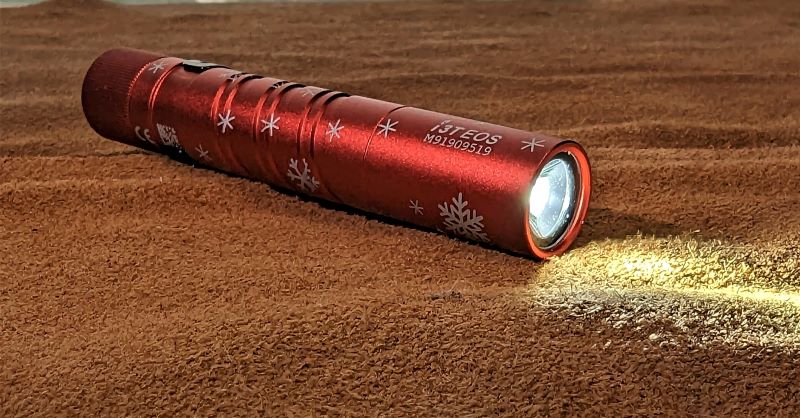 The i3T EOS is IPX8 rated so it is waterproof to deeper than 1 meter according to Olight. I don't plan on dunking into a pool but it should be ok if it finds its way into a puddle. You needn't worry about it getting wet from rain, just don't go scuba diving with it.
Setup
Not a lot to know here.  The battery is already installed but you will need to remove the thin plastic insert resting on top of it so it touches the contacts.
Performance
The Olight i3T EOS flashlight does the job it was designed to do. It's a small light so it performs admirably well for what it is. The low setting of 5 lumens is good for those situations where you don't need a lot of light, like looking into a toolbox or bag.  The high setting of 180 lumens is plenty when you need more.  It's not a searchlight, I mean it uses a AAA battery, so don't expect it to be something it's not.
The tail switch works well and has a positive click when fully pressed. The dual-direction clip is a nice touch, increasing the i3T EOS's versatility. The milled double helix body design gives good gription even for my large hands.
What I like
Solid build
The clip
Size
What I'd change
Final thoughts
This is my first Olight flashlight.  The i3T EOS was exactly what I was looking for to fill my EDC needs. It's light, bright, and compact. I'm happy with it and will carry it without hesitation. If you're looking for a flashlight in this form factor. Check out Olight. The i3T EOS is available in black, dessert tan and polished stainless steel.
Price: $13.97 – $24.95
Where to buy: Olight
Source: The review sample was provided by Olight