We use affiliate links. If you buy something through the links on this page, we may earn a commission at no cost to you. Learn more.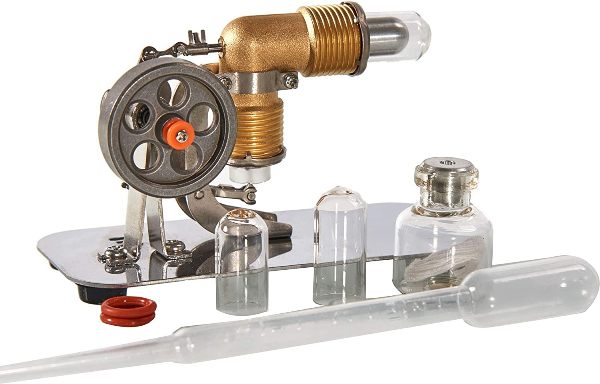 NEWS – Do you have kids that are fascinated by mechanical things? This SunnyTech Mini Hot Air Stirling Engine is something that might intrigue them (and/or the kid in you). Robert Stirling created the first Stirling engine in 1816.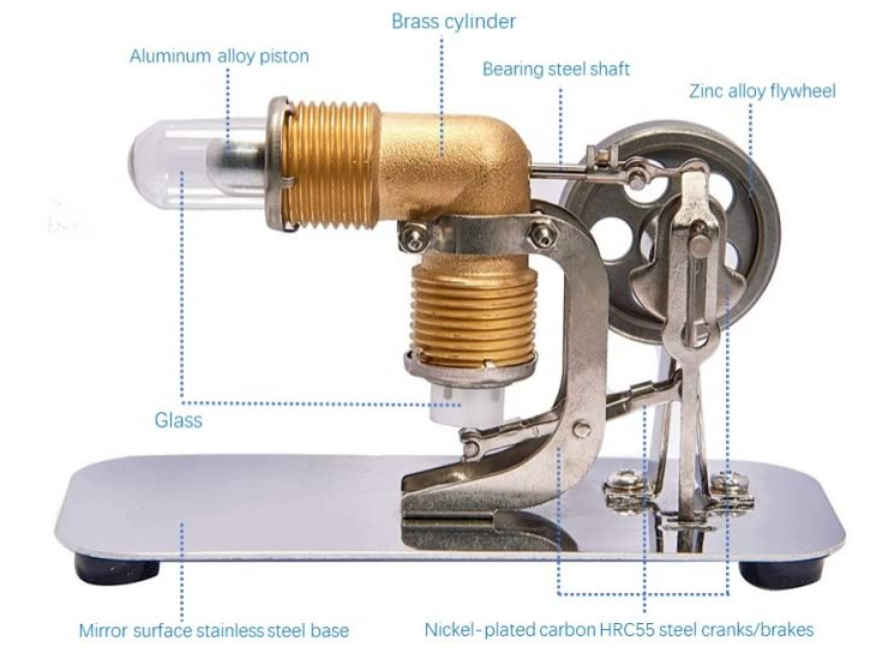 A Stirling engine is a device that turns heat into mechanical motion by externally heating a gas (in this case air) which moves a piston as the gas expands. The piston is connected to a linkage (bearing steel shaft shown above) that rotates a wheel. After the expansion, the air is moved to an area where it is cooled. Then the piston movement relocates the cooler air back to the original heating location, allowing the cycle to repeat. This could be considered an external combustion engine.
This mini Stirling engine comes fully assembled and measures 100 x 45 x 50 mm. It looks like all you have to do is fill the small vial that comes with it with rubbing alcohol (isopropyl alcohol), light the wick, and place the vial beneath the glass tube that contains the piston. Once the air in the glass tube heats up, the piston should move which in turn causes the flywheel to move.
See it in action below:
While many users have had success with this cool little engine, I've read that a few users have had problems getting the machine to work and others have had issues with the heated glass tube breaking (it does come with a couple of extra glass tubes).
Interested? The SunnyTech Mini Hot Air Stirling Engine (HA001) is available from Amazon for $45.99.