We use affiliate links. If you buy something through the links on this page, we may earn a commission at no cost to you. Learn more.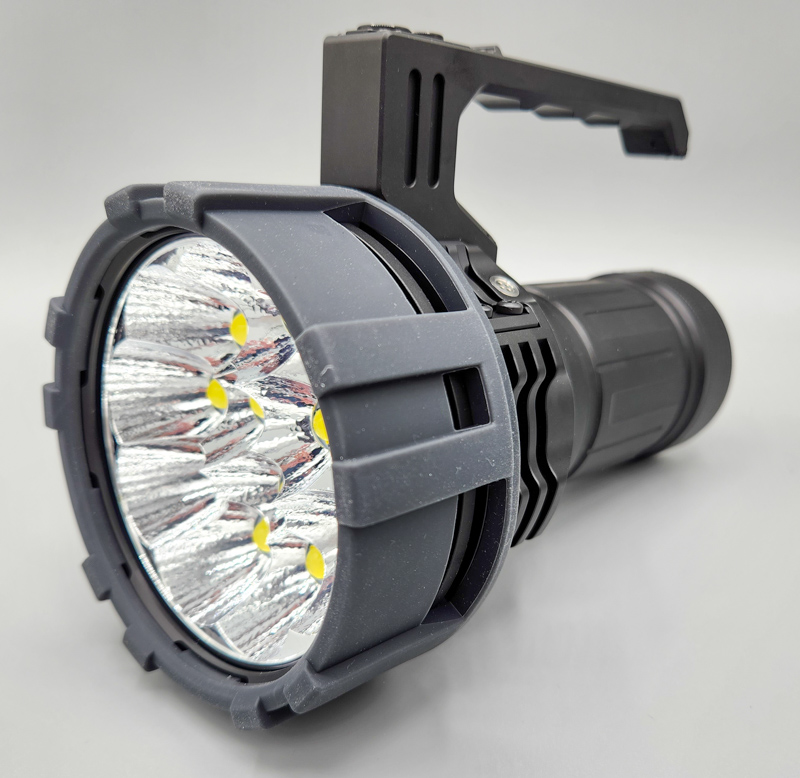 REVIEW – Have you ever had an urge to bathe a night scene in more light than the noonday sun? Do you regularly need a spotlight that can illuminate things over a kilometer away? Do you like solid-metal rugged flashlights that can also act as power banks for your phone and other devices? If you answered yes to all of those (like me), then you might be interested in the Acebeam X75 Brightest PD Power Bank Flashlight.
What is it?
The Acebeam X75 Brightest PD Power Bank Flashlight is an ultra bright rugged flashlight. It's billed as the world's brightest power bank flashlight, meaning it can also charge your devices via USB-C Power Delivery (up to 100 watts output; I'm charging my laptop from the flashlight as I'm writing this review). It's also waterproof, dustproof, and shock resistant.
What's in the box?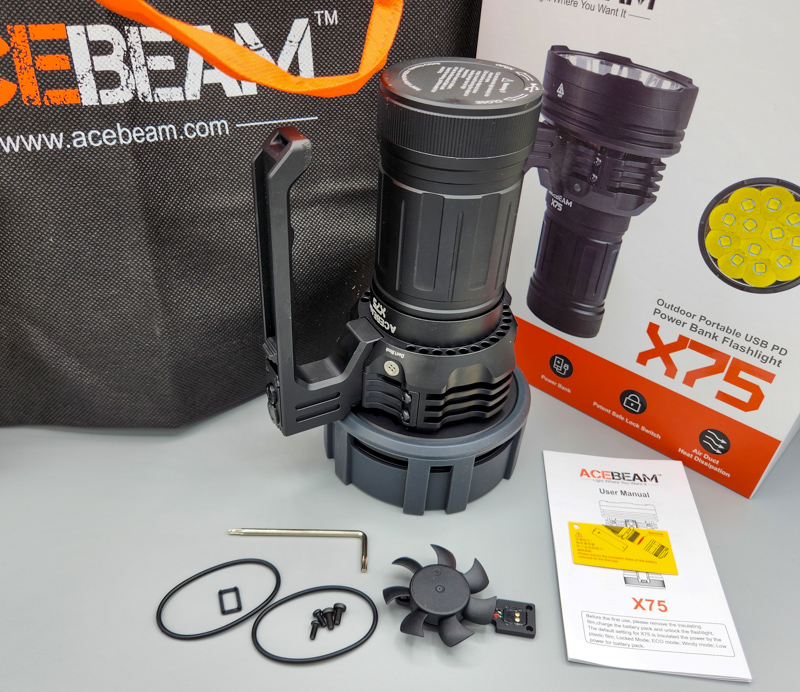 Acebeam X75 Brightest PD Power Bank Flashlight
Replacement O-rings and screws
Replacement waterproof fan
Instruction manual
Tool
Hardware specs
Lighting modes and sustained runtimes (on some modes this is listed at the highest power, then what it will drop to and durations for each):

Ultra-Low: 900lms; 8hours 20minutes; 147meters; 5,402cd;
Low: 2,000lms; 5hours 30minutes; 207meters; 10,712cd;
Med1: 5,000lms~900lms; 2hours 23minutes+8minutes; 300meters; 22,500cd;
Med2: 11,000lms~900lms; 63minutes+8minutes; 415meters; 43,056cd;
High: 23,000lms~17,500lms~900lms; 7minutes+25minutes+8minutes; 622meters; 96,721cd;
Turbo: 80,000lms~23,000lms~900lms; 30seconds+20minutes+8minutes; 1,150meters; 330,625cd;
Strobe: 60,000lms~10,000lms; 50minutes, 995meters, 247,506cd;

LED Lights: 12 x US imported CREE LEDs with a lifespan of 50,000 hours
Color Temperature: 6500k Cool White
Battery pack: Built-in 14.4V/4250mAh (61.2 Wh) Rechargeable Li-ion battery pack ( 4 x 21700 Li-ion Batteries)
Size: 176(Length) x 92(Head Diameter) x 127(Height including handle) mm / 6.93 x 3.62 x 5″ inch
Weight: 1240 g/43.7 oz (Including battery pack)
Design and features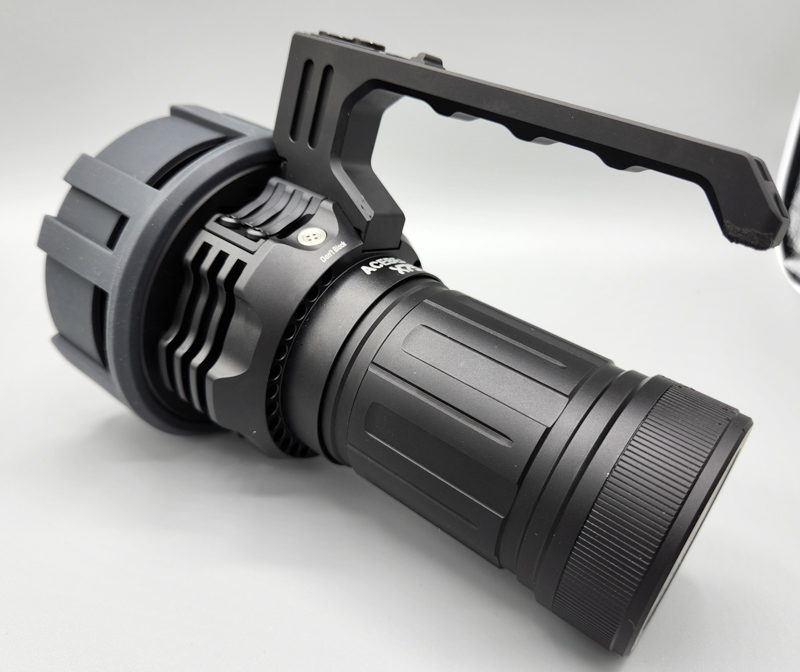 The Acebeam X75 Brightest PD Power Bank Flashlight is just about as large as I'd allow something to be considered a handheld flashlight. It's easy to carry, but due to the all metal construction has a decent heft to it (almost 3 pounds). The entire unit seems to be metal, except for the silicone wrapped around the business end.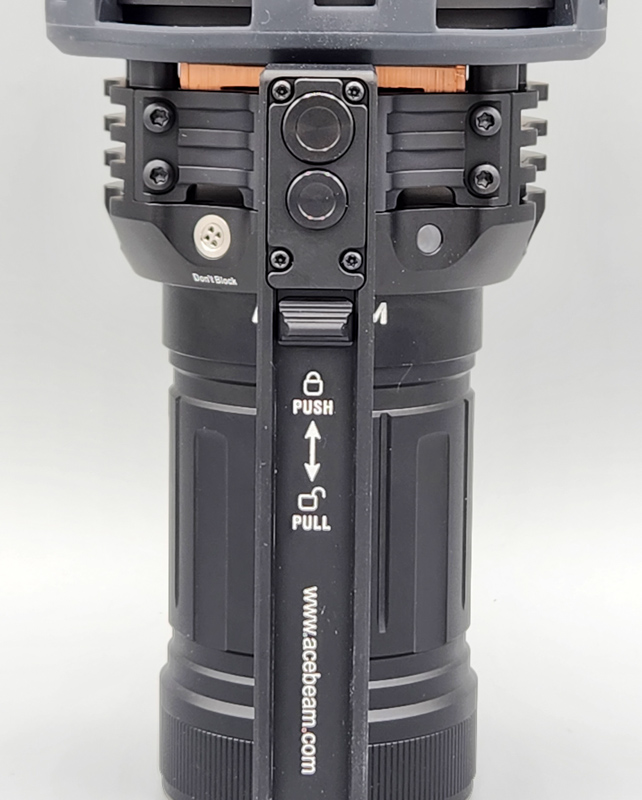 2 buttons and a slider lock are located on the handle. These control a dizzying array of different modes, but once you familiarize yourself with the modes and buttons it's fairly easy to operate. I like the sliding lock switch to prevent accidental momentary blinding – they compare the brightest setting to 25 pairs of high-beam car headlights.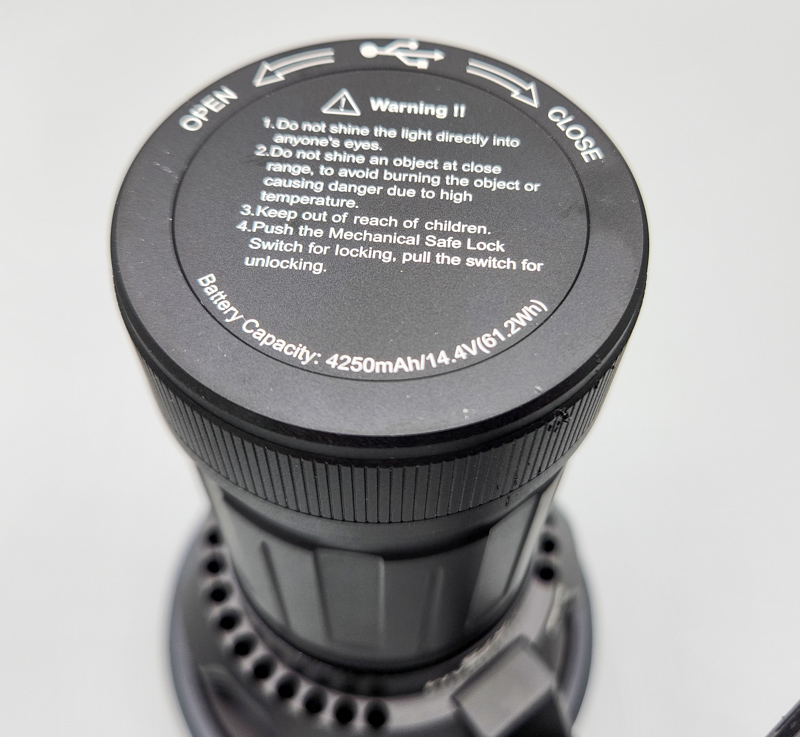 A twist cap covers the USB charging port, keeping everything water and dust protected.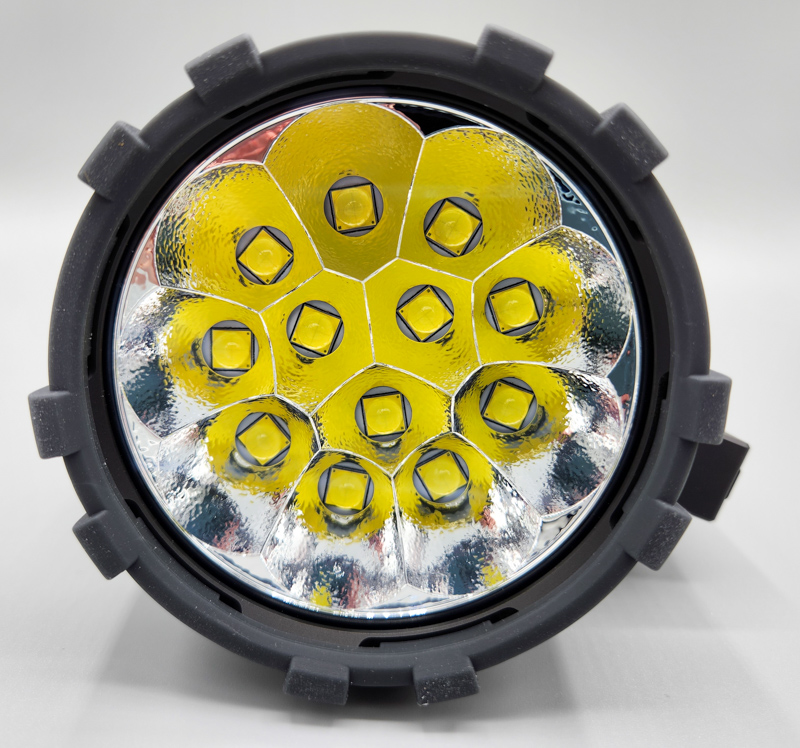 The picture above shows the 12 super bright CREE LED lights. These are protected from water and dust and damage by what feels like a glass pane.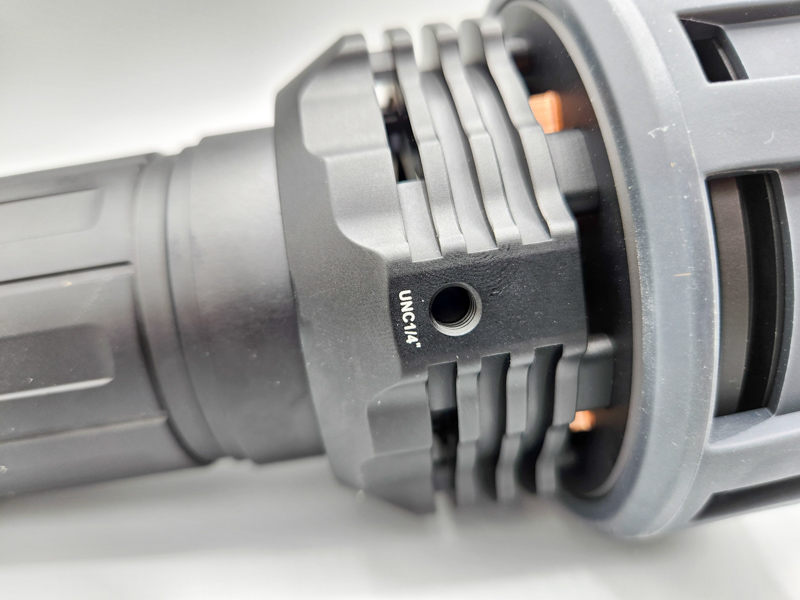 The side opposite the handle has a standard tripod mount connection (UNC 1/4″)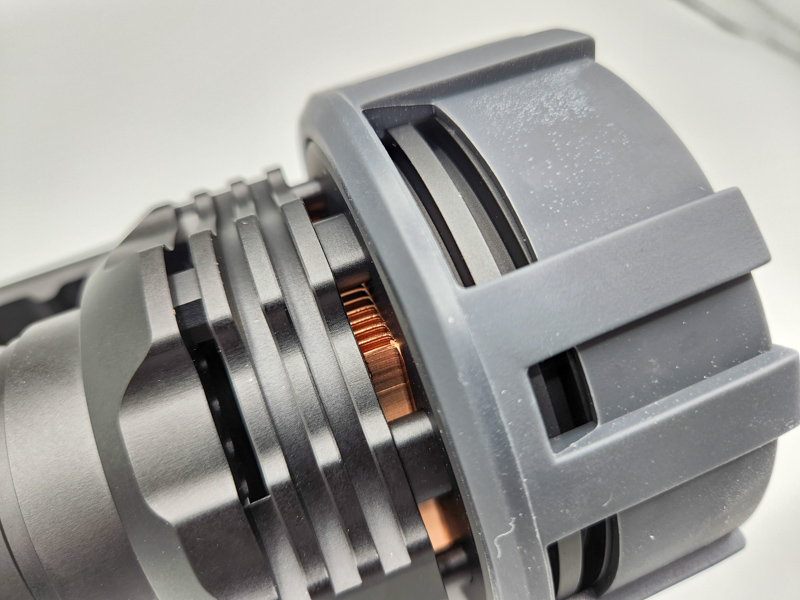 And my final close-up above shows the copper heat fins below the silicone bumper. Below the heat fins is a replaceable fan, to allow for longer operation at higher brightness modes. The silicone bumper gives the end a nice rubber texture and even changes color to a light blue when hot!
Installation and setup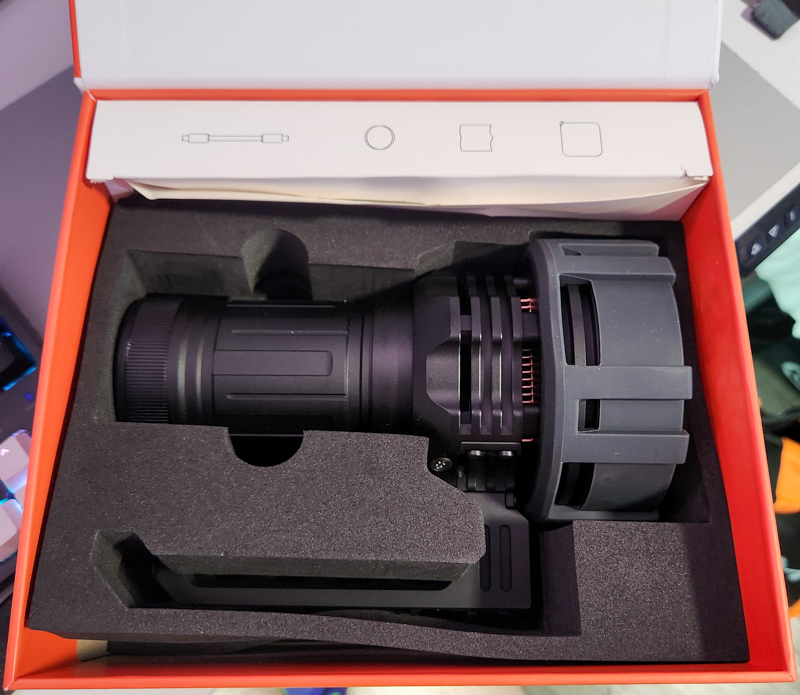 I don't usually take product box photos, but I always like it when the shipping box doubles as a good storage box. The shaped foam keeps the Acebeam X75 Brightest PD Power Bank Flashlight protected during transport, which is always appreciated when you're paying hundreds of dollars for an item like this.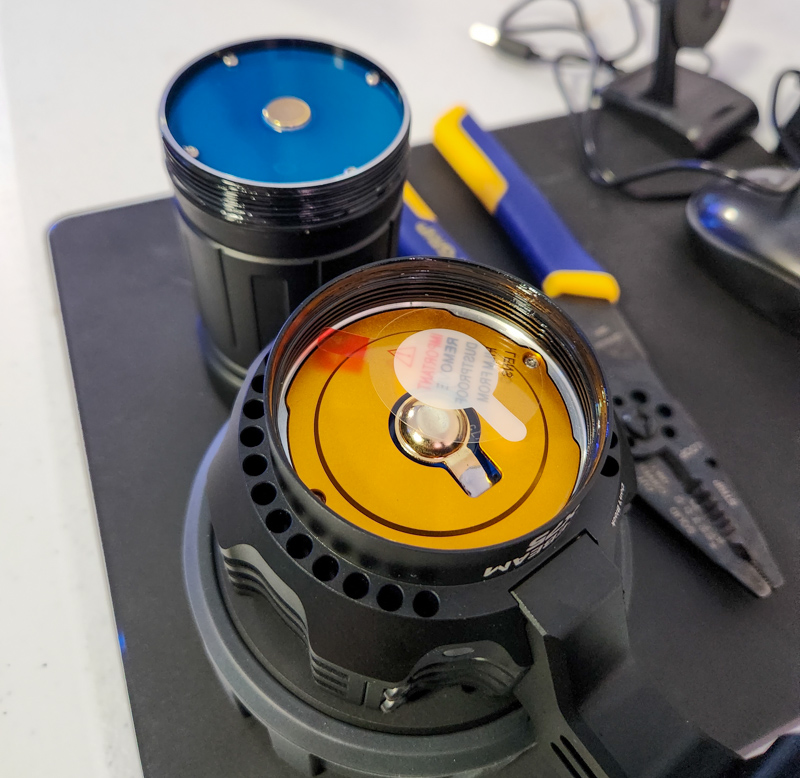 A small card attached to the flashlight warns you about the step illustrated above: you must unscrew the flashlight right below the handle in order to remove the plastic tab that is in place for shipping. If you miss this as I did, you'll be flummoxed as to why your charged flashlight isn't turning on. Be smarter than me, read the warning tag attached to the flashlight. 🙂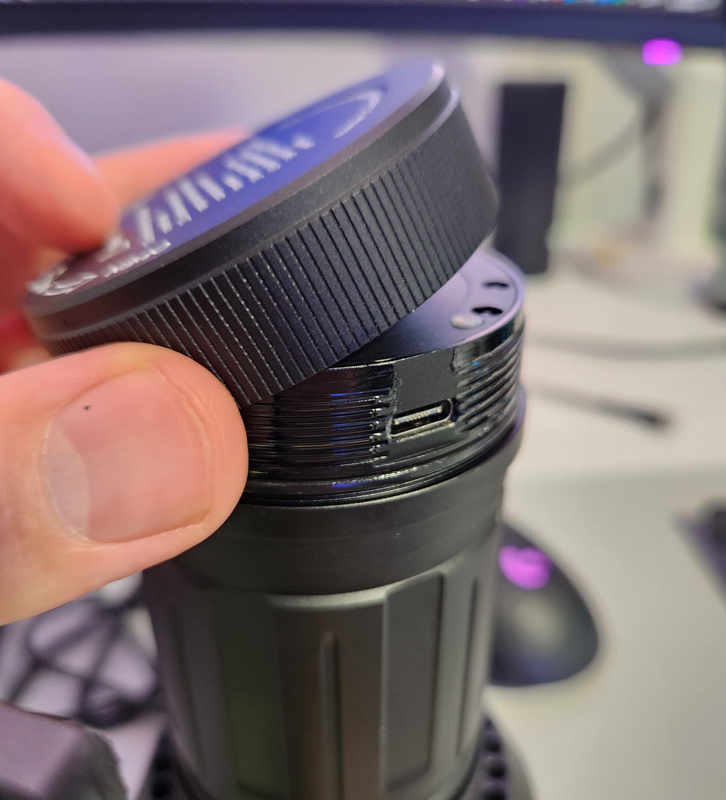 After removing the plastic battery tab, you can now unscrew the end-cap to expose the USB-PD charging/charger port. This dual-purpose port allows you to both charge the flashlight at up to 100 Watts with a Power Delivery adaptor (it ships with a 60 Watt PD wall adaptor, but I also have some 100 Watt ones lying around I tested with, works great with both and charges a bit faster on the 100 watt ones). From fully empty, Acebeam says it will charge in 90 minutes. I never fully depleted it, but at both 60 and 100 watt charging it was always full in under an hour.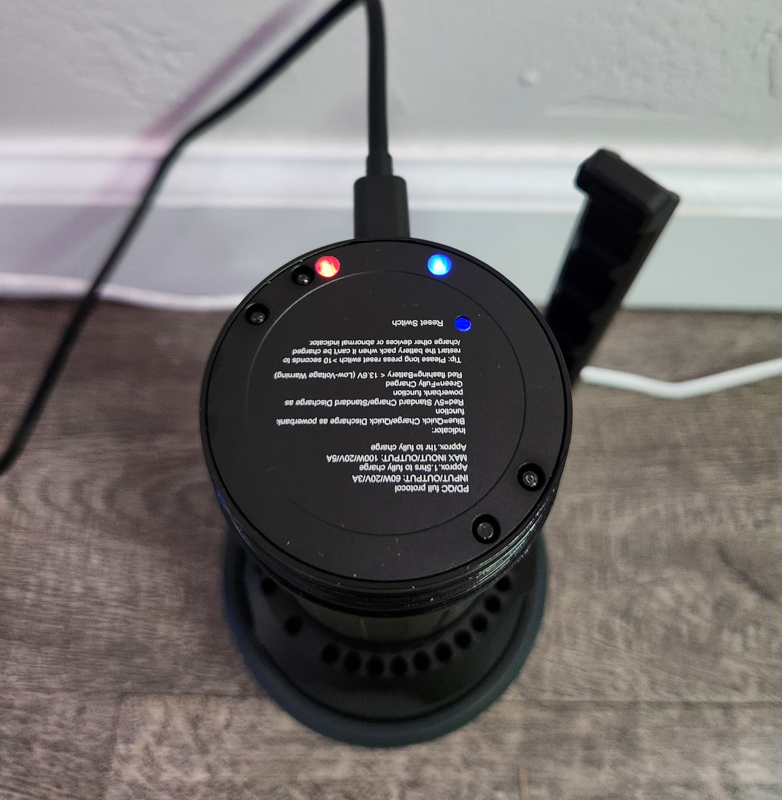 LED lights under the cap display while charging. Red and blue means charging or powering other devices from the Acebeam X75 Brightest PD Power Bank Flashlight, while a green LED indicates fully charged. I do wish there was an external battery capacity display, even a 4- or 5- dot LED light battery status indicator would be nice.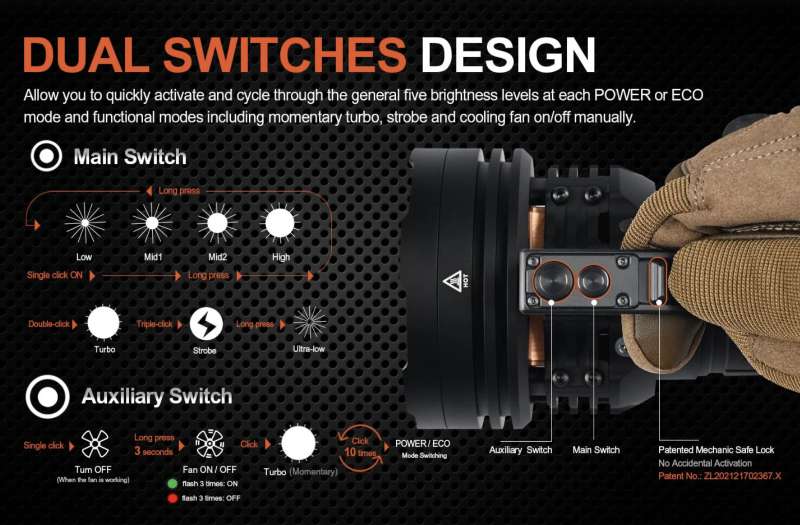 The image above is right from Acebeam's site. There's a similar diagram in the instruction manual, and it took a while to fully understand how the two buttons changed modes, especially where they do different things depending on what mode you're in. After some trial and error, it wasn't too bad to get used to, but I would do this at home before heading out into the dark wilderness with it first.
Performance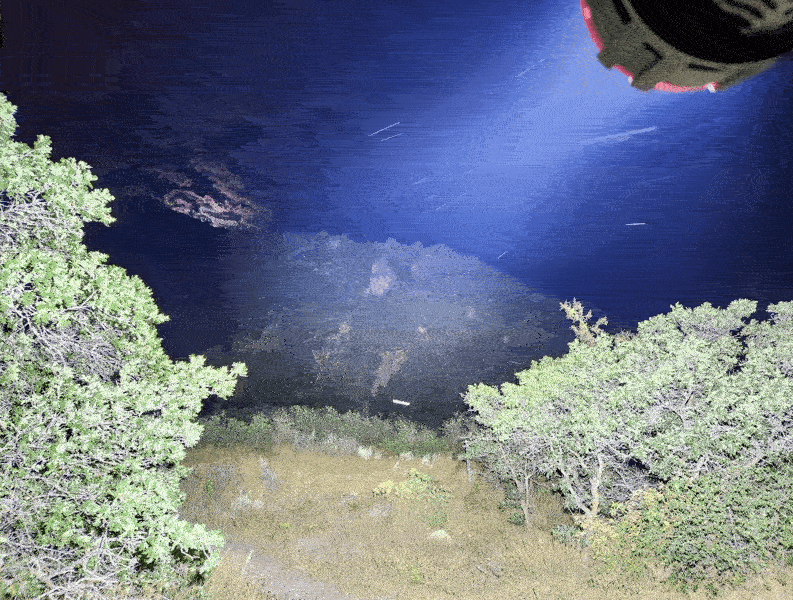 The GIF above shows a hillside about 200 meters away that's fully dark (with me pointing the Acebeam X75 Brightest PD Power Bank Flashlight at the ground on Ultra Low), then switches to show the Turbo mode on the same hillside. As you can tell, it gets very bright. The next shot is the turbo mode pointed at a small mountain that rises about 1000 meters/yards from where I'm standing (even the peak is illuminated by this flashlight, which is very impressive. The ridge that's bright in the photo is at least 500 meters away.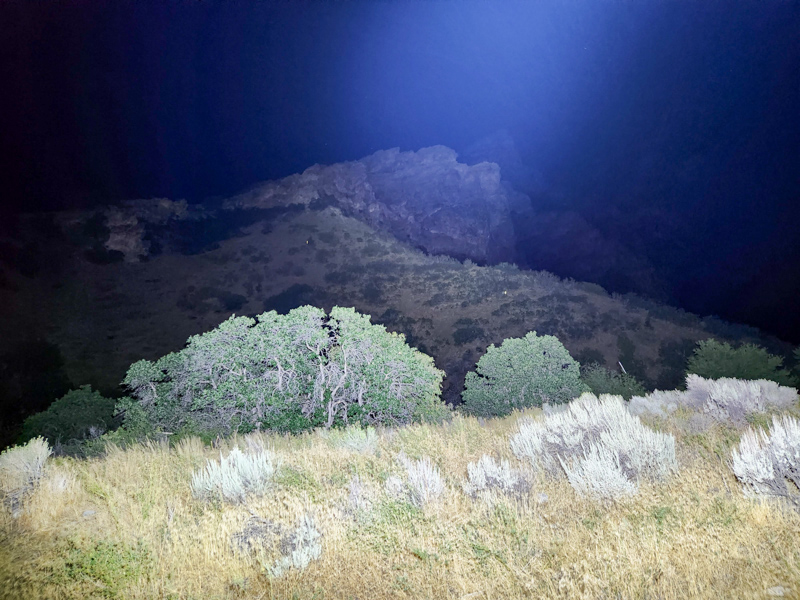 Below is a Medium mode shot pointed at another nearby hillside. Every setting except low/ultra-low provides a nice long distance light throw. Notice how bright everything in the foreground is too – the light is dispersed quite evenly in a very wide pattern, wider than most flashlights I've used. The end result is a very bright floodlight, with an even brighter long range spot light area on the High/Turbo settings.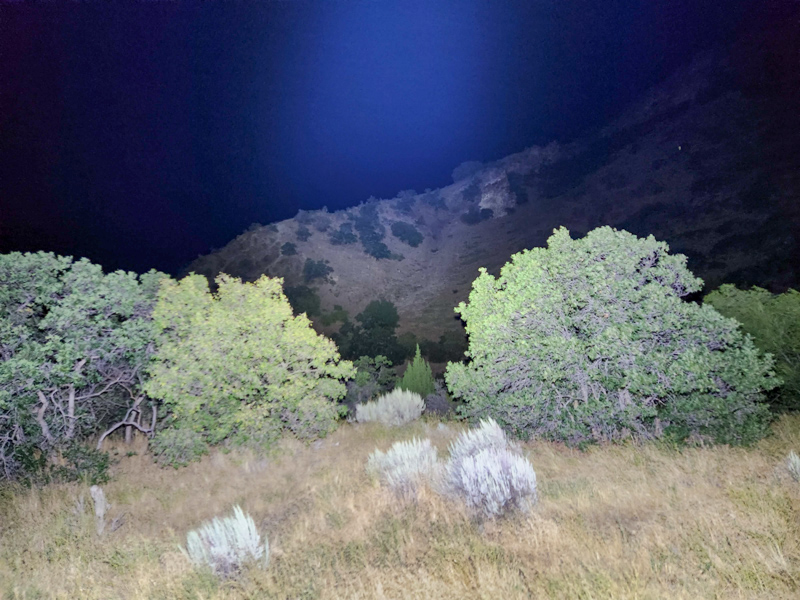 And finally, the below image shows the Ultra-Low setting illuminating the footpath I took. Even this ultra-low setting is brighter than any other flashlight or headlamp I own, and works great for hiking in the dark. It casts a very even light in quite a wide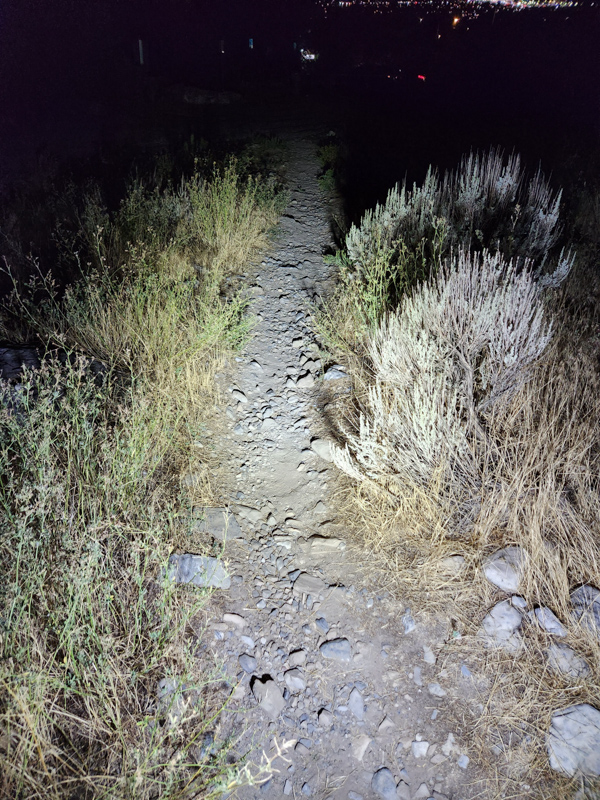 The Acebeam X75 Brightest PD Power Bank Flashlight is an incredibly powerful flashlight. I checked, and its lumens/candela ratings are in the middle of the pack for aviation landing lights. If you've ever seen even small plane landing lights up close, you know they mean business, and so does this flashlight.
To summarize my experience using this as a flashlight, it does very well at throwing a ton of light in a wide pattern (for most normal people, everything but the ultra-low setting is probably going to be too much light). This flashlight may do well for people doing search and rescue or other outdoor activities where they'd like to illuminate large areas at a distance. It is expensive, but so is every other flashlight I've seen even approaching the lumens output on this unit.
Battery life ranges from over 8 hours on the lowest setting, to just under 30 minutes at full tilt (it can only go full-brightness for ~30 seconds, then automatically drops down to a still-very-bright mode for the remaining 28 minutes at highest).
What I like
Super bright, wide field of view
Wide variety of settings for different needs
Rugged weatherproof build
Long battery life (on lower-but-still-bright settings with the ability to quickly turbo-boost by just pressing the alternate button)
What I'd change
External battery status indicator
Option for a tighter spotlight LED arrangement or the current wide-flood light pattern
Final thoughts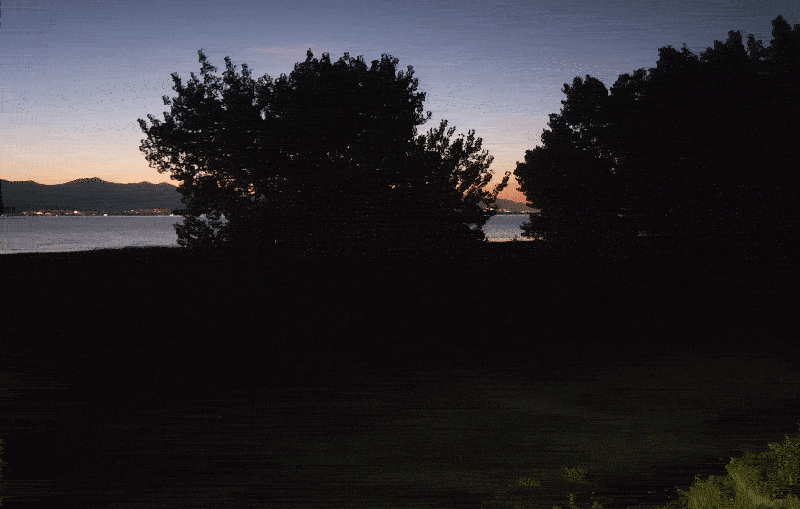 The Acebeam X75 Brightest PD Power Bank Flashlight surprised me with its build quality, amazing light output, and variety of useful modes. I thought I was getting a single purpose (bright search light style) flashlight to review, but this will serve well for all sorts of outdoor adventures in the future. The power-bank capability could be a lifesaver out in the woods if my phone is dying and I forgot another power backup. It seems built to last, though only time can tell, I'll be sure to update this review if I have any issues in the future!
Price: $399.90
Where to buy: Acebeam and Amazon
Source: The sample for this review was provided by Acebeam