We use affiliate links. If you buy something through the links on this page, we may earn a commission at no cost to you. Learn more.

REVIEW – The Poly Studio P15 Personal Video Bar is an all-in-one solution for those who need to add video conferencing to smaller conferencing spaces.
What is it?
Some readers may not be familiar with the Poly brand, but will recognize the names of the two companies that combined to create Poly: Plantronics and Polycom.  The Studio P15 combines video and audio hardware coupled with an innovative software suite to create an all-in-one solution for those who need to bring video conferencing to smaller conferencing spaces. The P15 system is certified for use with Microsoft Teams and Zoom.
What's in the box?
The Poly Studio P15 Personal Video Bar arrives packed in a sustainably packaged box that contains
The Poly Studio P15 Personal Video Bar unit
Monitor clip
External power supply
USB Type-C to Type-C cable
Quick start documentation (not shown)
Usual regulatory paperwork (not shown)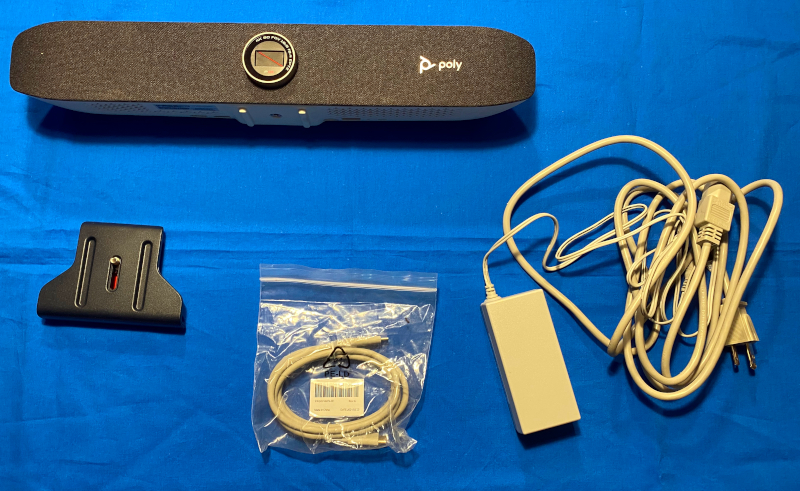 Hardware specs
The Poly Studio P15 Personal Video Bar is a robust unit that measures 425 W x 70 H x 78 D mm and tips the scales at 770 gm with the included monitor clamp.  This means that it isn't a practical solution to clip onto your laptop, but it does fit nicely on a 30+" display (I tried it on my 22″ display and it looked out of place.)
The bottom of the P15 sports a USB 3 Type-C and 2 USB 2 Type-A ports in addition to a barrel jack for power input,  a standard 1/4″ tripod mount screw socket for mounting the monitor clip or for use with other camera supports, a small Kensington-style lock port, and a hole to access the reset button.

The Poly Studio P15 Personal Video Bar sports a combination power switch / privacy shutter that is activated by rotating the bezel around the lens assembly.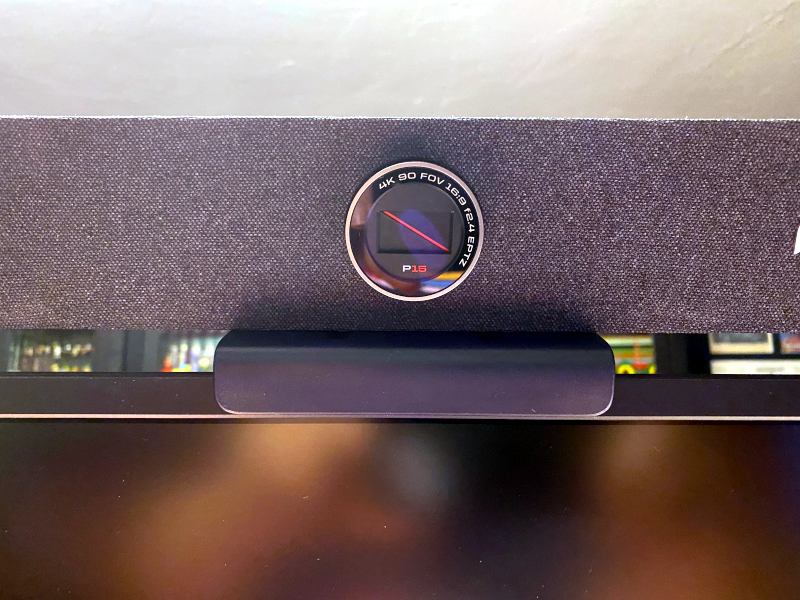 Video
Ultra HD (4K 16:9, 2160p), Full HD (1080p),

HD (720p)

30 FPS

90° DFOV



Auto-framing
Color and lighting compensation
Additional features in Polylens software
Audio
Poly Acoustic Clarity technology




provides full-duplex conversations, acoustic




echo cancellation and background




noise suppression

Poly NoiseBlockAI technology

Poly Acoustic Fence technology

Microphones: 3-element beamforming

microphone array
with

50 Hz to 14 kHz frequency response

Speaker: 100 Hz to 20 KhZ frequency response




Output: 80 dBA @ 1000 Hz @ 1 meter at

maximum volume
Software
Poly Lens Desktop App
Add additional camera features
Allows tweaking of audio and video performance
Design and features
Setup
Setting up the basic features of the P15 involves
Attaching the monitor clip to the bottom of the unit
Mounting the P15 to the monitor
Plugging the external power supply into an outlet and then into the P15
Connecting the included USB Type-C cable between the P15 unit and your computer
(I also tested this with a USB 2.0 Type-A-to-Type-C cable and it works fine)
Downloading and installing the Poly Lens utility software (optional)
Performance
I performed an extended test on the Poly Studio P15 Personal Video Bar, using it as my primary conferencing hardware for Microsoft Teams and additional testing with Zoom on both 2019 and 2015 Windows 10 laptops.  I was able to use the full USB-C / USB 3.0 bandwidth on the 2019 computer, but had to fall back to a USB-A – USB-C cable / USB 2.x on the older laptop.
Poly Lens Software
I tested the Poly Lens software exclusively on my older 2015 laptop.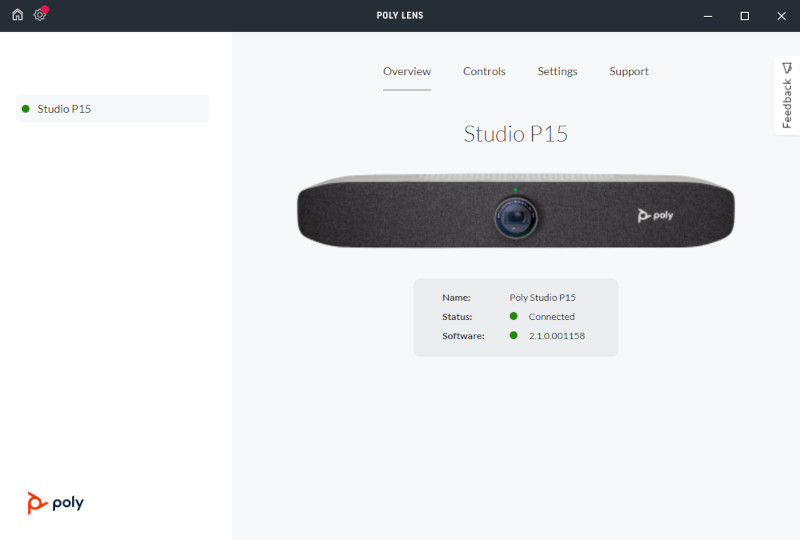 When the Poly Lens first starts up, you see an introductory screen which shows you what hardware / firmware is installed and its status. There are four tabs across the top of the right-hand pane which take you to various controls.  We will not be looking at the Support tab.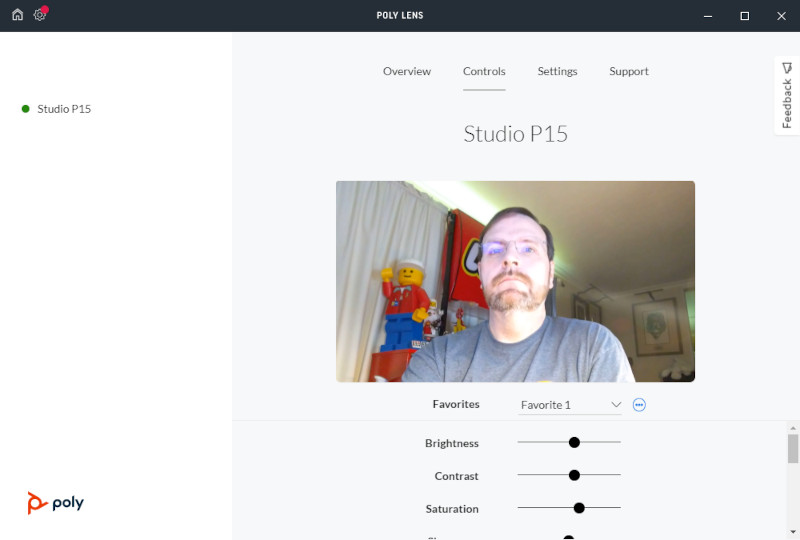 Controls tab lets you set up basic camera functions, including camera resolutions, basic video settings, and some of the advanced tweaks for the speaker tracking system built into the P15 hardware.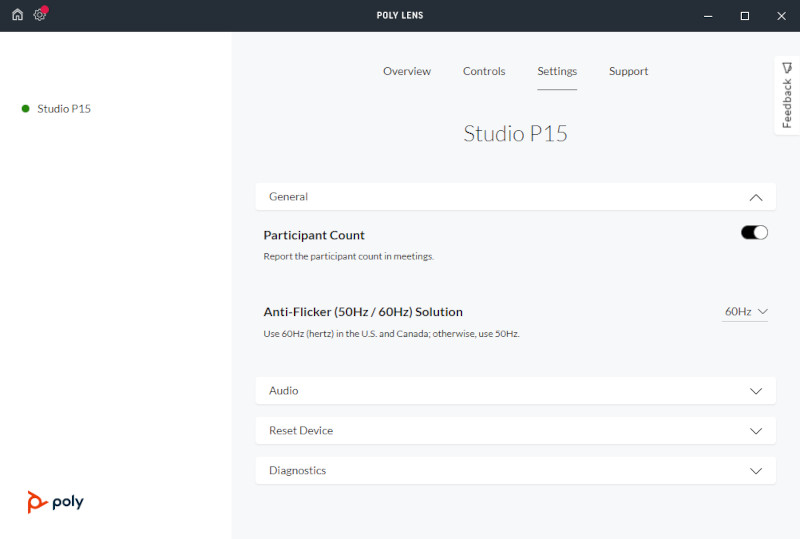 The settings tab allows you to control various hardware and drive settings such as reporting the number of identified participants (facial / voice counts) and audio settings as well as providing access to diagnostic tests and device reset options.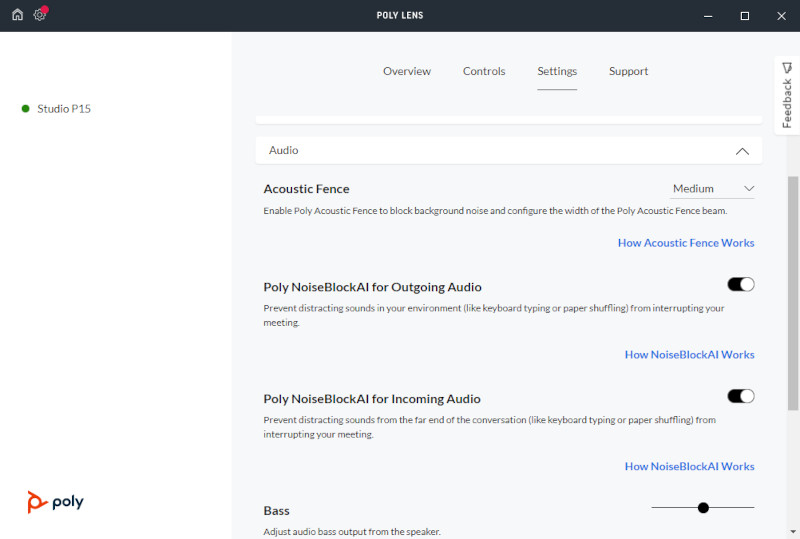 The audio settings include the AI-controlled noise blocking for incoming and outgoing signals in addition to the basic bass and treble settings.
Zoom Performance
I tested the Poly Studio P15 Personal Video Bar's Zoom behavior on the older laptop because I don't have Teams installed on that machine, and I wanted to compare the P15 with my existing video camera (2K) on an equal footing.  The P15 delivered a sharper image to my students, but any difference was probably not noticeable to them because of their bandwidth limitations and the limitations imposed by my use of USB 2.x rather than USB 3.0.  They reported that my audio was not quite as clear as when I switch to my headset, but that they could still understand me clearly. I found that the audio coming out of the P15 was not as clear as when using my headset, nor as clear as when using my dedicated conference speaker (more on that in the Teams test).  Overall, I would give the Poly P15 a 3.5 out of 5 on the Zoom tests.
Recorded Video Test
I will let the reader be the judge of the capabilities of my short recorded video test.  Again, I feel that the video performance is better than the audio performance.  I was limited as the maximum resolution at which I could record by the bandwidth limitations of USB 2.x.
Teams Performance
I tested the Poly Studio P15 Personal Video Bar using Microsoft Team on my newer laptop which supports USB-C / USB 3.0.  I did not use the Poly Lens software in order to get a better sense of how the P15 might perform on a company-issued computer which only allows limited installation of third-party software.
The video performance of the P15 over USB 3.0 is improved over the USB 2.x connection, as would be expected.  My colleagues and I rarely use video during our meetings with the exception of presenting at meetings outside of our normal working groups (e.g. to directors, VPs, and up the food chain).  I did enlist several of them in my testing during one-on-one meetings and they were able to easily identify materials sitting on my (messy) desk and on my bookshelf.
My colleagues did notice that I sounded slightly different when using the P15 than when I used my current ClearOne Chat 150 USB speakerphone.   They didn't mention any problems understanding me but did comment that there was less background noise (e.g. HVAC, yard crews working in the neighborhood). I again noticed that the incoming audio didn't have the same fullness that my current setup has, but that system does have a larger speaker than the P15.  Overall, I give the P15 a 4 out of 5 rating on the Teams tests.
General Video Performance
On all three of the video tests that I performed, I noticed that until I spoke the speaker tracking subsystem had a tendency to pick up either a piece of art behind me of a female face or the large LEGO minifigure that sits behind my desk / over my shoulder.  This suggests that the tracking subsystem may need a few more tweaks.  However, once I spoke, the camera zeroed-in on and zoomed-in on my face.  Small movements (e.g., fidgeting, repositioning) did not cause the system to shift focus or tracking, but larger movement, such as moving my chair several feet and then resuming speaking would cause the tracking subsystem to adjust.  If I stepped out of frame, the tracker would occasionally refocus on the minifigure (because it was close), but would immediately switch back to me when I returned to frame and resumed speaking.
Overall Performance
The Poly Studio P15 Personal Video Bar has more features than I need for my current home office, but it should be an excellent, one-piece addition to a small conference room.  The Poly Lens software adds another layer to the hardware / firmware tools and allows the user to really dial in the unit's performance for their environment.
What I like
Great camera
Pretty good audio recording hardware with good background noise suppression
Speaker tracking / switching
Easy to use privacy shutter / power switch
What needs to be improved
Sound playback is not as rich as with my current stand-alone conference speaker
Bulky external power supply — USB-C can potentially source enough power (worst case make the power supply a booster with signal pass-through)
Final thoughts
Overall, I like the Poly Studio P15 Personal Video Bar. It is a bit overkill for my current situation. I do feel that the way the external power supply is handled is very clunky and means I have to position another power brick on / around / under my desk and snake a cable from there up to the video bar. I think this could be better handled other ways–maybe something akin to the power injectors used for power-over-Ethernet devices.  I think that if I wasn't comparing the audio playback from the P15 to an excellent conference room speaker, I wouldn't object to the P15's audio performance.
Where I think the P15 falls down the most is the price point.  I think it is a no-brainer purchase at $300, but maybe a harder sell at the current price.
Price: $444.95 from Poly, $390.40 from Amazon
Where to buy: Poly, Amazon, CDW
Source: The sample of this product was provided by Poly.