We use affiliate links. If you buy something through the links on this page, we may earn a commission at no cost to you. Learn more.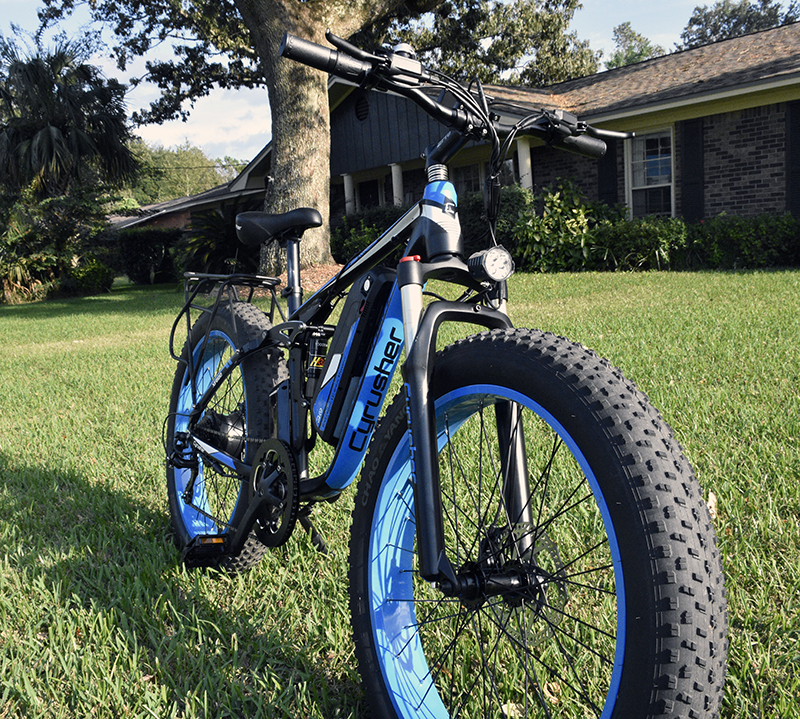 REVIEW – I'm out of shape. I admit it. I need to exercise, but I want it to be fun. I'd been thinking about getting a bike because I used to love mine when I was a kid/teenager. I rode it everywhere in the small town where I grew up, but it's been decades since I've been on one. I figured a fat tire bike would be a good idea since there would be more rubber on the road. Then along came the Cyrusher XF800 fat tire mountain e-bike and I was lucky enough to review it.  I know, I know. E-bike? Exercise? How is that exercise?  I'll get to that.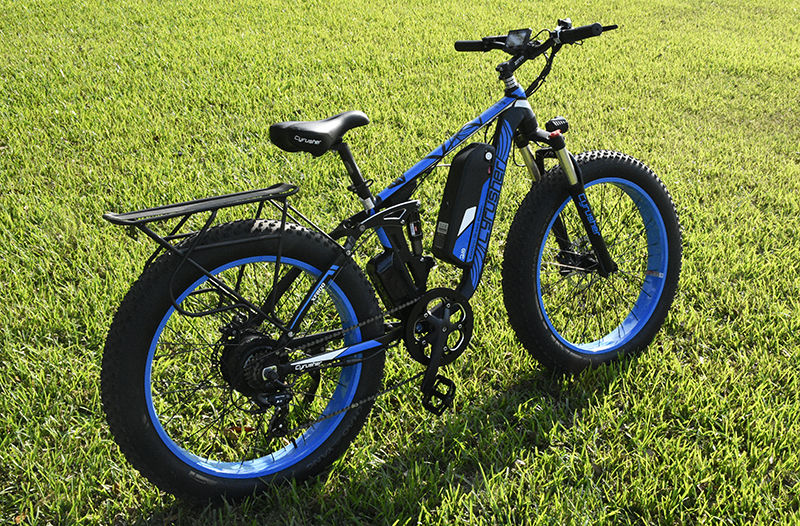 What is it?
The Cyrusher XF800 Fat Tire Mountain electric bike is a fat tire mountain electric bike.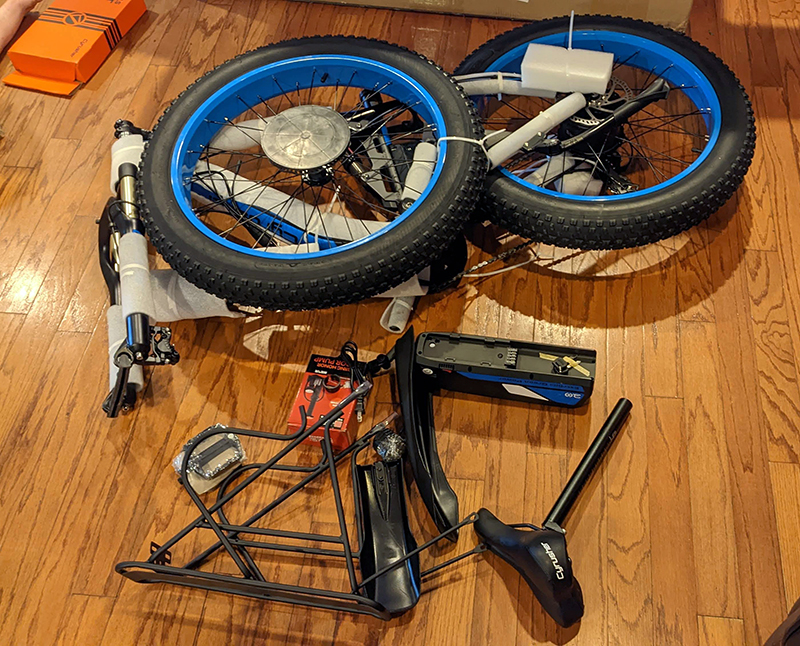 What's in the box?
90% pre-assembled Cyrusher XF800 e-bike
Toolset

2 Allen keys
Open-ended wrench
Foot-operated air pump

Battery charger
48V 13Ah Battery
E-bike computer
Fenders
Cargo rack with the review model
Assembly manual
Battery manual
Warranty manual
Welcome card in German with the review model
Hardware specs
Mechanical

750-watt Bafang electric motor
48V 13 Ah waterproof LG/Samsung lithium battery
Standard 110V ~ 240V AC, 54.6V 3Ah smart charger
6061 aluminum full suspension frame

Electronics

48V 1500W, max output 25 amp controller
7" LCD display smart computer

Parts

Chaoyang 26" x 4" puncture-resistant fat tires
12 gauge stainless steel spokes
Adjustable height, breathable ergonomic sport cushion saddle
Shimano SL-TX50-7R, 7-speeds rear derailleur
Half twist throttle
250-lumen headlight

Safety

Star-Union anti-slip grip levers with motor cutoff switch brake lever
Star-Union full hydraulic 180/203 mm disc brakes front + rear brakes
Shimano TX50-R gear shift system 7-speed transmission
Front suspension fork with lockout and adjustment
Rear spring suspension 165×750 lbs.

Weight – 66 lbs. (30 kg) without battery, 74lbs (34 kg) with
Dimensions – Height 33.5"-41.3"(85-105 cm) / Length 76" (193 cm)
Payload capacity – 330 lbs. (150 kg)
Design and features
I'm not a bike guy in the sense that I know what the best bike is or what the best parts are. I don't even know all the lingo. I won't be comparing the Cyrusher XF800 Fat Tire Mountain electric bike to any other bike, "E" or not. I will be telling you about my experience with this one.
The first thing to know is the Cyrusher XF800 e-bike is that it's currently priced at $1999.00. That's a lot of money for me. I've read that's about the price to get in the door for mountain e-bikes so keep that in mind. So, we're talking about entry-level here, which is perfect for me.
There is some assembly required but I'll talk about that process later.
The battery seemed to have a full charge out of the box, but I put it on the charger anyway. I say seemed because the battery manual said to hold the battery on/off button, separate from the on/off switch, for three seconds and the LEDs would flash, showing the charge level. Mine didn't do that. If you push it, all the LEDs light up, no holding is required, and no flashing. When I connected it to the charger, the charger showed a red LED, and took about an hour to top it off.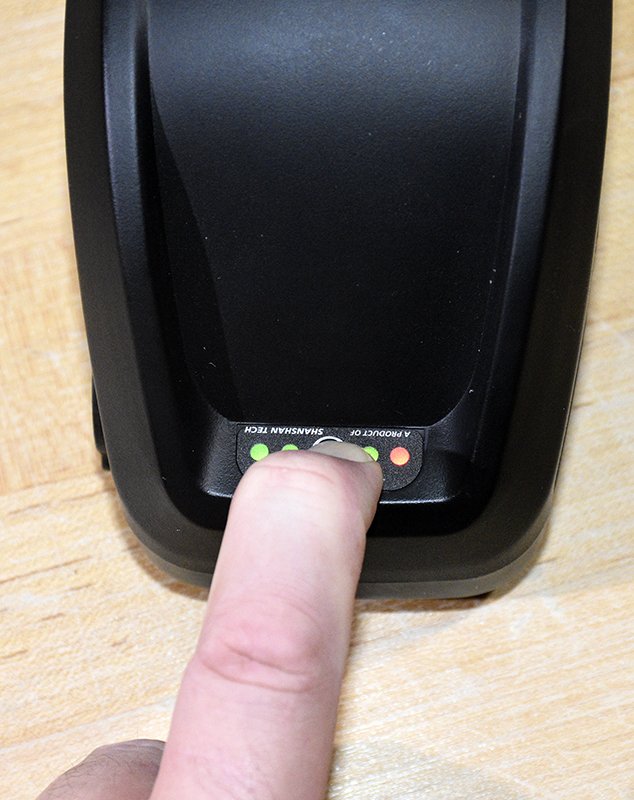 After assembly of the Cyrusher XF800 Fat Tire Mountain electric bike, I installed the battery which slides into the carrier that has connectors similar to those in a charger for power tool batteries. Then using the included keys, I locked it in place.  I donned all my safety gear and headed outside.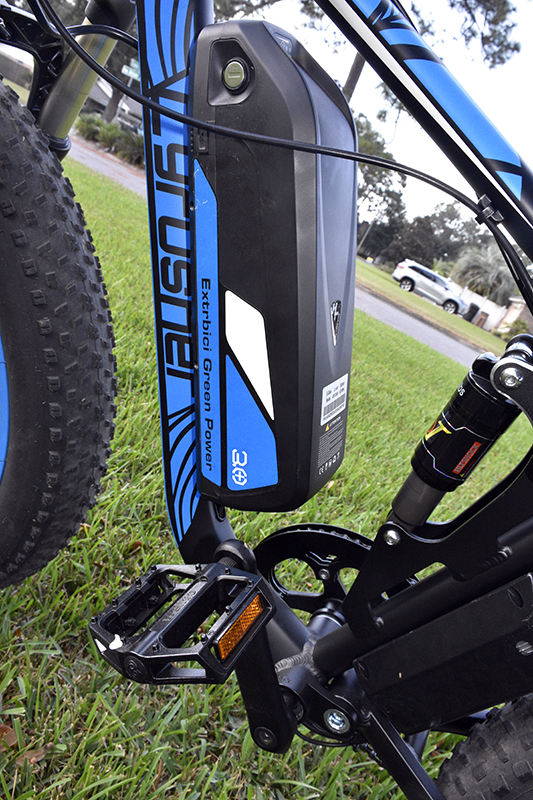 The first step is to flip the toggle switch on the side to actually power on the battery. Next, you press and hold the power button on the bike computer controls located on the left side of the handlebars. You're presented with a screen like this.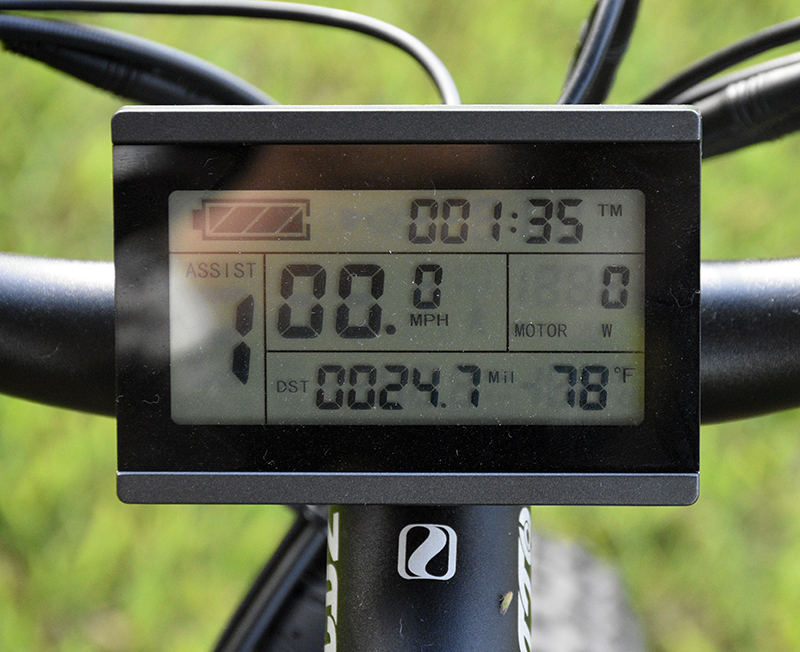 It shows you the battery power level and single ride time on top. On the left is the Assist level. Here's where I can use the e-bike and still get exercise.  This is the pedal assist level, and it goes from 0-5. If you choose 0, you're getting no power assist.  Power assist level 1 is where the motor starts aiding you. Naturally, the motor provides more power as you raise the power assist level. Let me give you some advice. If you are using one of the higher levels and then come to a full stop, do yourself a favor and lower that level before taking off again. Mr. Never ridden an e-bike before didn't and almost wound up face down in a neighbor's yard.  I had been trying all the different levels and stopped the bike while on level 4 because of a car. Suffice it to say, I now remember to lower that setting at every stop.  I've gotten to where I'll use level 2 to start a ride and end on 3 because I get tired. The power assist's main purpose isn't necessarily for allowing out-of-shape, middle-aged folks to ease back into bicycling. It's to allow you to have longer battery life while riding since you're doing part of the work.
Currently, I only ride around my neighborhood and a nearby park that has a riding/walking path. Most of my experience is on paved surfaces, although I did take it off-road a bit. The bike handles different terrain just fine. Hills are no problem for the Bafang motor.  It has plenty of power even with this big guy on it.
Cyrusher states on their website that the XF800 ebike is best for riders between 5'5" and 6'1", but under the Features section they say 5'7" – 6'6". Take that for what you will. I'm 6'6" and the ride height is fine for me.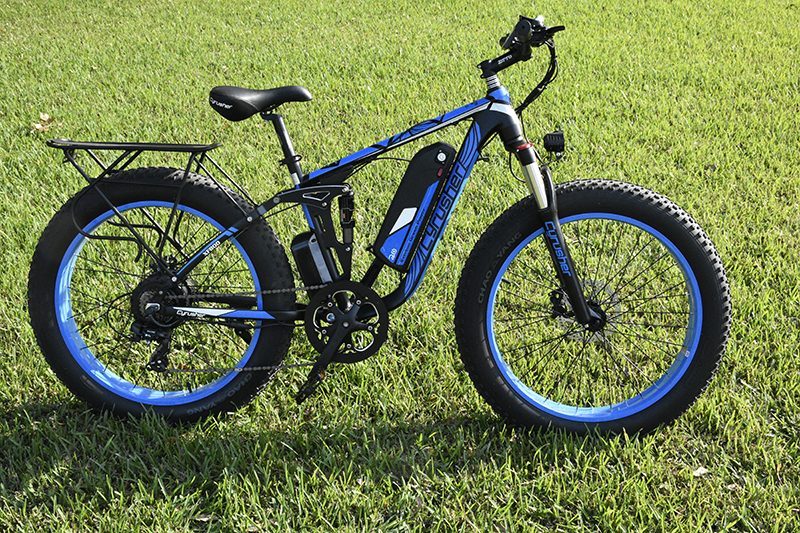 I'm building up my courage the more I ride. Remembering how to lean into turns didn't take long. There are some tight ones around so I'm having a ball going through them faster and faster. I haven't smiled like this in quite some time. The Cyrusher XF800 Fat Tire Mountain electric bike is a blast to ride.  I'm going to ride this thing until the wheels fall off.
Setup
The Cyrusher XF800 electric bike arrived in a large box, as you can see. Get a friend, loved one, passerby, whomever, to help you get it inside.  It is heavy and definitely, a two-person lift.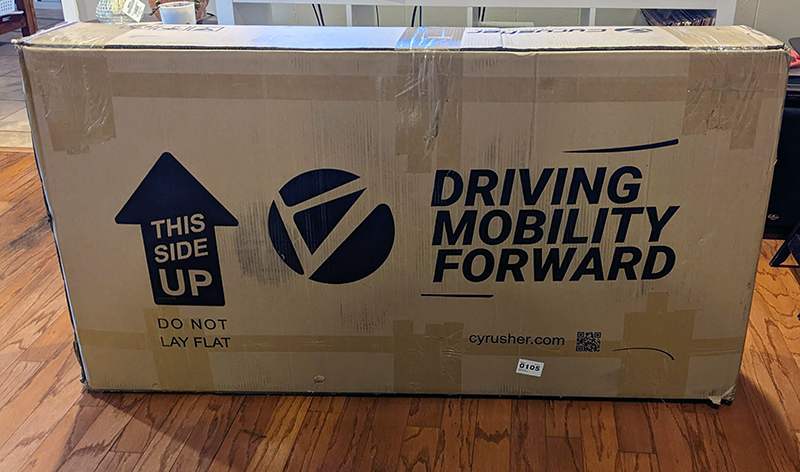 The e-bike comes 90% assembled with a toolkit to assemble the rest. The kit includes two allen keys, though one of mine was the wrong size, an open-ended wrench, and a foot pump. The pump is nothing to write home about.  I couldn't tell it was doing anything when using it to air the tires up for the first time. I wound up using my air compressor. The pump also doesn't attach to the frame to allow you to take it with you, so may want to consider adding one.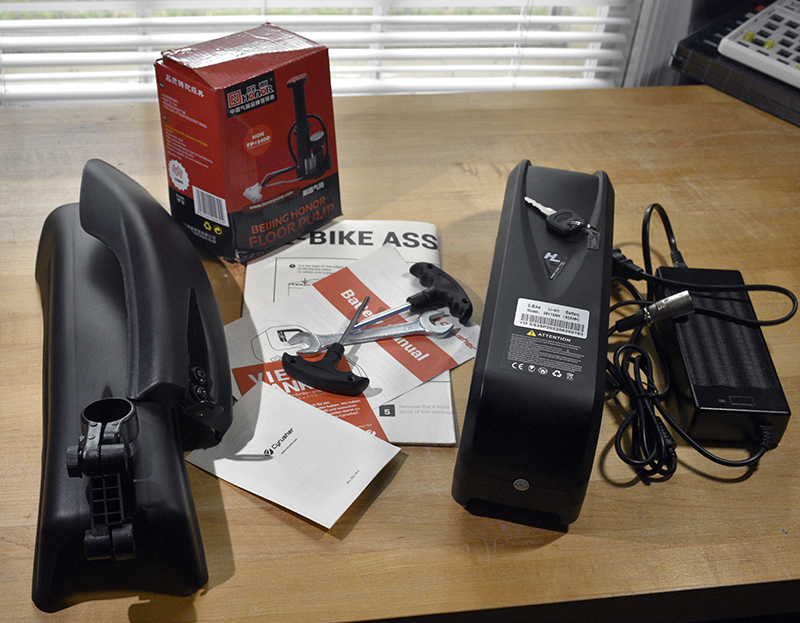 To finish the assembly, I would suggest you keep the person who helped you carry the box in to aid you to put the Cyrusher XF800 Fat Tire Mountain electric bike together.  This sucker is heavy.  Assembly itself is simple, but moving it around while putting on parts isn't. The saddle is already mounted on its post, so it slides right into place. It took a little force to mount it which caused some of the paint to rub off.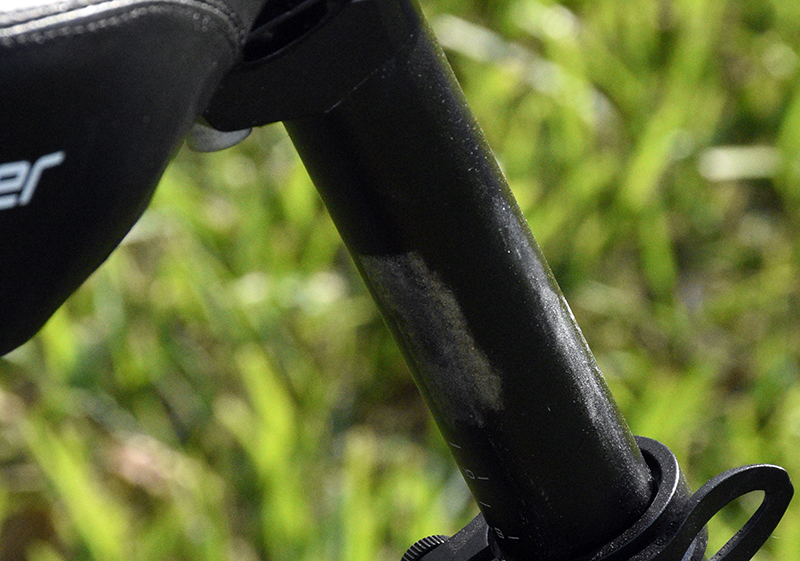 The handlebars already have the controls attached so you only have to mount them. Bolt the headlight on the front forks and plug it in. Install the pedals using the included wrench. Simple enough. Follow the instructions to install the front wheel and assemble the front axle correctly, making sure the disc rotor is inserted into the disc brake.
Overall, it took me about 45 minutes to put it together, but I was doing it alone. I opted to not install the fenders for now. The trickiest part was putting on the cargo rack. It just didn't seem to line up with the bolt holes.  I'm sure it's used on a number of different models of bikes.  I had to manhandle it and bend it in places to get it to fit.  I scratched the frame a little while doing so. It's not a big scratch but the bike was brand new, so I was a little miffed.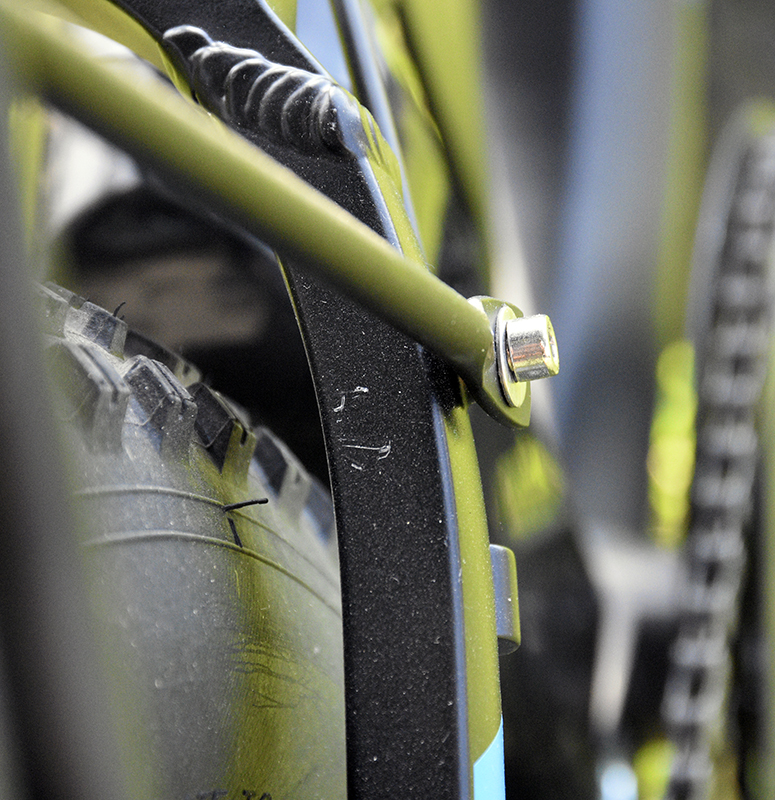 All cabling and electronics are already installed and dressed, so that's nice. The headlight was the only thing you have to plug in. After that, all that was left was to slide in the battery and have fun.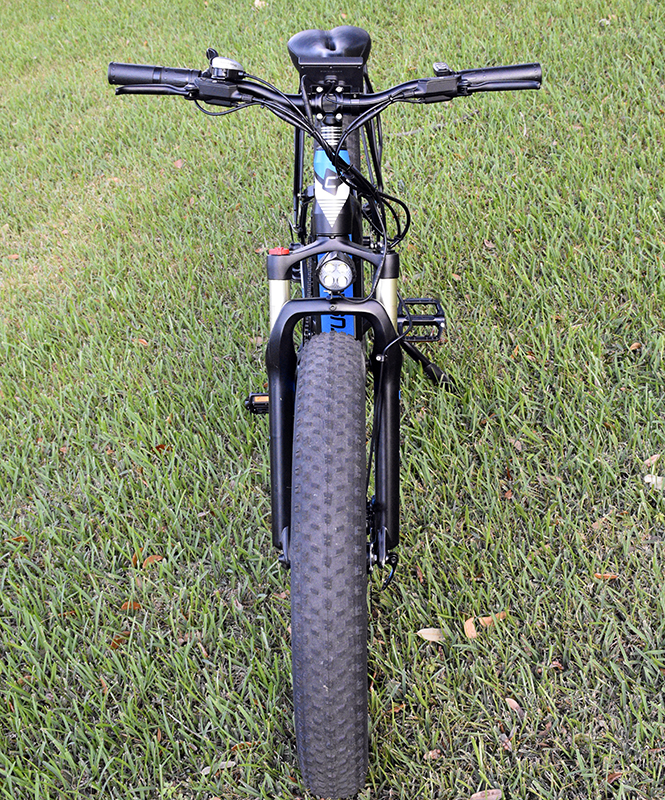 Performance
The listed top speed of the bike is 28 mph and I'm sure it's close to that. I'm 265 lbs. and I was able to get 25 mph on a full charge at full throttle.  Once the battery got to less than a ¼ charge I was only to get 24 mph on the same flat stretch of street in my neighborhood. That's plenty fast for me.
Cyrusher states you can get up to 50 miles on a single charge and if you're smaller and lighter than me, I expect you could get close to that.  At ¼ charge left, I got around 25 miles. I suspect I would've gotten between 30-35 miles. I haven't ridden the bike until the battery was flat. It's not good practice to discharge lithium batteries all the way, or at least that's what I've been told. The battery is rated for 800 – 1000 charges and can be expensive to replace, just so you know. They state the battery packs inside the housing are produced by either LG or Samsung. Both make good lithium batteries based on the experience I've had with other devices.
The suspension straight out of the box is pretty stiff. You can adjust the front suspension using the red dial on the front right of the fork for different terrain.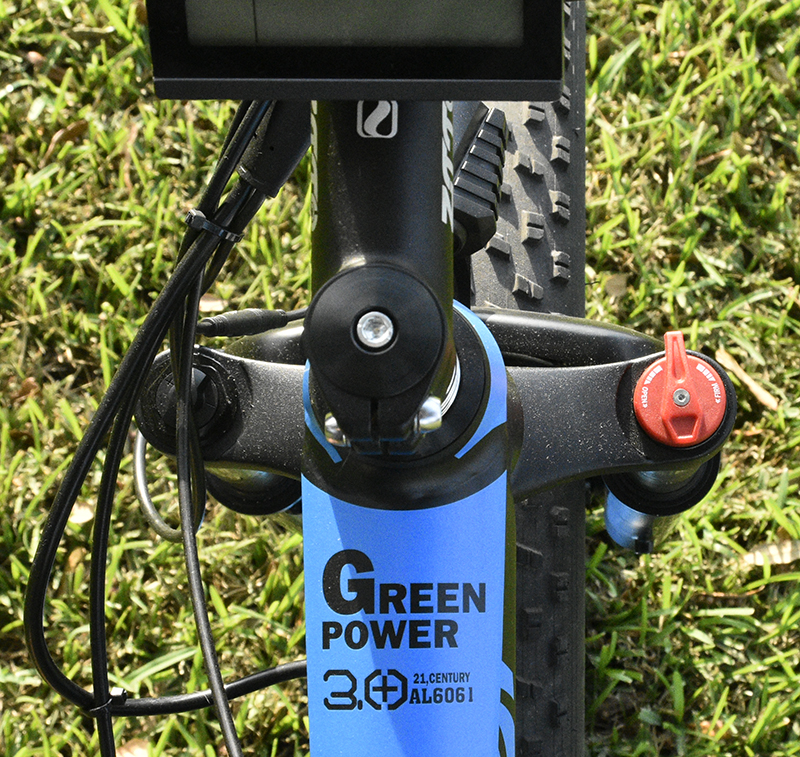 You can't adjust the rear shock at all, combined with the saddle shape and size makes for sore buns after a while.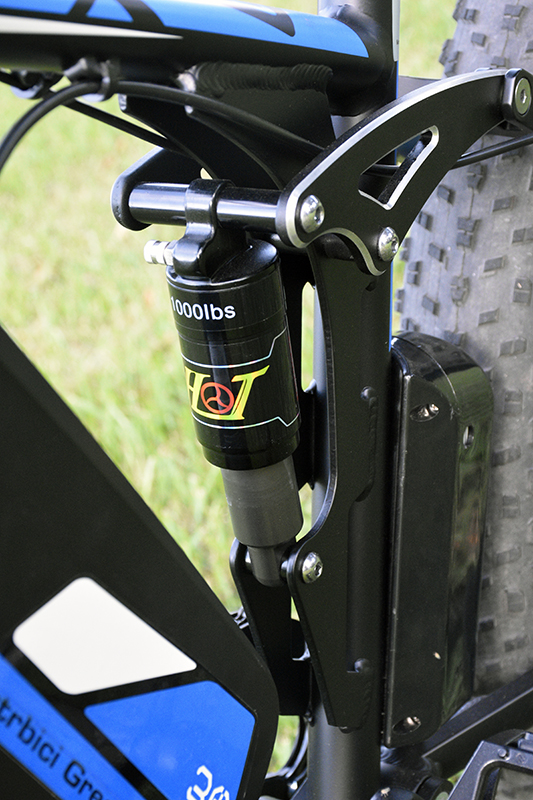 Here's a better look at the seat.  It doesn't scream comfort to me.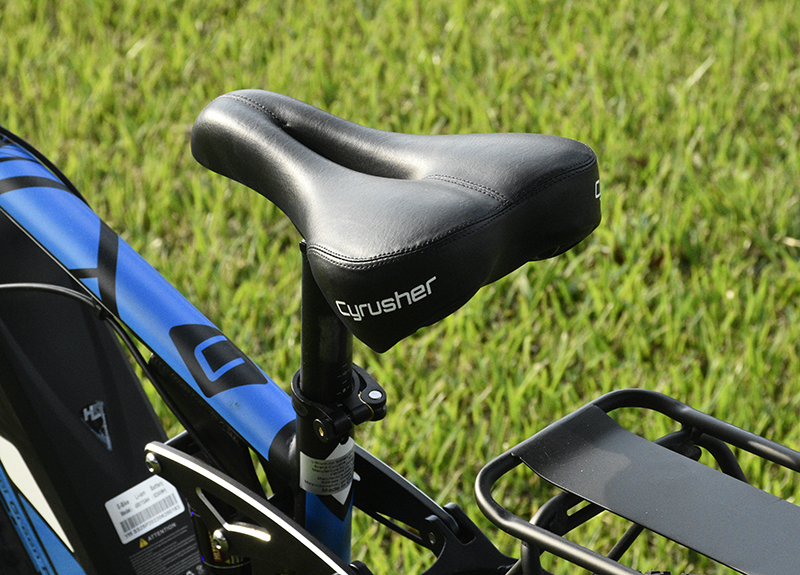 The Cyrusher XF800 Fat Tire Mountain electric bike's computer is a very basic model and there was no included manual in the box.  There is however a link to a PDF manual on the Cyrusher website. If you decide on the XF800, I'd suggest you download it. There's a lot of functionality to be accessed through the controls on the left side of the handlebars.  Power it on with the power button by holding it down for 5 seconds, but you can also turn on the headlight and display the backlight by holding it down for 3 seconds after that.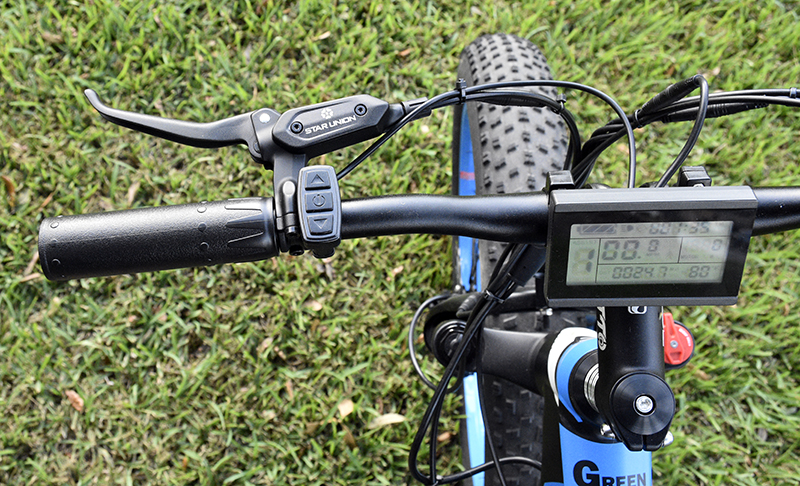 There's an Active Walk mode that allows you to walk beside the bike with the motor providing power to help you navigate steep terrain if needed. You can cycle through the pedal assist modes.  There's even Cruise Control you can activate.  Yes, cruise control.
It records your stats, like single ride time and distance, total ride time and distance, average speed, max speed, motor working voltage, and more.  A word of warning, there are also some settings they warn you not to change as they are for engineer setting only.  In my mind, it would be a good idea for Cyrusher to remove those and have them in a separate document.
The Cyrusher XF800 Fat Tire Mountain electric bike's motor is produced by Bafang, and from what I've read, it's good and reliable. It's 750 W, 1500W max output. It's mounted as the hub on the rear tire. Top speed of the bike is 28 mph and I'm sure that's accurate. I'm 6'6" and 265 lbs. and I was able to get 25 mph on a full charge at full throttle.  Once the battery got to less than a ¼ charge I was only to get 24 mph on the same flat stretch of street in my neighborhood. That's plenty fast for me. Bafang motors can last between 3000 – 10,000 miles. I couldn't find anything more specific than that. I'm pretty sure the battery will die before the motor does.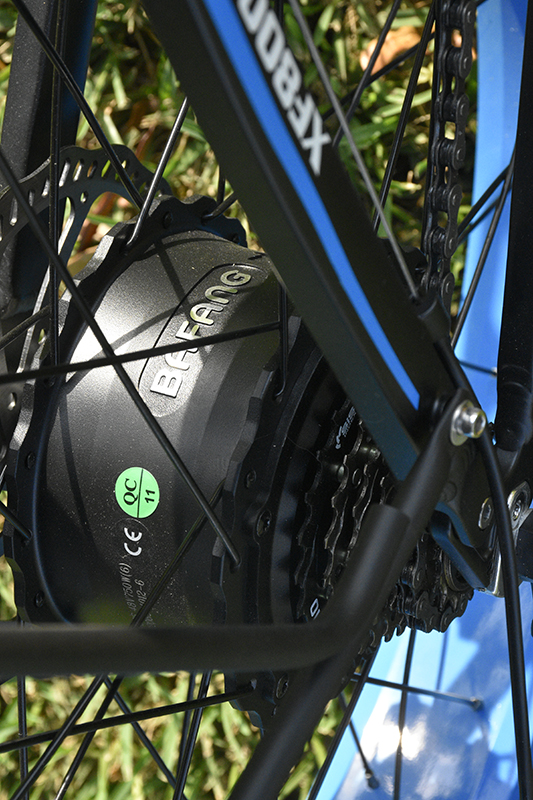 The Cyrusher XF800 Fat Tire Mountain electric bike uses Shimano 7 gears. I've read they're no frills, but good quality.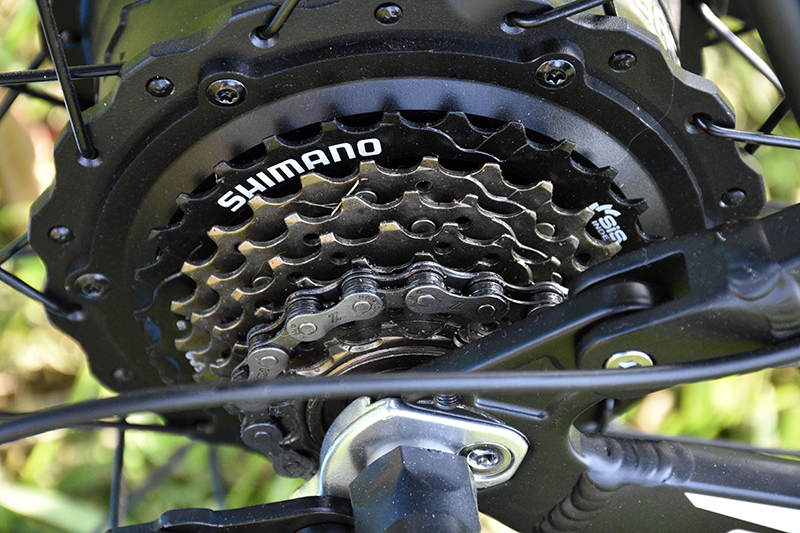 They work well so far. Shifting has been smooth for me using the shifter on the handlebars.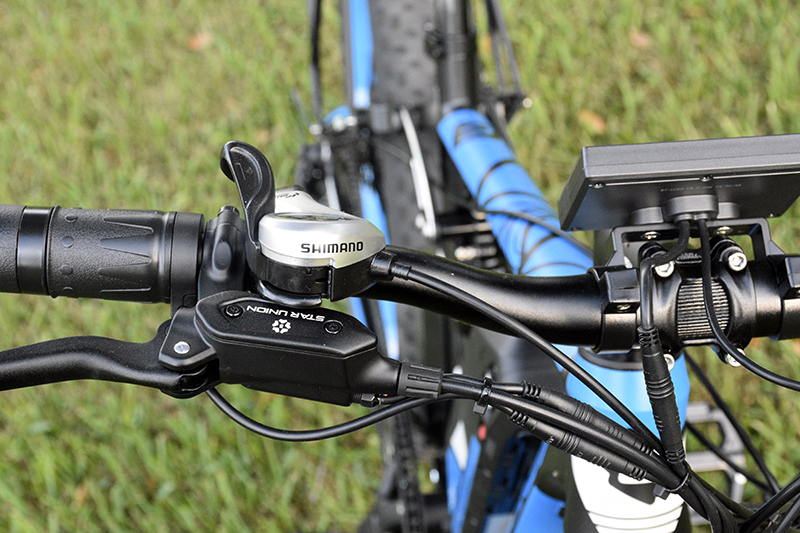 Brakes are produced by Star-Union. Again, I'm unfamiliar with them but they can stop me on a dime after reaching my top speed. So, two thumbs up.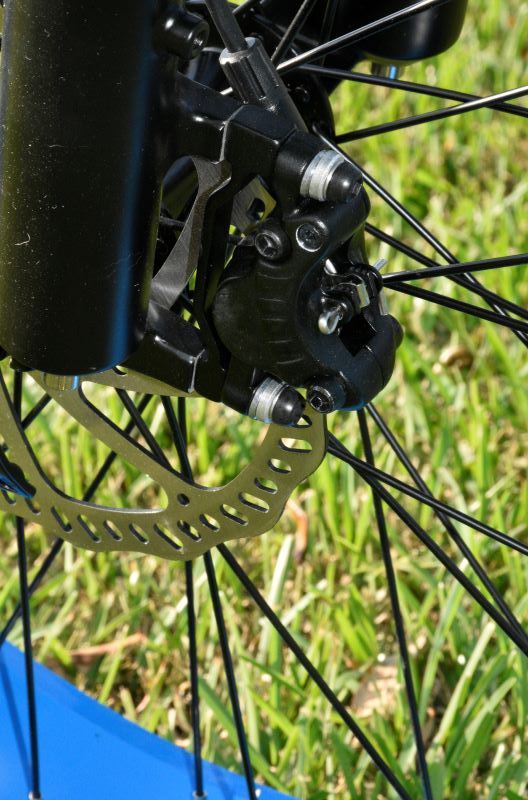 The frame is 6061 aluminum and is beefy.  The welds all look good, so I don't think the frame will fail at those points.  I think it's far more likely it would bend. I'm not saying I think it's a concern though unless you're throwing it off a cliff.
Another company I'm unfamiliar with is the tire manufacturer. The Cyrusher XF800 Fat Tire Mountain electric bike's fat tires are produced by Chaoyang. The tires look fine to me, I mean they hold air, have good tread, and handle terrain well. I'm sure they aren't the crème de la crème of the bike tire world. I mean as far as e-bike prices go according to the internet, the XF800 is entry-level, remember?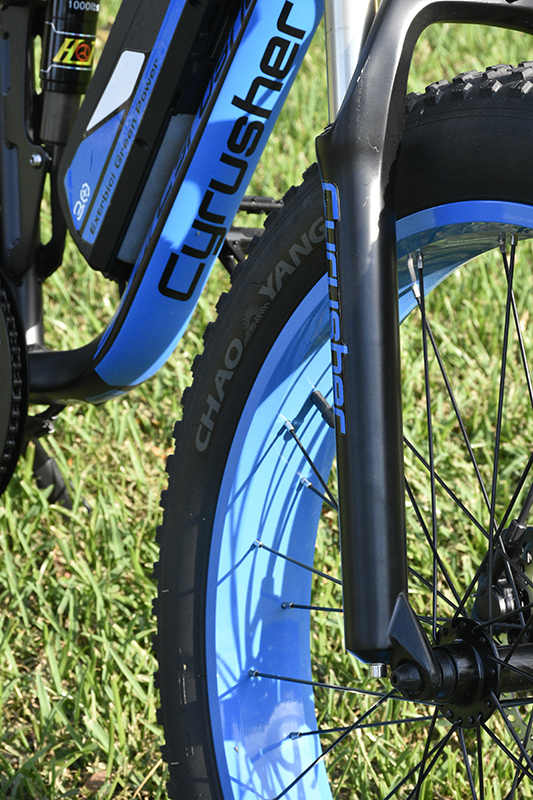 What I like
It's a big, sturdy bike
The strong motor
Simple controls
The fat tires. I feel safer having wider points of contact on the road
Pedal Assist
What I'd change
The saddle
Included air pump. I'd rather they included one you could mount to the bike.
Final thoughts
The Cyrusher XF800 Fat Tire Mountain electric bike is fun and fast! It reminded me how much I like riding bikes. It makes me want to get the exercise I need. It's certainly an investment but if you're in the market for a bike like this, check out the Cyrusher XF800 ebike and all Cyrusher electric bikes. I think it's a well-built brute. I know I'm happy with it.
Price: $1999.00
Where to buy: Cyrusher and Amazon
Source: The sample of this product was provided by cyrusher.com.