We use affiliate links. If you buy something through the links on this page, we may earn a commission at no cost to you. Learn more.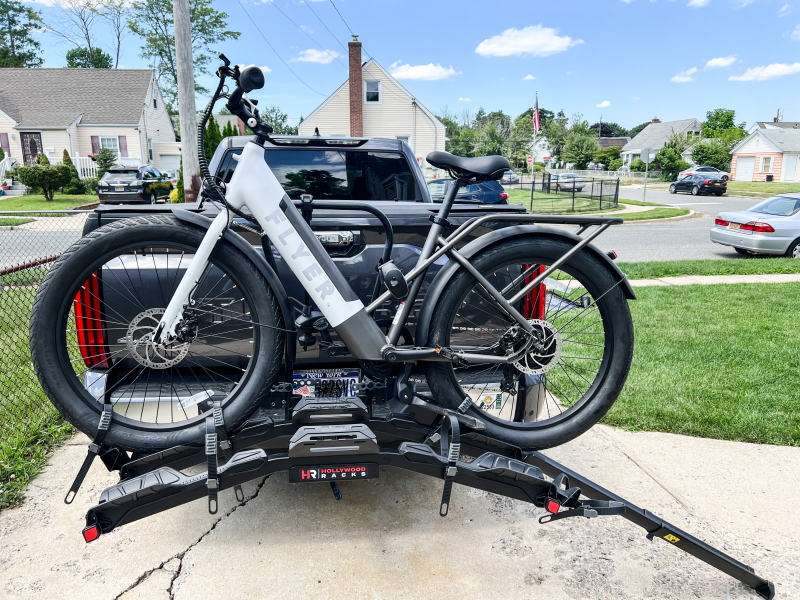 REVIEW – Bike riding through the 400-acre nature preserve that is about 6 blocks from my home has become an enjoyable pastime for my family. A few months ago, I tested and reviewed Hollywood Racks Hitch 2 Bike Rack. Although it was great, it could not accommodate the weight of my Radio Flyer E-bike, and certainly not when I eventually get another E-bike for my wife. That would mean that I need a hitch for 2 E-bikes. Well, problem solved!! Hollywood Racks just released the Destination E Rack for E-Bikes. Let's put it together and see how it does!!
What is it?
The Hollywood Racks Destination E Rack for electric bikes is a new hitch bike rack designed specifically to carry electric bikes with any sized tire up to 4.5″ wide. This new bike rack has a sleek and modern design and can carry up to two 70 lb. electric bikes or standard bikes. It includes an expandable, wide aluminum ramp so you can load and unload your bikes easily. The Destination E hitch-mounted bike rack can fold flat against the car when not in use and features "balanced tilting" where the pivot point is between the bikes for easy trunk access when the bikes are loaded. It includes additional features like an adjustable, keyed-alike locking frame and seat post clamps, and their No Wobble-No Tools Hitch Tightening System.
What's in the box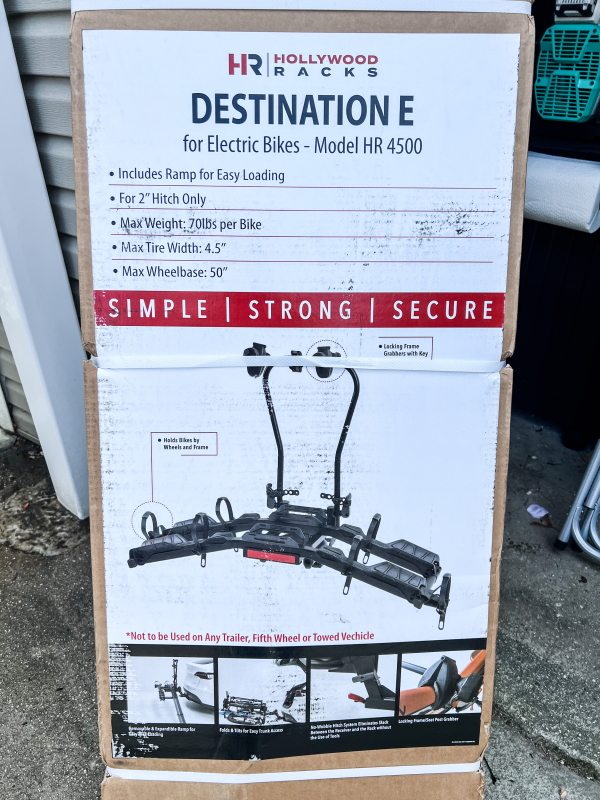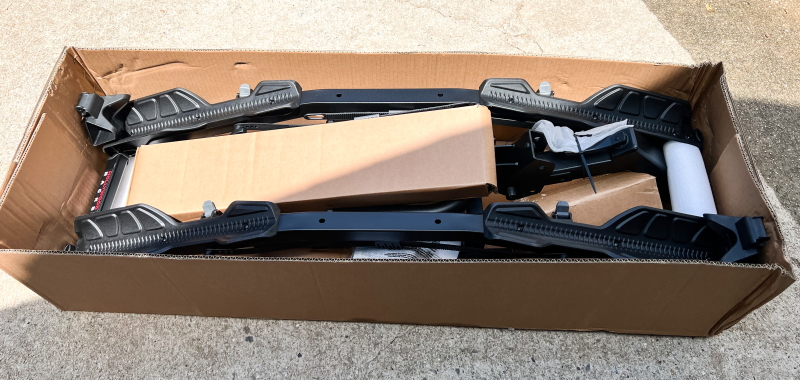 1 x Hollywood Racks Destination E Rack for E-Bikes with mounting Hardware and Hitch Lock
1 x User Manual
Design and features
Features
Lock & Go: The locking frame and seat post grabbers keep your bikes secure during travel.
Included: keyed-alike locking hitch pin and locking frame clamps
No-Wobble System: Eliminates slack between the receiver hitch and the rack without the use of any tools.
Expandable Ramp for Easy Load & Unload: Loading and unloading your E-bikes has never been easier. The included ramp is 5.5" wide and can be expanded to 46" long.
Balanced Tilting: Features "Balanced Tilting" with the pivot point between the two bikes, making tilting the rack with or without bikes on for cargo door access as easy as it gets.
Fold away: Fold the rack against the car when not in use or when in a parking lot.
Specifications
Capacity: Two Bikes (Max. 70 lbs. per bike)
Hitch Size: 2" only (Do not use a 1 ¼" – 2" hitch adapter)
Maximum bike wheelbase: 50"
Maximum tire width: 4.5"
Space between bikes: 11″
Rack Weight: 46 lbs.
When using on a seat post requirements: Min. 1″ / Max 2″
For step-through bikes: Secure the bicycle by using the racks Frame Grabber around the bikes seat post
Not to be used on front hitches
Not to be used on any trailer, fifth wheel, or towed vehicle
CLASS B RV APPROVED ONLY (NOT APPROVED FOR CLASS A OR CLASS C RV's)
Limited Lifetime Warranty
The bike rack is made up of mainly metal with a few rubber parts and ABS/plastic parts.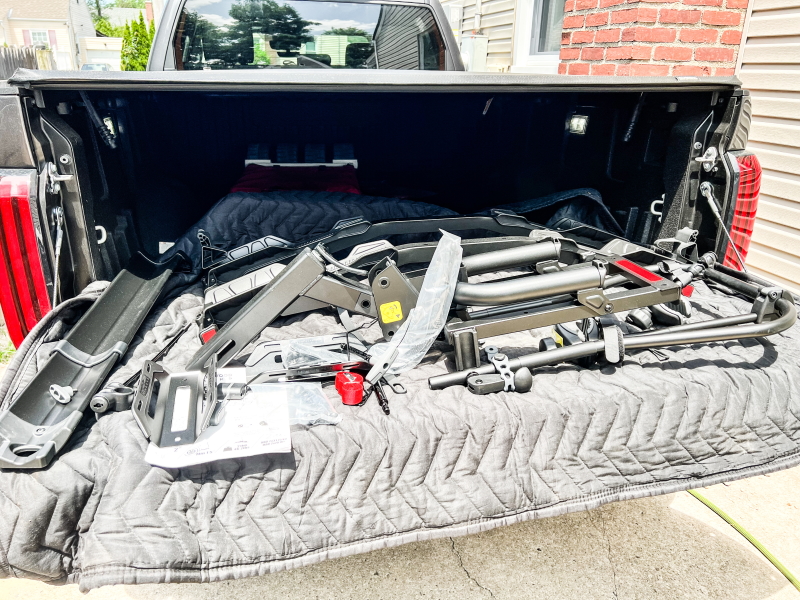 Performance
The first thing I had to do was lay out the parts and assemble the hitch. It has to be assembled on the vehicle so the hitch interface has to be attached first. The following photos are snapshots from my assembly process: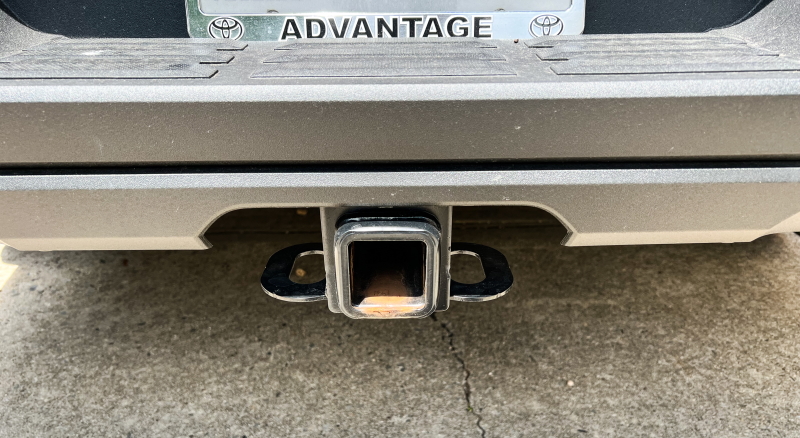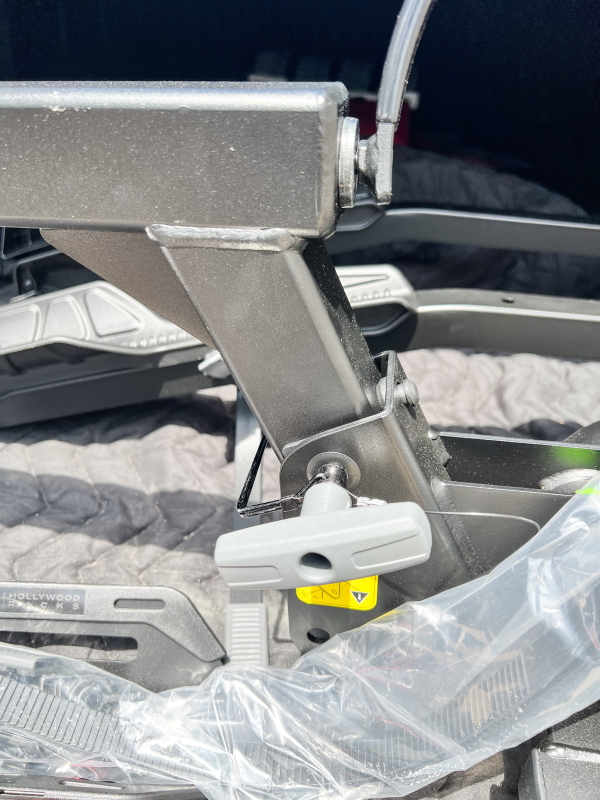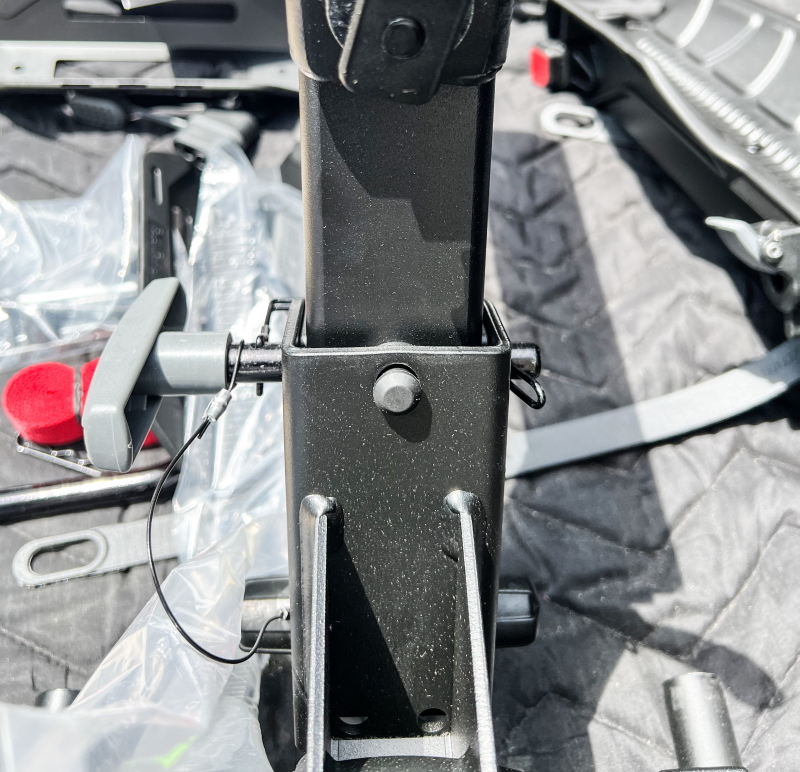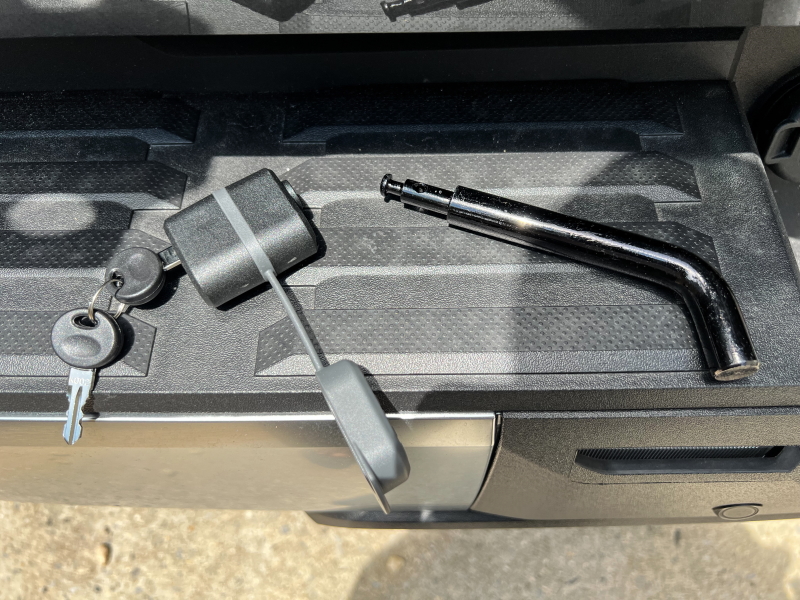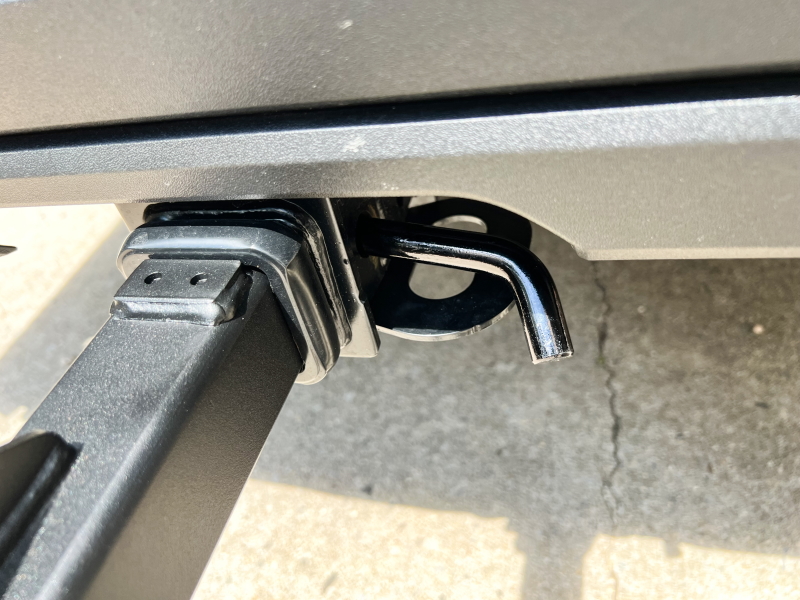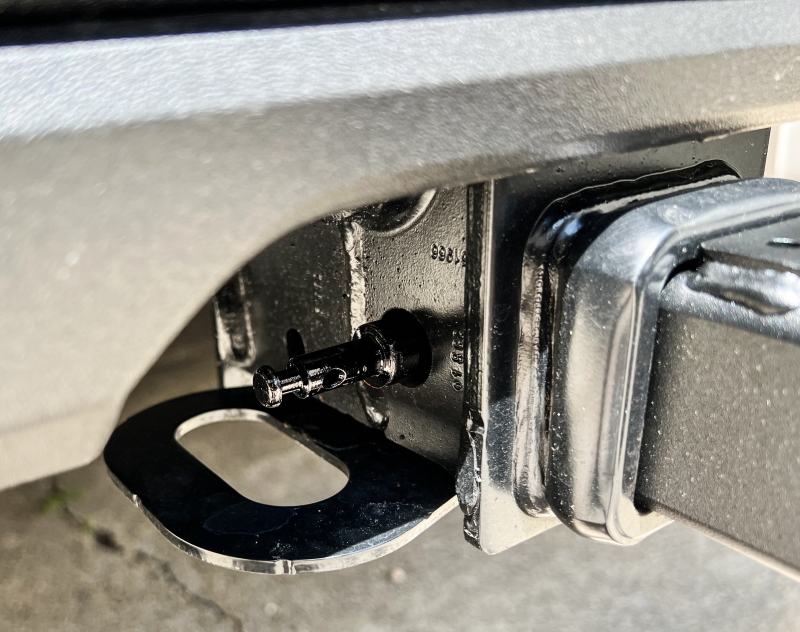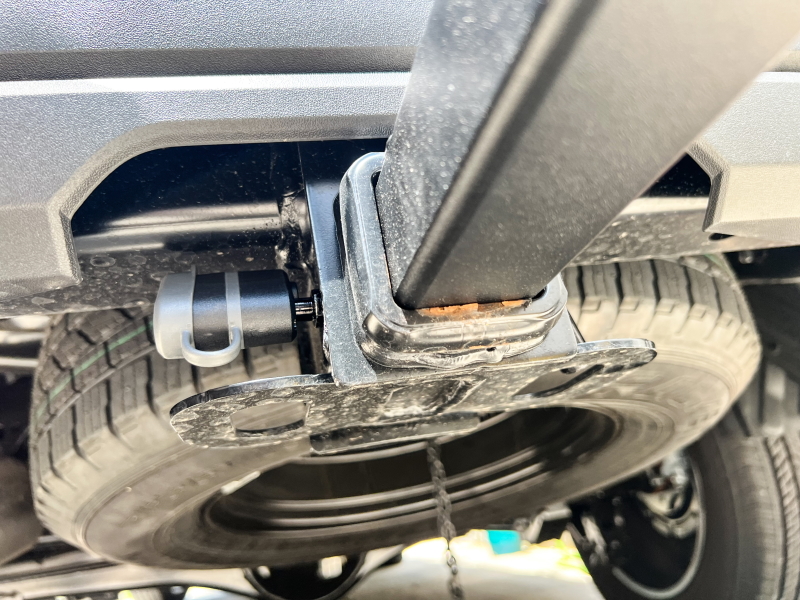 No Wobble-No Tools Hitch Tightening System. Turn clockwise to tighten and remove any slack in the connection to the hitch.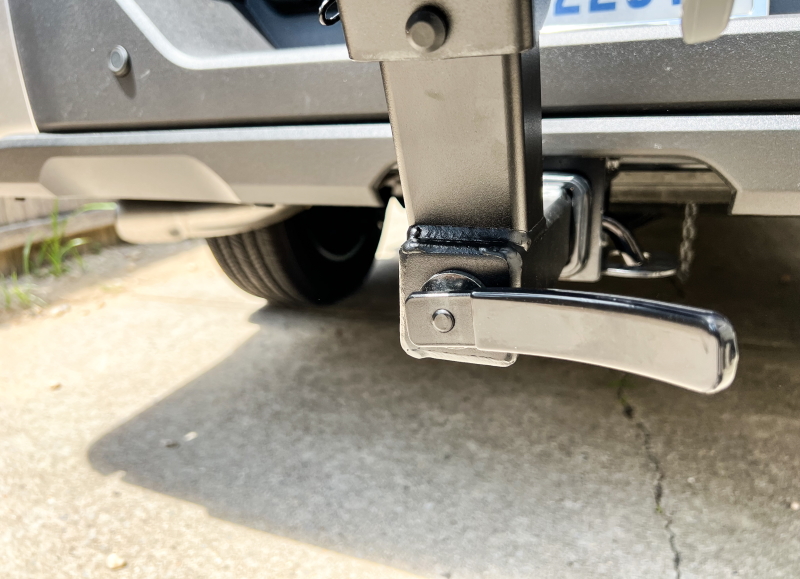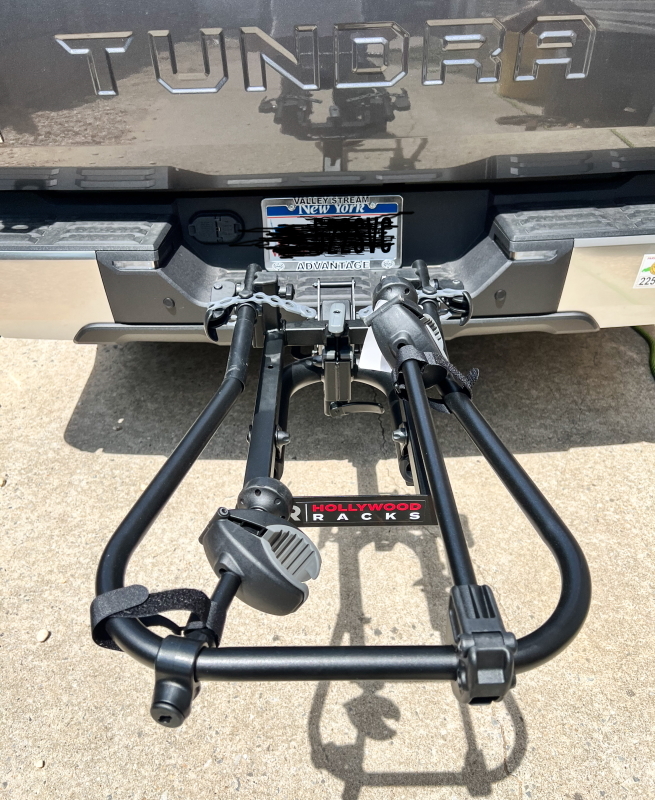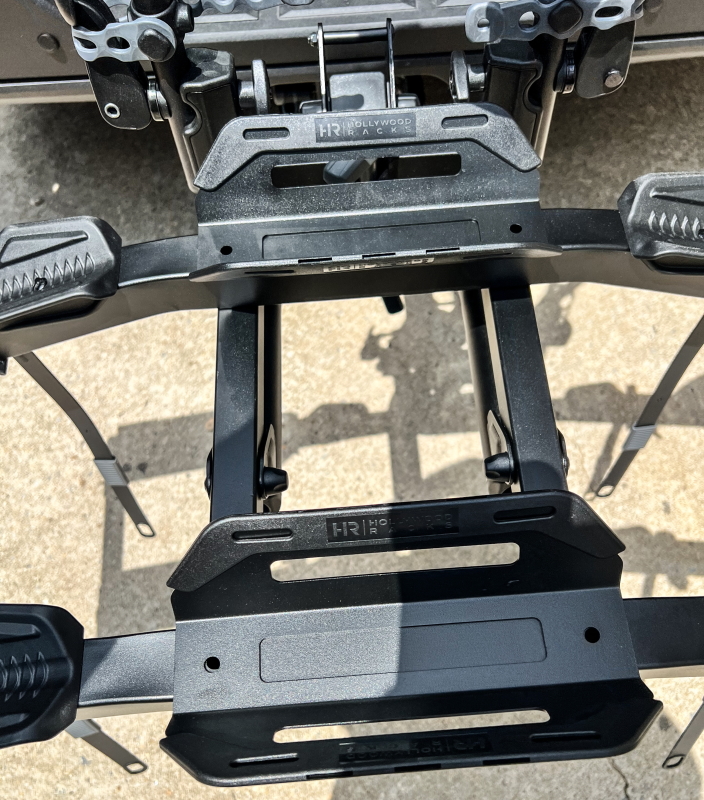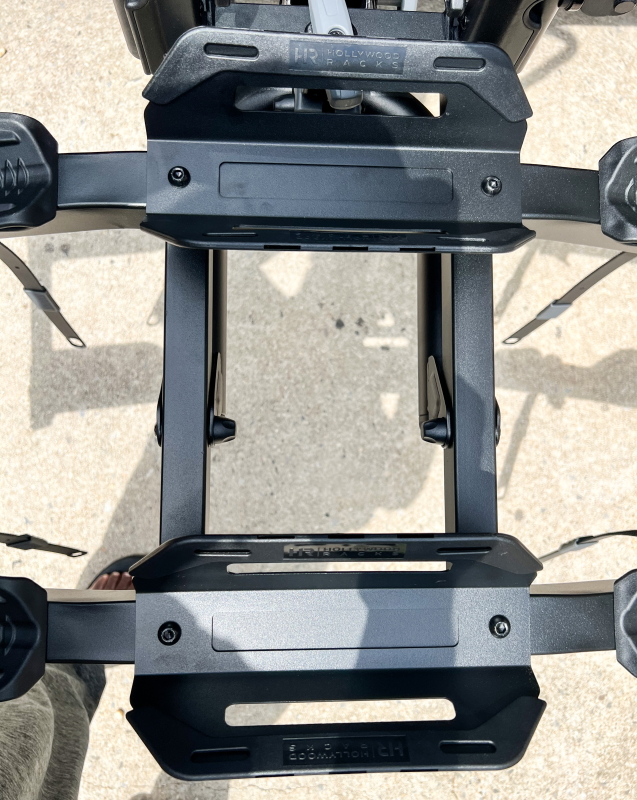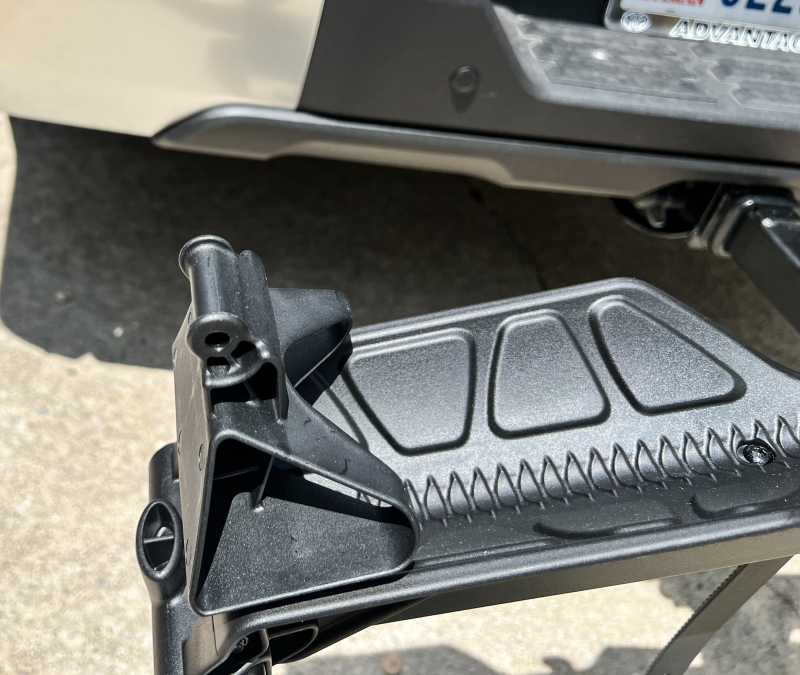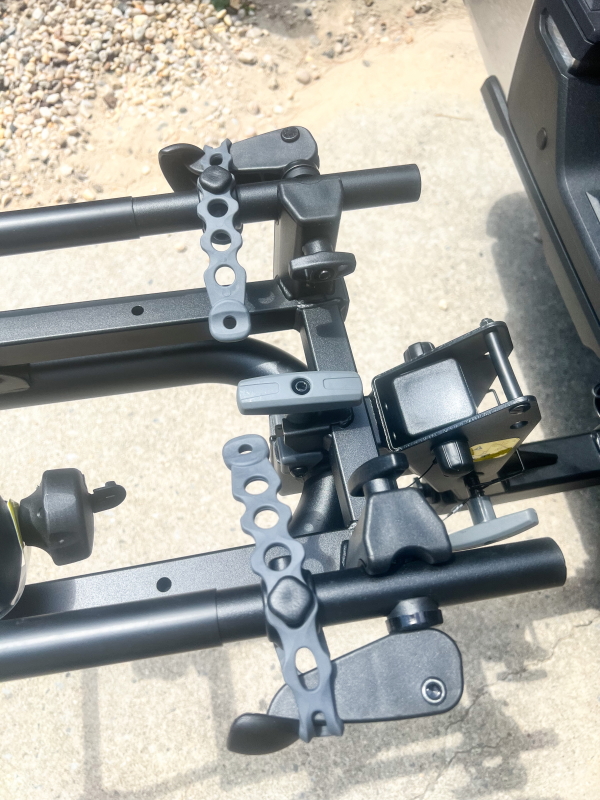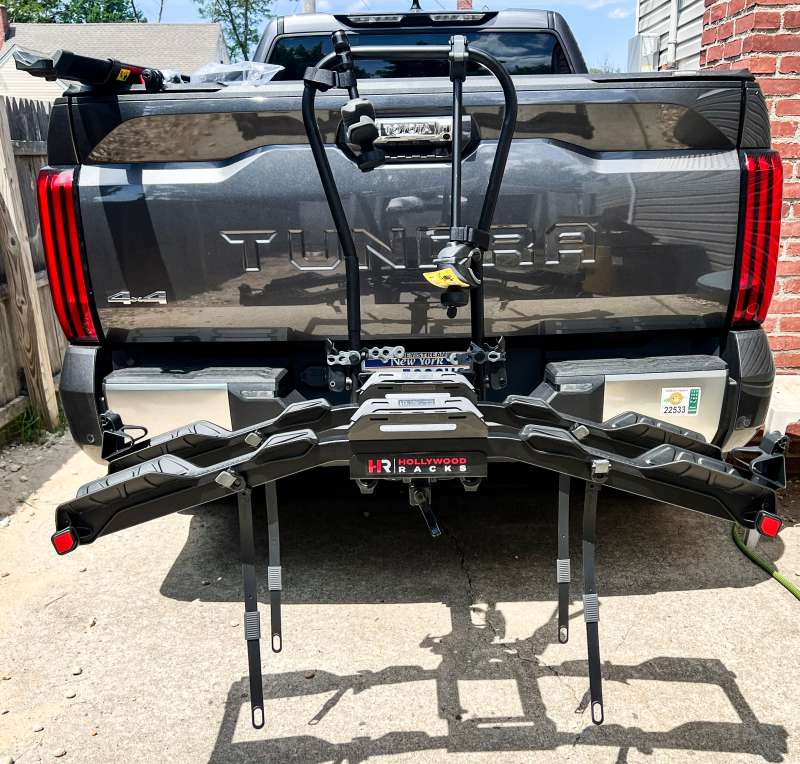 The Hollywood Racks Destination E Rack comes with a ramp which is great since my electric bike is heavy, and getting it up on the rack without a ramp would be a nightmare. The versatile lock handles/post grabbers along with the wheel straps make sure that the bike is secure. There is additional security since the post grabbers can be locked with the key for added theft prevention. The same key works for the hitch pin lock.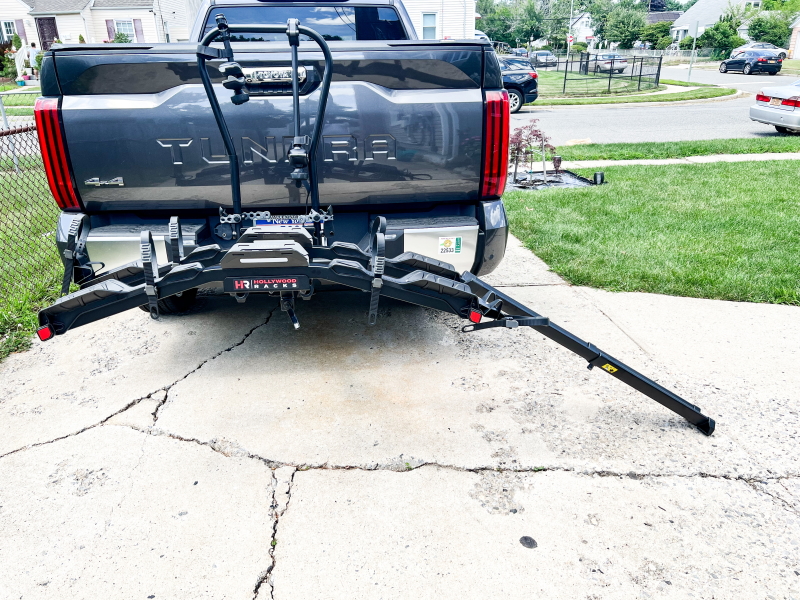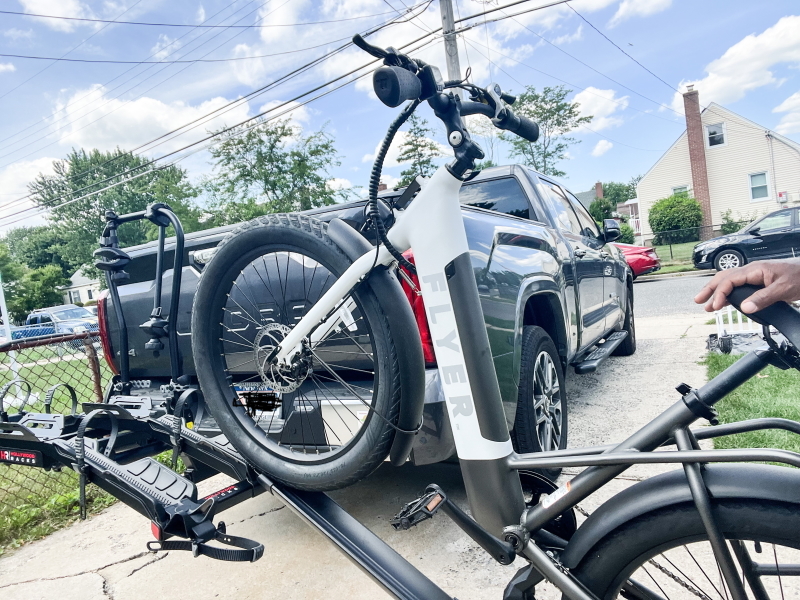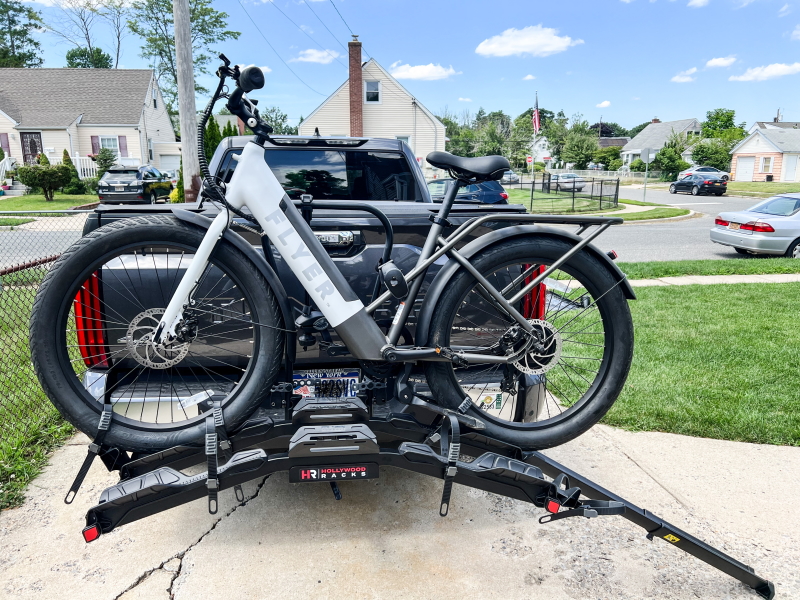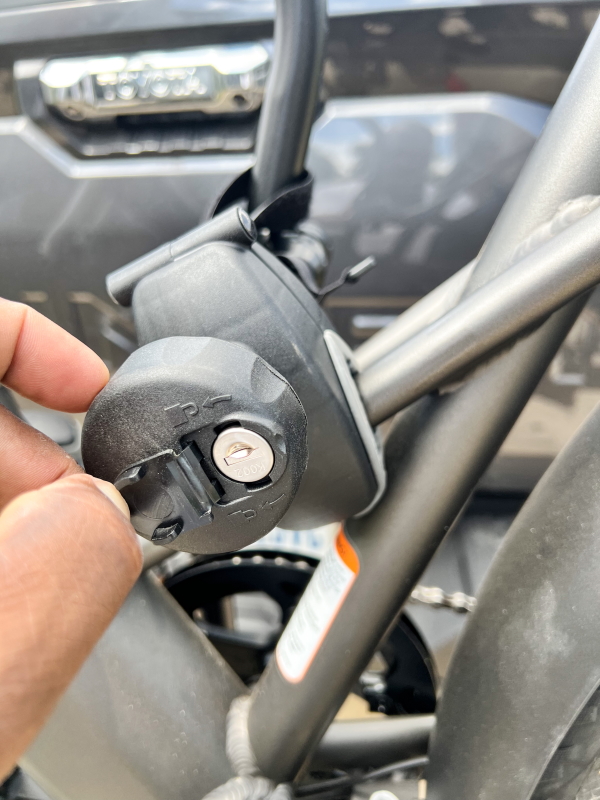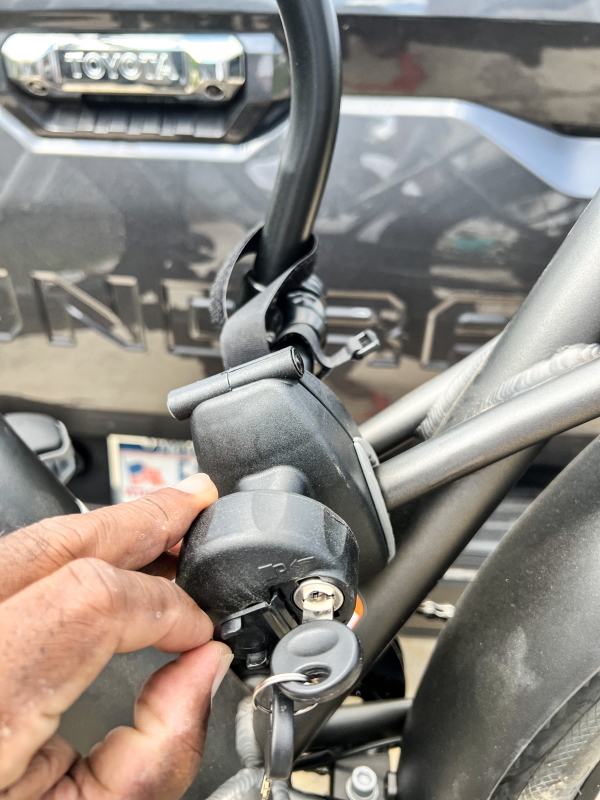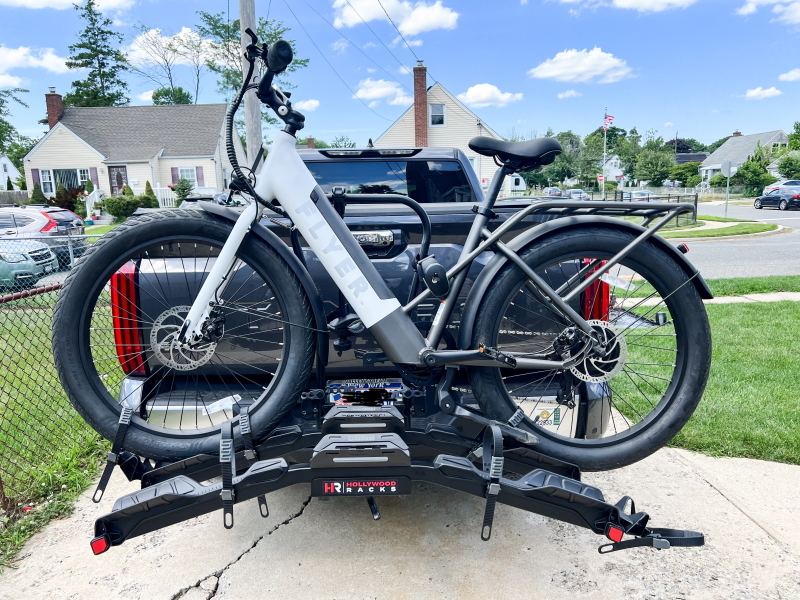 The Hollywood Racks Destination E Rack can also be swung downwards to allow you to gain access to the trunk or in my case truck bed: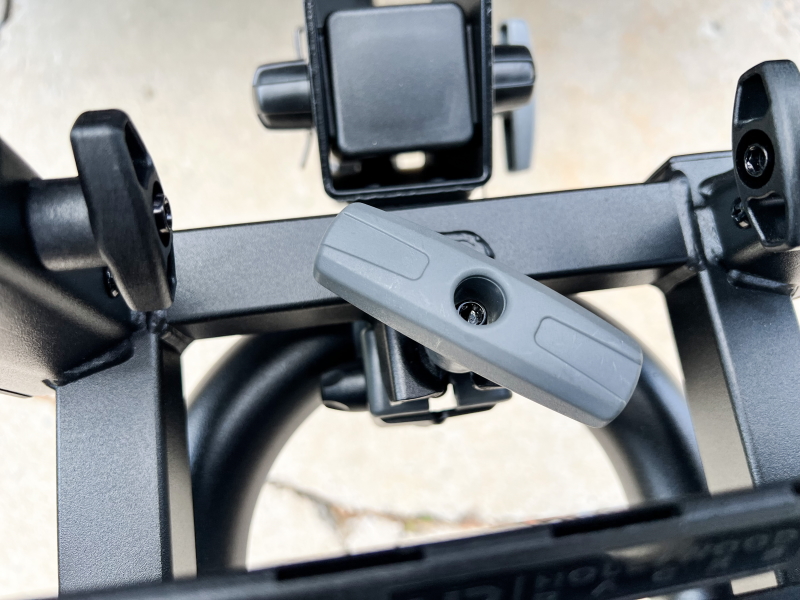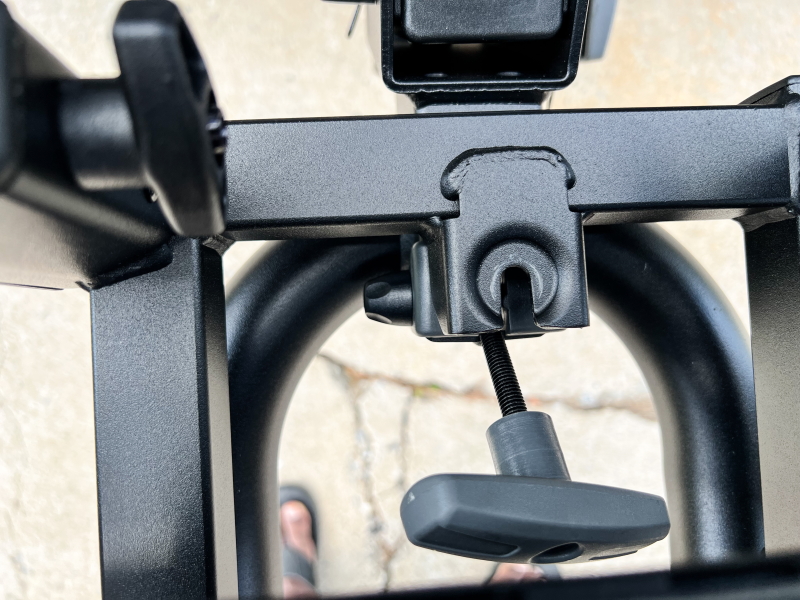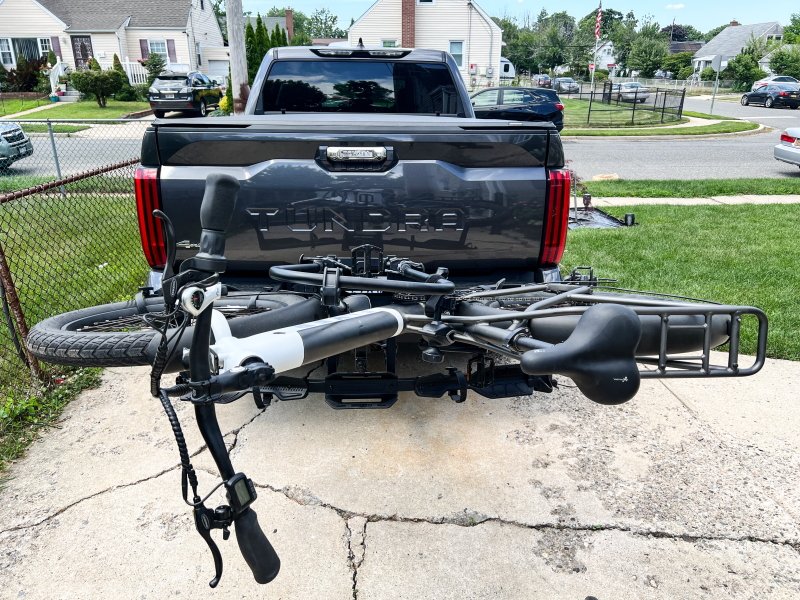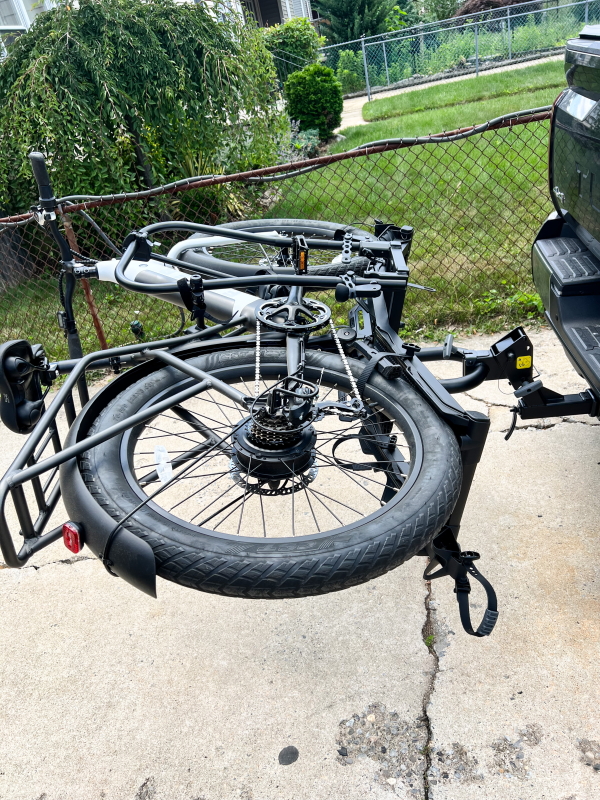 My truck is just about 20 feet long, and as you can see in the following photo, the Hollywood Racks Destination E Rack adds more length. So, I will definitely not fit in the average parking spot when the rack is attached: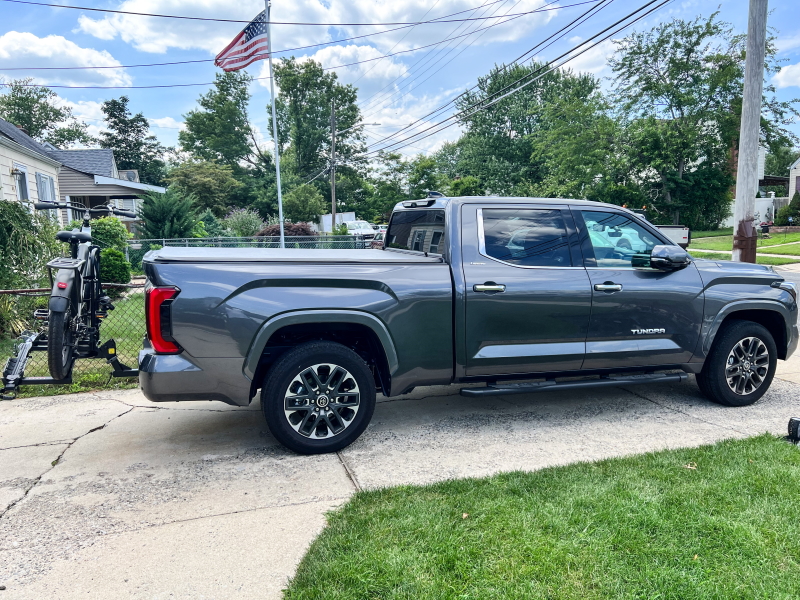 What I like
The build quality
The design and look
The functionality
The weight capacity
What I'd change
I am finding it hard to find any shortcomings with this rack
Final thoughts
I really like the Hollywood Racks Destination E Rack. It is just as solidly made as the previous model I reviewed, but this one can easily take two e-bikes. When driving, there is no rattling or shaking and the ramp is a great and necessary accessory. While the rack is heavy if you need to remove it from the hitch, it is quite manageable. I give it a well done and 2 thumbs up!!
Price: $699.99
Where to buy: hollywoodracks.com and you can find their racks on Amazon
Source: The sample for this review was provided by Hollywood Racks.