We use affiliate links. If you buy something through the links on this page, we may earn a commission at no cost to you. Learn more.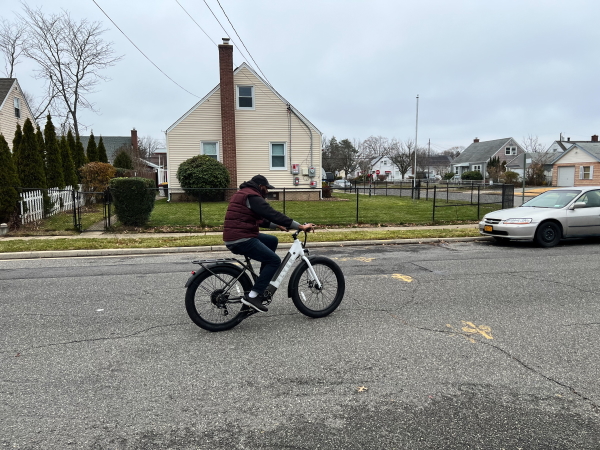 REVIEW – As I get older, I have been getting more involved in activities to add to my indoor workout routine, and this includes outdoor activities such as hiking and the intention of a lot more bicycle riding. The only problem is that I have a really old bike that the previous owner of my house left behind, and while I managed to fix it up a bit, I would love a new bicycle, and if I can afford one, I would love a bike with the option of electric power. Well, you have no idea how ecstatic I am to get the opportunity to review the Radio FLYER™ M880 Midtail Fat Tire Electric Cargo Bike.
I grew up in the Caribbean and back in those days, having your own transportation as a teenager was a huge deal. There were 3 categories for us as kids: First there were the rich kids whose parents were mostly foreign diplomats and they got off-road motorcycles at the early age of 14 to 15. Not sure that was ever legal but the police did not care. They would ride to school and we (the kids without and in awe) would rush outside to see them pull up and park. It was fascinating. Then there were kids like me who had a bicycle and were allowed to ride around town during the daylight hours and had to be back home once the sun went down and the street lights came on. The last category was the kids who would walk. Back in those days, there was no such thing as an electric bike. We had bikes that had a generator on the front fork that we would push to touch the wheel and that in turn would power the headlamp on our bikes. It is so funny that riding a motorcycle at 14 or 15 was ignored by the police, but an even younger kid on a bicycle had better have a working headlight. I can remember my first bicycle as a teenager, and it was one that my uncle who lived here in the USA sent for me. It was a red Huffy 3-speed chopper and it looked like this: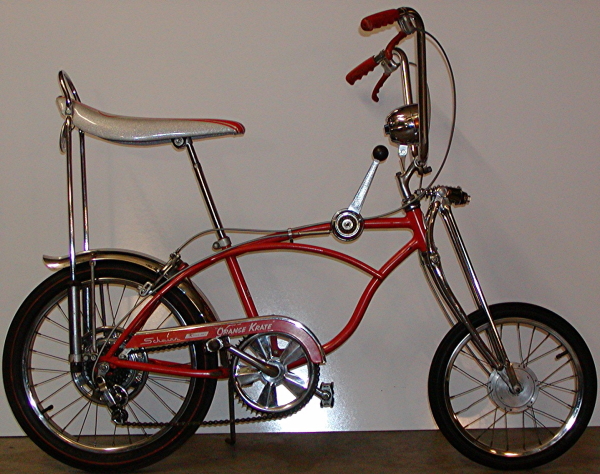 That was my pride and joy, but it always seemed to pale in comparison to the more popular Raleigh 3-speed Chopper that was the popular bike at the time. My brother had a purple one, and as soon as he left for college, I assumed possession of it and it became my new bike. It looked like this but in purple: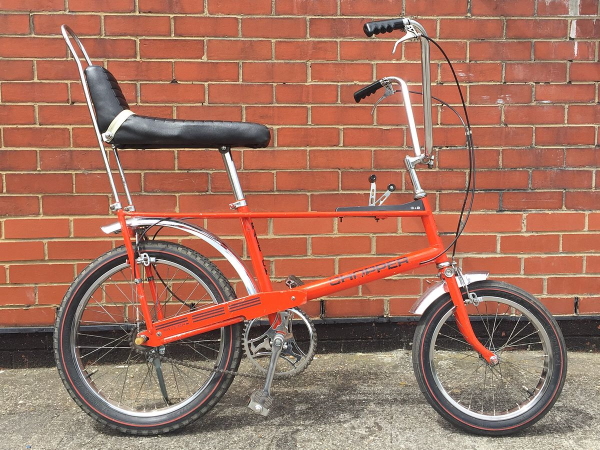 I was happy for a while but within a year, all of my friends who were still riding bicycles were then riding 10-speed racing bikes. I can remember being so disheartened about it because my parents would not buy me one. However, they did agree to help me monetarily if I could do my chores and save my allowance and find a bike that was not too expensive. As luck would have it, one of the diplomatic families finished their stint and was leaving to go back to Canada. Their son had a 10-speed bicycle and I immediately approached him and worked out a deal. I got the bike with the help of my parents and immediately stripped it down to the frame, had it sanded and spray painted in metallic blue with grey pinstriping and I even cleaned and re-greased all of the ball bearings in the wheels so that it was then a beautiful brand new looking bike. That bike was the familiar racing type like this one: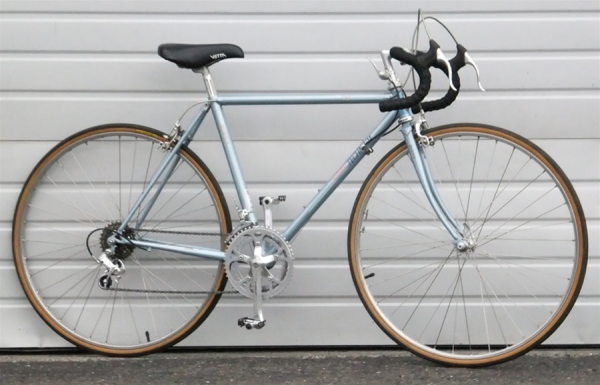 After leaving my Caribbean home and heading here for college, I completely forgot about those bikes, and over the past 38 years, I have only been on a bicycle maybe twice. However, as I get older, it is something that I want to do again but I doubt I have the same stamina as I did as a kid to endure long bike rides around the neighborhood. About a year ago, I moved to Long Island, NY, and my wife discovered a 400-acre wildlife preserve filled with bike lanes and streams, etc. So, I have been very interested in getting a bike again and I have been even more excited after seeing the evolution of bikes into the new sleek electric bikes. They are kind of expensive so I decided that I would save in a special fund for one. As luck would have it, I got an offer that I could not refuse, and I am now about to take you on my journey with my new Radio FLYER™ M880 Midtail Fat Tire Electric Cargo Bike.
What is it?
The Radio FLYER™ M880 Midtail Fat Tire Electric Cargo Bike is a high-speed, performance, and cargo hauling bike that is the perfect everyday adult electric bike. It is recommended for riders 5'2" to 6'3".
What's in the box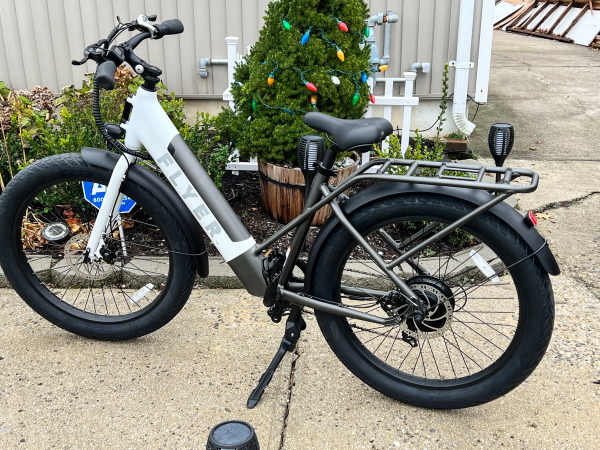 1 x Radio FLYER™ M880 Midtail Fat Tire Electric Cargo Bike (Assembly tools included)
Accessories (included but optional)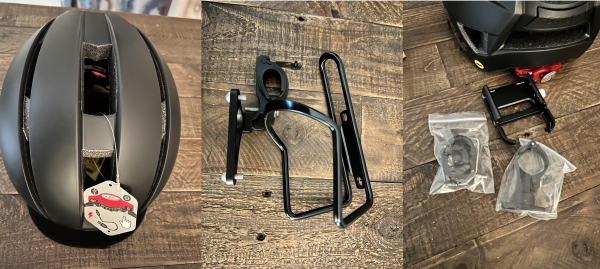 Gifts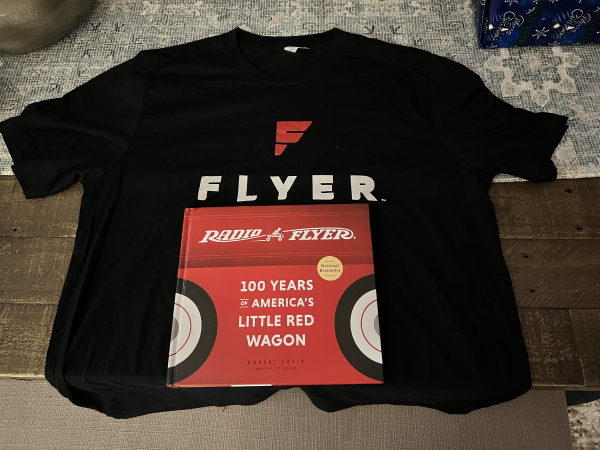 1 x T-Shirt
1 x Radio Flyer Book
Design and features
Features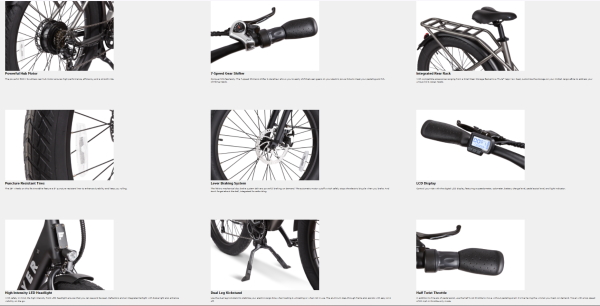 Specifications
Seat tube length:

18.00″ 457mm

Standover height:

19"

Chainstay:

18.50" 470mm

Handlebar height (min & max):

Min: 41.0" Max: 43.75"

Total bike length:

73.34″ 1863mm

Bike weight:

67 lbs

Handlebar reach:

16.62″ 422.2mm

Wheelbase:

44.21″ 1123mm

Seat height:

Min: 27.5″ Max: 36.0″

Packaging:

60″ X 11″ X 36.5″

Total package weight:

91 lbs
Brake Calipers:

Tektro Aries MD-M300

Crank Set:

53T, 170 mm forged alloy, dual-sided aluminum guard

Tires:

Front: 26″ x 3.0″ puncture-resistant liner Rear: 26″ x 3.0″ puncture-resistant liner

Headset:

Semi-integrated, 1-1/8″ straight steerer tube

Saddle:

Comfort foam ergonomic saddle, integrated steel seat post, fixed angle

Brake Levers:

Aluminum alloy levers with motor cutoff switch and integrated bell

Derailleur:

Shimano TY300 7-speed derailleur

Freewheel:

Shimano TZ500 7-speed freewheel

Kickstand:

Steel Dual leg, spring-loaded

Shifter:

Shimano SL-TX50-7R shifter

Brake Rotors:

Tektro 180mm front and rear

Fenders:

Durable impact-resistant ABS plastic

Grips:

Durable ergonomic TPE rubber

Pedals:

Integrated reflectors, CrMo axle, standard 9/16″ x 20 TPI threading

Spokes:

12-gauge stainless steel, black

Chain:

KMC Z7 CrMo steel

Fork:

Rigid steel

Handlebar:

Aluminum, 680 mm wide, 48mm rise

Rims:

Steel rims (26″ tires)

Stem:

100mm, adjustable handlebar angle up to 60°

Frame:

6061 Aluminum
Battery Pack: 48V 15Ah (720Wh) Lithium-Ion Samsung 50E 21700 Cells

Charger:

54.6V, 2A smart charger Operates on 100-240V AC outlets
Charge Time: Up to 10 hours

Controller:

48V 500W
Display: LCD display that shows speedometer, battery charge level, pedal assist level, odometer, and light indicator

Lights:

Front: LED headlight

Rear: Integrated tail light with brake light

Motor: 500W brushless hub motor

Pedal Assist:

5 level pedal assist with cadence sensor
Range: 30 – 50+ miles

Top Speed:

20MPH in throttle-only mode

Throttle:

Half twist throttle
Battery Life:

5 Levels
Pedal Assist:

5 Levels
Odometer: Yes
Speedometer: Indicates how fast you are moving
Light Indicator:

Check if your LED headlight is on or off
This eclectic bike looks great just standing by itself. It features a metal frame and metal or rubber for most of the parts. There is a very ergonomic handlebar, a metal cargo carrier on the back, a quick-release front wheel, a LED front light, a bell, and a quick-release adjustable seat. The battery is in the main and largest part of the frame and can be removed via the supplied keys. The design also features "fat" tires and a very solid motorcycle-type ambidextrous kickstand.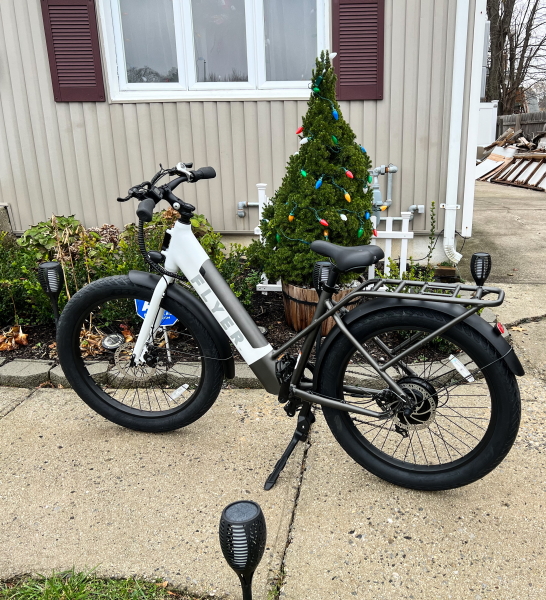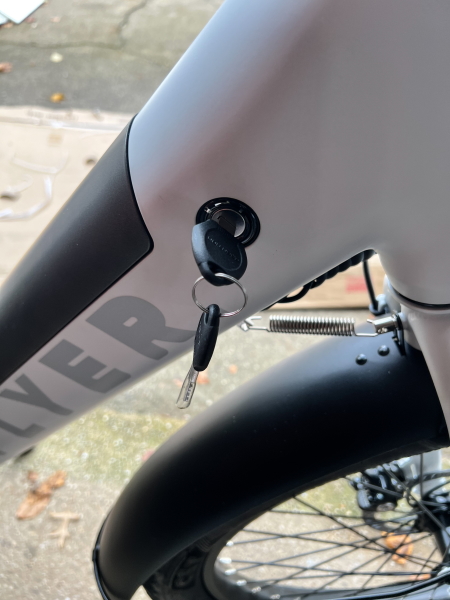 Unboxing and Assembly
Initially, Radio Flyer wanted to send me a bike that was fully assembled, but they could not find an affiliate in my vicinity that would receive and assemble it and deliver it to me. Since I am a serious DIYer, I agreed to assemble it myself. Just as I expected, assembly was a breeze and I was done with unboxing and assembly within an hour. Keep in mind that much of that hour was spent unboxing since almost every part of the bike was wrapped and taped and in some way protected. Since my workshop in the garage is filled with tools and materials from current projects, I assembled it at the doorway of the garage and used a cardboard box on the ground to make sure that I did not scratch it. I will share a few photos that I took while assembling. Please keep in mind that it was cold and damp on the ground and the massive amount of leaves falling from the large trees are still in my yard. The leaf clean-up will be a part of a different review :-). Here are the photos: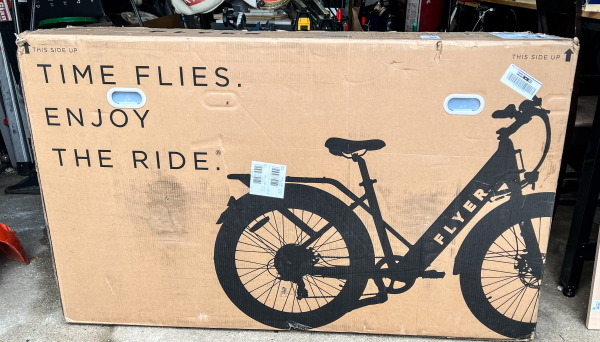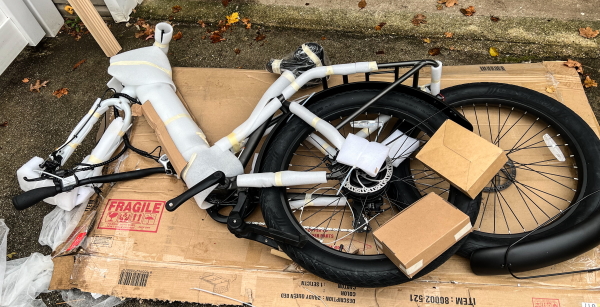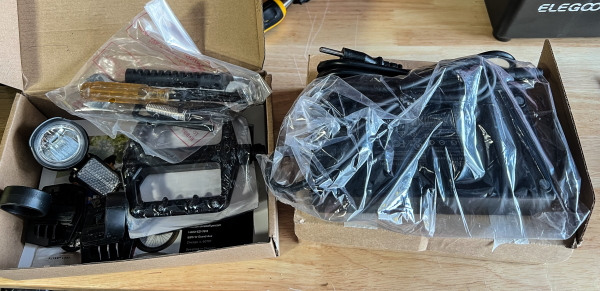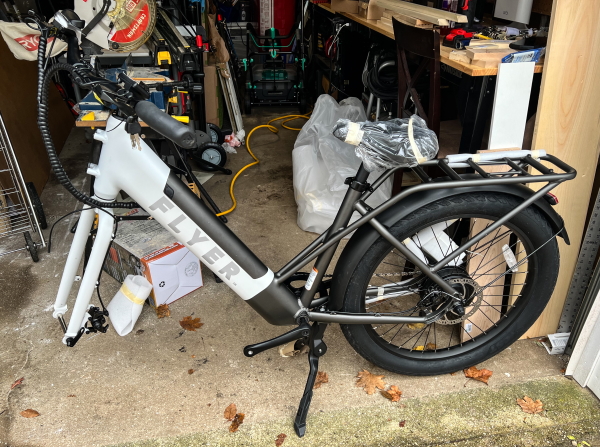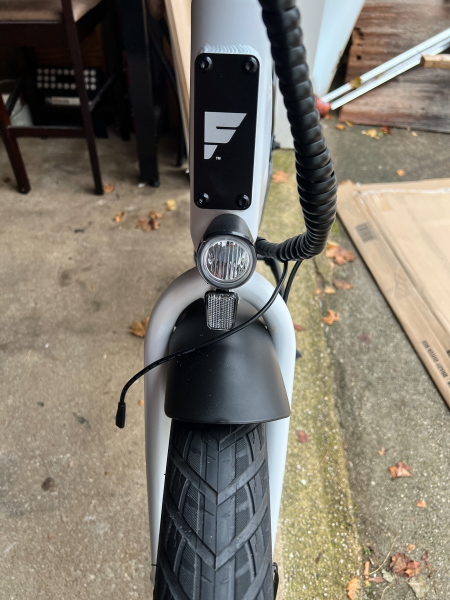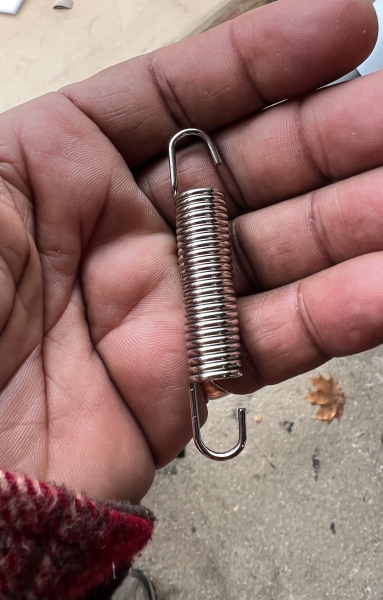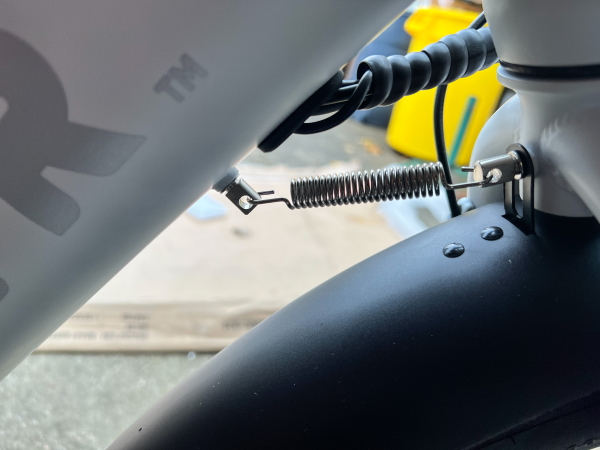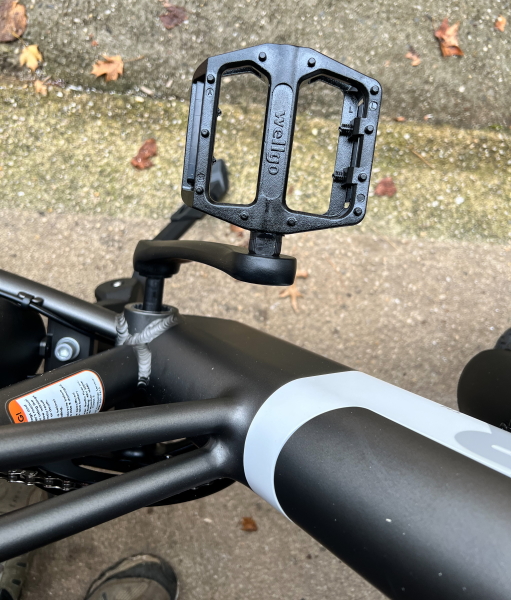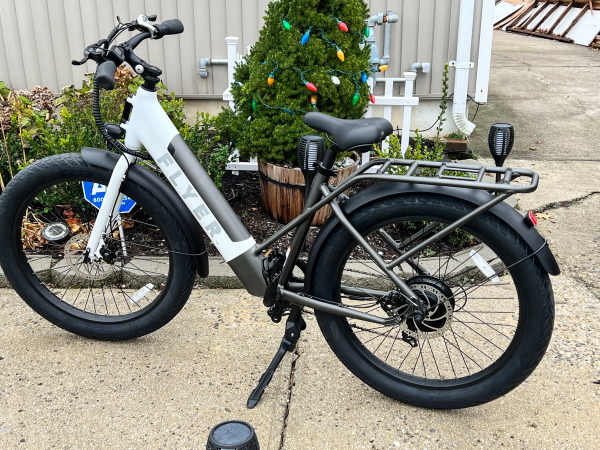 The next thing that I did was inflate the tires to the recommended 30 PSI and then I took it for a ride pedaling under my own power since I had not yet charged the battery. I was just that excited to ride it. It was such a nice ride that I did not want to stop but it started to rain so I figured that would be a good time to take it back into the garage and charge it.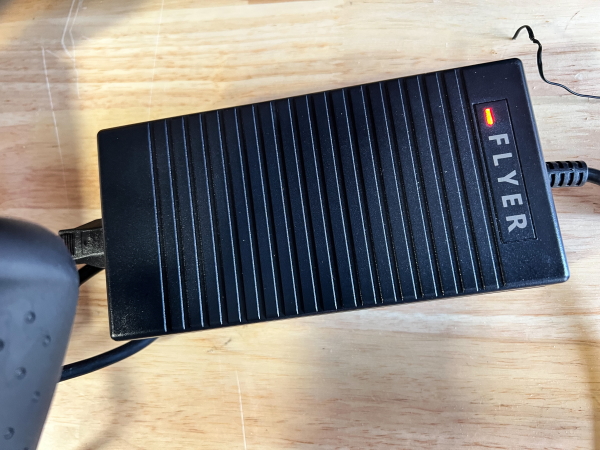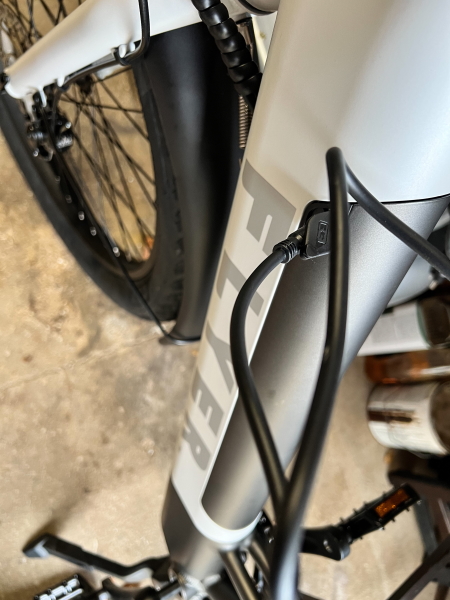 You can also take the battery out and charge it. There is a lock to remove it: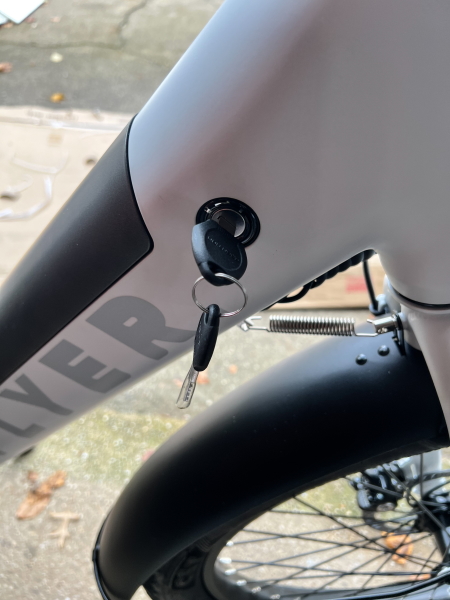 Performance
So, let's talk about the performance of the Radio FLYER M880 Midtail Fat Tire Electric Cargo Bike.
As I mentioned previously, the first time I rode it, I did so without any power assistance since I had not charged the battery. I put the bike through the paces of gear selection and smooth and rough surfaces, inclines and declines, and even a bit of grass. I enjoyed riding it and on every surface, it was comfortable and felt like I could ride it for long distances. The bike felt and feels very solid and safe. The spring-attached steering took a few minutes to get used to.
About 2 days later, I had some time to take the bike out for a spin and this time, I had a fully charged battery and was ready to test out the power options, or was I? It seemed like as soon as I turned on the LCD which automatically turns on the power modes, the bike sprung ahead like it had a whole new life.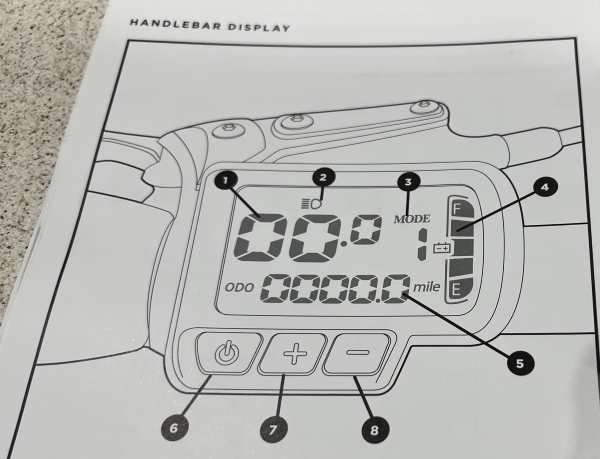 There are 3 incremental levels of pedal assist and also a walking mode for when you want to walk with the bike.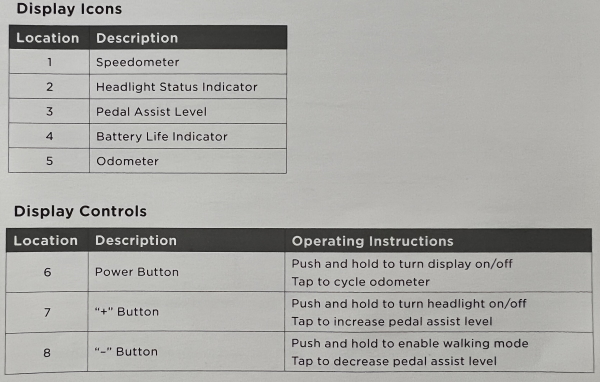 Here is a question and answer from the Radio Flyer website:
How fast does the eBike go?
Our eBikes have a top speed of 20 MPH without pedaling.
Our eBikes will operate as any traditional bike does, and you can move as quickly as you can pedal! Once you exceed 20 MPH, the pedal-assist motor will not engage further.
Keep in mind that our eBikes can be pedaled just like a traditional bike, but may require some additional effort as they are heavier than a traditional bike.
Once you engage the pedal-assist you immediately feel the power of the battery. As you increase the level to 2 and then 3, the bike accelerates as you pedal. I also like that half twist throttle is easy to engage and is in the proper position to allow for its use while maintaining full control of the bike. This bike is fast. I have seen some brands and models online that boast a top speed of 30mph, but I would argue that for a bicycle, 20mph is more than fast enough. Using the throttle allows you to ride the bike without pedaling which is great when on a long excursion that may require you to take a break. I also want to point out that while some of the photos in this review show the rider without a helmet, I do not ride without one and would strongly advise anyone on a bike and especially an electric bike, to always wear one. Last but not least, the gear shifter on his bike is in a very good ergonomic position for easy access and it is easy to gear up and down. Also, the brakes work very well and are quite forceful when applied.
Just for a treat, here are some photos from areas within the Nature Preserve in my neighborhood. I finally have a bike that allows me to extend my exploration:
From the first day my neighbor saw this bike he loved it, so I gave him the honor of testing the bike both in manual and electric mode. Here is some video of his fun:
What I like
The amazing build quality
The fit and finish of everything from the frame to all of the add-on parts
The accessories
The ease of assembly
The solid feel when riding
The thoughtful design
The fat tires
The battery option modes and the pretty fast top speed for a bike that you don't have to pedal to go that fast
The excellent packaging
The comfort when riding
That it is a joy to ride
The sturdy and easy to use motorcycle type ambidextrous kickstand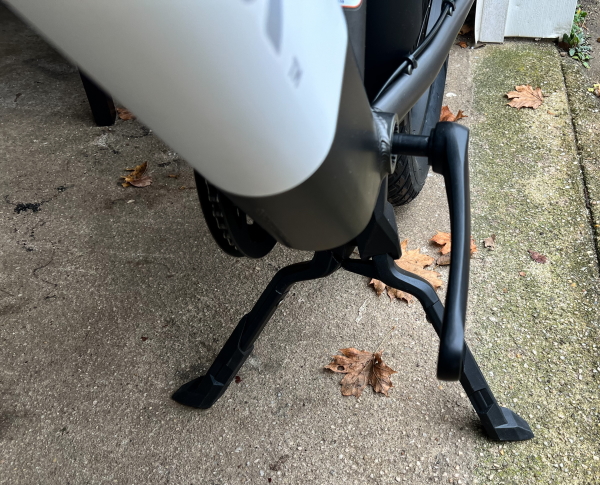 What I'd change
I wish they made a mountain bike type model with no cargo capability.  – just me trying to stay as young as possible 🙂
Maybe add a simple charge indicator LED somewhere on the bike so that I could confirm that it is fully charged without having to turn on the LCD to check or rely on the light on the power supply.
Final thoughts
The Radio FLYER M880 Midtail Fat Tire Electric Cargo Bike was my first experience with owning and riding an electric bike, and I am so glad that it was. The bike is ridiculously solid, comes very well packaged, and rides like a dream. For me, 20 mph on a bicycle is more than adequate and the throttle is responsive. The brakes work well and I use them a lot when it seems like I am going way faster than anticipated. There are lots of accessories available for the bike and if I ever get the opportunity to test another electric bike, it will have a serious challenge to live up to my expectations after my experience with this one. I give it a very well done and two thumbs all the way up!!
Price: $1699
Where to buy: The Radio Flyer website
Source: The sample for this review was provided by Radio Flyer.