We use affiliate links. If you buy something through the links on this page, we may earn a commission at no cost to you. Learn more.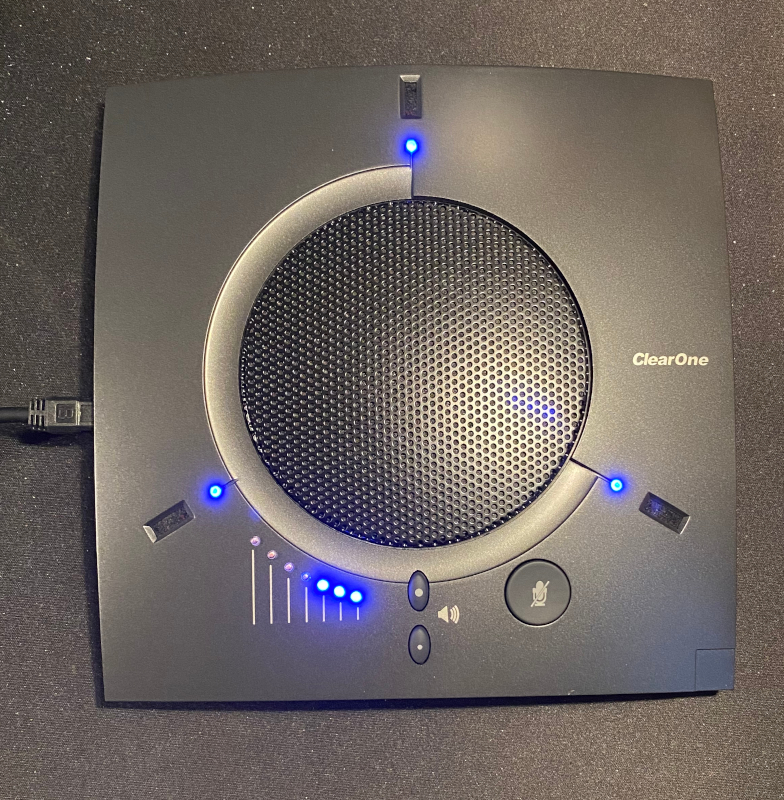 REVIEW – The ClearOne Chat 150 USB is a speakerphone accessory from one of the pioneers in the conference calling / phone switchboard arena. It is designed to work singly or in a daisy-chain configuration (using additional hardware) to serve small-to-medium sized conference rooms, but also works well for home office and personal use.
What is it?
The Chat 150 USB is part of the ClearOne Chat 150 family. The USB model is designed to connect to a PC rather than to a VOIP or video conferencing system.
What's in the box?
As a device aimed primarily at business users, the Chat 150 arrived in a plain white box with a single label on the outside to indicate the contents and the serial number.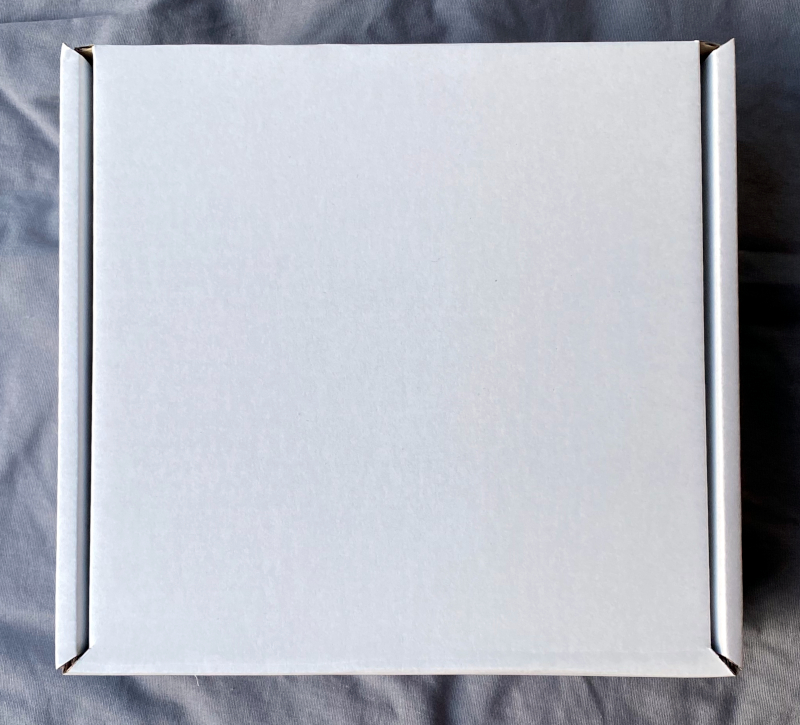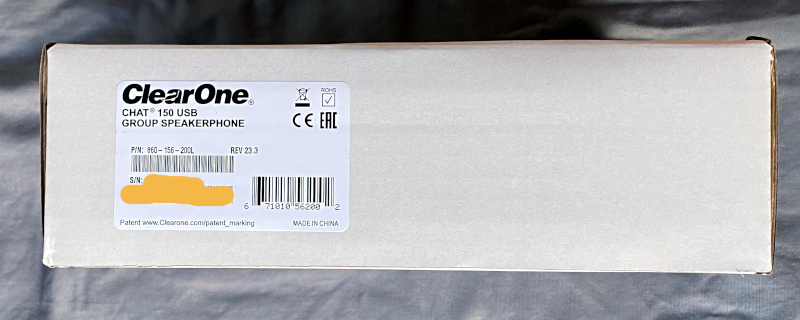 Inside the box are
The Chat 150 itself
10′ USB-A to mini-USB cable
Quick Start Guide
Hazardous Substances information sheet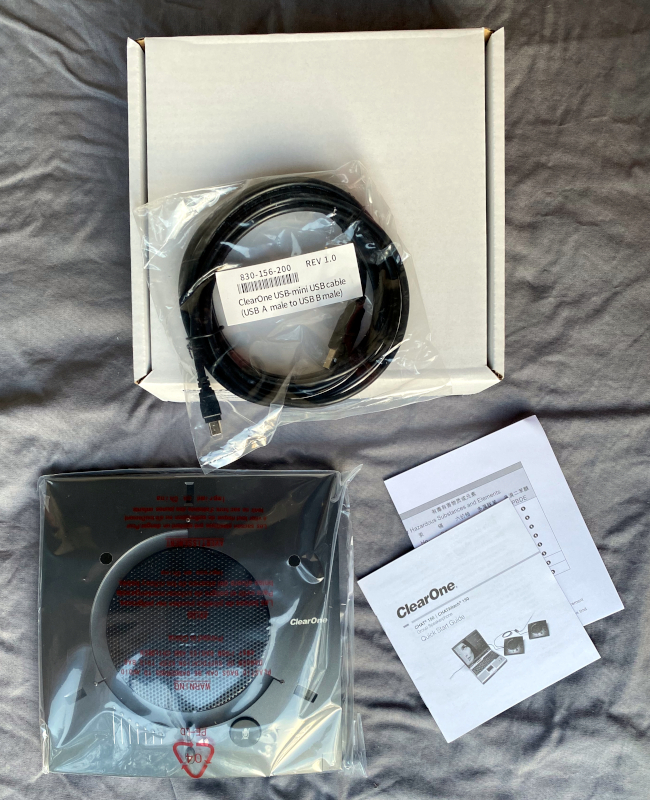 Hardware specs
System Requirements
Microsoft Windows 7, 8, 10
Connections
USB:
– Version 2.0 Compatible
– Type: Mini-B Female

Keyed Connector:
– Keyed RJ-45 (8-conductor – for expansion)
Audio
Speaker:
– Bandwidth: 190 Hz – 20 kHz
– Max Output Level: 85 dB SPL @ 1 foot (0.30 meter)

Microphone:
– Bandwidth: 50 Hz – 7.75 kHz
Environmental
Operting Temperature:
– 41 – 104° F (5 – 40° C)
Processing
Distributed Echo Cancellation (D.E.C.)®

Automatic Level Control (ALC)

Line Echo Cancellation (LEC) – Selectable
Power
USB:
– 5 VDC @ 500 mA Maximum
Mechanical
Dimensions (W x D x H):
7.4" x 7.4" x 1.8" (18.8 cm x 18.8 cm x 4.6 cm)

Weight:
1.17 Ibs (0.53 kg)
Design and features
Setup
Setting up the Chat 150 USB is as simple as connecting the unit to your computer using the included USB cable, or your own cable if you don't need a 10′ length of USB cable. Once the Chat 150 is plugged in and your computer recognizes the unit, you are ready to go.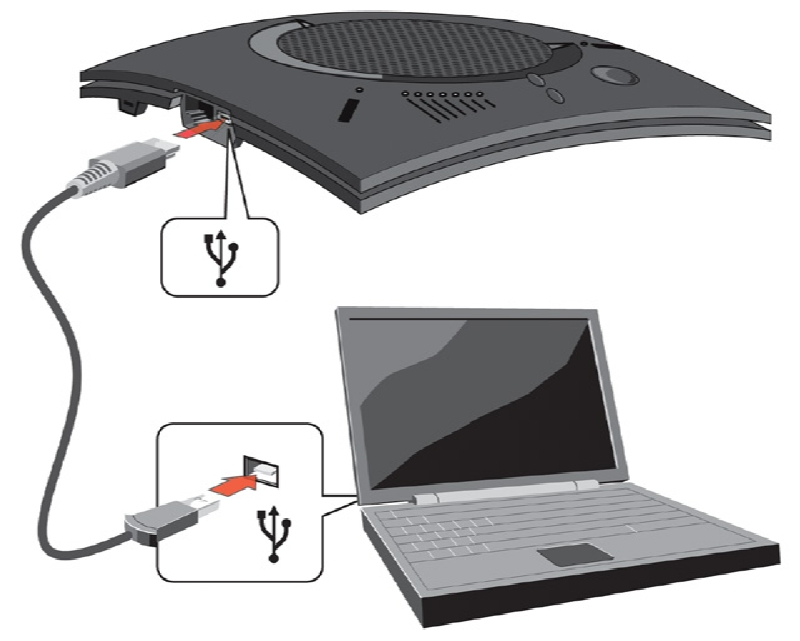 Design
The Chat 150 has 3 control buttons and a series of lights to indicate status and volume level.  Three microphones are spaced equidistantly around the central speaker. Each microphone is paired with a blue/red LED to indicate the unit's microphone status (blue on / red muted). The left side (as seen from the top) of the Chat 150 hosts the mini-USB port, an RJ45 jack for use with the expansion / daisy-chaining accessories, and a slot that accepts a standard security lock.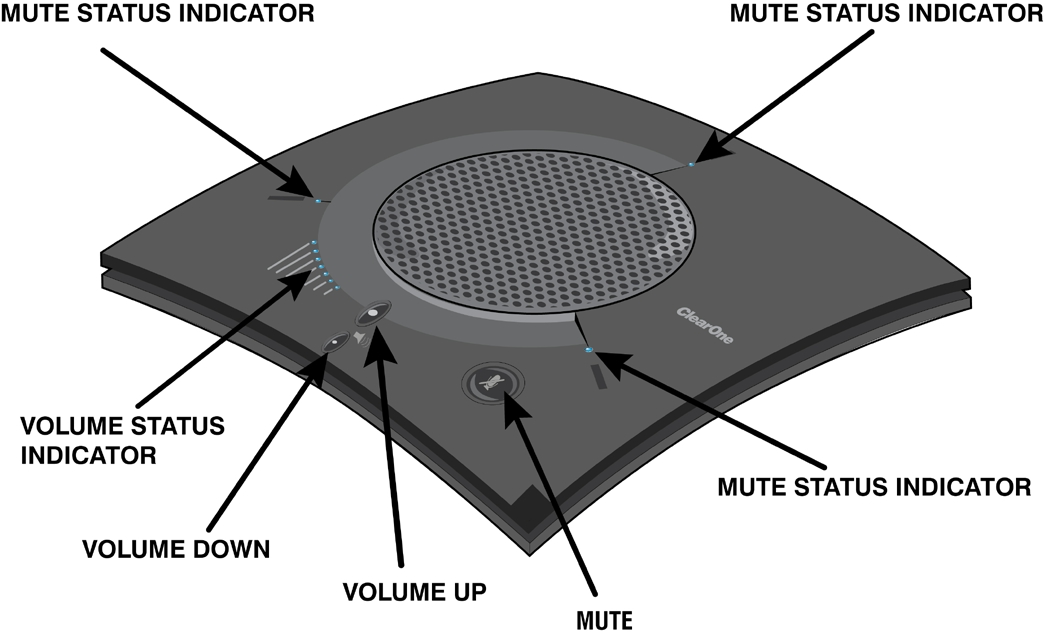 Microphones on: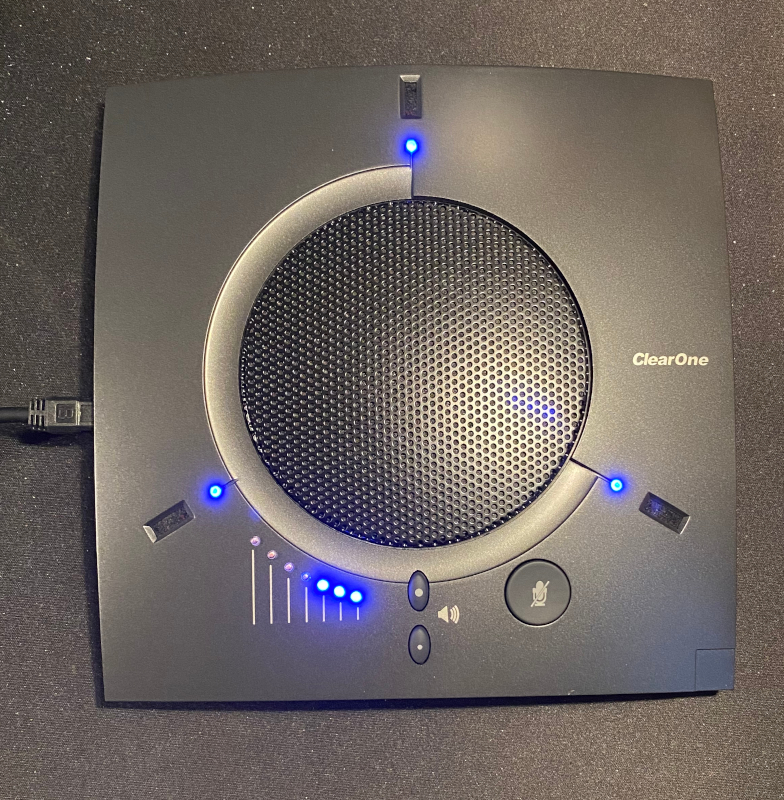 Microphones off (ignore the blue dots in the upper right quadrant, that's a camera artifact):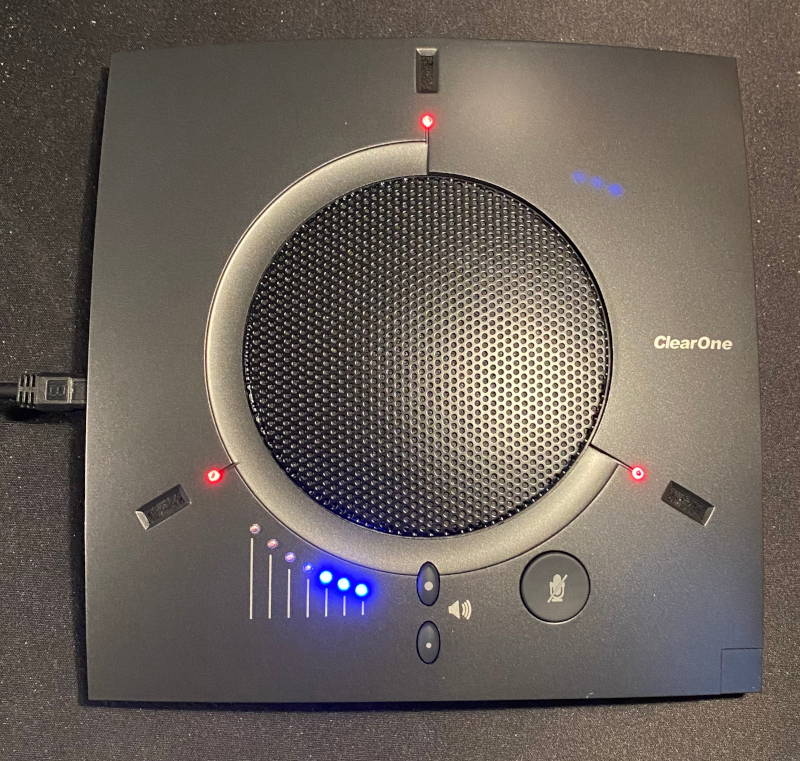 Operation
Operating the Chat 150 is as simple as selecting it as your audio source (microphone and speaker) from your favorite conferencing application. I tested my unit with Zoom, Microsoft Teams, Skype, and Cisco WebEx and have had no problems with any of these applications.  The Chat 150 is programmed to request microphone priority, so it will try to take over as the primary device the first time you use it with any application. It does recognize application settings, so when I changed my settings for a particular Zoom meeting to my headset, the Chat 150 did not grab control back the next time I started Zoom.
The controls are simple. The large mute button works like it says on the tin–a single push and the microphones are muted at the device and the LEDs change from blue to red. A second press reactivates the microphones. The up and down volume buttons control both the Chat 150 volume and the computer's volume setting.  The indicators on the Chat 150 are very interesting. They are a non-linear readout and not quite in the way that I would normally interpret the different length lines. The three lit LEDs in the above photos indicate a volume setting of around 50/100, but 4 LEDs represent about 70, and 6 take it to 94.  I still haven't gotten used to it after 30 days, but it has ceased to bother me.
The overall sound quality for both recording and playback are good for a single-piece USB speakerphone. The speaker produces sound quality that is of similar timbre but at a louder volume than those in my business monitor's speakers (just not in stereo). The microphones are not up to the standard of my Blue Yeti, but perform well in business meetings (as reported by my colleagues). The microphones are sensitive enough to pick up my standalone air filter (review forthcoming), central HVAC system, and the sounds of my keyboard, though I'm not sure that the keyboard is really a good test, since I use a buckling-spring keyboard.
I also tested the Chat 150 during a family Zoom call. All participants were easily able to hear each other, and it was much easier to set up than having to mess with changing the audio to the television's speakers and the video camera's microphone (the previously-reviewed ClearOne Unite 20).
The unit's integrated noise cancellation system worked well. I heard none of the echoing that occasionally accompanied the use of separate microphone / speaker combinations.
What I like
Easy setup
Easy to use
Good sound quality for a business speakerphone
Comes with a good-quality, long USB cable
Built-in noise cancellation.
What could to be improved
Mapping of the lights to sound level is a bit confusing to me
Final thoughts
The Chat 150 USB performs well in small room / desktop settings. You will probably need to purchase additional units and the accessories to connect multiple devices to cover larger rooms. For SOHO settings, the price-performance ratio is compelling for an all-in-one device, but a bit dear for use on a single desktop.  My Chat 150 has become my go-to device for work calls / meetings, and my Blue Yeti has returned to my personal machine for other recording duties (until my younger son who is a musician finds out that it is available).
Disclaimer
My wife was employed by one of ClearOne's predecessor companies over 20 years ago, and we hold a small number of shares of ClearOne stock from that time period.
Price: $298.00
Where to buy: Amazon
Source: The sample of this product was provided by ClearOne.